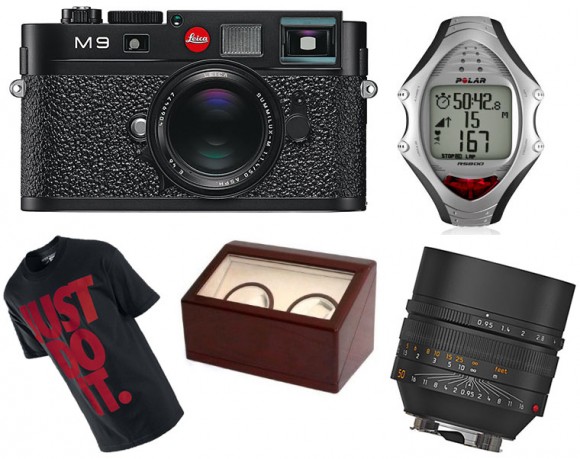 I am afraid you won't find many purse-related wishes in my list. Being the nerdy tech behind the PurseBlog operation, I certainly do appreciate bags very much, but you will not see me strolling the streets carrying around an oversized tote any time soon.
This year, I have decided to divide my list into two categories. The realistic list and the not-so-realistic-but-still-would-love-to-see-it-under-the-tree list. The realistic list contains gifts that I would definitely have daily use for and would not rob Santa off his 401K savings. The other list is me lusting over treasures that I hope will be mine someday, are currently very much out of reach though.
Realistic
1. Polar RS800 Training Computer When doing endurance training, whether it'd be running or road cycling, it is crucial to keep track of your heart rate in order to train effectively. I've been running more lately, I want to pick up my road bike again once the weather clears up a bit, so this would come in very handy. $389 via Polar.
2. Tech Swiss Double Watch Winder Having automatic watches is nice, you never need to worry about your battery dying on you and needing it replaced… as long as you wear your watch daily. I tend to forget to wear my watches for three days and the hands stop moving. The constant resetting is frustrating, this automatic winder would come in really handy! $130 via Amazon.
3. T-Shirts. This may sound silly, but I am sick of wearing Lacoste shirts with jeans all the time. There was a streak earlier this year where I could not get enough of the vintage-style Lacoste polos, now I am kinda over it. I definitely need some plain T-Shirts to wear with jeans.
Not So Realistic
4. Leica M9 I am a big fan of all things photography, as well as a big gear head. I know I am not the only one with this near-obsessive compulsion over new foto gear and there's many who just can't stop salivating over Leica's first full-frame digital rangefinder. A few too many, in fact. The waiting lists are long, Leica's output of these cameras is slow. Many have ordered theirs back in September and still have not received it. I absolutely want it and am willing to let go of some of my DSLR gear to help cover the $7,000 price tag. One day, I say, one day she will be mine.
5. Leica Noctilux 50mm f/0.95 ASPH Fancy name, fancy optics, legendary cult status, magnificent glass. It sure would complement the M9 beautifully (or my film M6/7s), but I am afraid I better start researching on selling one of my kidneys on the black market to afford it. About $10,000 through Leica.