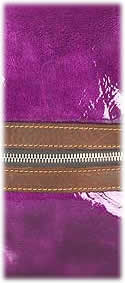 Upon first glance, does this color scheme work for you? A shocking purple patent leather is paired with tan colored leather trim. I first thought black leather would be better suited, but then I realized that color combination may appear very sullen and downtrodden. Pauric Sweeney is known for pairing shiny metallics with subdued leather to give a huge first impression. The question is, which way does your first impression go? Totally fab or ultimately drab? This purple patent leather handbag is the Pauric Sweeney Patent Shoulder Bag. The shoulder straps draw you in, with woven detailing. There is also a zipped compartment on the front of the bag for easy access. The inside is lined and also features a zipped compartment. So this fall, while everyone is decked out in gray, add a completely edgy accessory to make you stand out.
Buy through NAP for $1075.
See the entire bag below!