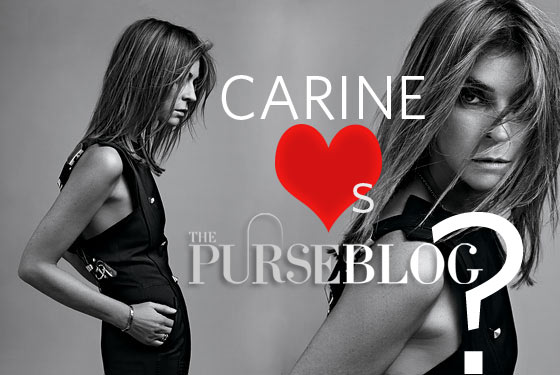 For about three minutes in my life, I was under the impression that Carine Roitfeld, Editor-in-Chief of French Vogue, loved PurseBlog. That ended up being short-lived, for after Carine Roitfeld followed us on Twitter, she quickly unfollowed. Clearly it was a follow mishap. The mouse-clicked-on-the-wrong-button kind of follow.
You see, having a designer, editor, or important person follow you on Twitter means they take a liking to what you and your tweets have to offer (that is unless they follow anyone that follows them, which I never understand). For one short second I thought, "WOW, Carine Roitfeld loves us!" There was a lot of excitement. Carine is only following a select handful of people, and somehow, by accidental mouse clicking, we became one of them. I'll take an accidental follow from one of the most influential women in the fashion industry any day.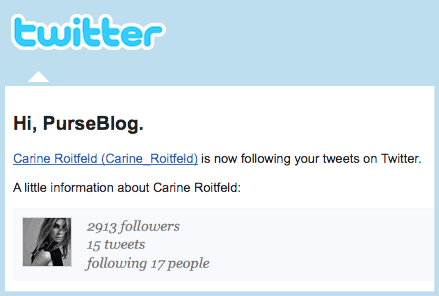 Vlad would like me to add that her inherent degree of awesomeness is enhanced for naming her son Vladimir who is a photographer. Vladimir wants the other Vladimir to be his new best friend.
So thank you Carine for making my day by following us, even if only for a few seconds. You are an icon and shaped the way the world views fashion. Follow Carine on Twitter and while you are at it follow us on Twitter too!