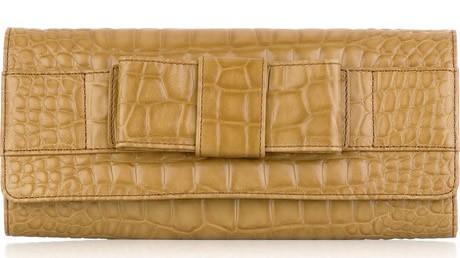 Michael Kors Stamped Bow Clutch
Vlad and I are on our way to Ohio while Shannon is in California. So right now, we are split around the country and going to attempt to keep things moving fluidly this week as best we can. This past weekend was a downer, as I watched my Ohio State Buckeyes completely totally fall apart on the big stage, again.
And watching this happen is sometimes how I feel about designers attempting to make a handbag appear to be one skin by stamping it. Many times the stamping looks utterly fake and ultimately forced. When it begins to look this way, there is absolutely no unity, and like my Buckeyes, it falls apart. There have been designers that pull off the faux-croc and those that fail miserably.
I ran into the Michael Kors Stamped Bow Clutch with stamped camel leather with crocodile print. The clutch adds a feminine appeal with a big bow at the front, which drew me to the bag in the first place. Buy through Net A Porter for $595.
So I will leave it up to you; is this clutch a faux-stamping disaster, a la Ohio State, or a faux-stamping brilliance (say, after, I don't know, the major Notre Dame win?).