Based on reading all of the Closet Confessionals you guys have submitted since we started our little experiment a couple months ago, I've noticed that there are two prime times for getting into designer bags, roughly: when you're in college and just starting to think of yourself as an adult, and when you're around 30, which is likely because that's when most people's post-collegiate lives start to stabilize, their finances start to firm up, and nicer clothes are often warranted for career reasons.
I'm part of that first group—I have an eBay count with old Balenciaga bag transactions on it dating back to like 2006—but this week, we wanted to hear from someone who took a less typical path to handbag fandom. This week, not only did we find someone who got into bags after her own children were grown, but also whose husband helped spark the interest.
As always, if you want your bag habits to be featured anonymous, take the survey below and we might pick you!
The Basics
Age: 64
Gender Identity: Female
Location: Bay Area, California
Occupation: Employee Benefits Broker
Industry: Insurance/Finance
Income: $275,000
The Bags
Are you a PurseForum member? Yes
How many bags do you own? 30+
How much is your collection worth? $125,000
What is your most expensive bag? A couple of Chanel Reissue 226 Flap Bags in the jumbo size.
What are the most important brands or pieces in your collection? LV, Chanel, Bottega Veneta, Dior, Ferragamo
What age did you get your first designer bag, and what was it? 58. Louis Vuitton Totally Bag, purchased in France
Any particular bag that holds a special sentimental value? Any of the the ones that my husband bought for me. He's an enabler! I recently purchased a handmade bag from Jennifer Tattenelli in Florence. No logos, no identifier, other than it is completely handmade. So gorgeous and so under the radar.
Do you feel like your bags change people's perceptions of you or how you're treated? Not really. In everyday life, it seems two out of three women in the San Francisco Bay Area are carrying an LV. Of course, if I walk into a boutique or department store, obviously, my bag will be recognized. And none of my friends carry designer bags. I'm not sure what my sisters think, and I don't want to know.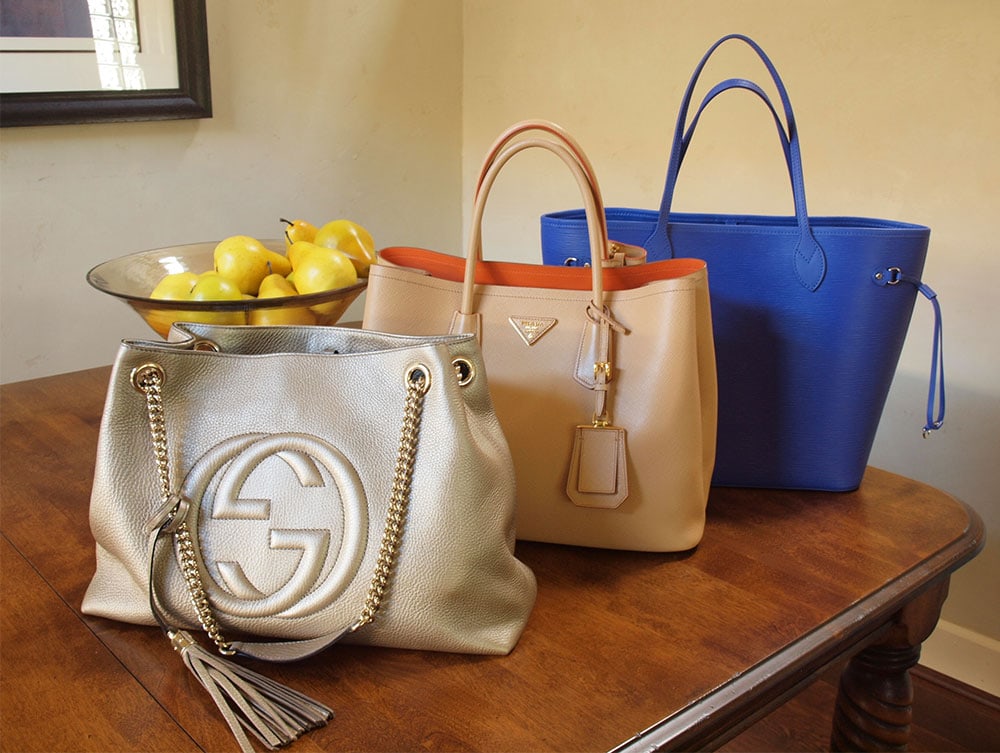 The Shopping
How often do you buy new bags? 3-5 a year
Which stores do you frequent the most? I prefer shopping in the boutiques around the Bay Area, and of course, if I'm traveling, then I must stop and shop. When traveling, I like to shop in Las Vegas, Florence and Paris. I especially love exploring the factory stores in Florence. You can find gorgeous purses that rival the designers, albeit without the logo, for much less than you'd pay in the boutiques.
Do you ever buy second-hand bags? Where do you buy used? My husband is very good at shopping and selling on eBay.
Do you sell old bags to pay for new purchases? Not really, but occasionally, I barter with my husband and say, "Hey, I'll get this and I promise to sell this." Which means he has to sell it for me (take pictures, write a description, handle the logistics). I'm very thankful for his efforts. But truly, I probably keep those promises about 50% of the time. LOL!
Do you ever feel societal pressure to purchase more bags? Not really. At this point, after owning more than 90 designer bags (most have been sold), I know what my taste is. I prefer classics and neutral colors. If I don't "bond" with a bag, I'll give it a few more months, then try wearing it again and if I'm not feeling it, then it has to go. I don't do "pity" wears (feeling sorry for a bag that is languishing in my closet).
Do you consider your bag purchases investments? Not at all. I doubt I've ever made money selling a bag! Maybe if I learn to hold on to them for 20 years.
Who influences your buying decisions? My husband. He has great taste, a sharp eye and knows me so well. I also have two great SAs at LV and Chanel.
Are sales associate relationships instrumental to your shopping? In some cases. As mentioned above, I have two relationships that I keep up at the boutiques. I'm not breaking any news here, but in life, relationships are our foundation.
Why do you enjoy shopping, beyond just acquiring something new? Of course! I'm a serious shopaholic! Isn't that what the internet is for? I have a friend who can walk into any store, thrift, or consignment store and spot the most amazing thing to buy. But that's not me.
Have you ever felt like you received inferior service at a store or boutique due to your appearance, ethnicity or gender? Sure, I've been blown off occasionally, but it is not about a specific brand. Sometimes they are busy, aggravated, or we just didn't engage. However, there is nothing like an SA that knows you and your taste. Recommendations often come out of the back room or a hidden drawer. In 2013, my favorite Chanel SA (who just retired) pulled out this lambskin sort of Kelly-looking purse that I had never seen before. It has Chanel in a gold plated bar across the top and was just so me! (Now, the bar is quite present in Chanel offerings). Perfect size, shape, weight, and fit for a queen!
The Money
Who pays for your bags? I do.
Do you set aside a budget for your bag purchases? No.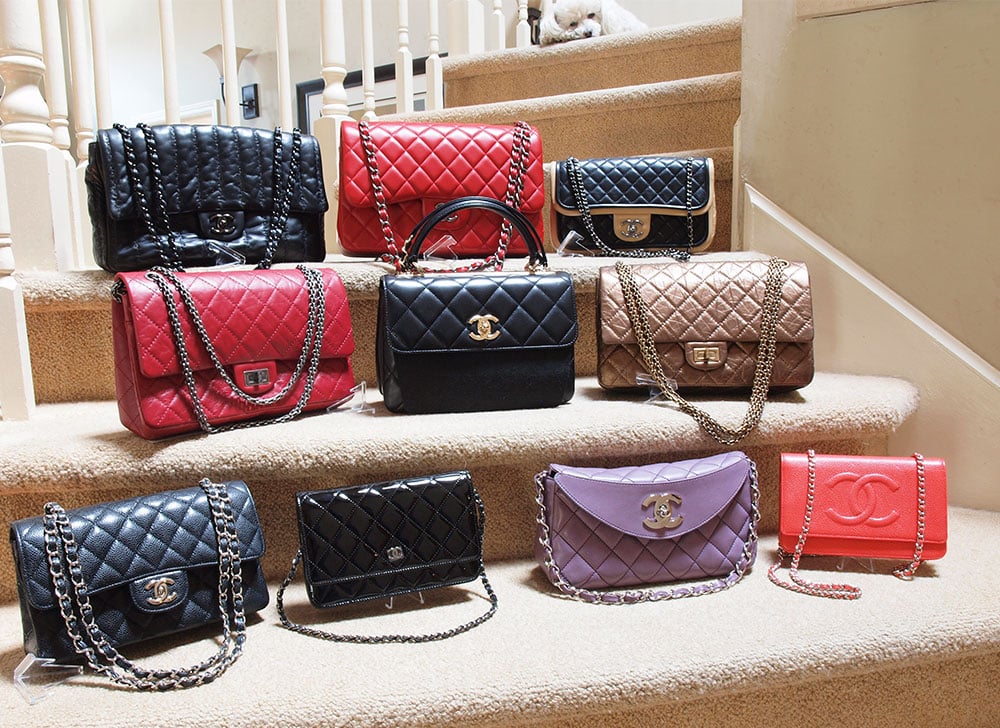 The Taboo Topics
Have you ever purchased a counterfeit because you couldn't afford a designer item? No.
Do you ever hide purchases from your significant other? No, but he is great at hiding bags and then presenting them on birthdays and anniversaries.
What's the craziest thing you've done to afford a bag? Besides promising to sell a bag to buy a bag? No
Do you think your shopping is ever a problem? No.
The Rest Of It
Any other expensive hobbies or passions? My grandchildren. And like I always say, there is no perfect purse, I'm always searching for new makeup.
Anything else?
To me, purses are fun and it is always about the self-satisfaction of carrying a well-crafted, classically designed piece that reminds me how hard I've worked and all that I've accomplished in my life so far. As I said, there is no such thing as the perfect bag. Although I'd like to try to design one! I love playing the game of "if you could have just one purse…."