In today's new CC, we meet a handbag lover who has been collecting bags for nearly 15 years. In that time, she's amassed a lovely collection of Chanel and a few other pieces. Her first luxury bag was a classic Louis Vuitton Neverfull, and while it doesn't get nearly as much use as when she first bought it, CC 196 says it holds a lot of sentimental value thanks to it being her first bag. Additionally, it was the bag she used (and adored!) when her son was young, which makes it very nostalgic.
These days, this handbag lover collects at a slow but steady rate, typically purchasing one bag a year and taking the utmost care of her bags to ensure they always feel new and beautiful. However, she feels that she's finally reached the elusive purse peace and sees a slow down in her shopping. Read the full CC now, and don't forget to submit your own!
[sc_cc_callout]
Basic Bio
Your Age? 48
Your Gender Identity? Female
Where do you live? Singapore
What is your occupation? Self-employed
What industry do you work in? Fashion and Retail
Your annual salary? $100,000
Total Household Income? $500,000
Are you a PurseForum member? Yes
Onto The Bags
How many bags do you own? 9
What bags are in your collection?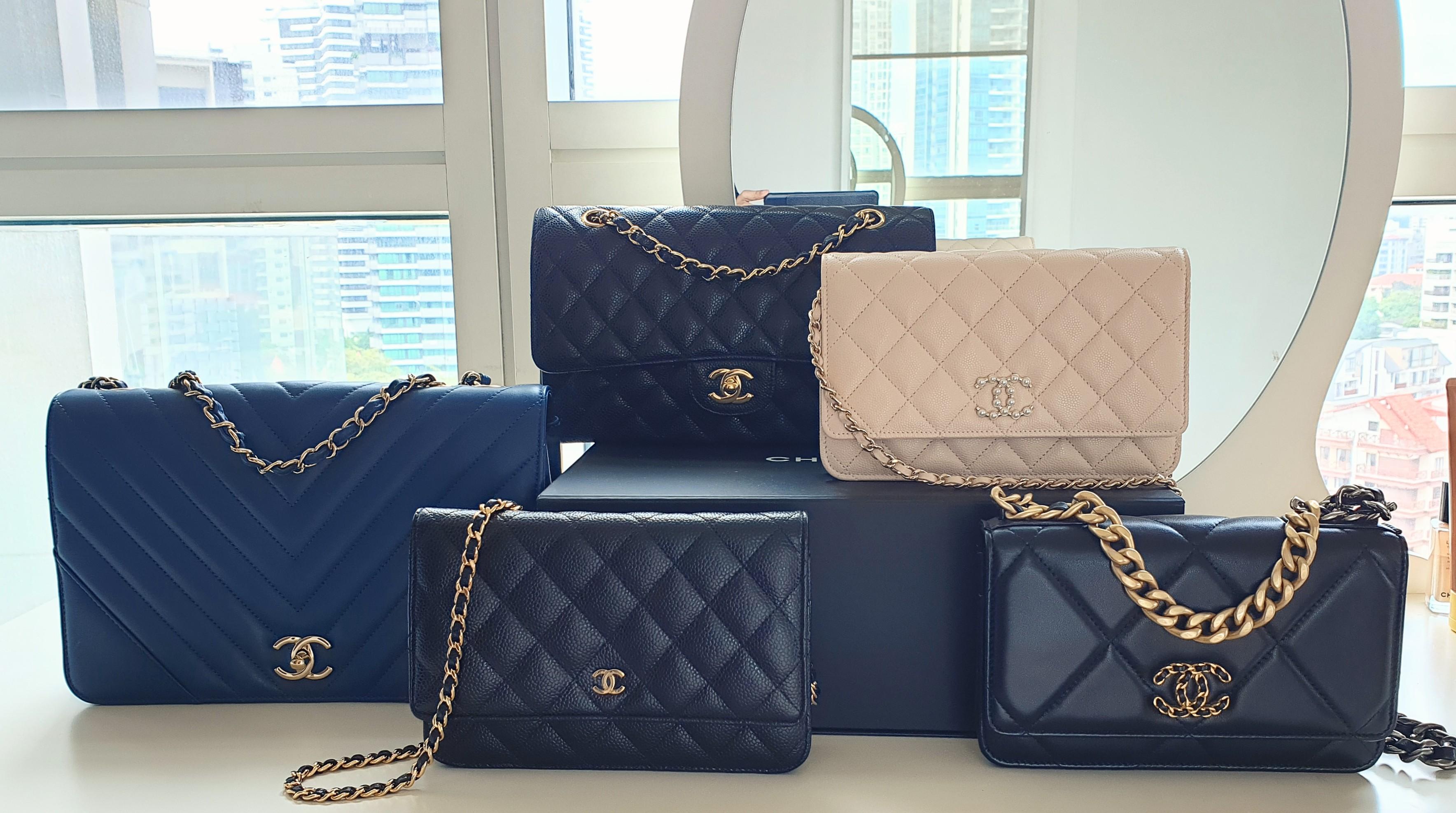 How much is your collection worth? 45,000 SGD
What is your most expensive bag? Chanel Classic Flap (Medium)
Do you ever regret any of your bag purchases? If so, which ones and why? I had some regrets but I have sold those bags:
Chanel GST
Prada Saffiano tote bag
YSL WOC
Gucci Marmont crossbody bag
These were bags I never reached out for either due to colour or size. If something does not fit into my lifestyle, I prefer to let it go so that it can find another home and be enjoyed by someone else.
What age did you get your first designer bag, and what was it? I purchased the Louis Vuitton Neverfull when I had my son at age 34. It was the perfect bag to tote around his many, many things!
Is there a specific bag you are looking to purchase next? I have attained purse peace (at least for now!). My collection meets my needs for all travel, casual and formal occasions so at the minute I am not craving anything new. I am also trying to be more mindful and try to enjoy what I have rather than constantly being on the next 'handbag hunt'.
Do you have a 'holy grail' dream bag you've always wanted to own?I always wanted to own a Chanel Classic Flap bag. I purchased mine in 2017 and am so glad I did since it would be unattainable at current prices!
Any particular bag that holds a special sentimental value? My Louis Vuitton Neverfull is something I will always hold on to. It was special since it was my first designer bag and also because it has seen everything through my son's growing up years. I used it every single day for at least five years, and it could take everything from my laptop and devices to my son's diapers, changes, books and toys.
Now I take it out only when I travel but it was always be that bag that served me the most.
Do you feel like your bags change people's perceptions of you or how you're treated? Yes and No.
People who know me don't care if I carry a Chanel handbag or a Lululemon belt bag. But sales staff in luxury stores do attend to me better if I'm carrying a luxury handbag.
I don't think too much about people's perceptions and how they may think of me. My love for luxury items is around my appreciation for the design, the standards of quality and the history a design house brings with its art. What other people look at is not of concern to me.
How do you take care of your bags? I take very good care of my handbags.
I always, always wipe them after each use, stuff them with paper if they need it for keeping shape, and put them back in the dustbag and box to store. I avoid using lighter color bags with denim, and I also use Collonil Carbon Pro spray to protect them from dye transfer and stains. While traveling, I put my handbag in a soft flannel fabric bag when I have to put it through security check trays. Also, if I have to place my bag on the floor, it goes inside my fabric bag.
This may all seem excessive, but I really think that I have enjoyed my handbags for many years since they stay in pristine condition. The additional care is worth it to maintain the value of handbags. I have been able to sell some handbags without incurring any loss because they looked like new even after some years of use.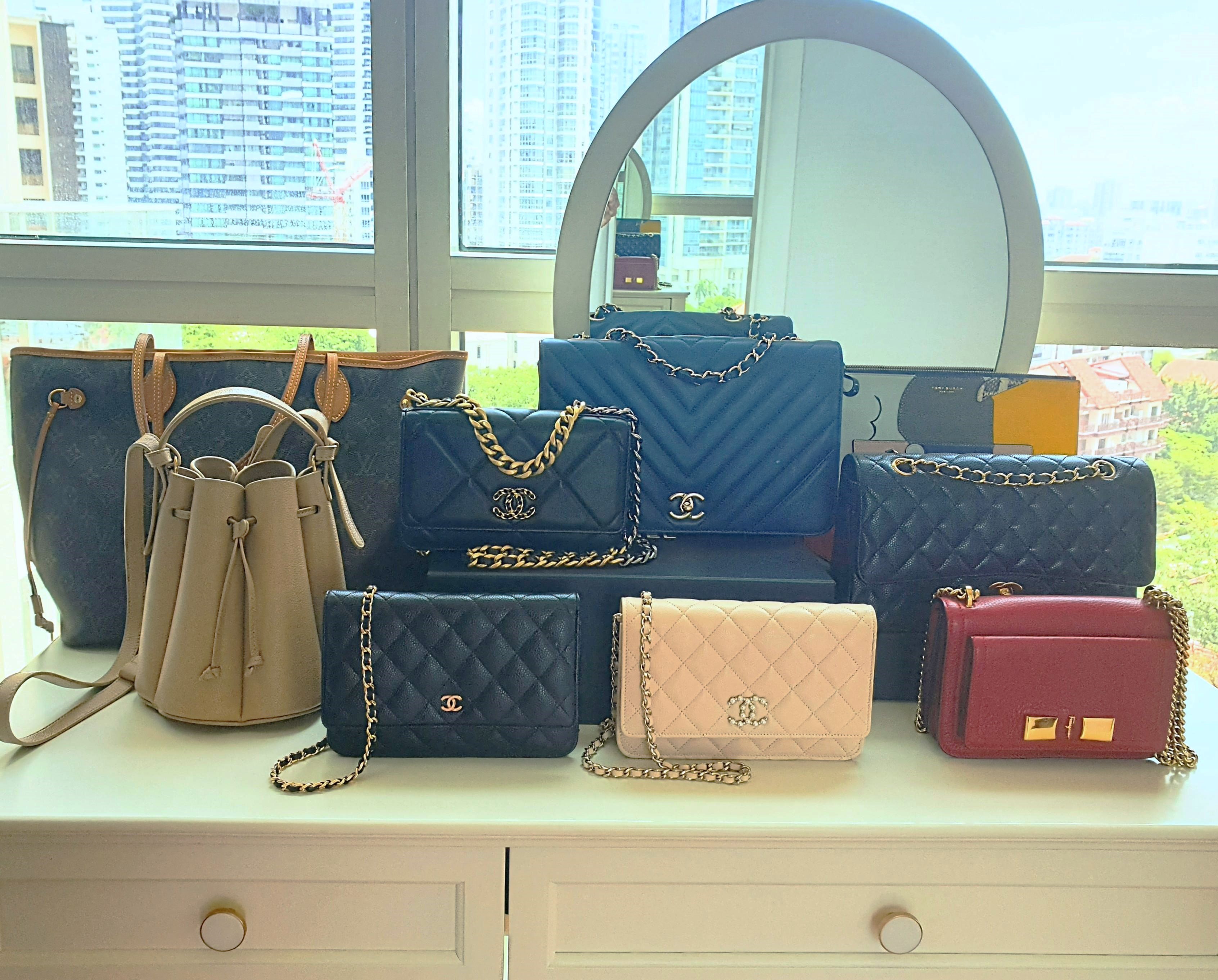 On Shopping
How often do you buy new bags? I usually buy one new bag in a year.
Do you prefer shopping for bags online or in-store? Why? It depends on the bag and the price. For Chanel handbags, I have to go to the store since they can't be purchased online. For lesser costly brands like Polene or Tory Burch, I am happy to buy them online.
Which stores do you frequent the most? I don't frequent luxury stores unless I have something on my wishlist and am seriously considering purchasing. I probably visit Chanel a few times a year so that I can keep in touch with what they have and if something may catch my eye 🙂
Have you ever returned a bag after purchasing it? Why did you make that decision? I have never returned a bag after purchase.
Do you ever buy second-hand bags? Where do you buy used? Recently, I purchased my Chanel Chevron Statement bag from a luxury consignment store in Singapore. I was looking for a large flap bag when I spotted this one. It was in immaculate condition, and it came with all original receipts. I was happy to get a beautiful bag at a reasonable price, and my experience leaves me quite open to purchase something pre-owned in the future.
Do you sell old bags to pay for new purchases? Yes, I do. I have sold the following bags since I was not reaching out for them:
Chanel GST
Gucci Marmont crossbody bag
Prada Saffiano tote
YSL Wallet on Chain
I was able to sell them online on the online portal Carousell. Am happy to let them go to a new home where they can be used and enjoyed.
Do you ever donate or gift your old bags? If so, to whom? I have passed on a few handbags to my niece, who is happy to use them for college
Do you ever feel societal pressure to purchase more bags? Looking at social media, especially Instagram, and following influencers can be quite tricky. There is always something beautiful out there and the photographs make it all too tempting! I used to purchase a handbag every year so that I have something new to enjoy but I am slowly moving towards a mindful space where I use and repeat what I have rather than the constant need to purchase.
Do you consider your bag purchases investments? In the past, I did not consider handbags as investments and I never thought of how they will serve me five years or ten years from now. However that has changed. The prices of bags have gone up astronomically and I do not want to put in these amounts of money in something that I may not use some years from now.
I have slowly moved my collection more towards Chanel as I love the timeless aesthetic very much and I know that it will keep its value even if I decide to sell it at a future time. For a lot of other brands, I just don't have the confidence that they will sustain their value over years.
Do you follow the latest fashion trends when deciding on your next purchase, or do you prefer classic styles? I go with classic styles for the more expensive handbags so they can last me over a longer period of time. I prefer trendy when it comes to contemporary brands, I can enjoy these without large amounts of guilt if they're not around next year 🙂
Are sales associate relationships instrumental to your shopping? Not really. I have purchased handbags from different stores in different countries, some even online. So I have never depended on a Sales Associate at a particular store.
Do you enjoy shopping beyond just acquiring something new? I enjoy the hunt as much as the excitement of owning something beautiful!
Have you ever felt you received inferior service at a store or boutique due to your appearance, ethnicity or gender? Being Indian, I have often received inferior service (specially in the UK) but that has been in restaurants and high-street clothing stores. Because of my experience, I often expect the same but it has never happened in a luxury store.
What are some factors that may dissuade you from buying a bag, even if you like it? A few factors that are dissuading me currently:
1. There is too much exposure of luxury bags on social media. Everything seems to be in your face, accessible and 'not special' anymore
2. Prices are too high for my comfort
3. I want to practice mindful consumption and learn to appreciate beautiful objects from a distance without having to possess them
Is there a brand you outright refuse to buy? Why? I wouldn't buy anything from Balenciaga for obvious reasons!
On Budgeting & Perceptions
Who pays for your bags? It is a combination of savings from my small home business and gifts for my birthday/anniversary from my parents and my husband.
Do you set aside a budget for your bag purchases? I usually keep aside $5000 SGD annually for a handbag purchase
Have you ever purchased a counterfeit because you couldn't afford a designer item? Never. I would never purchase a counterfeit designer item. I wish people would understand how damaging the counterfeit industry is and its links to drugs, human trafficking, terrorism and more.
When I purchase a luxury item, it is for an appreciation of the design, art, quality and history of the brand, never for the flex of a logo. I'm happy to purchase an original design from the high-street if I can't afford an expensive one.
Do you ever hide purchases from your significant other? Haha never done that!
Have your friends or family ever criticized your bag-buying habits? If so, how did you respond? My friends have often complimented my (small) handbag collection, never had any criticism around it
Have you ever made a significant sacrifice to afford a bag? If so, what was it? I don't think I would make a sacrifice to purchase a handbag. While I enjoy carrying a beautiful bag, there are many available at lower prices too and I would not think of purchasing one if I wasn't absolutely comfortable with the expense involved.
Do you think your shopping is ever a problem? Have you ever felt like you were struggling with a shopping addiction? I've never had a shopping addiction.
Let's get personal…
Any other expensive hobbies or passions? I enjoy all things beautiful so I do sometimes indulge in luxury clothes, shoes, jewellery and home decor.
What is your greatest fear? I fear losing anyone from my family or loved ones
Which living person do you most admire? This may sound odd, but I admire my own ability to have come out of a personal trauma and moved on to becoming a more confident, aware, and grateful human being.
What or who is the greatest love of your life? My son is the greatest love of my life.
What is your favorite journey you have taken so far? My visit to Vatican City is my favorite one. Standing in the Sistine Chapel with works on the ceiling by Michelangelo gave me goosebumps!
Any parting words you would like to share with our readers? I feel grateful to be able to own some beautiful handbags but am now on a shift to hold on to fewer possessions. I'd love to hear other readers' experiences on how they moved to a more minimalist mindset when it came to luxury and handbags. Is purse peace sustainable over a long period of time?