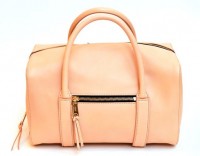 Shocker of all shockers: Chloe's Spring 2011 handbags embrace New Minimalism. I'll give you a moment to recover.
With the exception of the duffel bag above, which also comes in a lovely shade of cement grey and will surely be embraced by celebrities and fashion people alike, the offerings from this collection are a bit underwhelming. Minimalism crosses the line to boredom very quickly in a few of these bags, but thankfully Chloe included two over-beaded evening bags to balance out the simplicity of some of the other styles. A brand really only needs one hit bag to make a collection a success, though, and it looks as though Chloe will definitely accomplish that goal for Spring 2011.
Photos via Women's Wear Daily.