Slowly but surely Reese Witherspoon has become something of a divisive figure for celebrity watchers. Some love her prim, slightly preppy style, while others take her distaste for paparazzi and a certain drunken arrest incident that you might remember as proof that she's a little too much like one of her most memorable characters, Tracy Flick. Either way, we think you have to admit that her collection of handbags is one of the best in Hollywood, particularly if you love a good leather day bag.
Reese is no stranger to these parts - not only do we write about her bag choices regularly, but she's already gotten the "Many Bags" treatment once. In the year since we last did that, Reese has carried more than 20 awesome bags. Check them out below!
1 / 21
---
We'll start with an all-time Reese favorite: her The Row Day Luxe Tote, which we saw her with in her last "Many Bags" and she continues to carry quite frequently to this day. It's classic, functional and luxurious, which typifies Reese's taste in bags. Get one through farfetch.com for $6,200.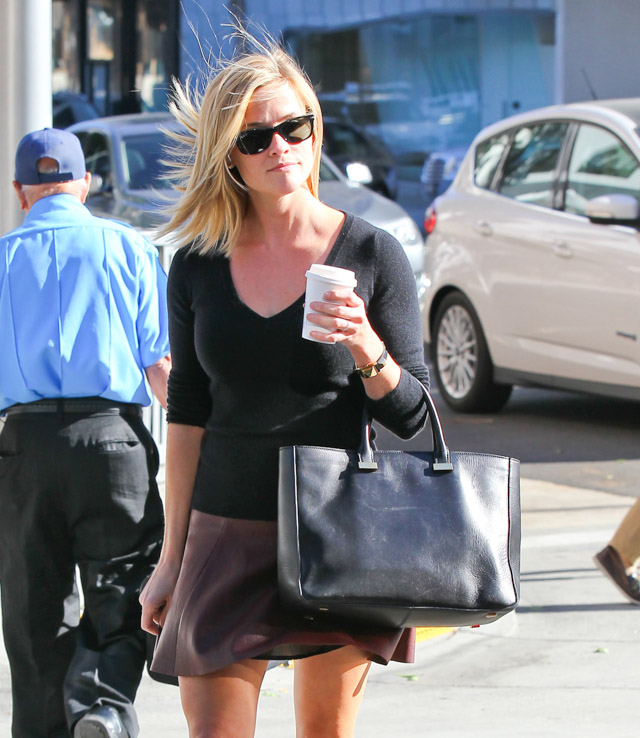 2 / 21
---
Reese's white Birkin is appealing in the same way - traditional but totally luxe.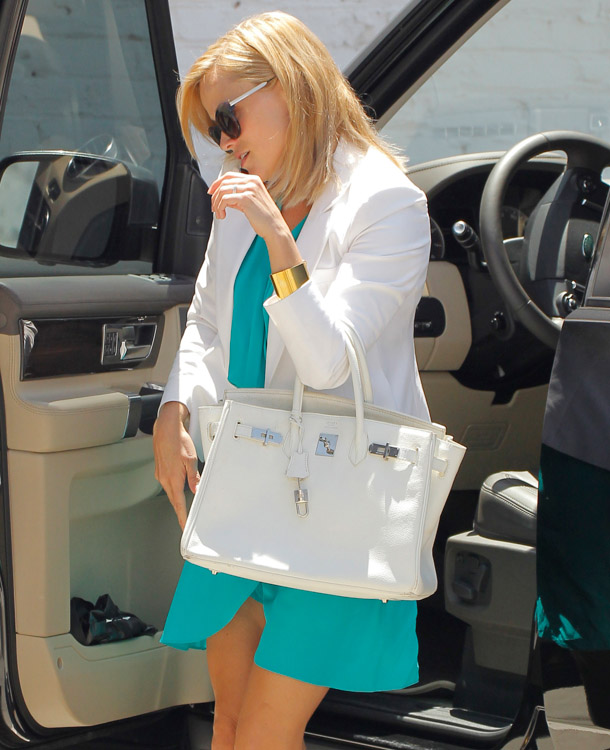 3 / 21
---
Reese's Saint Laurent Sac De Jour Bag fits right in with this group. (As it's likely intended to, given its similarities to the Birkin.) Buy through Net-a-Porter for $2,950.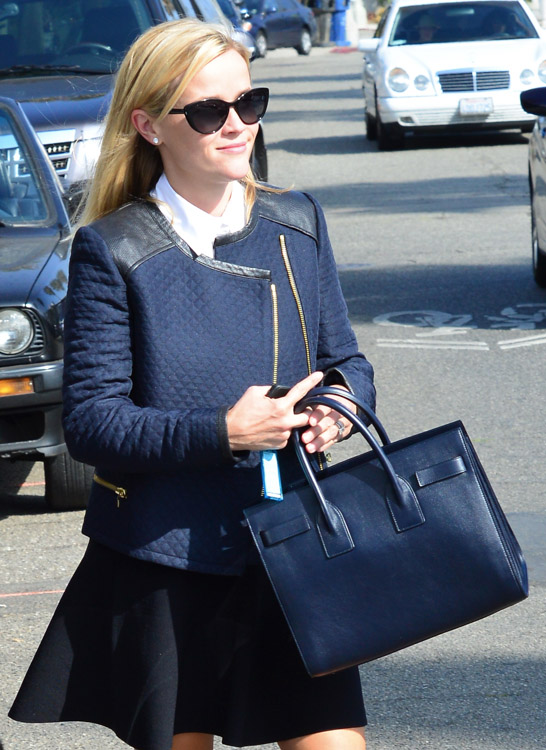 4 / 21
---
Speaking of her Sac De Jour, Reese seems to have a fondness for blue bags. Check out her Celine Luggage Tote.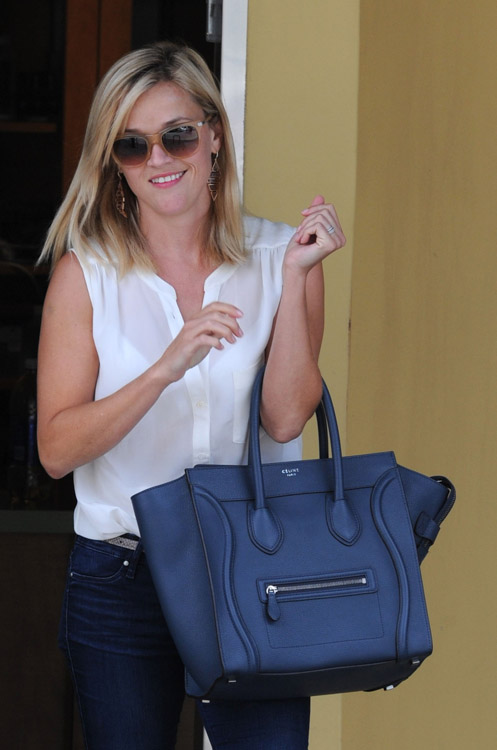 5 / 21
---
And another, also blue Celine Luggage Tote!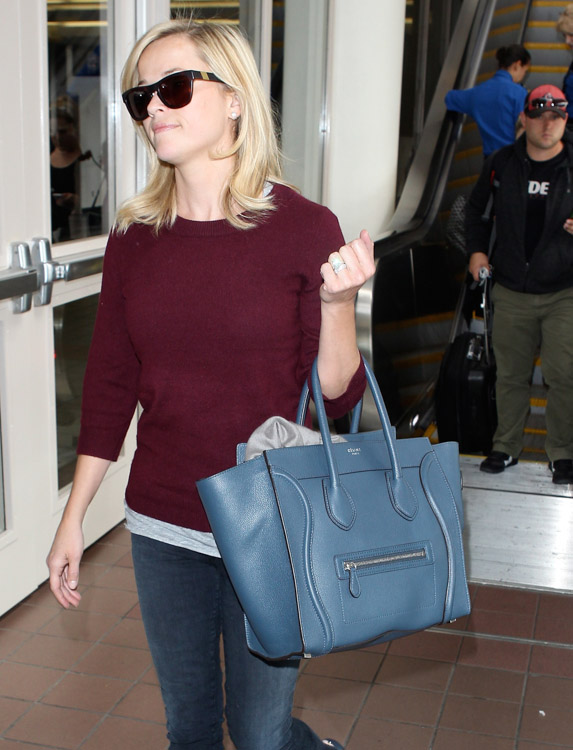 6 / 21
---
Reese's Celine Cabas Bicolor Tote even has blue sides.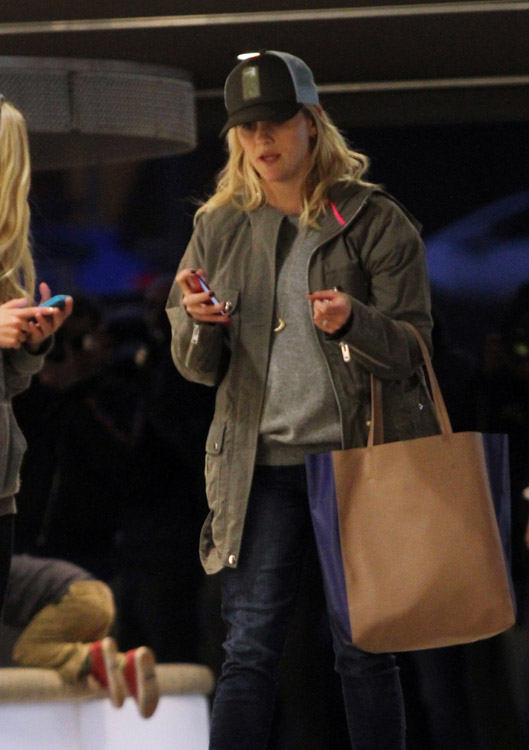 7 / 21
---
Reese's personalized Goyard St. Louis Tote is sort of blue-grey, but I think it's close enough to qualify, for our decidedly non-scientific purposes.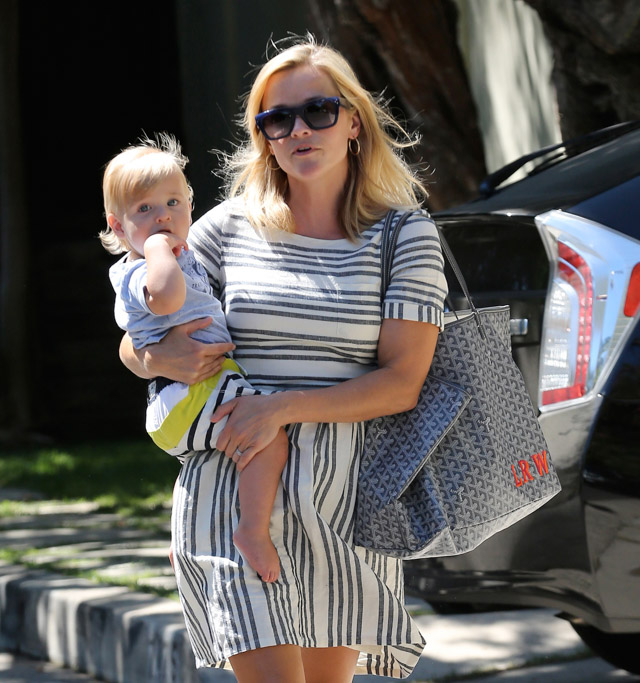 8 / 21
---
Even Reese looks shocked that her Jason Wu Jourdan 2 Tote isn't blue. You can pick up one in black for $1,895 via Saks.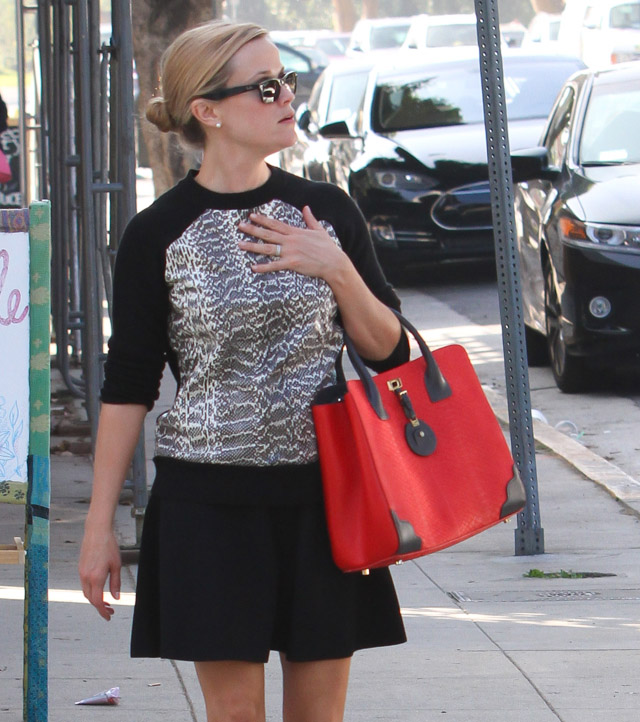 9 / 21
---
The ladylike look of the Jason Wu Daphne Bag is pretty appropriate for Reese's personal style. Pick up the colorblocked version for $1,995 via Nordstrom.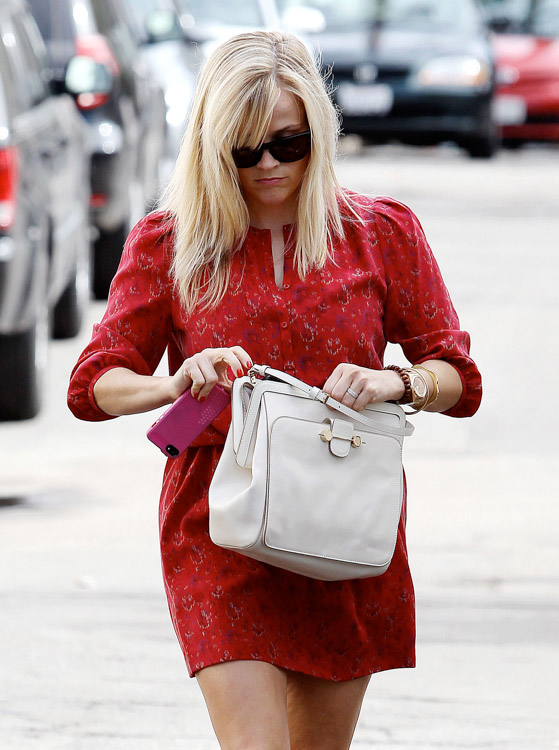 10 / 21
---
The Bulgari Serpenti Tote looks perfect on Reese.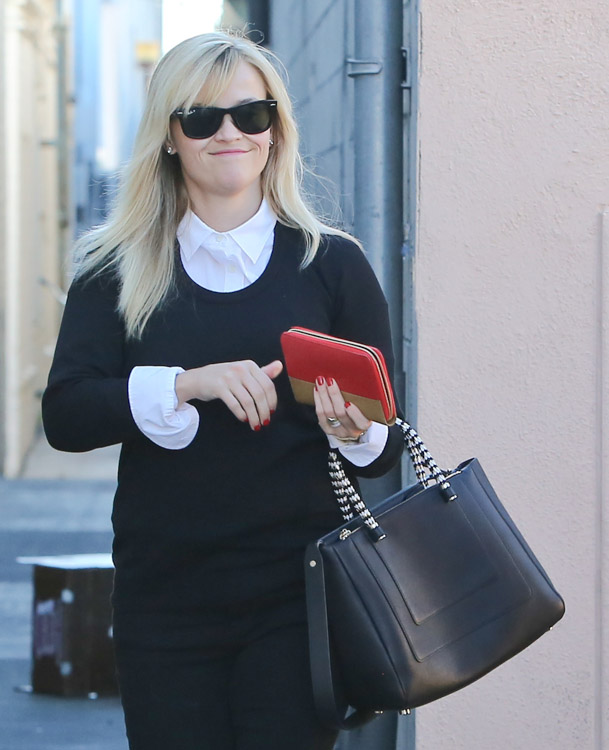 11 / 21
---
To me, the Chloe Angie Tote is one of Reese's rare handbag missteps. Buy the black version for $2,047 via farfetch.com.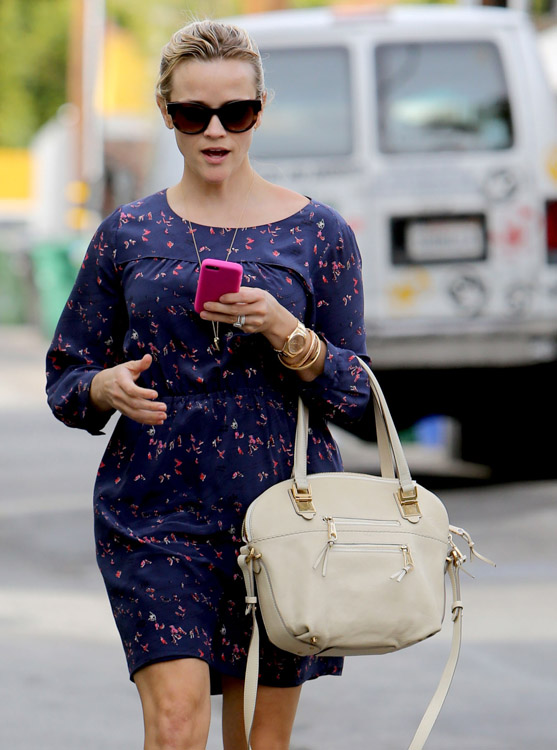 12 / 21
---
I didn't expect Reese to be a big fan of the Proenza Schouler PS1 Bag, but she is! Here's her pink version. You can get a purple one for $1,695 via Neiman Marcus.
13 / 21
---
And here's Reese's white Proenza Schouler PS1. One of your own will set you back $1,695 via Neiman Marcus.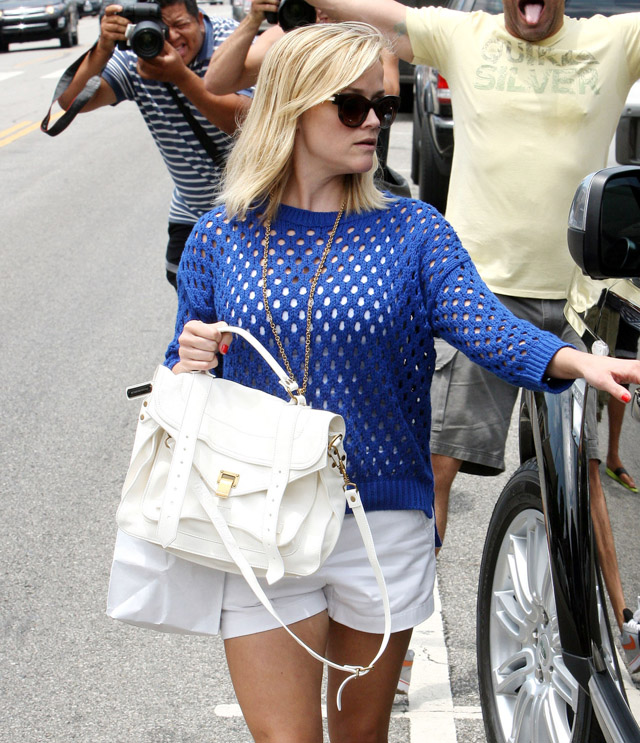 14 / 21
---
Structurally, Reese's Mulberry Alexa Tassel Bag is very similar to her PS1s. Shop Mulberry via Net-a-Porter.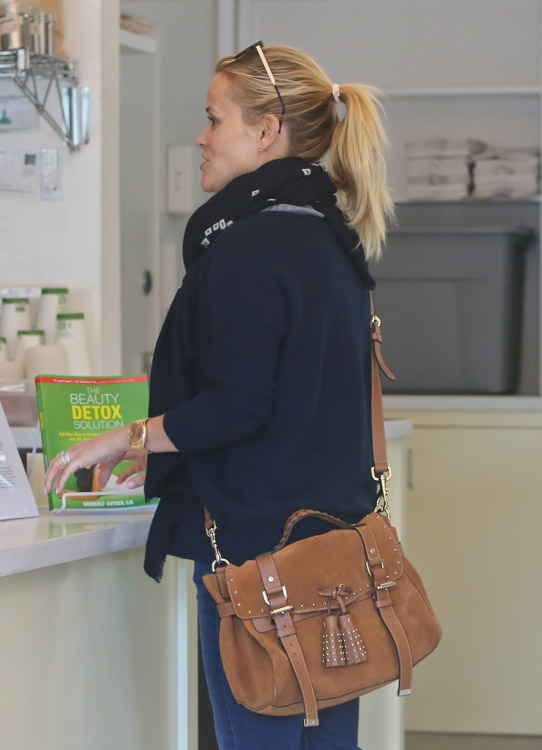 15 / 21
---
Reese's Saint Laurent Classic Duffel is a good weekend casual look for her. Pick up the same bag for $1,990 via Barneys.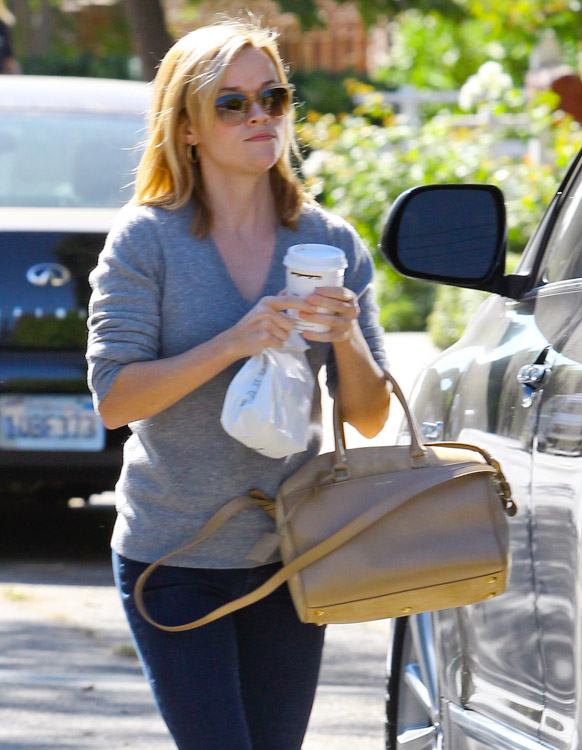 16 / 21
---
As is Reese's Reed Krakoff Atlantique Bionic Mini Tote. Get your own for $1,113 via Neiman Marcus.
17 / 21
---
Structure and neutral leather? This Celine Classic Box Bag is right up Reese's alley.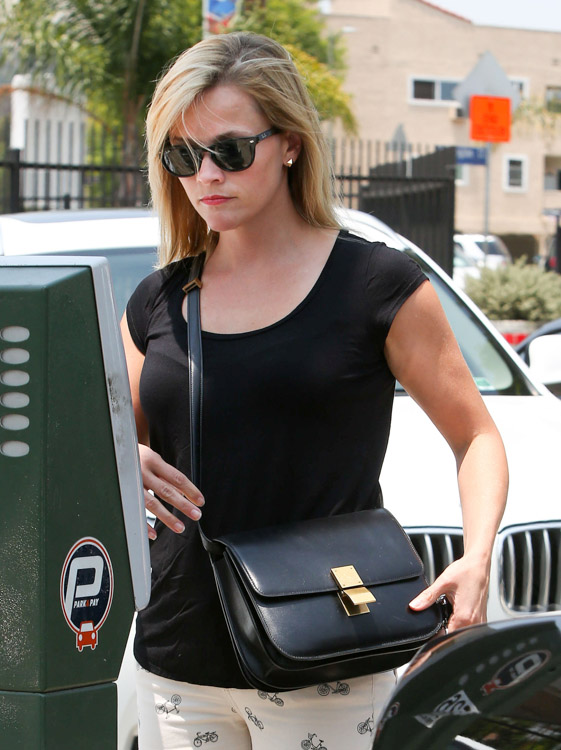 18 / 21
---
Reese looks pretty angry for a woman carrying a Balenciaga Straw Tote. Shop Balenciaga via Neiman Marcus.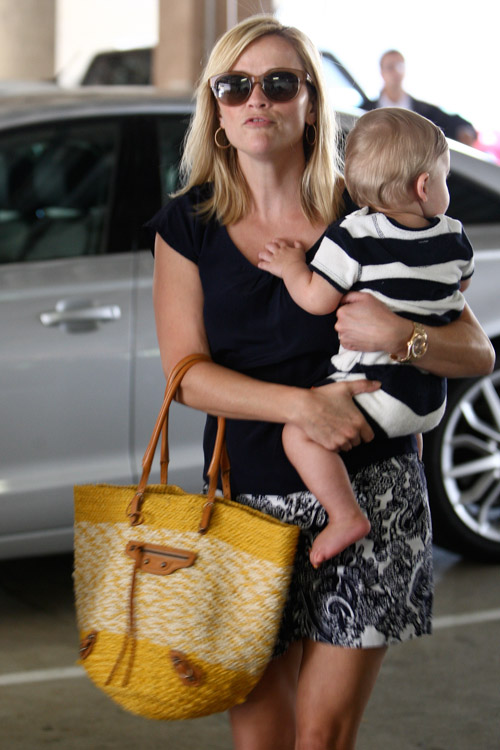 19 / 21
---
Reese loves tan Valentino Rockstud Bags so much that she acquired a second one; she was carrying a very similar, but different, tan Rockstud in her first "Many Bags" last year. Shop Valentino via Nordstrom.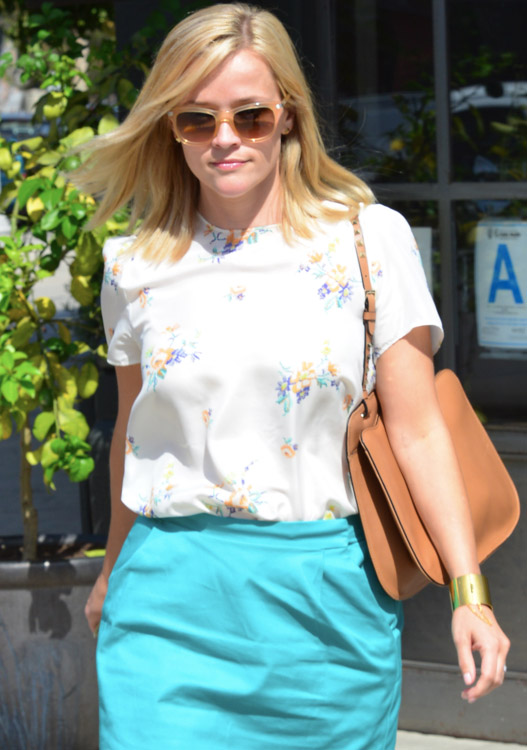 20 / 21
---
Reese doesn't strike me as a Louis Vuitton girl, but this Louis Vuitton Epi Noe Bag looks pretty good on her. Shop via Louis Vuitton.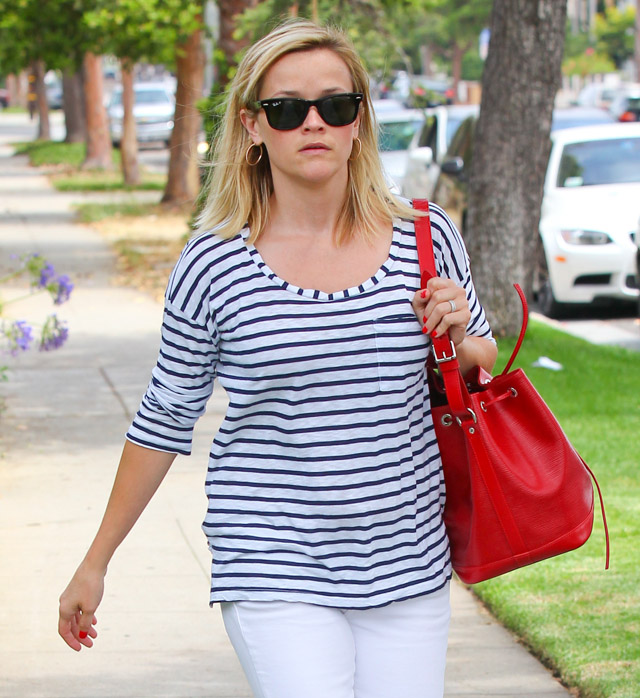 21 / 21
---
At first Reese's Louis Vuitton W Bag seemed out of character, but then I remembered how much she loves her Neverfull and things made more sense. Shop via Louis Vuitton.