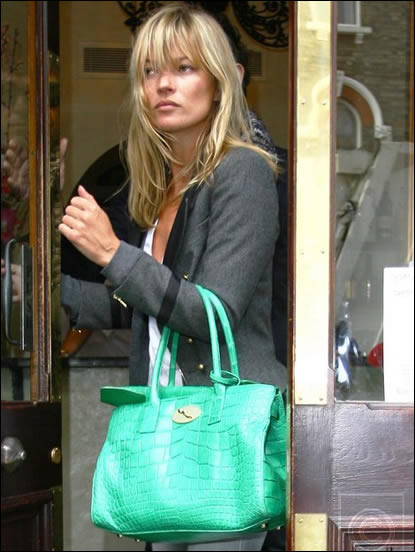 Kate Moss with her Green Croc Bag
There is something so stunning about a pop of color on an exotic bag. Hermes does color amazingly and many other brands continue to work on their ability to color their leathers and materials perfectly. Kate Moss has been causing quite the stir when she was spotted toting a Green Crocodile Bag. At first a member on our forum labeled it as Hermes, but from a better angle it became clear it is indeed not Hermes. Clearly, the second choice answer is Mulberry, as this bag resembles the Mulberry Bayswater bag. But look closely. The Mulberry Bayswater has an inch wide strip of leather coming down from each of the handles to the bottom. Kate's bag does not. Some of the ladies on our Mulberry forum think the bag may be Asprey of London, which carries bags with a very similar look and a hearty price tag. The bag looks very similar to the Mulberry Bayswater, but indeed, upon closer inspection, the bag is very different. Designers at Mulberry could have indeed changed the bag up a bit for Moss, but it may also be the case that this bag is still not identified properly. Either way, it is a stunning piece of green crocodile which is swoon worthy!
After looking at the Bayswater and Kate's Bag, what do you think?