If you, like me, do not live in California, you're probably not familiar with Craig's. It's a West Hollywood restaurant that's been open for about four years, and in that time, I'd wager that nearly every legitimately famous human in Hollywood (and a bunch who are hoping to be famous in the near future) has had at least one meal there. In the process, they've carried some truly magnificent bags, all documented by the paparazzi perpetually camped outside.
I first took notice of Craig's while pulling celebrity photos for our dear writer Emily to cover. That's one of my morning duties: check my email, drink my coffee, see what all the famous people were up to the night before. Over time, I started to notice that a lot of celebs were going to the same places over and over, and the most popular of those places by a wide margin was this little restaurant that specializes in comfort food. It's owned by the former general manager of longtime celeb-magnet Dan Tana's, and it appears to be the kind of place that specializes in making famous people comfortable for a couple hours.
Once I jumped down the Craig's rabbit hole in our photo agency's archives, I realized how true that was. I expected to find maybe 30 or 35 photos of stars with fabulous bags coming out of the restaurant; instead, I found nearly 80 in the last year alone. The combined value of the handbags present at Craig's at any one time probably approaches $100,000. After all, it's Hollywood; there are a lot of rich people who aren't necessarily famous, too.
Below, I've assembled my findings, which stretch across three generations and numerous types of fame. Next time you're in California, try to get a reservation; it's virtually assured you'll see someone you can tell your friends about back home.
At least three generations of famous people are currently Craig's patrons. Ashley is part of the youngest one.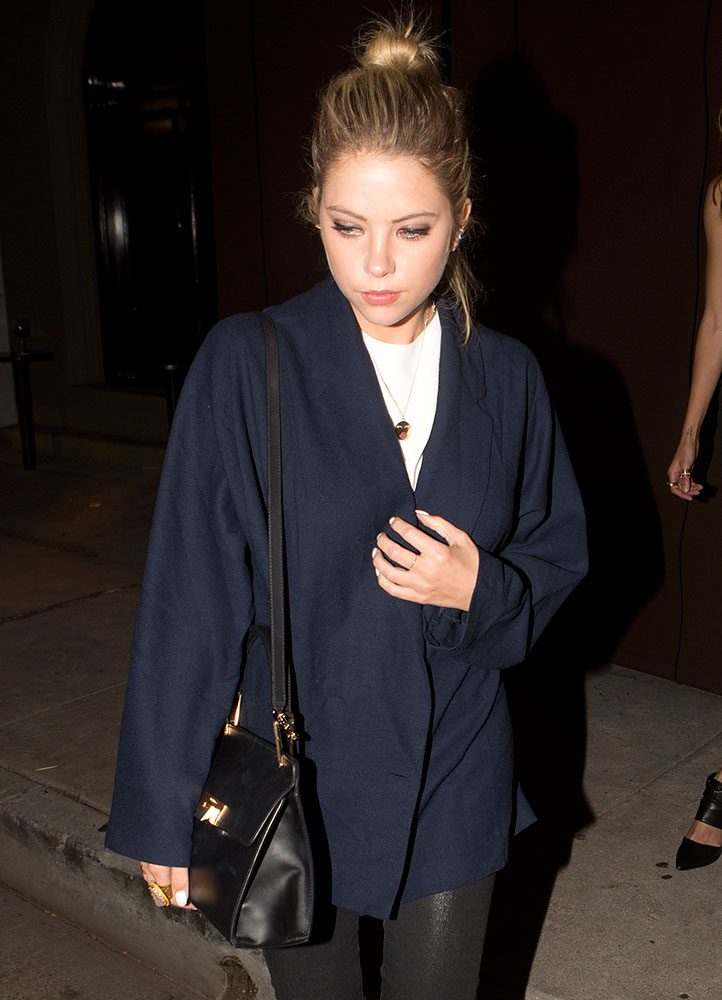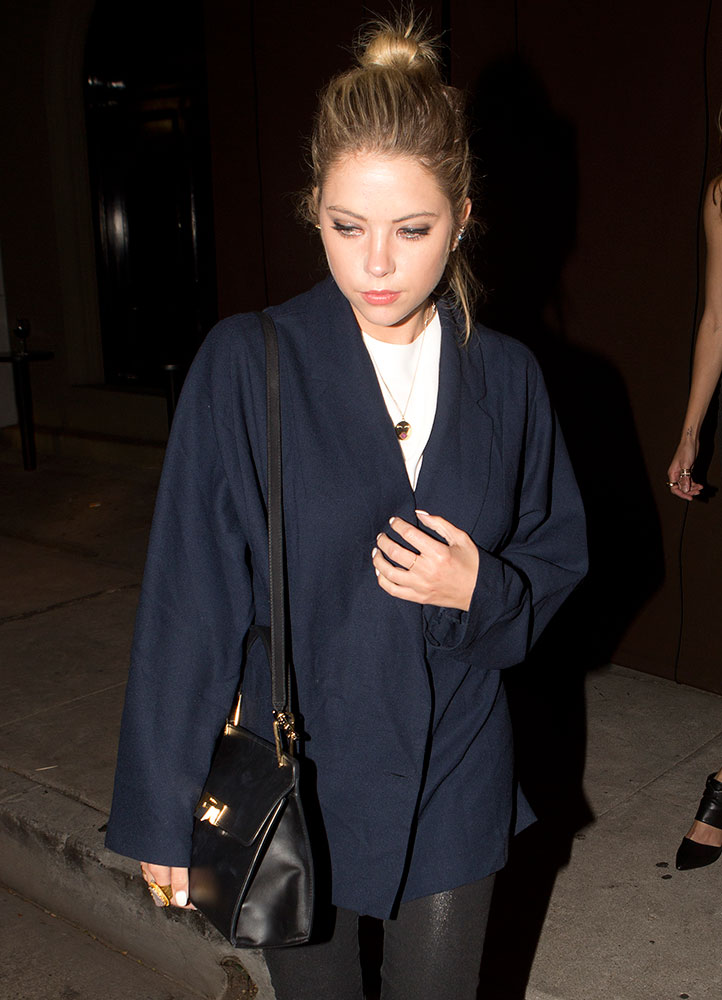 This is not the last SDJ we're going to see before we're done.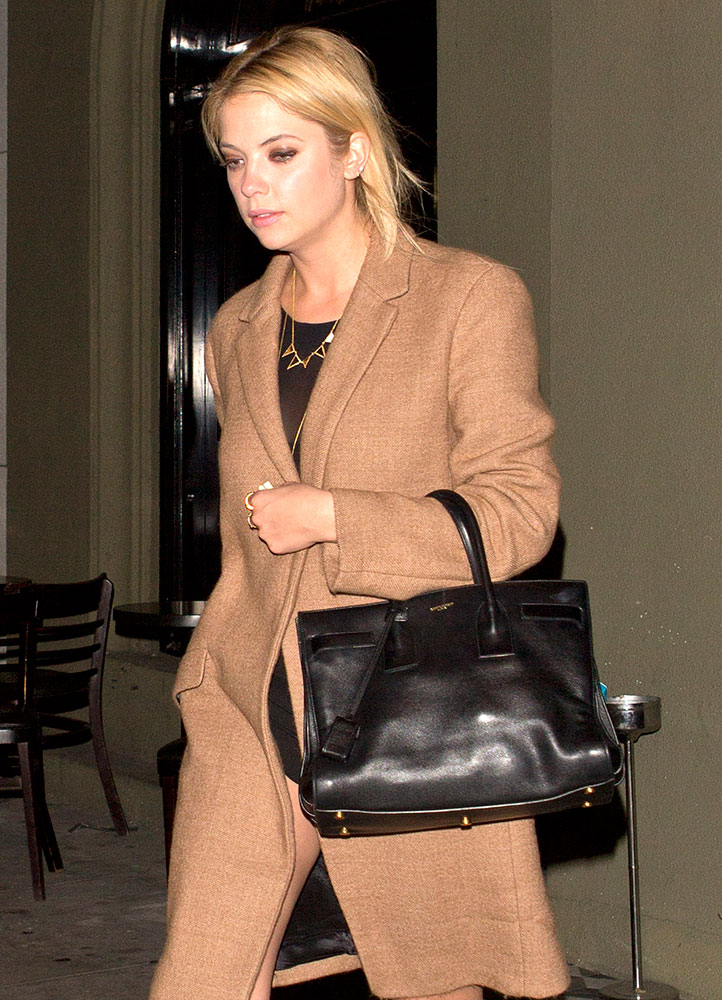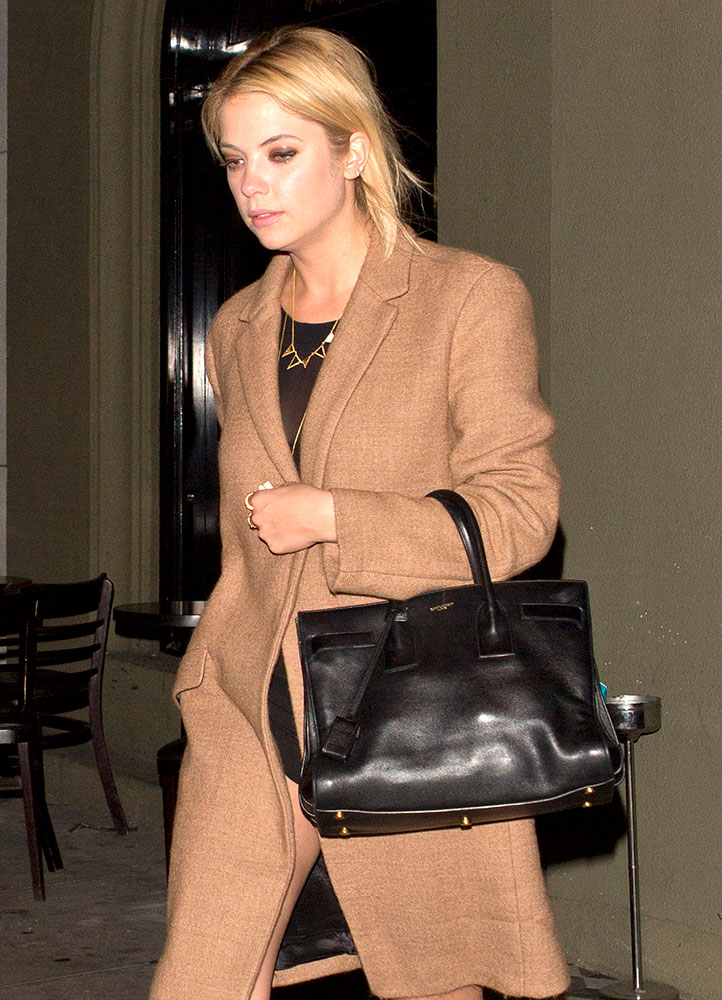 Every time I see this bag, I like it more.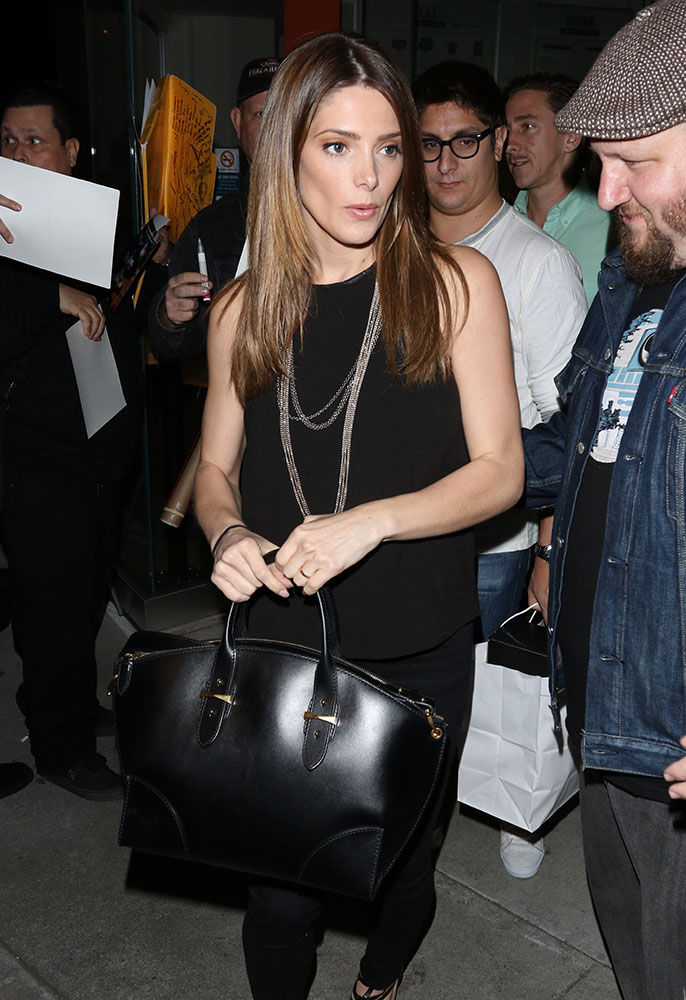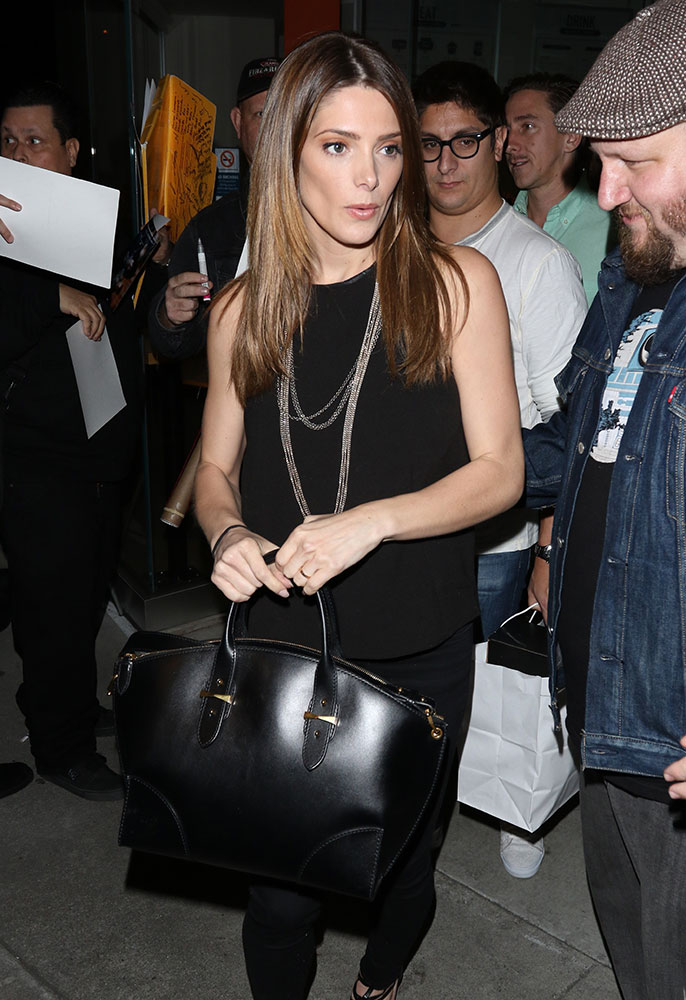 Bellamy Young
Stella McCartney Mini Cavendish Tote
$1,071 via farfetch.com
The paparazzi outside of Craig's seem particularly rude; you see a lot of celebrities making faces at them who normally perform well under pressure.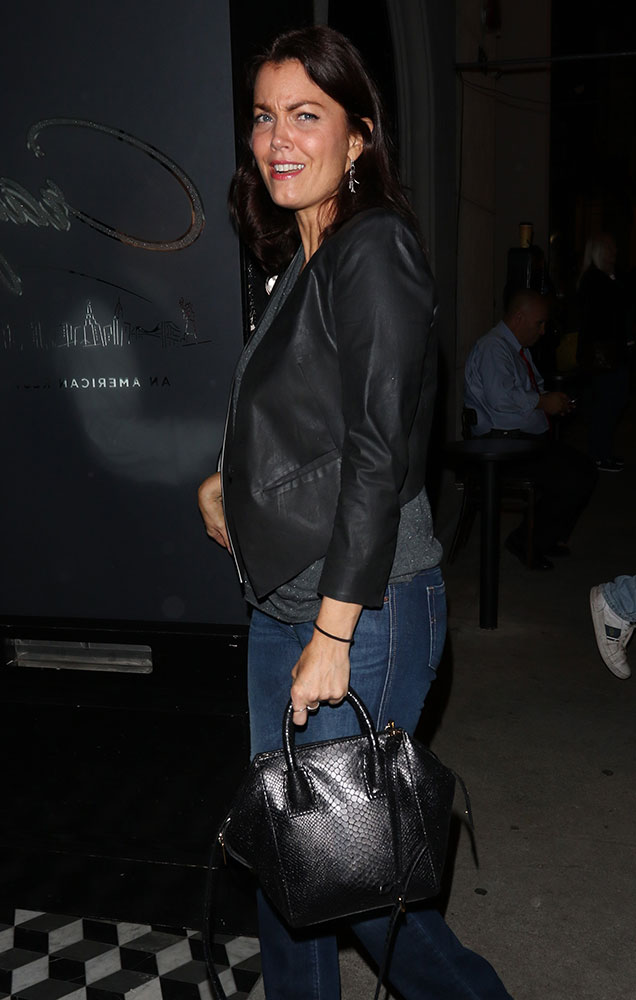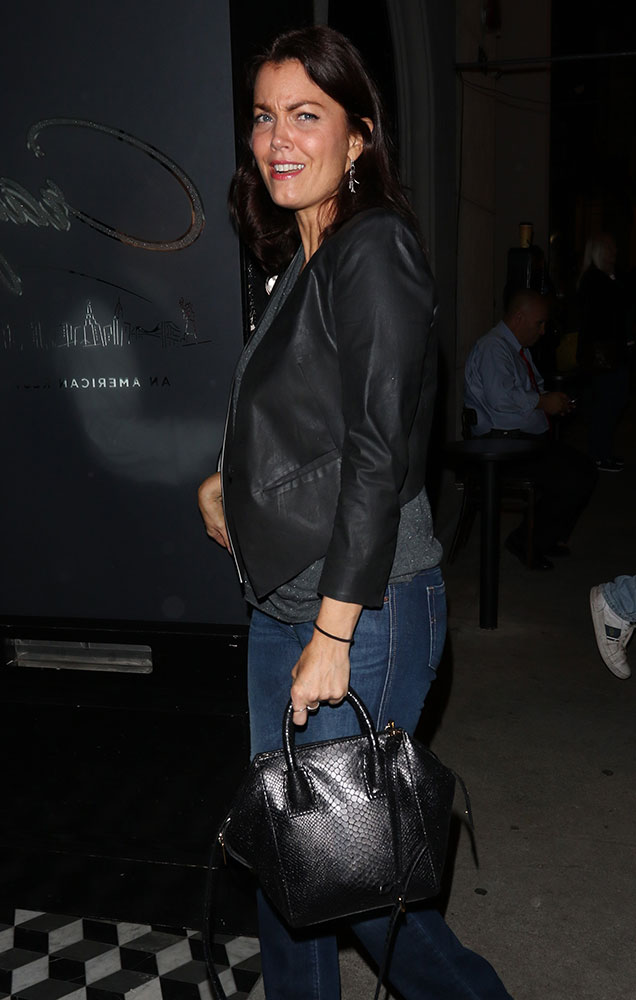 Beth Smith
Michael Kors Miranda Calf Hair Tote
$1,195 via Saks
If you ever wondered where you can have dinner in the same room with both Oscar winners and Dog the Bounty Hunter's wife, Craig's is the place.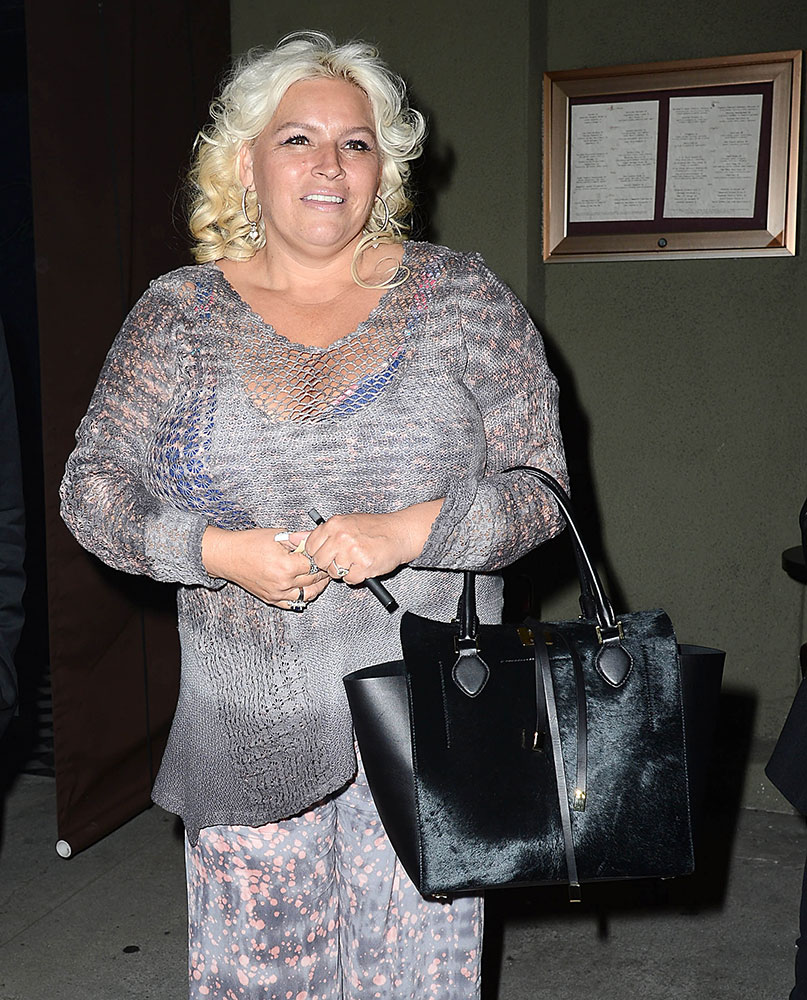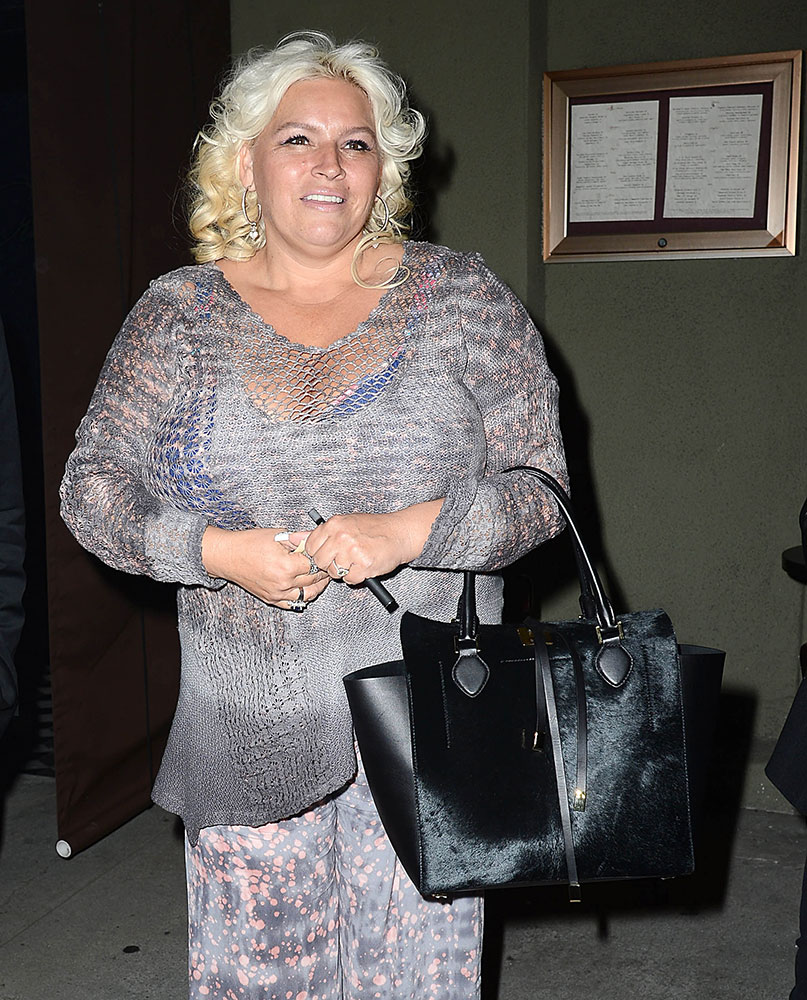 Bethenny Frankel
Hermès Jige Clutch
Bethenny deals with NYC paps all the time, but it seems like the ones outside of Craig's have gotten to her.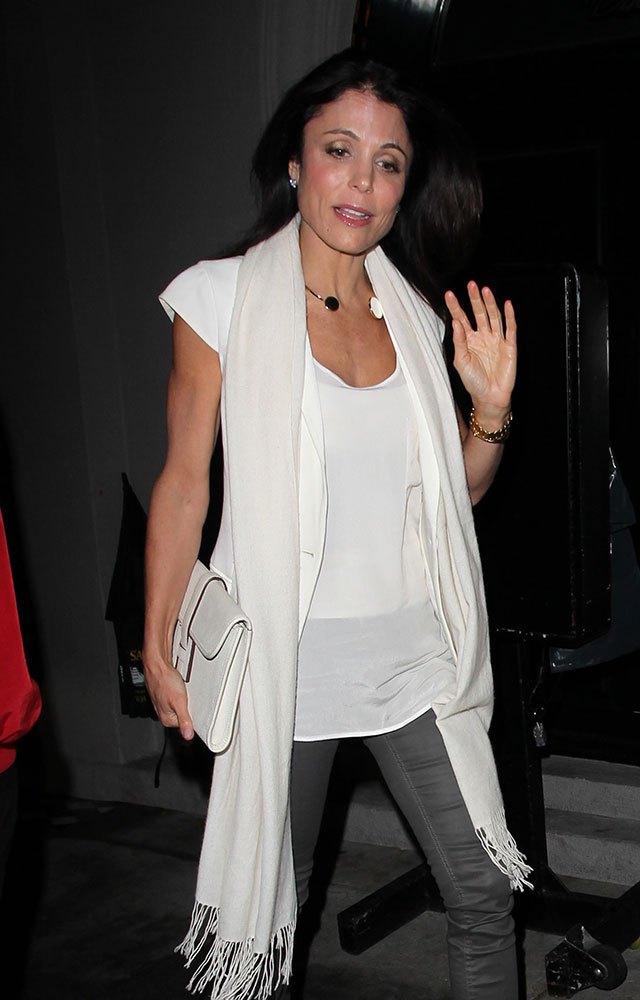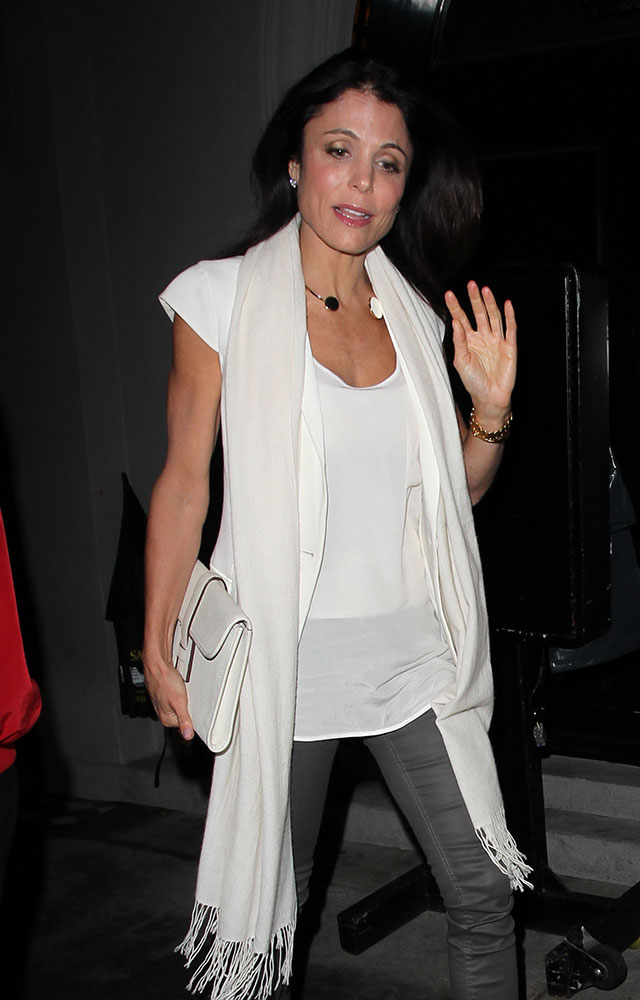 Brittny Gastineau
Chanel Logo Satchel
In our photo service's archive, Brittny is often described as "Kim Kardashian's BFF." I wonder how she feels about that.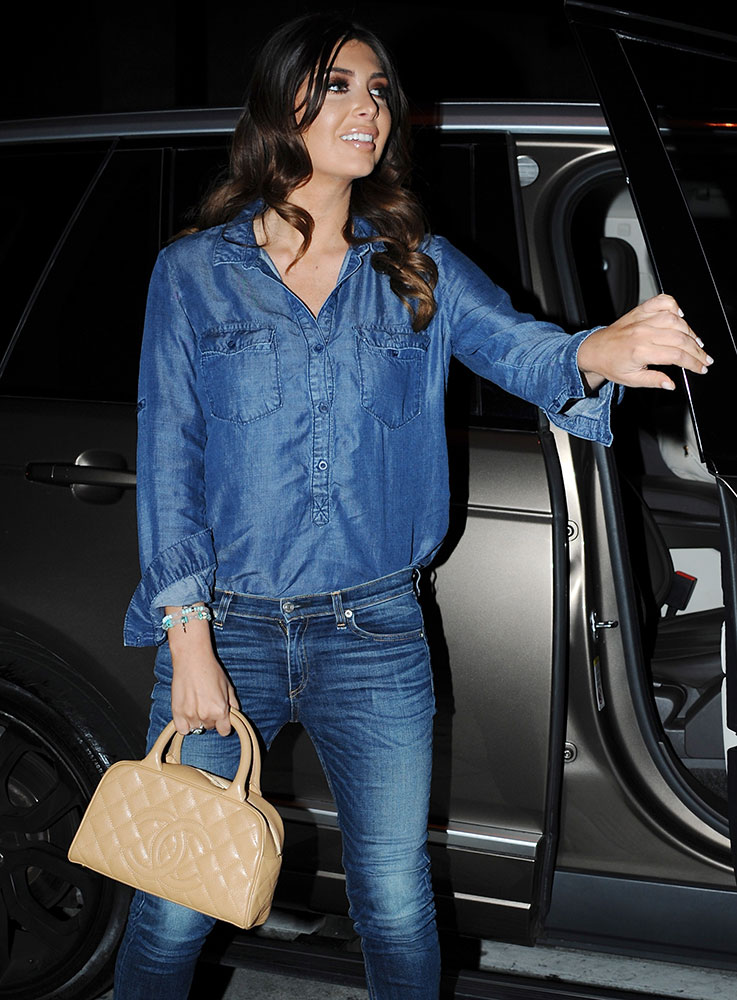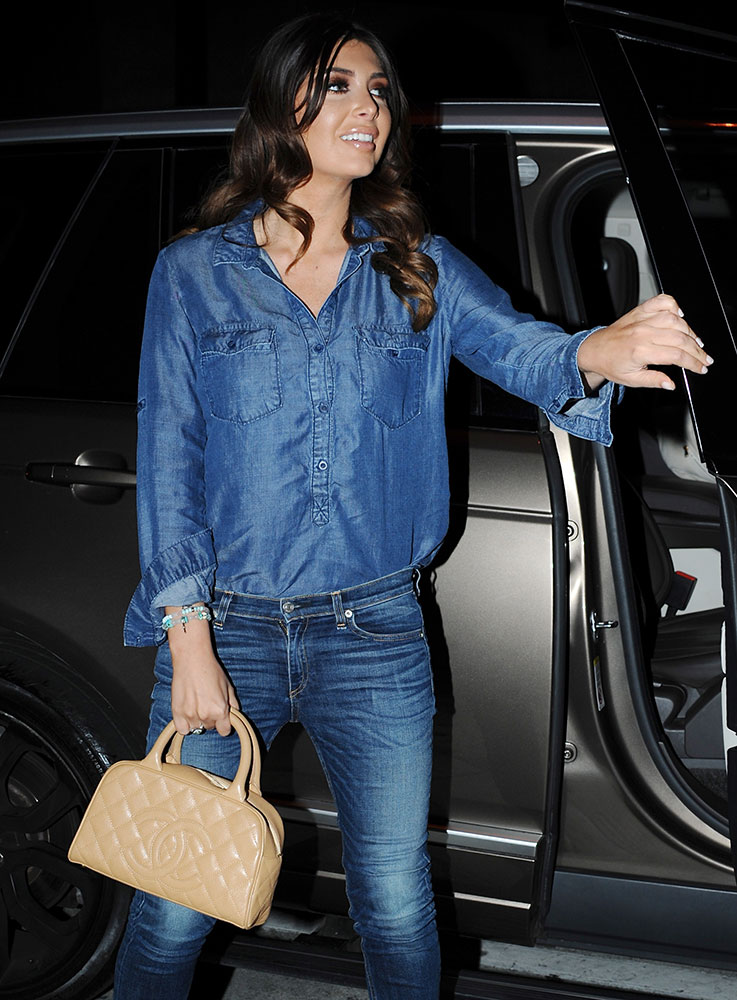 Cara Santana
Diane von Furstenberg 440 Envelope Clutch
$288 via Saks
If you're curious about who Cara is: She's been a working actress on and off for a while, but photographers started to take notice of her when she started dating Jesse Metcalfe.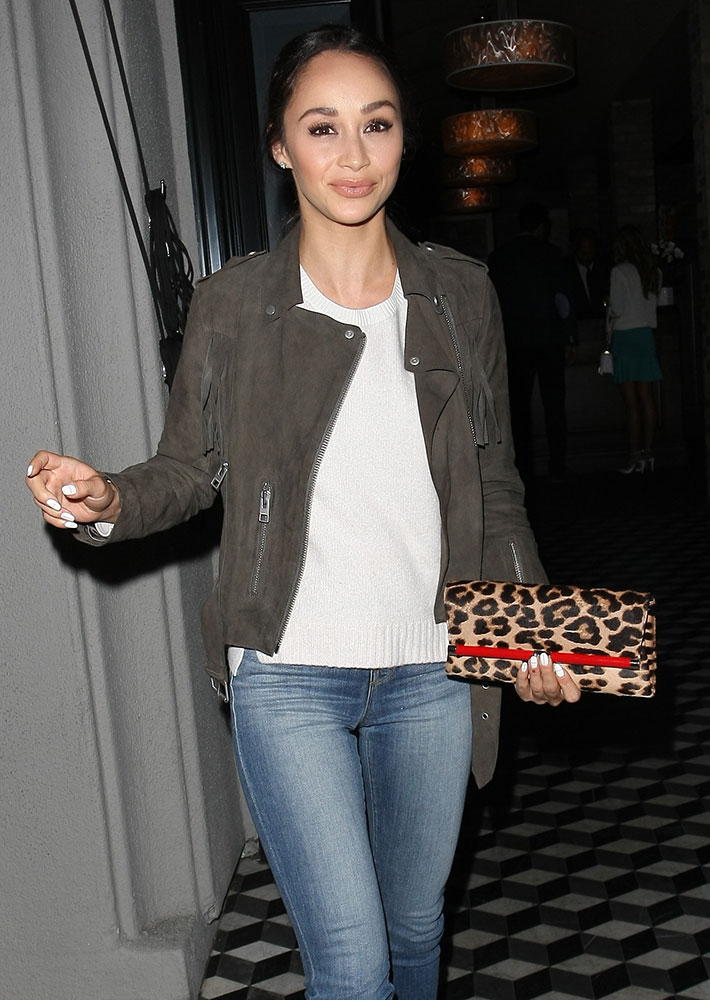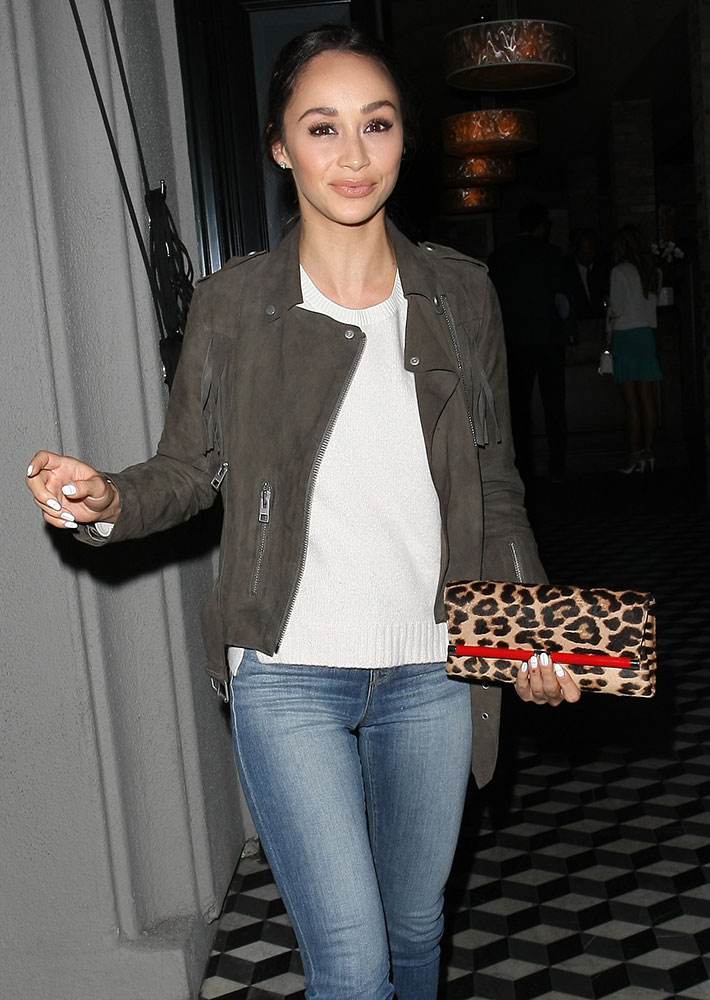 Chelsea Handler
Céline Crocodile Nano Luggage Tote
I'm not sure who the woman walking with Chelsea is, but her bag was easily good enough (and close enough to a famous person) to warrant inclusion.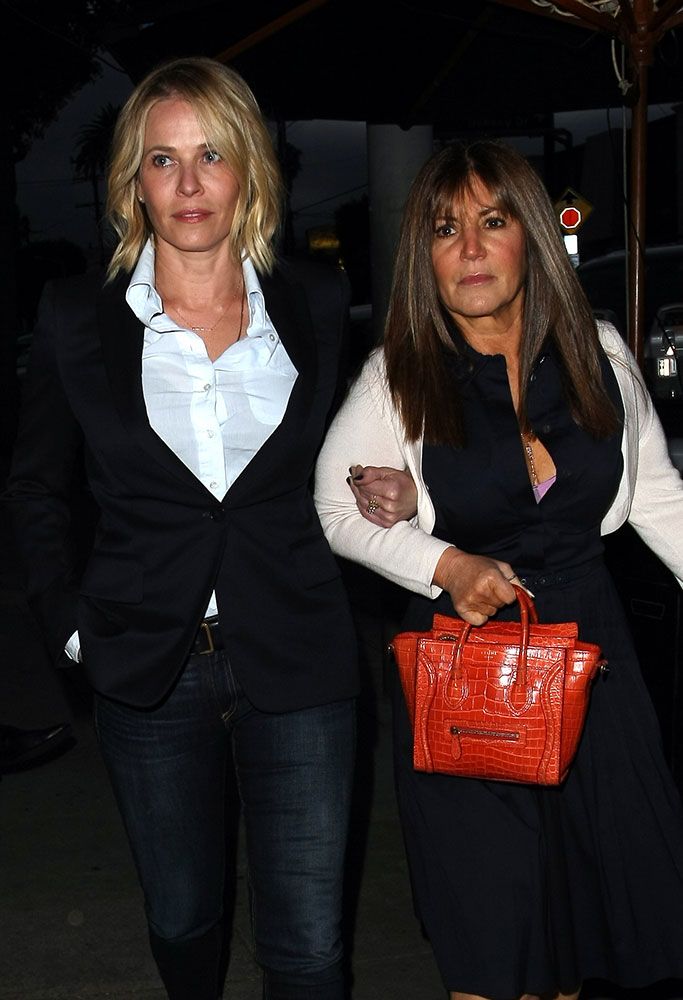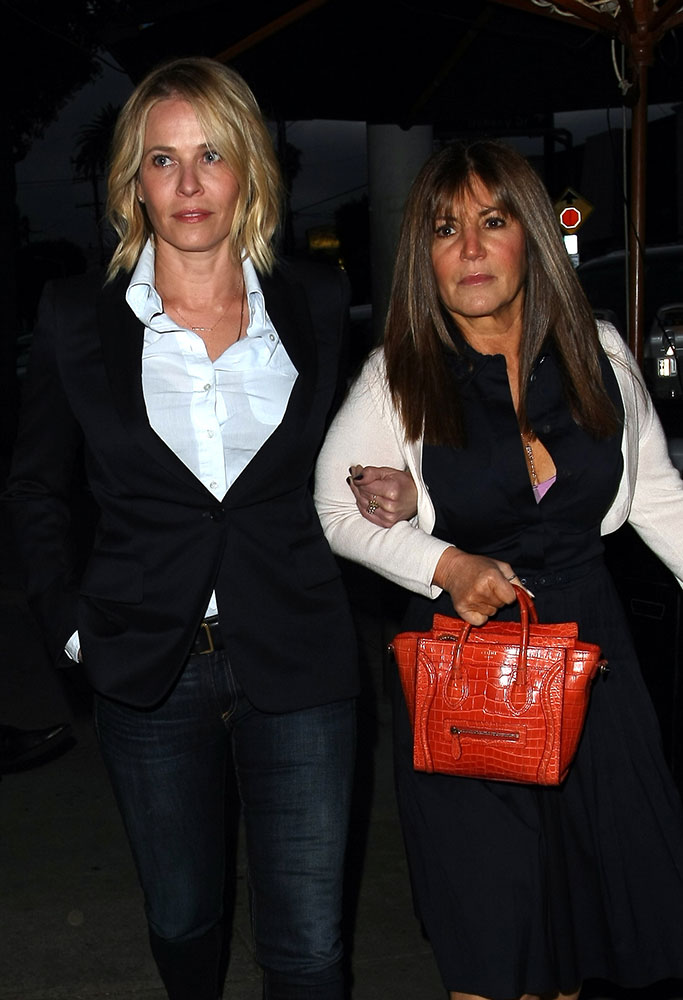 Chrissy Teigen
Speaking of not knowing things: we're not sure who makes this bag.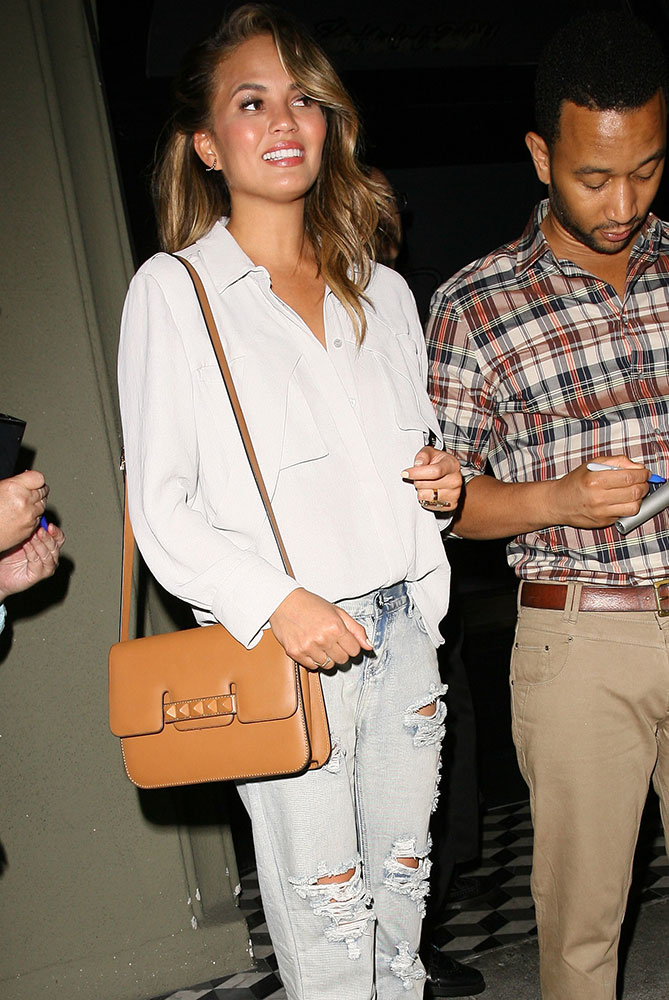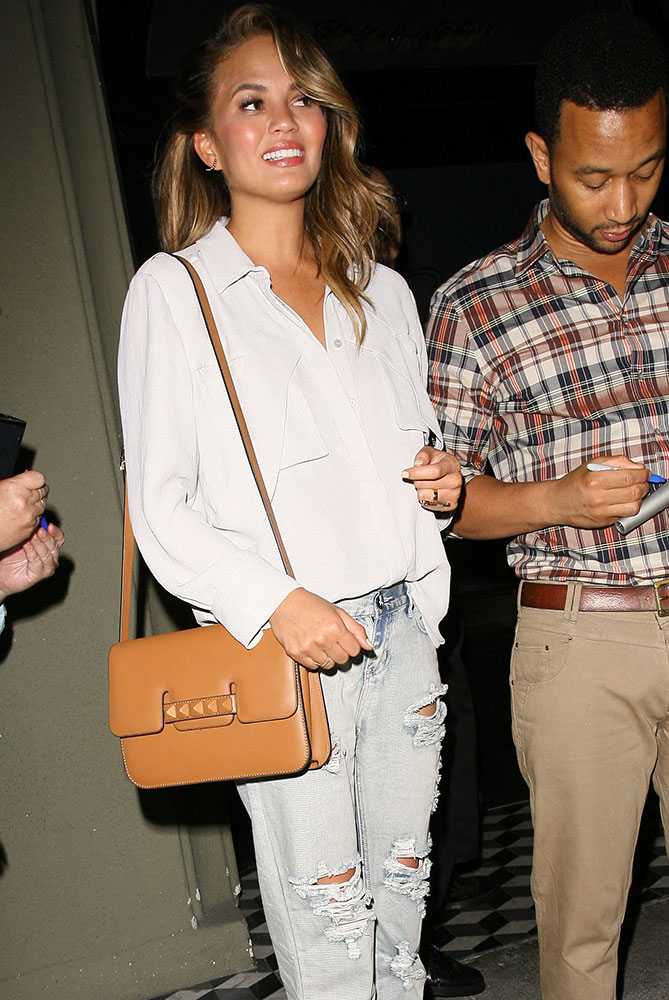 Both pink-haired pop singers and the genuinely elderly enjoy Craig's, which is kind of fascinating.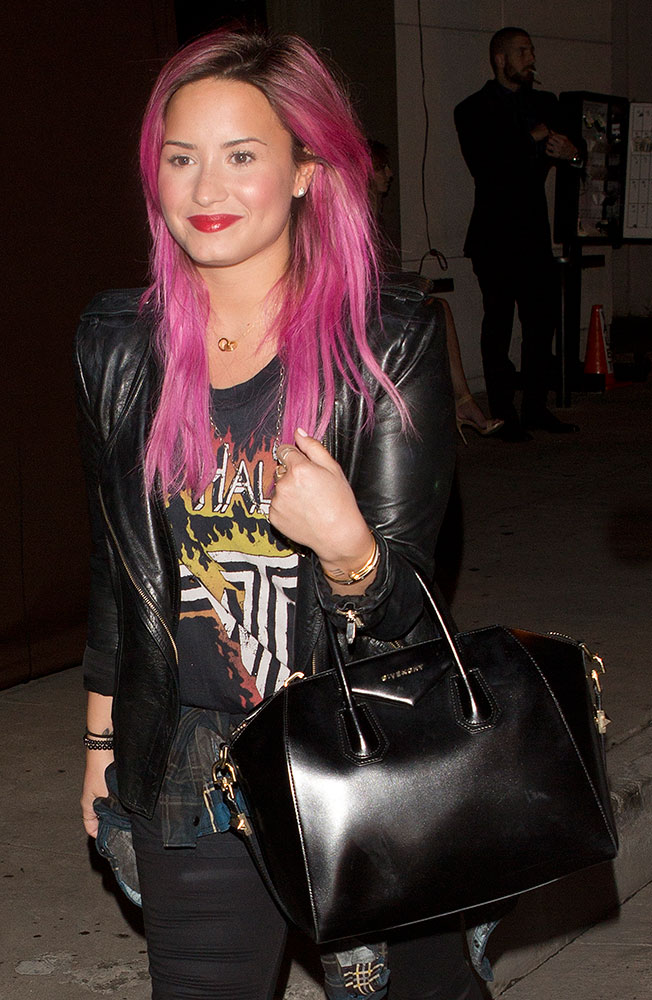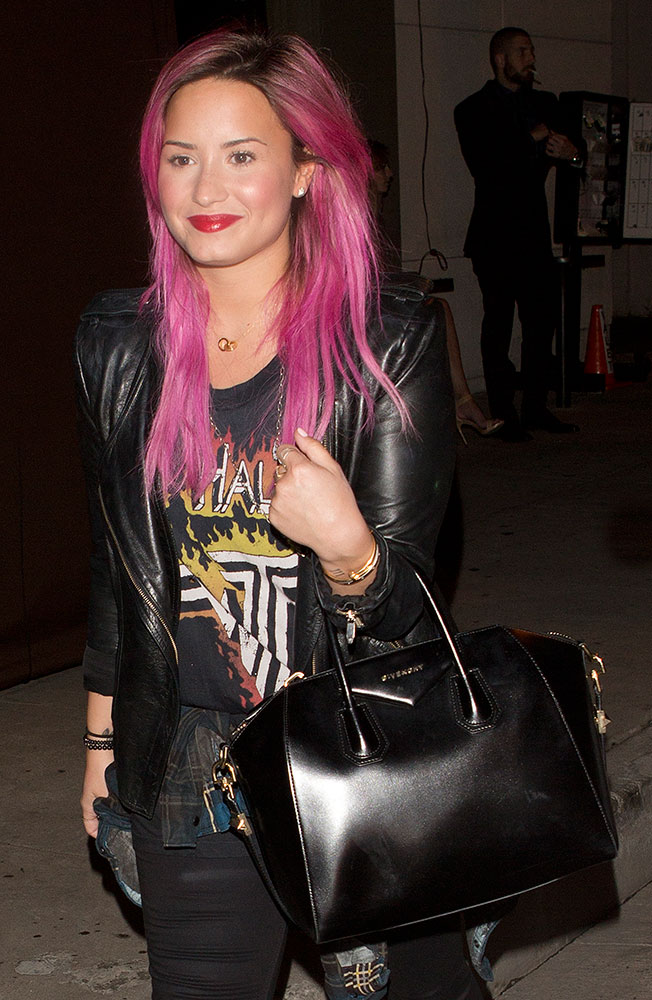 Diahann Carroll
Christian Dior Lady Dior Bag
There may be no better place in LA to regularly spot Hollywood legends, and Hollywood legends always have good bags.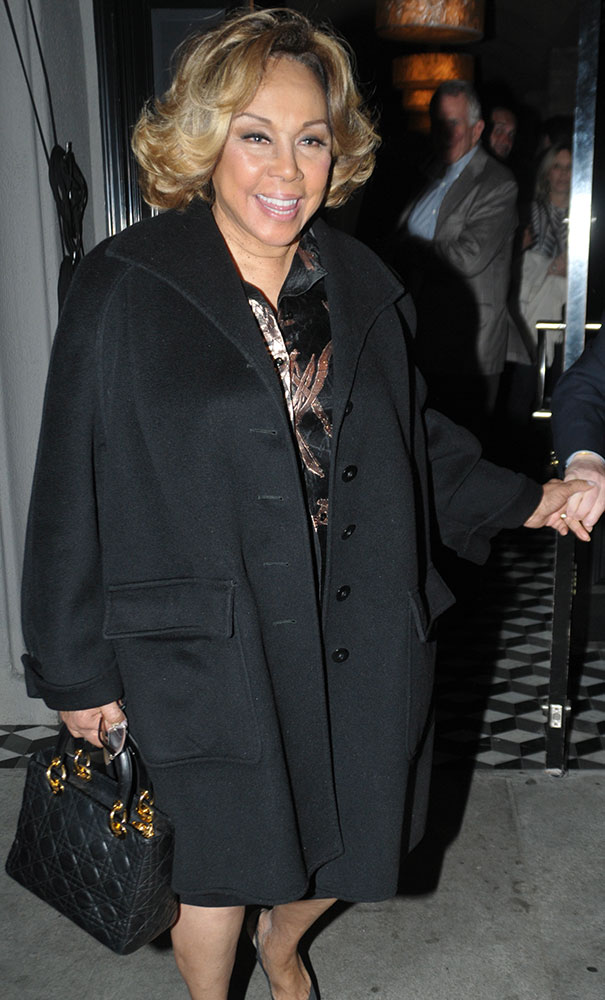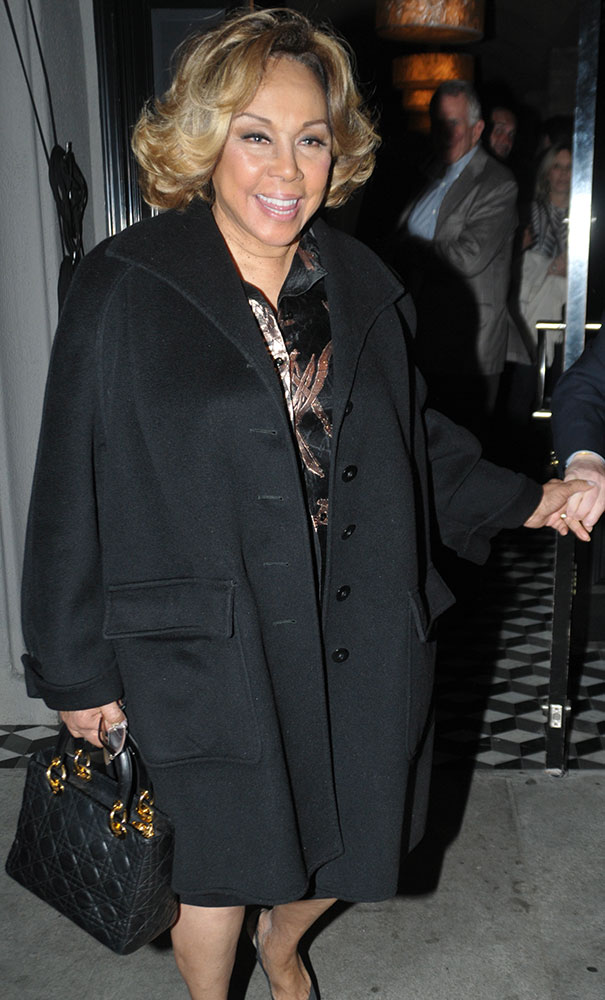 In fact, everyone at Craig's has good bags.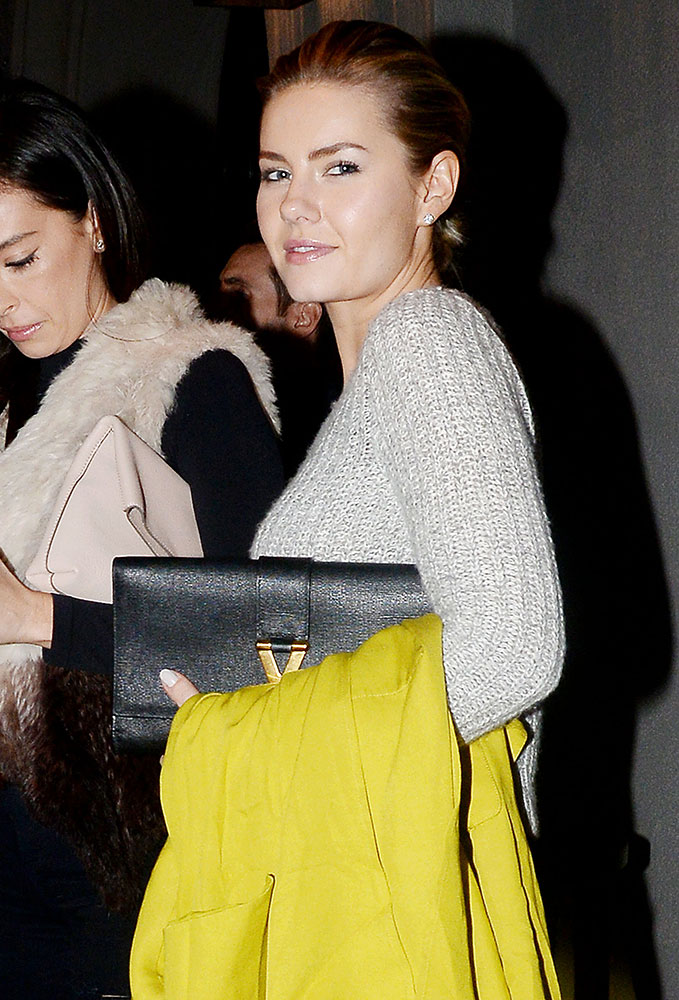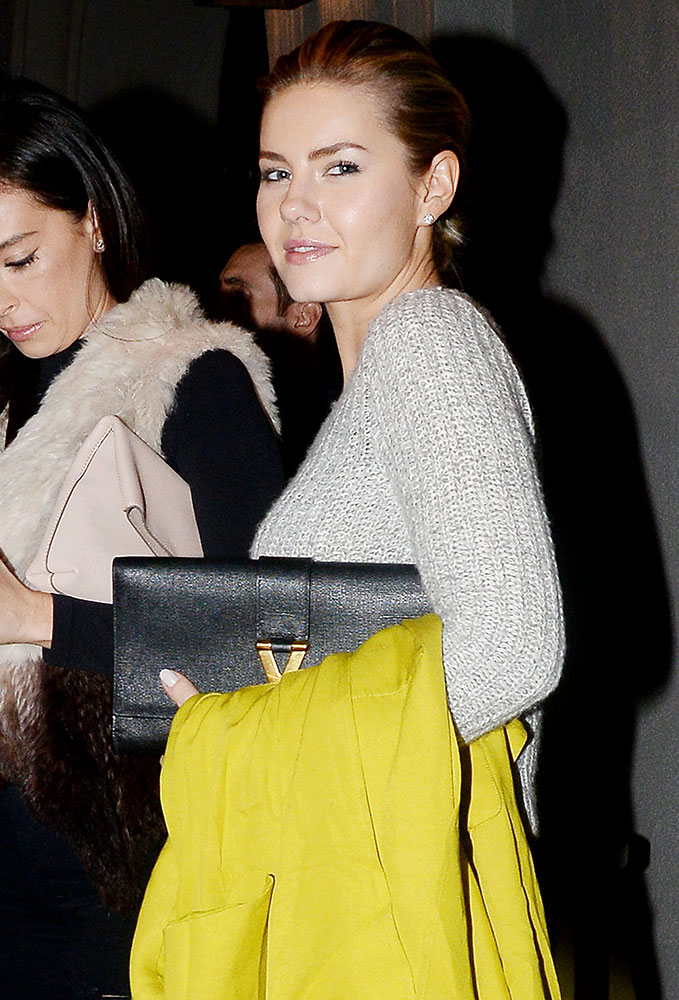 Because photographers camp outside of Craig's every night, they catch a much broader array of stars than they would if they were simply picking high-value targets to follow around.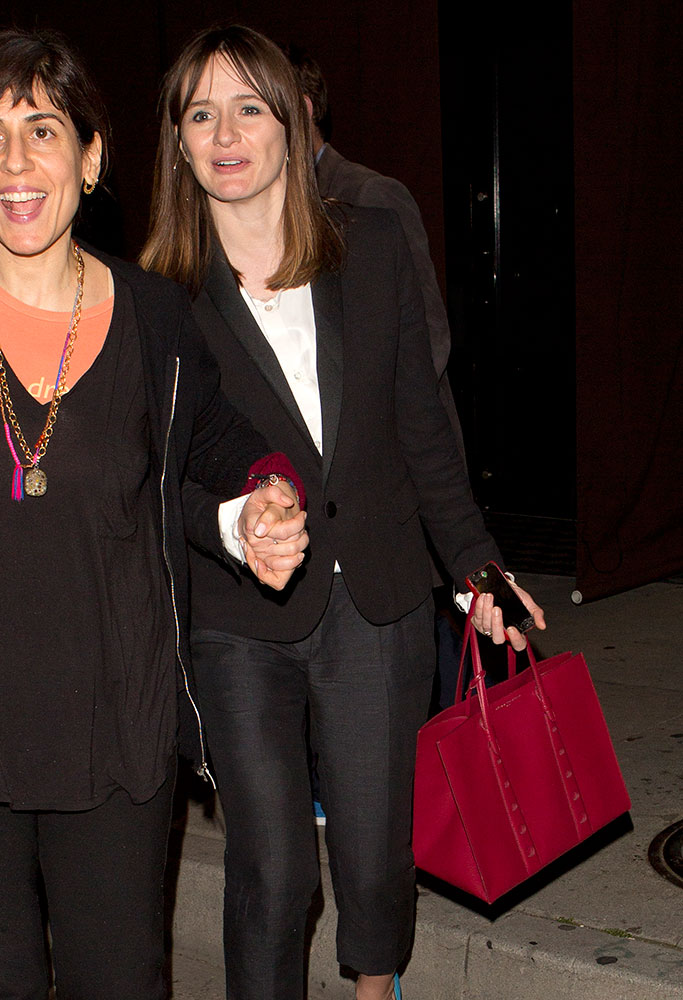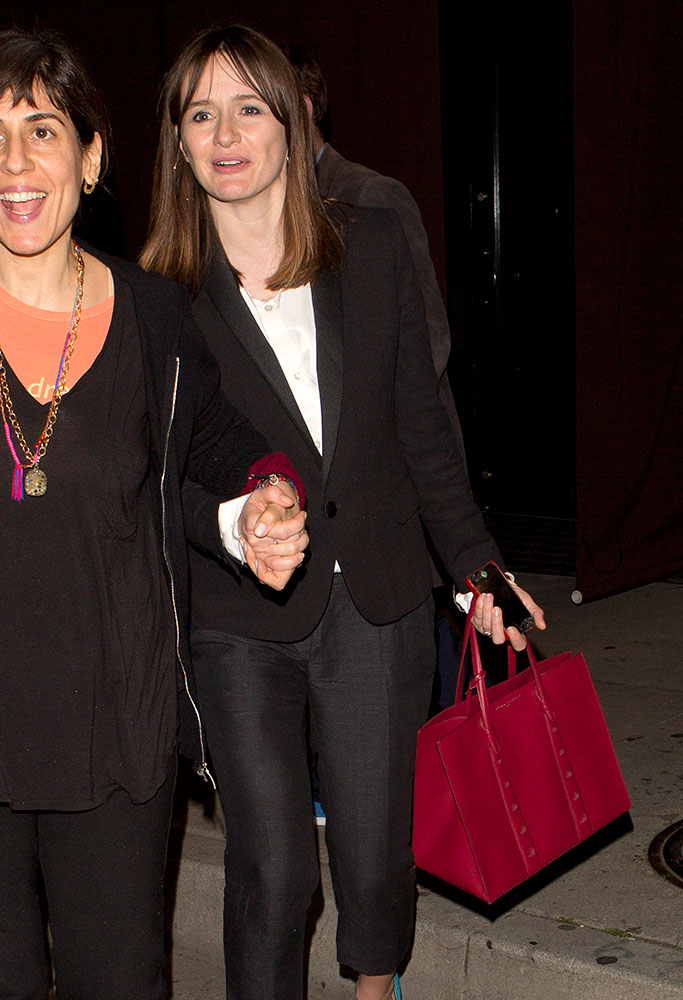 Emmy always looks like she stepped directly off Pinterest.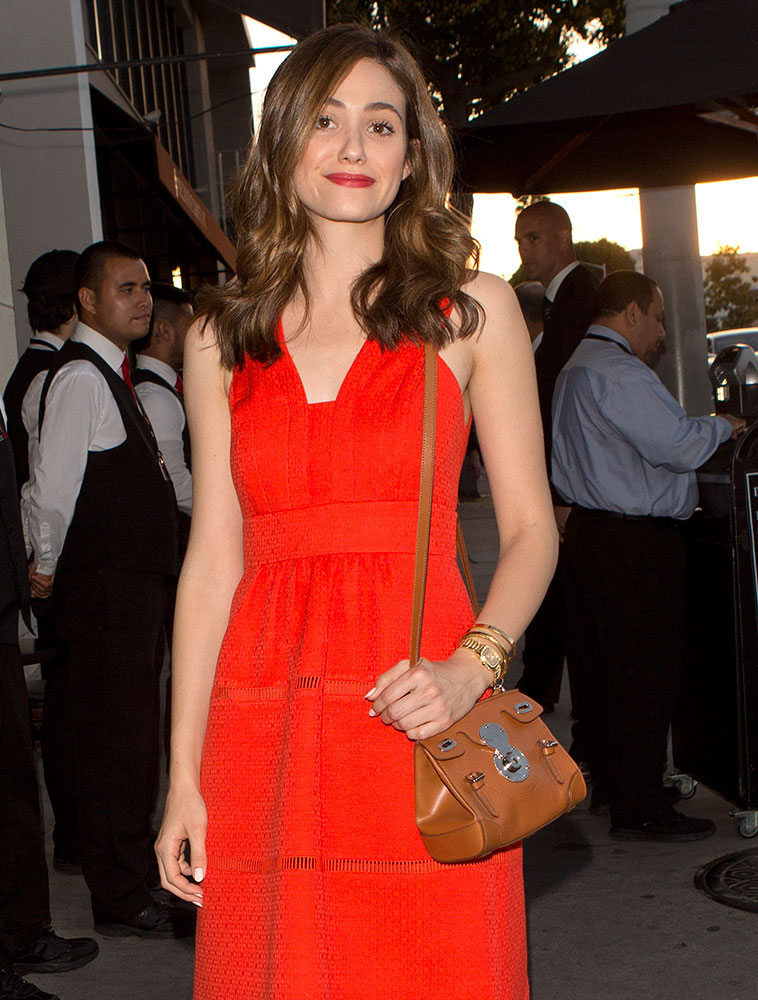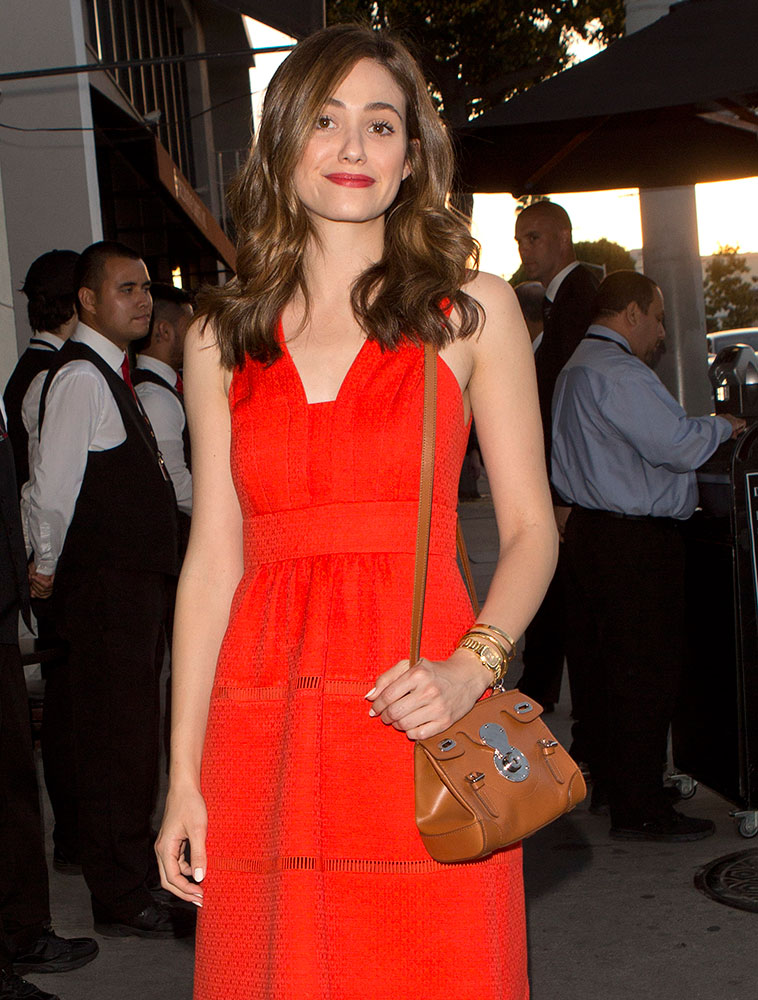 See? Perfect.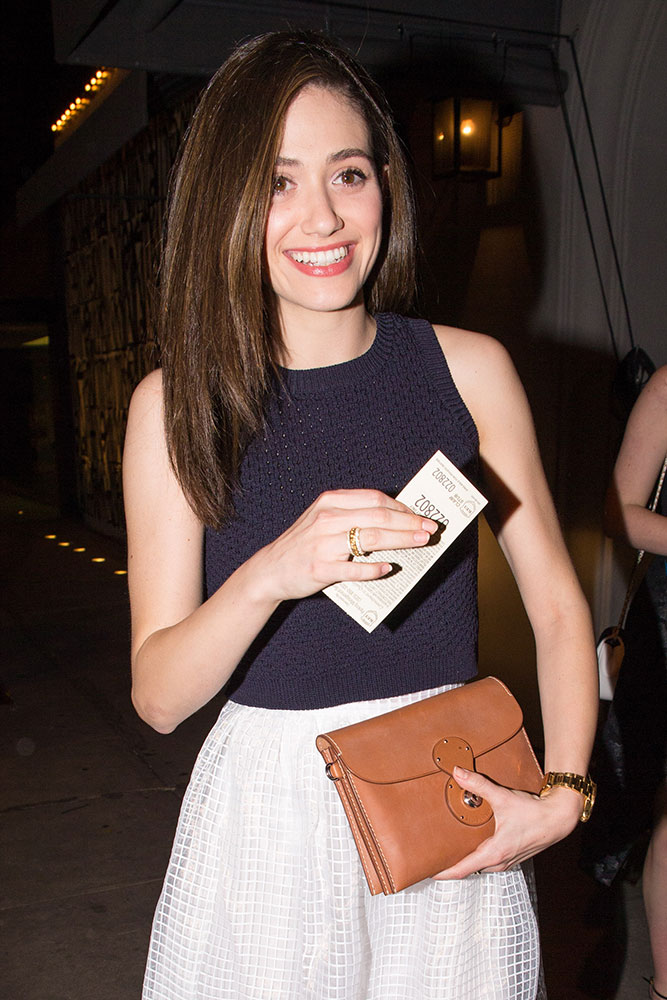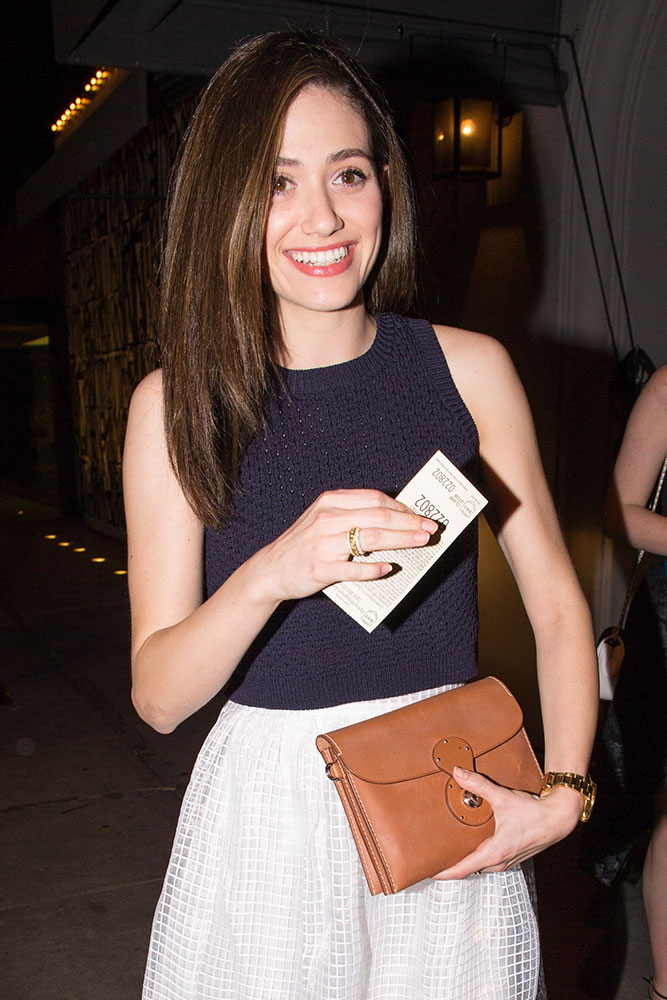 Fay Resnick
Hermès Birkin
There's a significant contingent of celebs who seem to be Craig's regulars who can best be described as Friends & Family of Kyle Richards. She seems to be the common link among them and often accompanies them. Faye is one such person.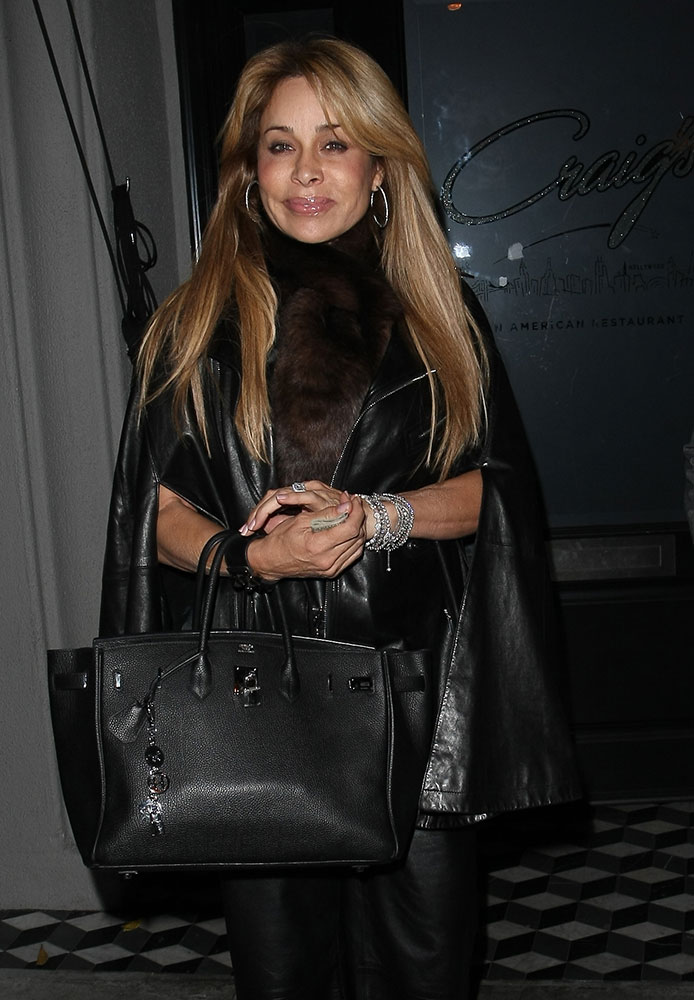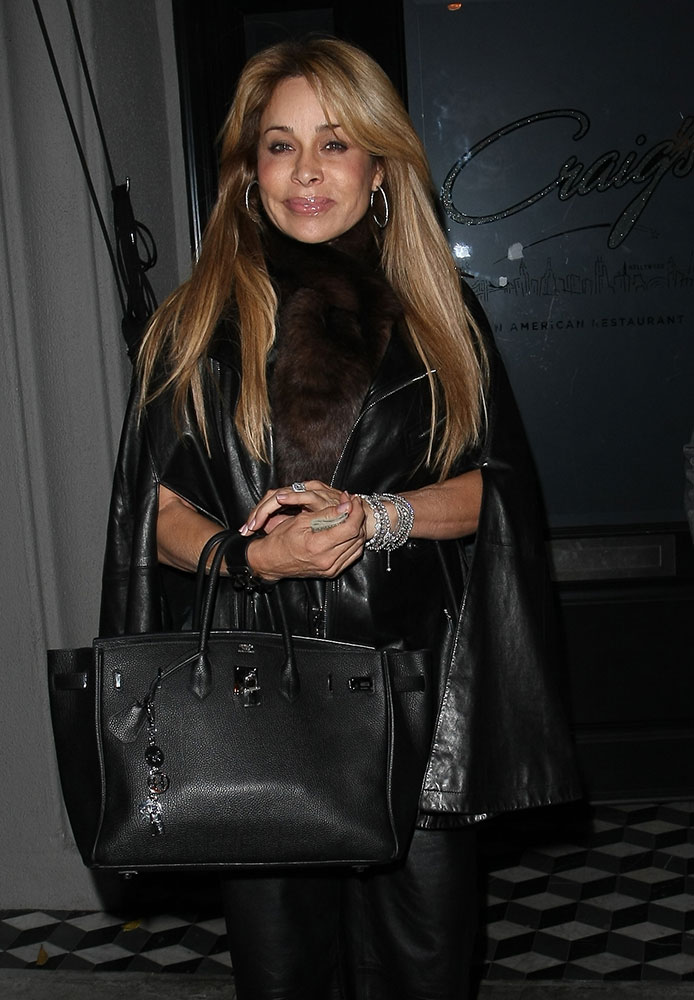 Freida Pinto
MICHAEL Michael Kors Dillon Tote
$261 via Neiman Marcus
I always find it charming when stars have surprisingly attainable handbags.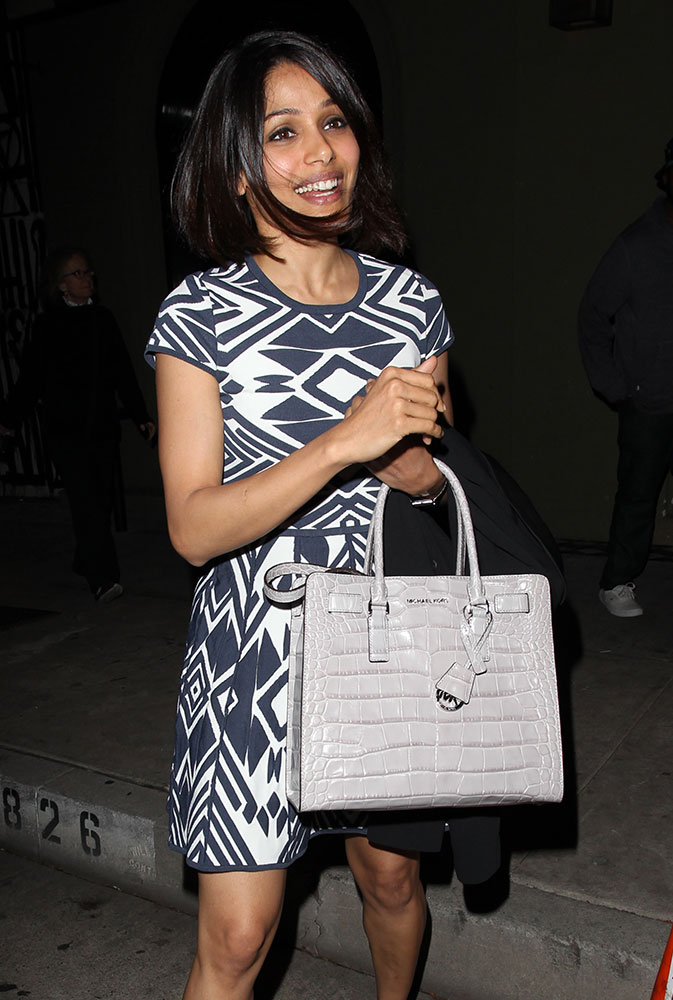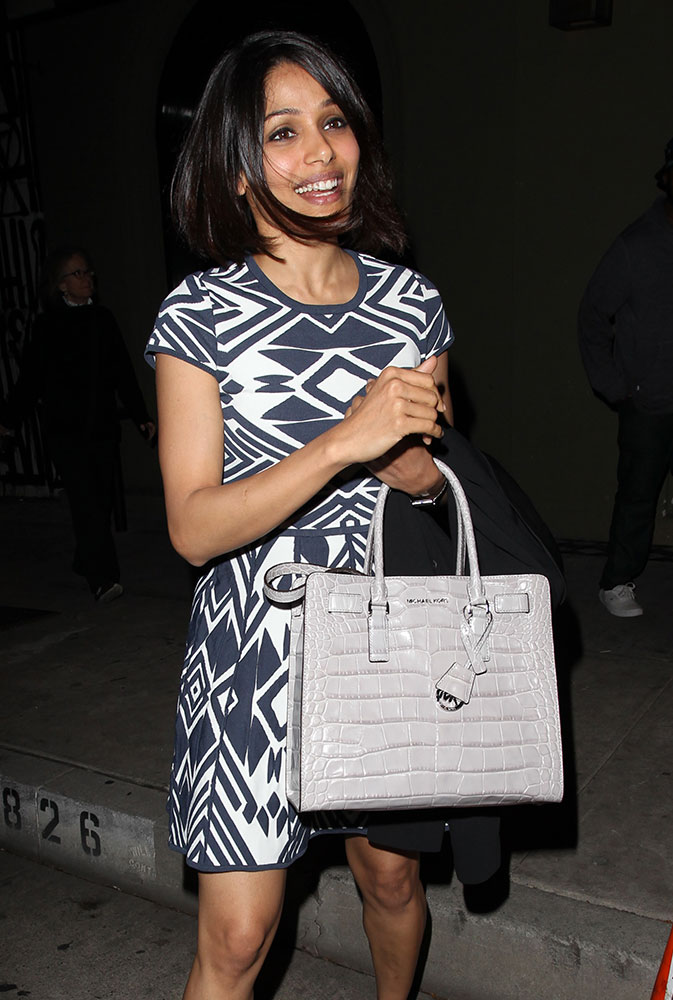 Hailey Baldwin
Saint Laurent Monogramme Shoulder Bag
$1,450 via mytheresa.com
The Celebrity Offspring With Modeling Contracts clique hasn't made a regular home at Craig's quite yet, but signs are starting to point to their eventual takeover.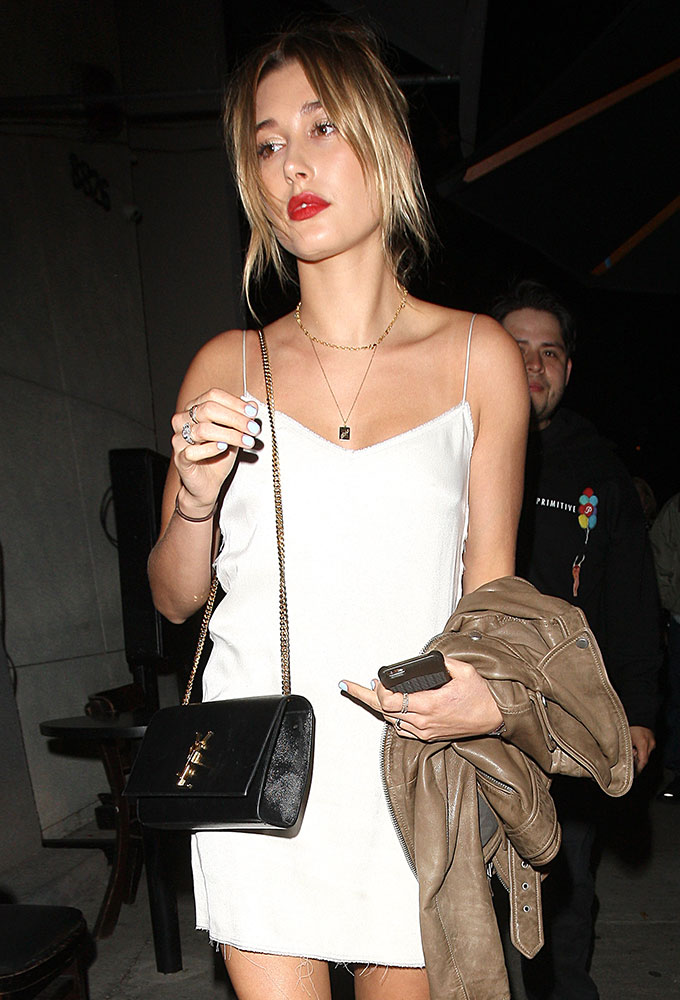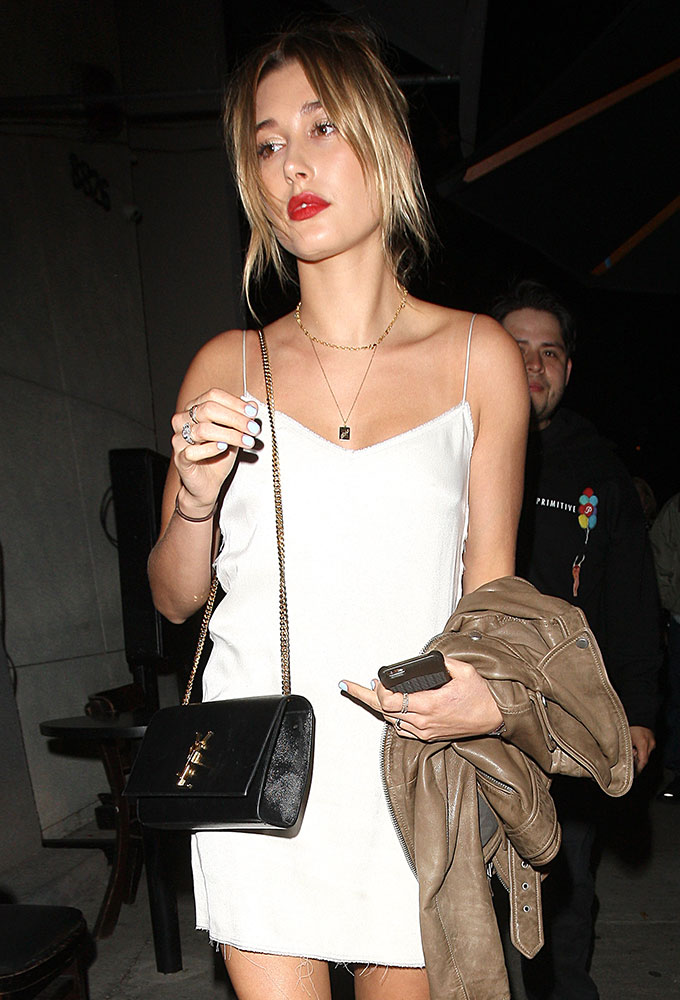 Jackie Collins
Chanel 2.55 Reissue Bag
In order to do it, though, they'll have to go through Jackie Collins, and that won't be easy. She's seemingly omnipresent at the restaurant, and she's always carrying Chanel.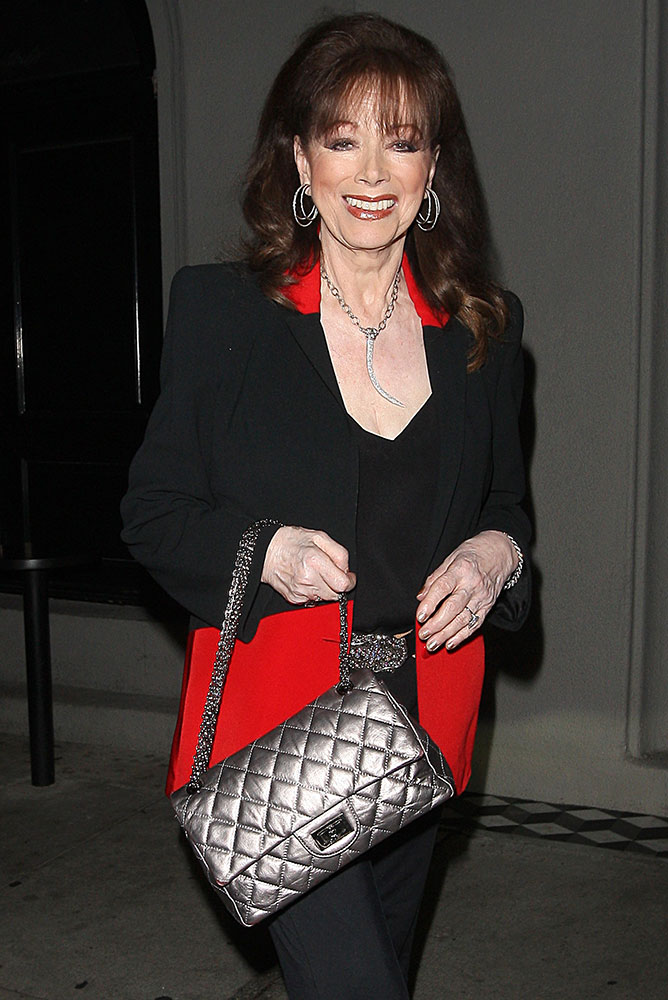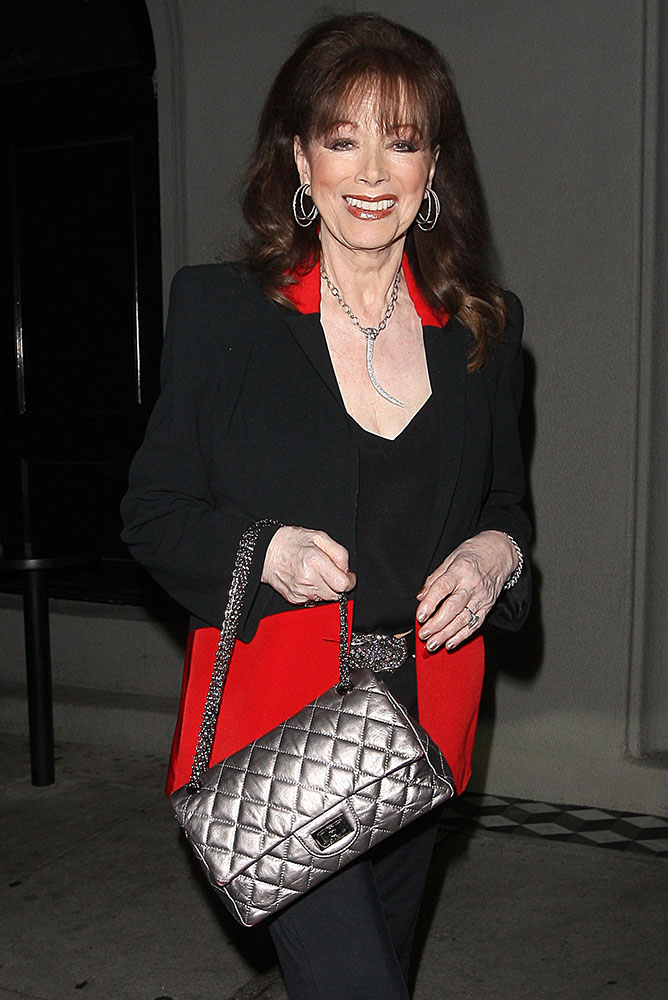 Jackie Collins
Chanel Coco Cocoon Bag
After a certain number of decades in Hollywoods, one figures out what one likes.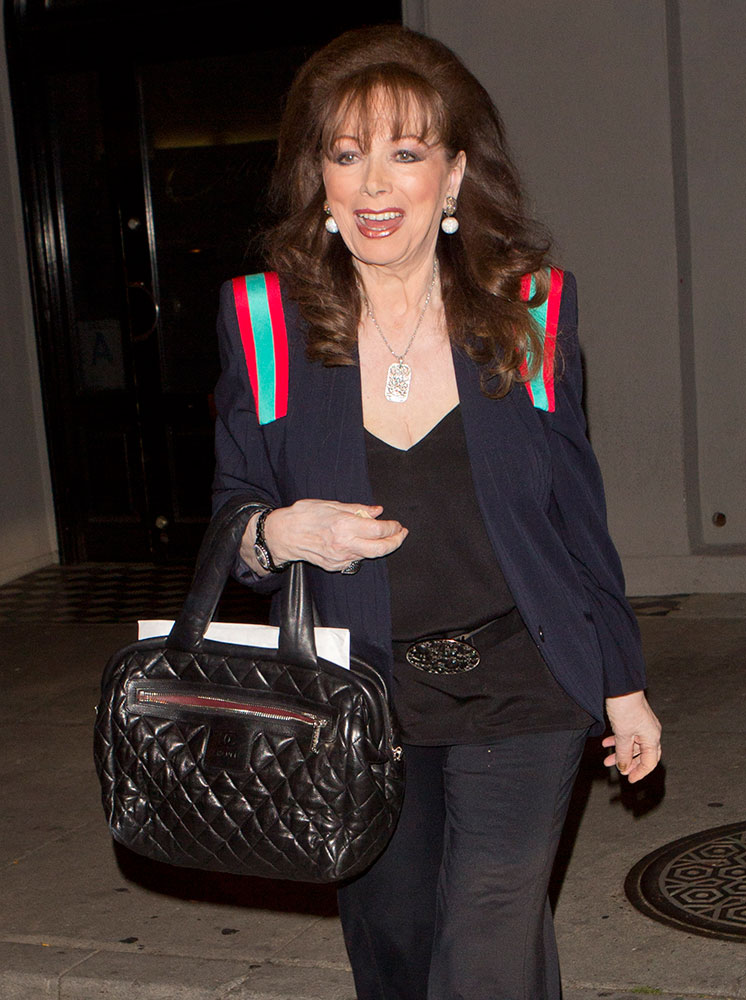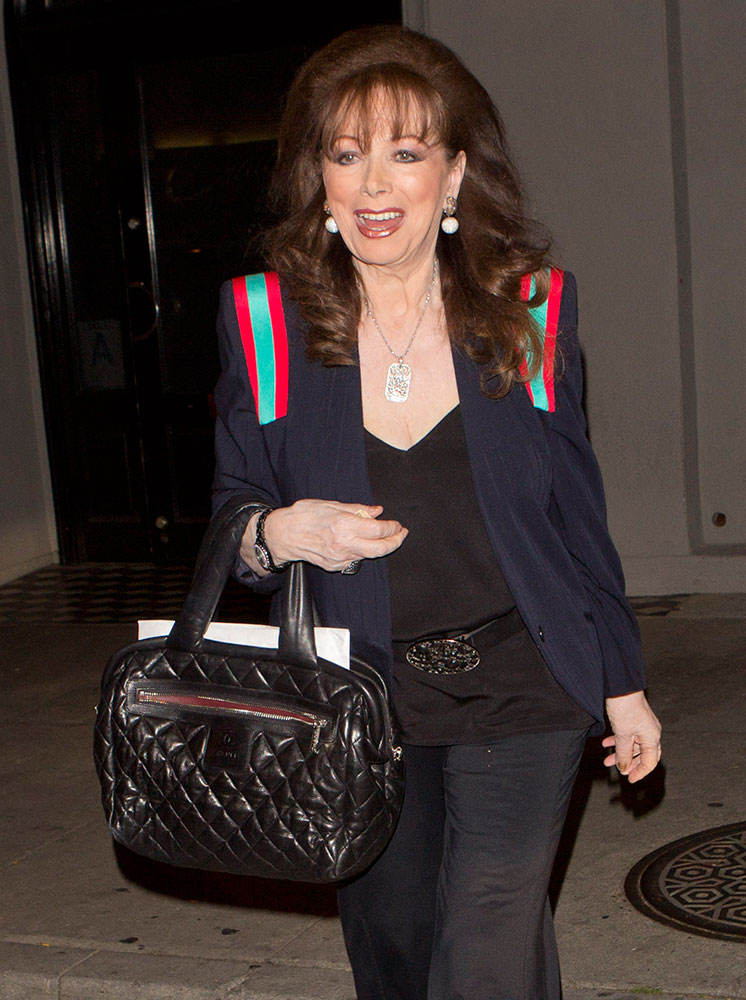 Jackie Collins
Chanel Flap Bag
For Jackie, that's clearly Chanel and Craig's.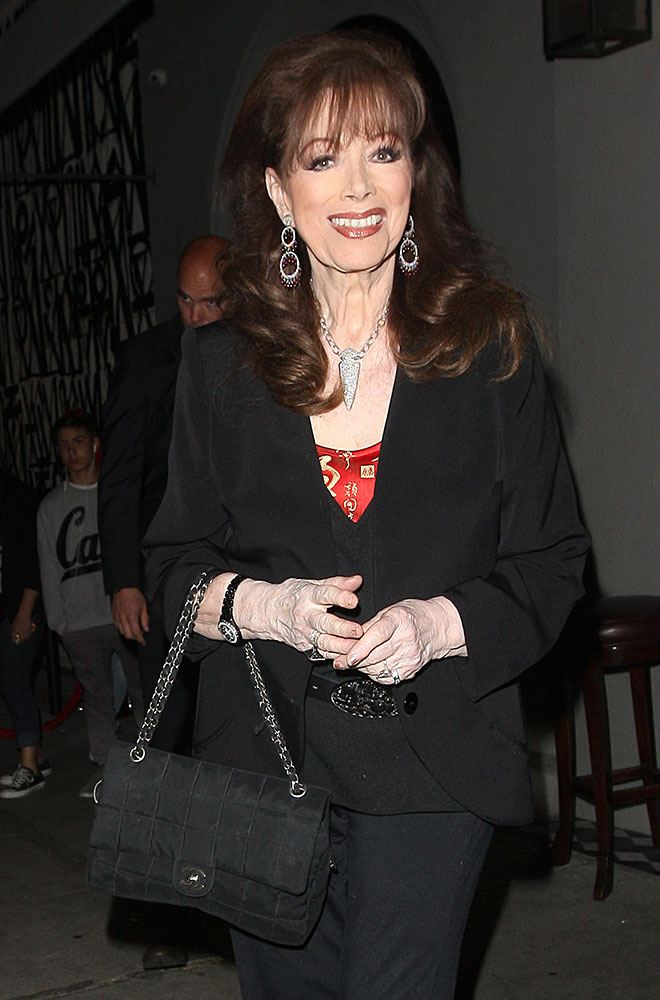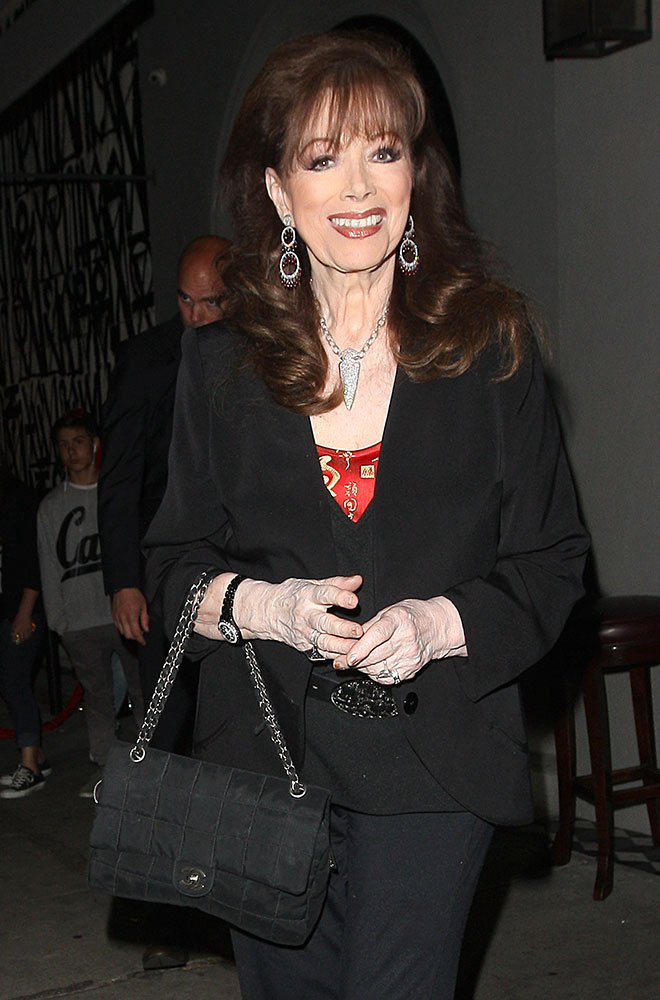 Jackie Collins
Chanel Quilted Tote
I wonder what she orders?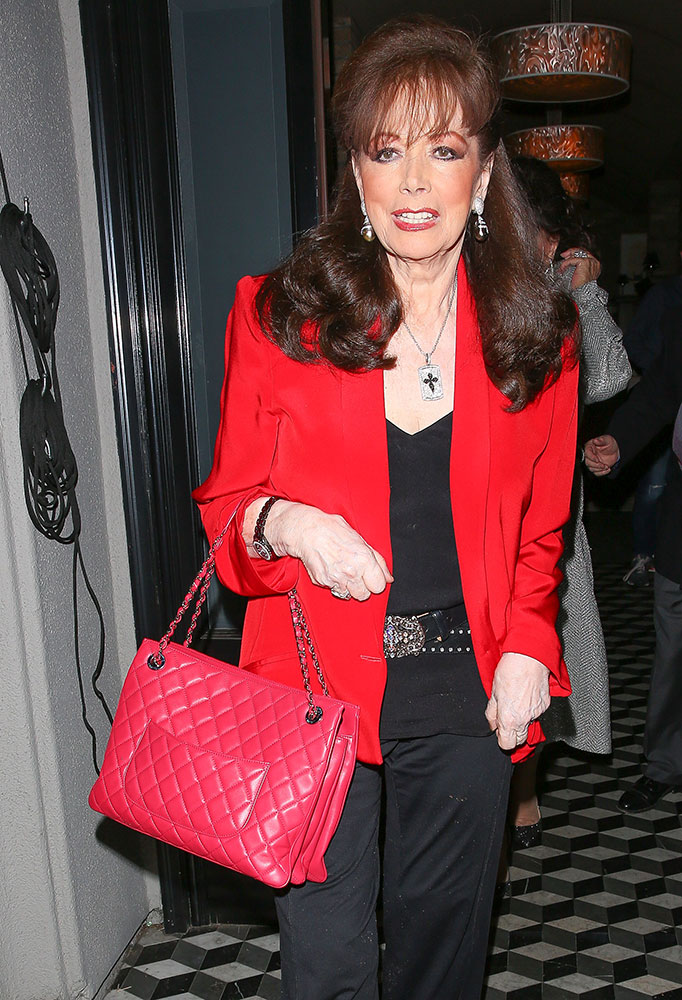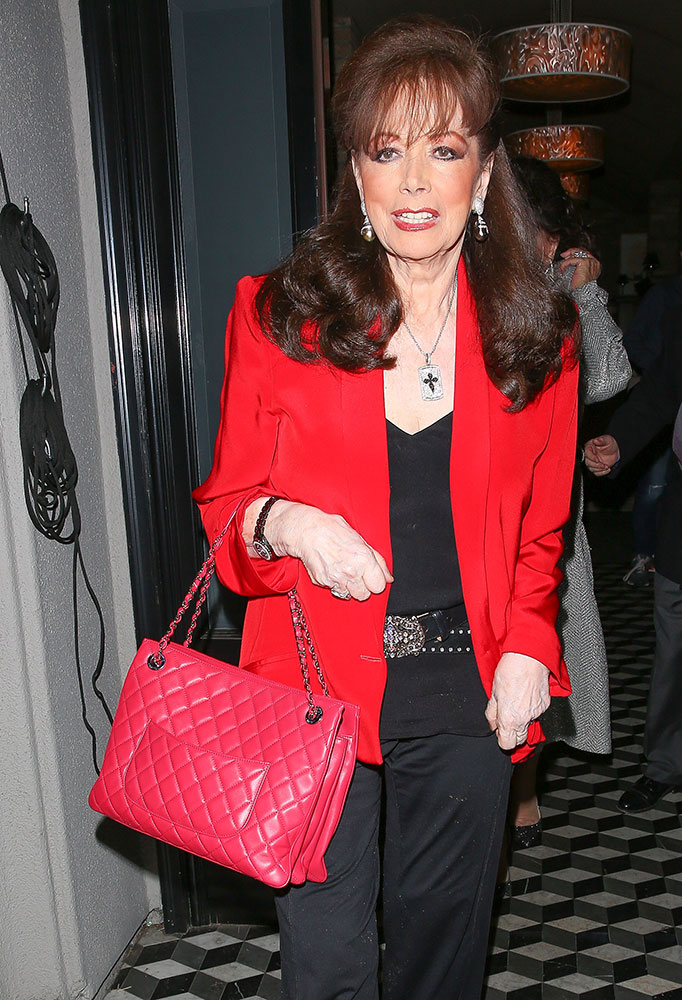 Jackie Collins
Chanel Quilted Tote
You're not seeing things; Jackie has this bag in two colors. (Two that we've seen, anyway.)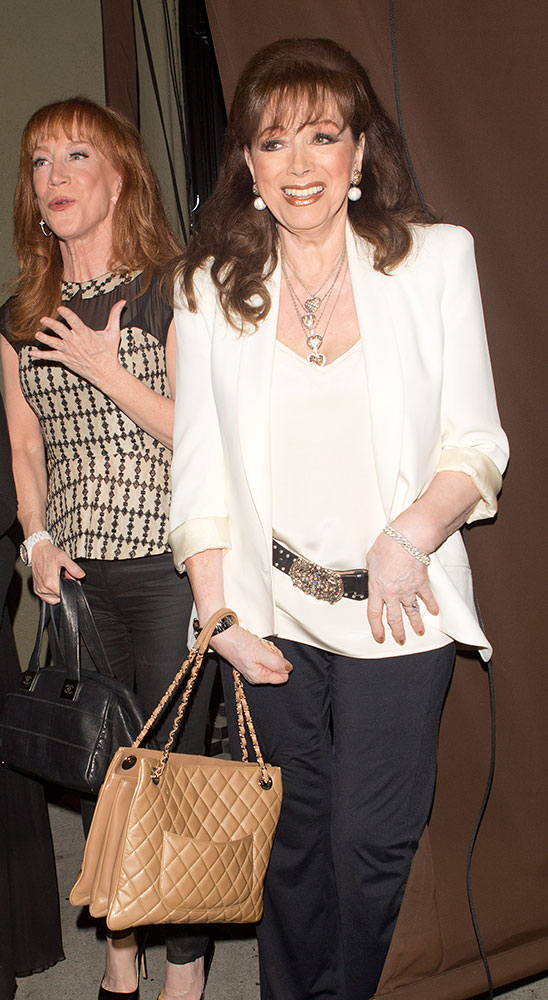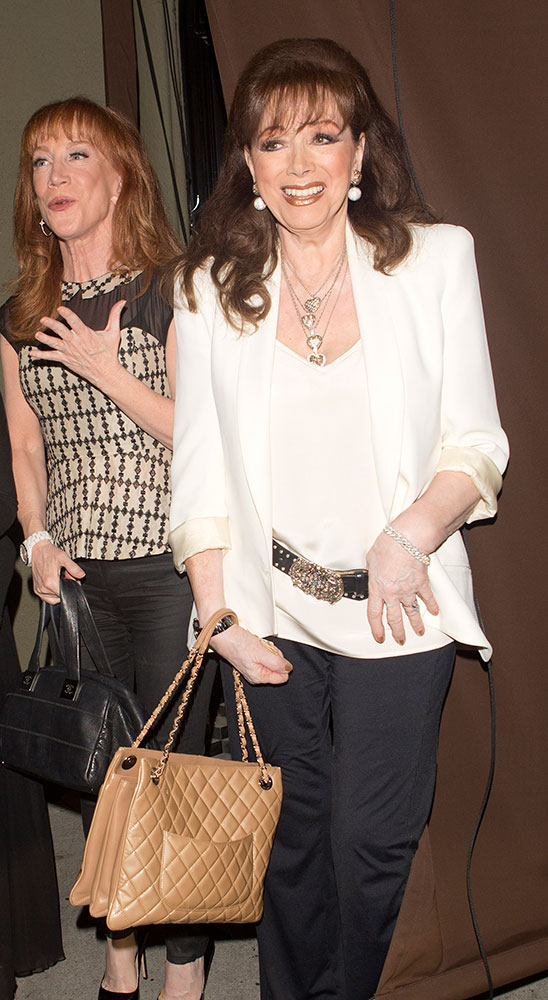 Jaclyn Smith
Hermès Kelly Bag
Who wouldn't want to go to a restaurant where you might spot one of Charlie's Angels carrying Hermès?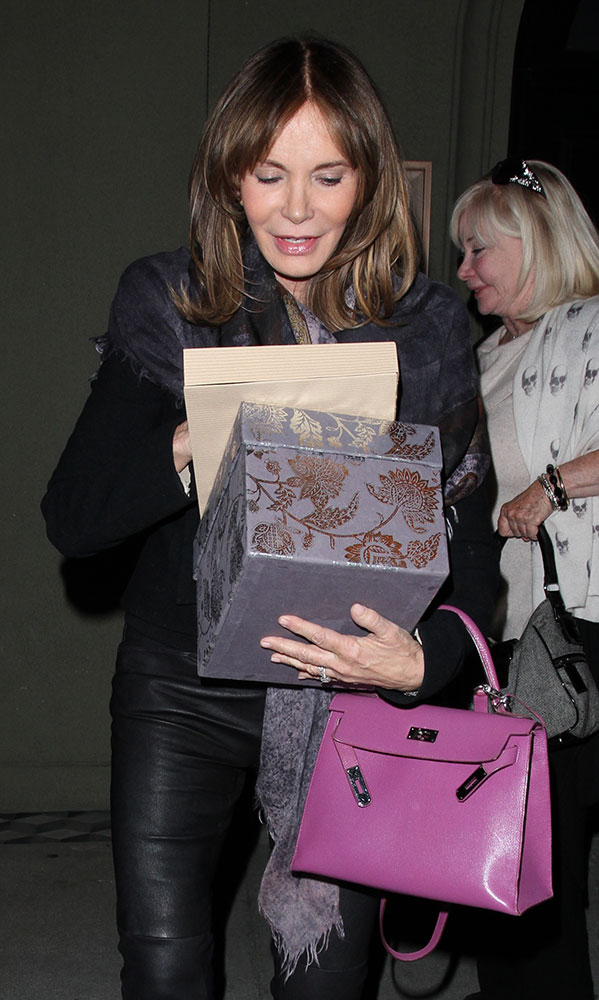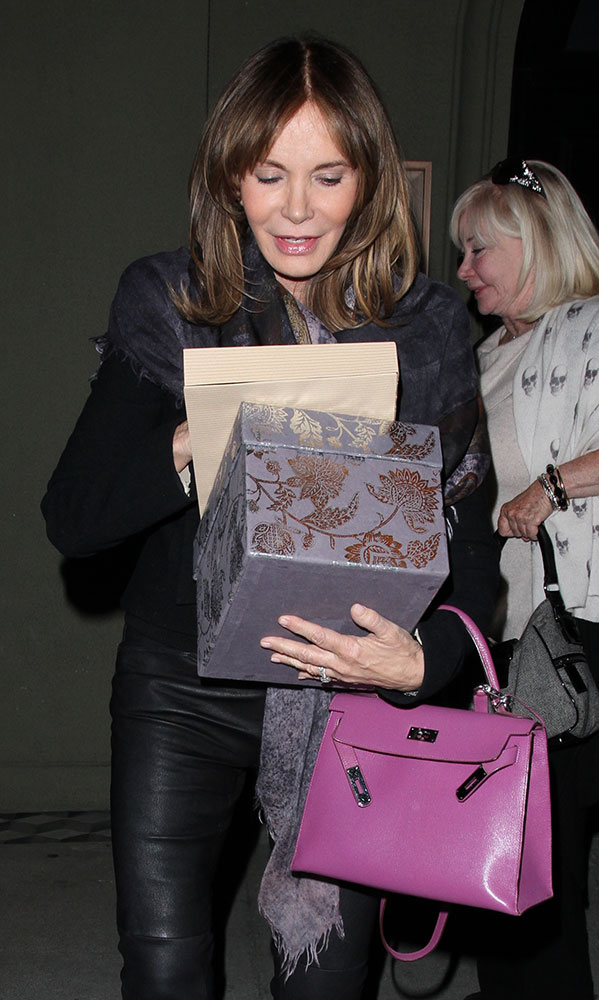 I'm not sure that dogs are technically allowed in Craig's, but who's going to say no to Jane Fonda?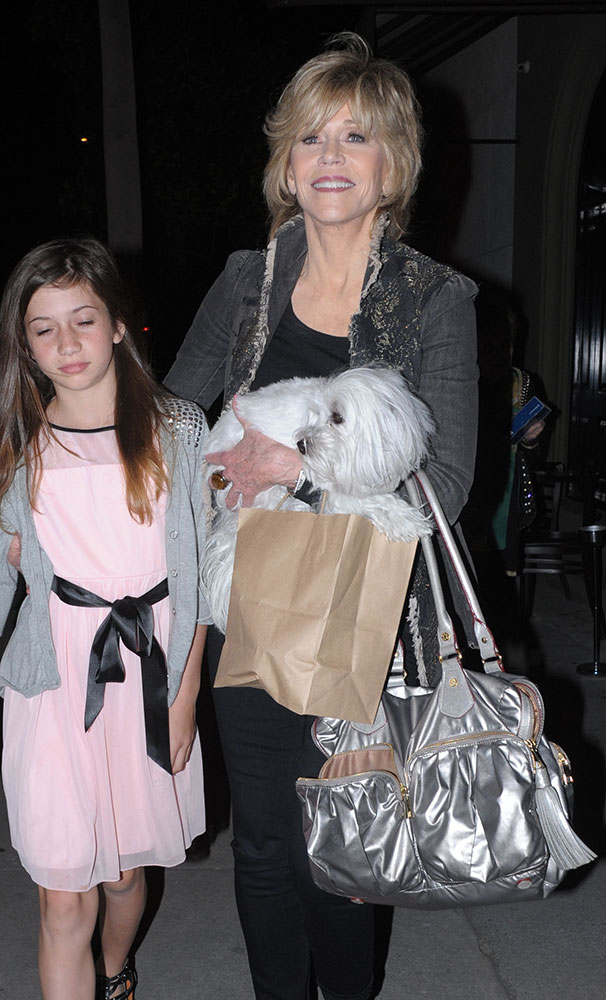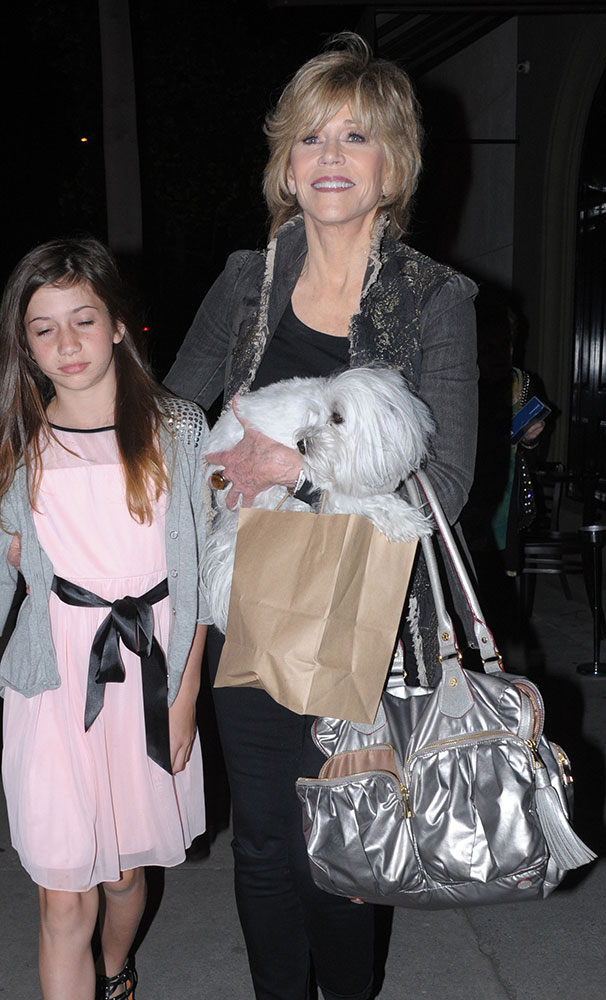 Jennifer Lopez
Hermès Birkin
The range of dress you see in Craig's is fascinating; it regularly runs from semi-formal to sweatpants.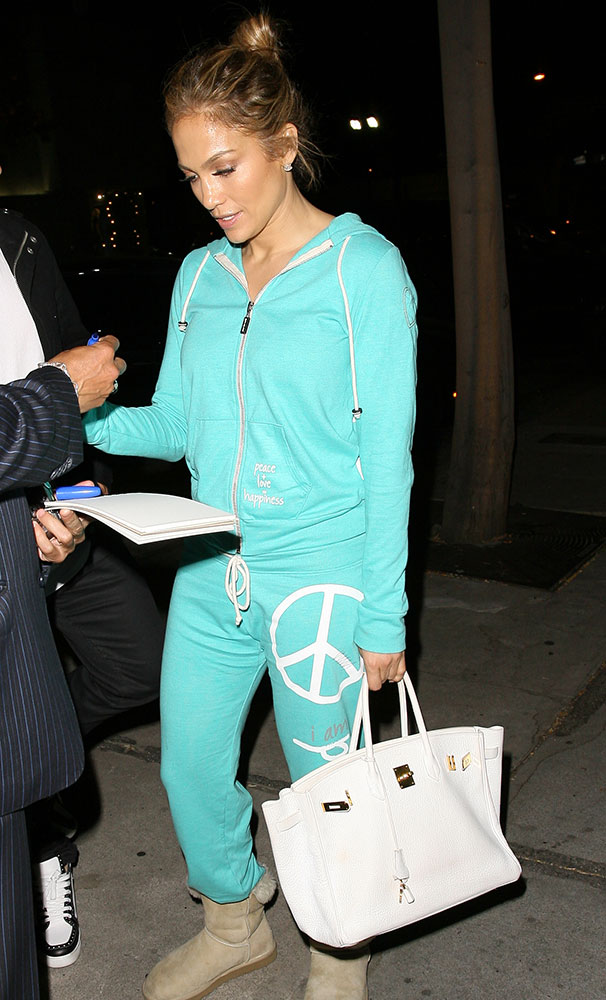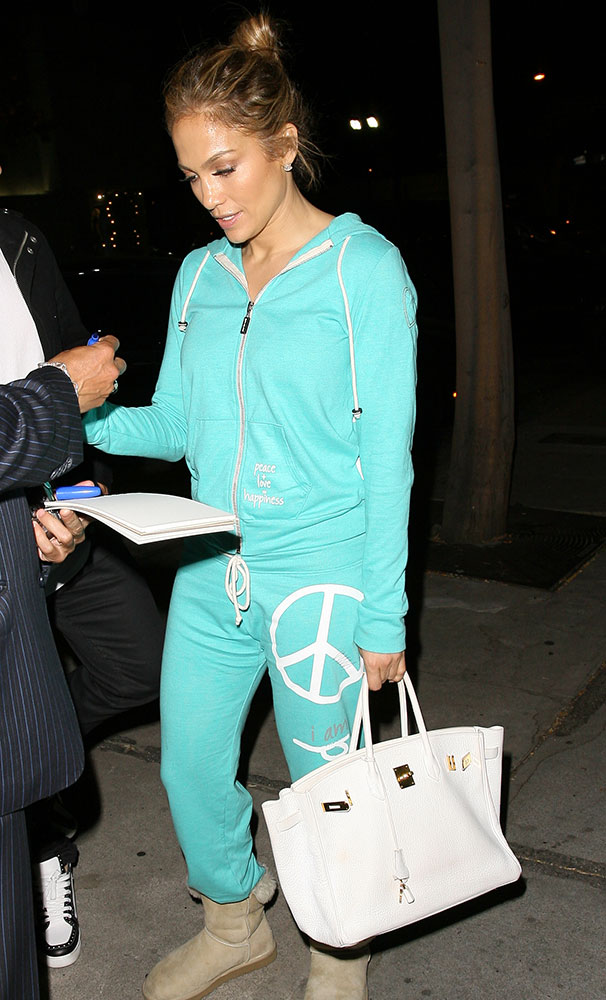 Jessica Alba
Narciso Rodriguez Boomerang Clutch
$657 via Shopbop
Jessica dresses up a little more than J.Lo does.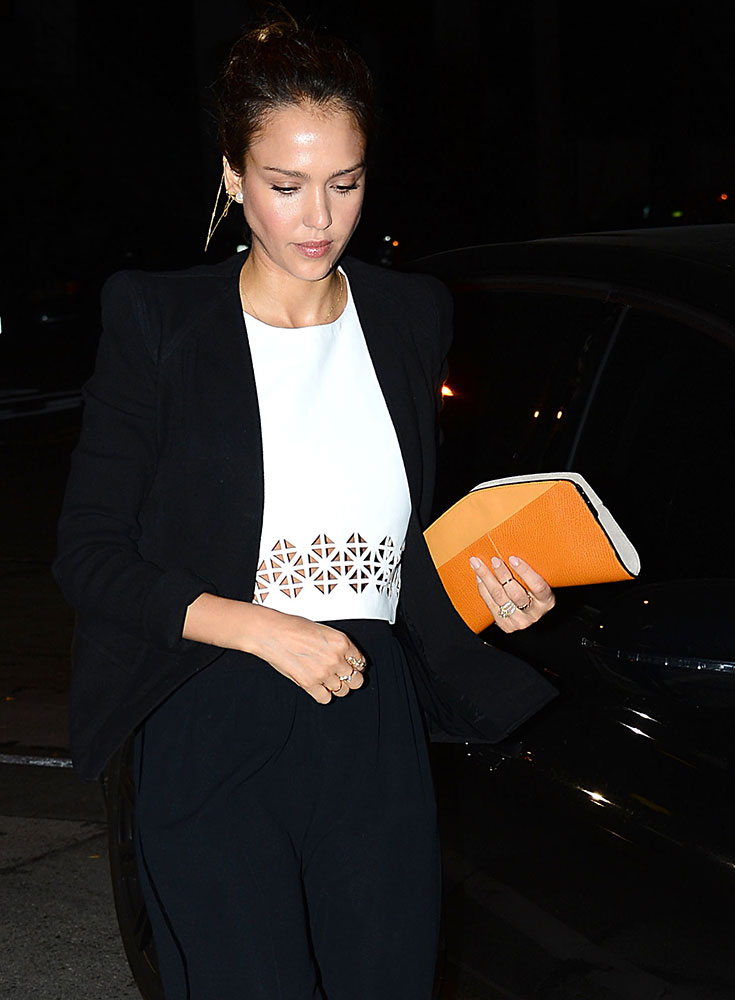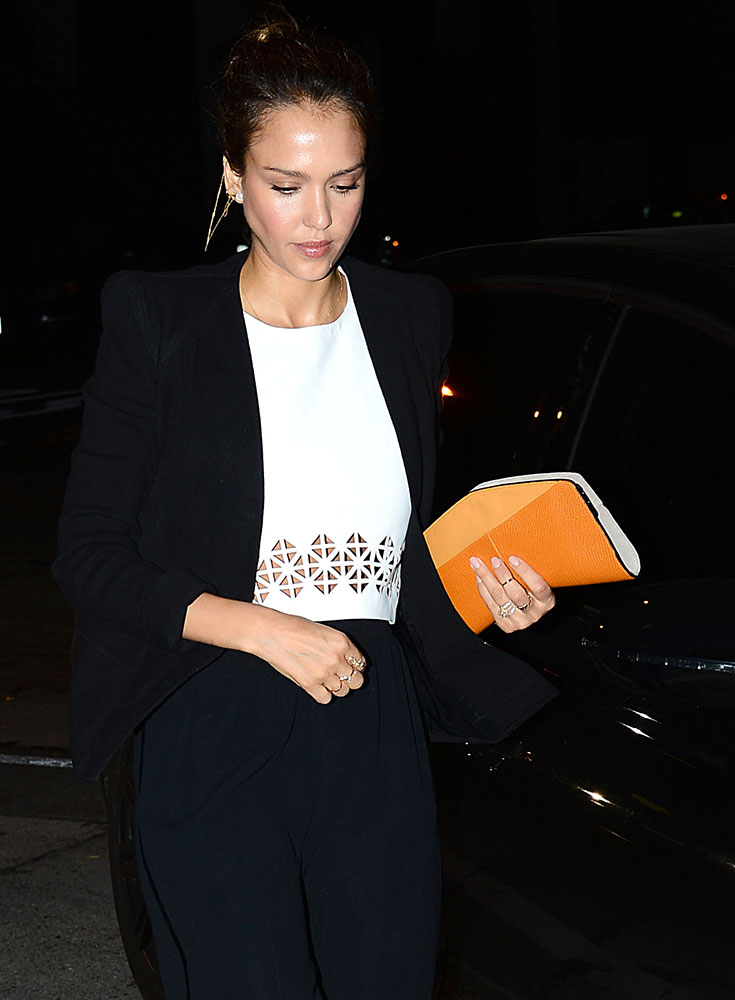 I love when a plaid shirt gets mixed into a dressier outfit. It provides a perfect amount of tomboy contrast.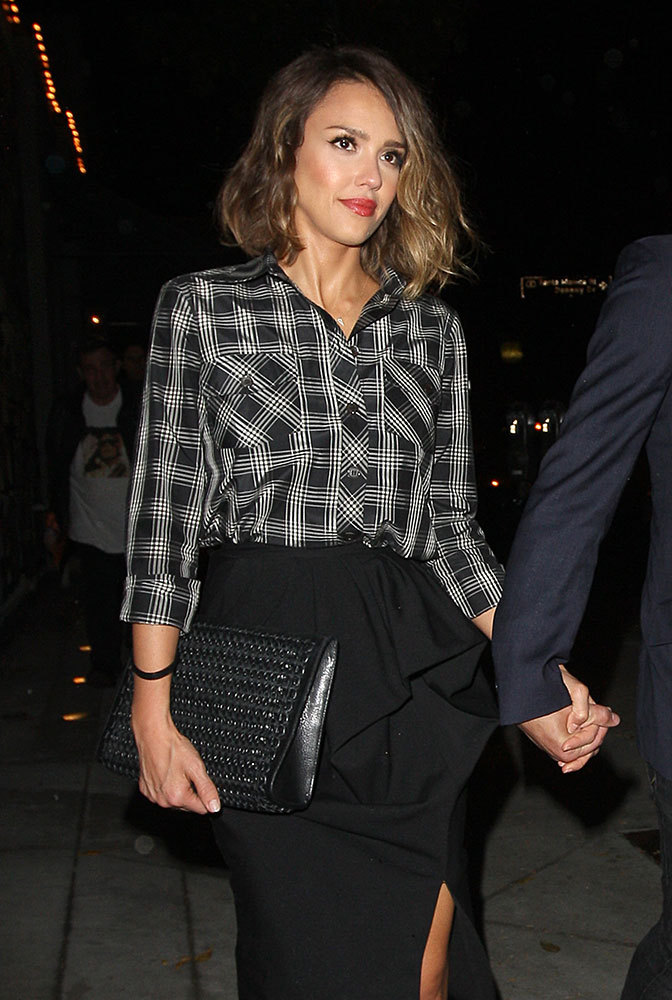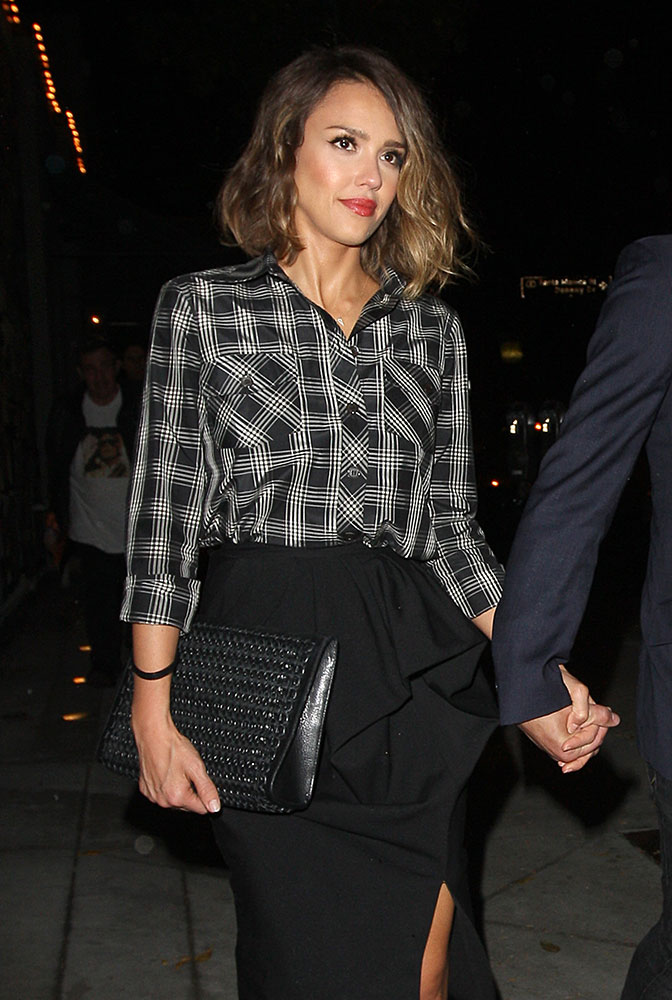 As previously mentioned, the amount of celebrity side-eye on the way out of Craig's is way more than average.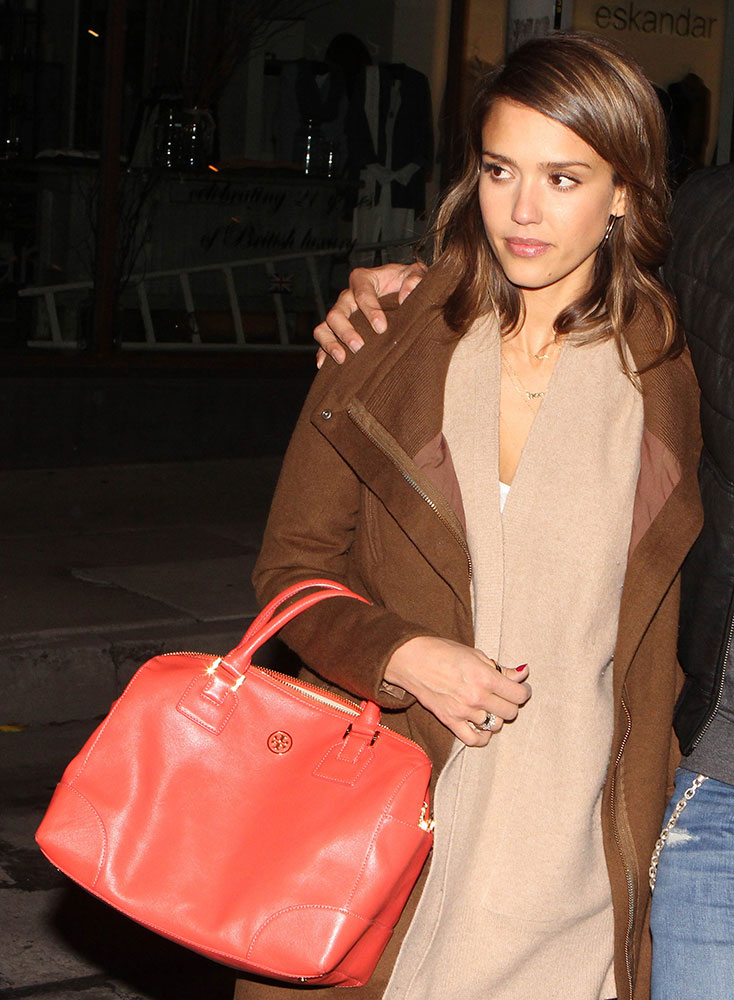 Joan Collins
Chanel Classic Flap Bag
Joan also frequents Craig's (and also carries a lot of Chanel), although not quite as often as her sister Jackie does.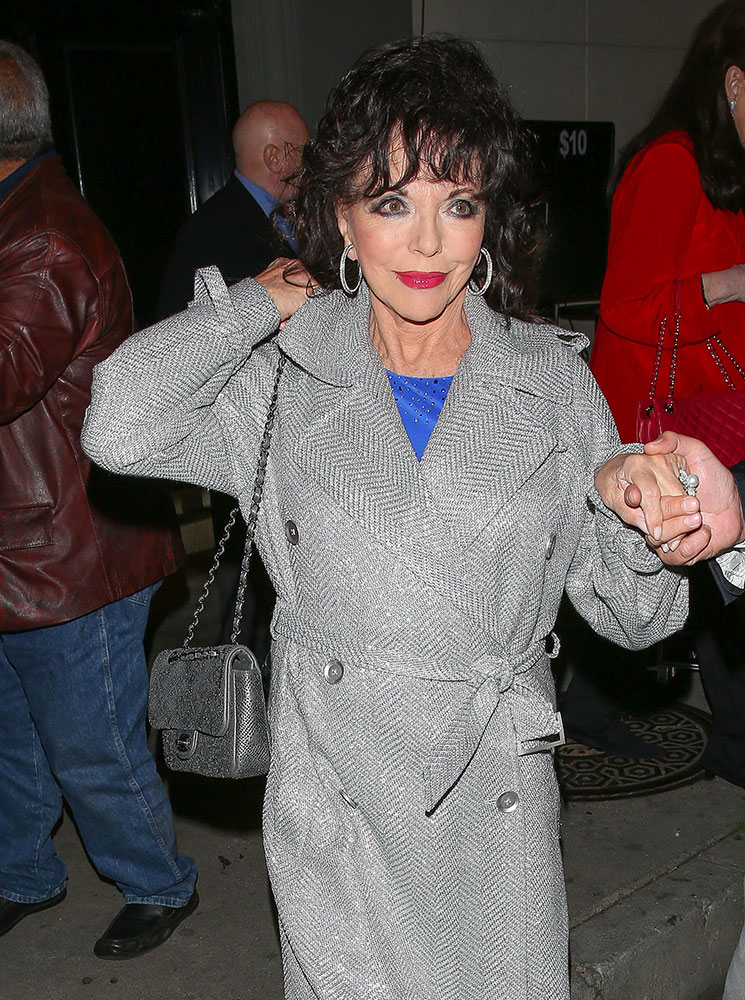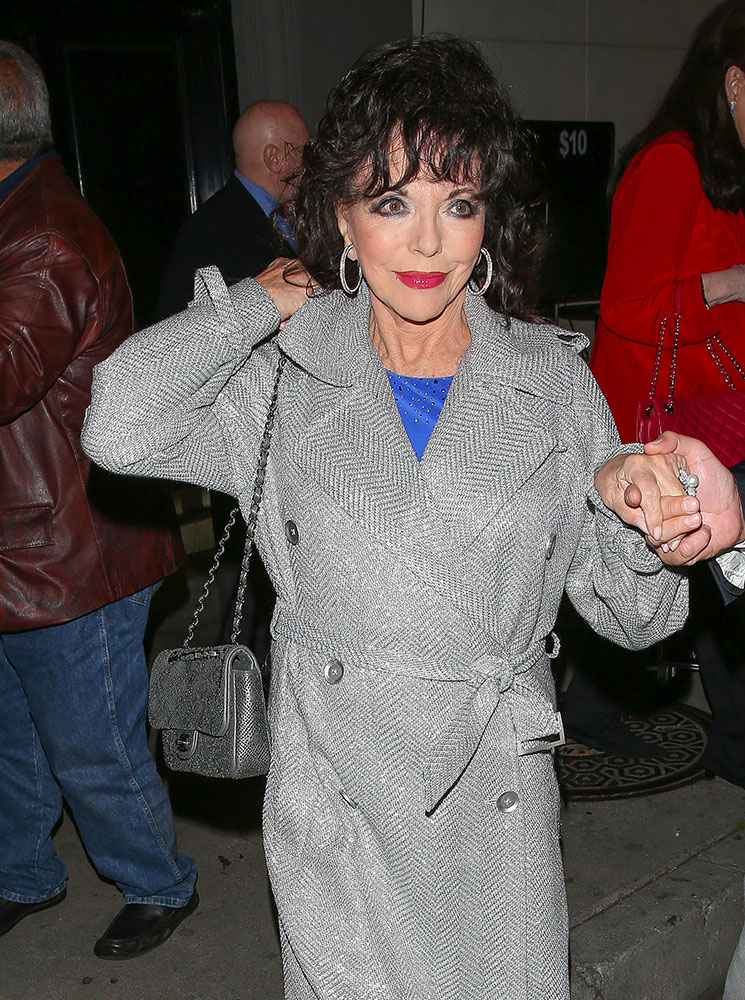 Joan Rivers
Chanel Chain Trim Tote
We promised you Hollywood legends with great bags, and we intend on delivering.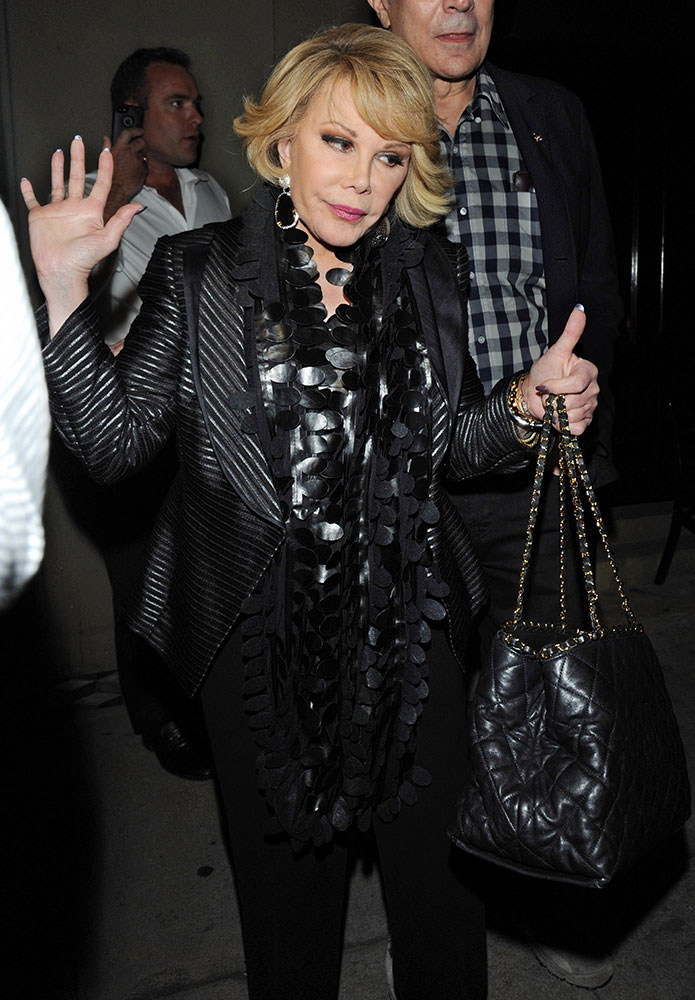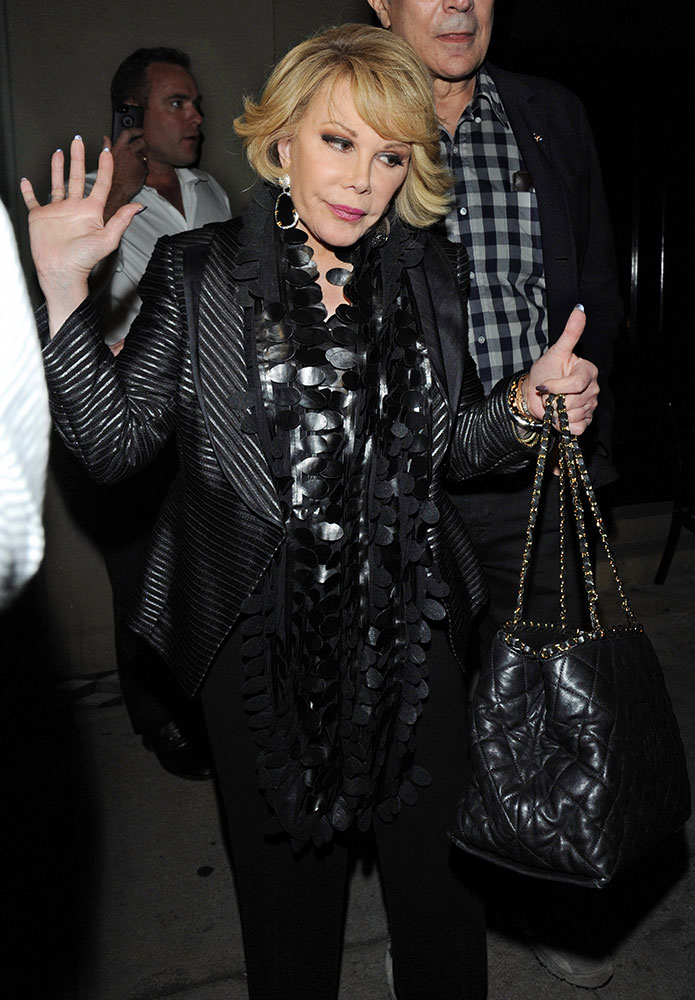 Kate's not doing a very thorough job of hiding her face.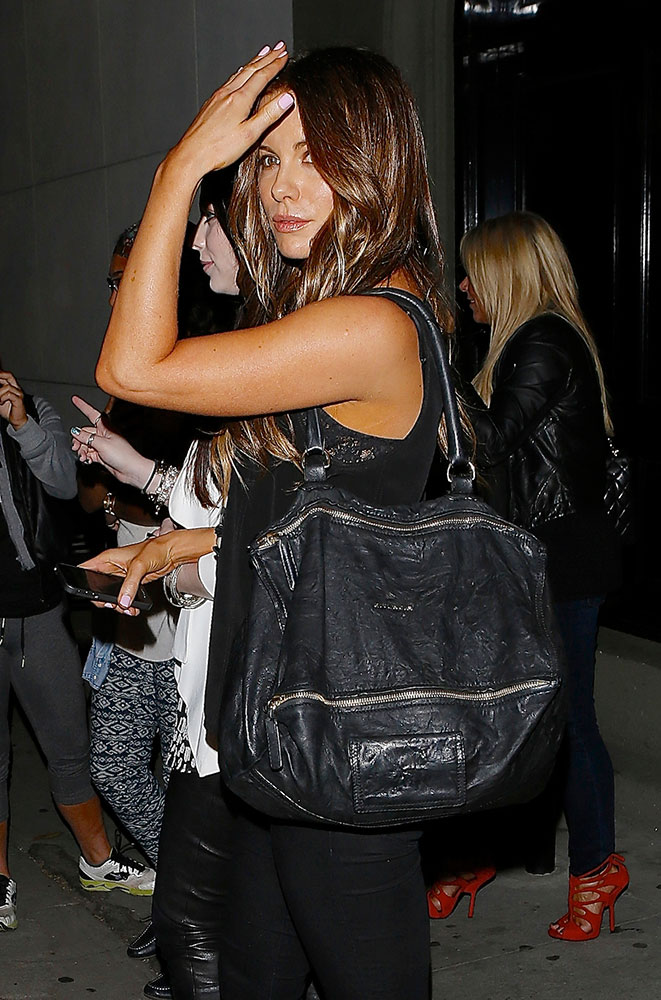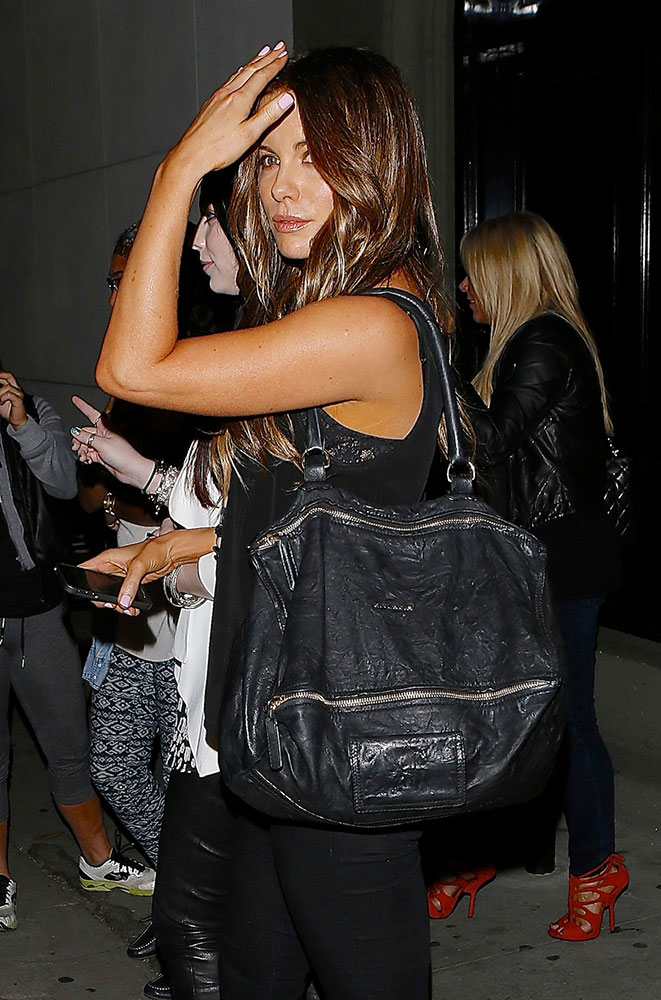 Kate Del Castillo
Chanel Denim Flap Bag
You might not recognize Kate, but she's a Mexican actress with an extremely long IMDB filmography.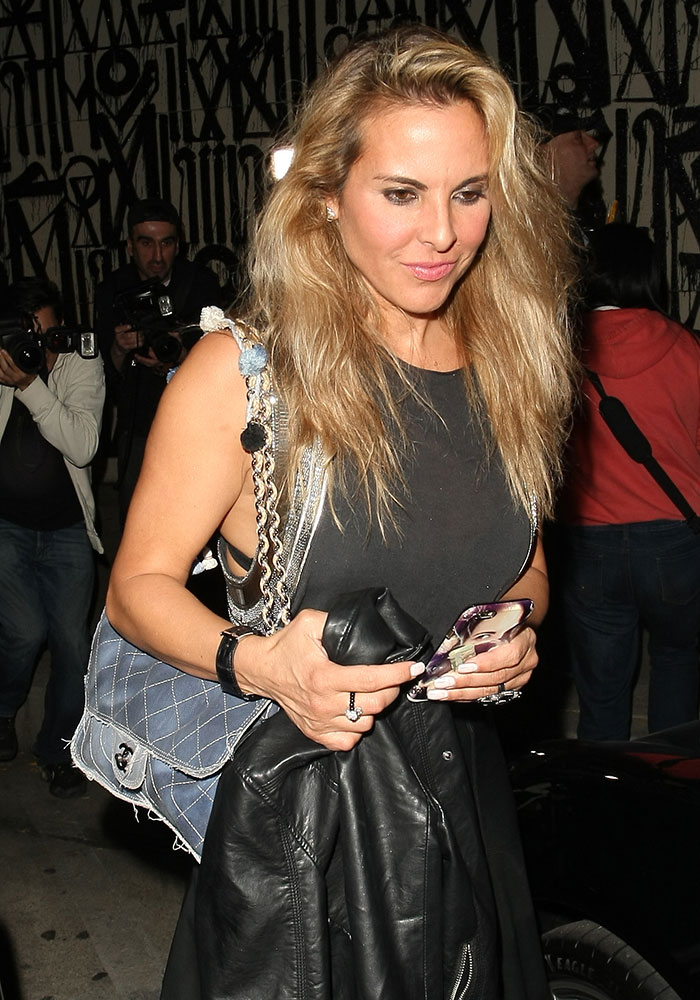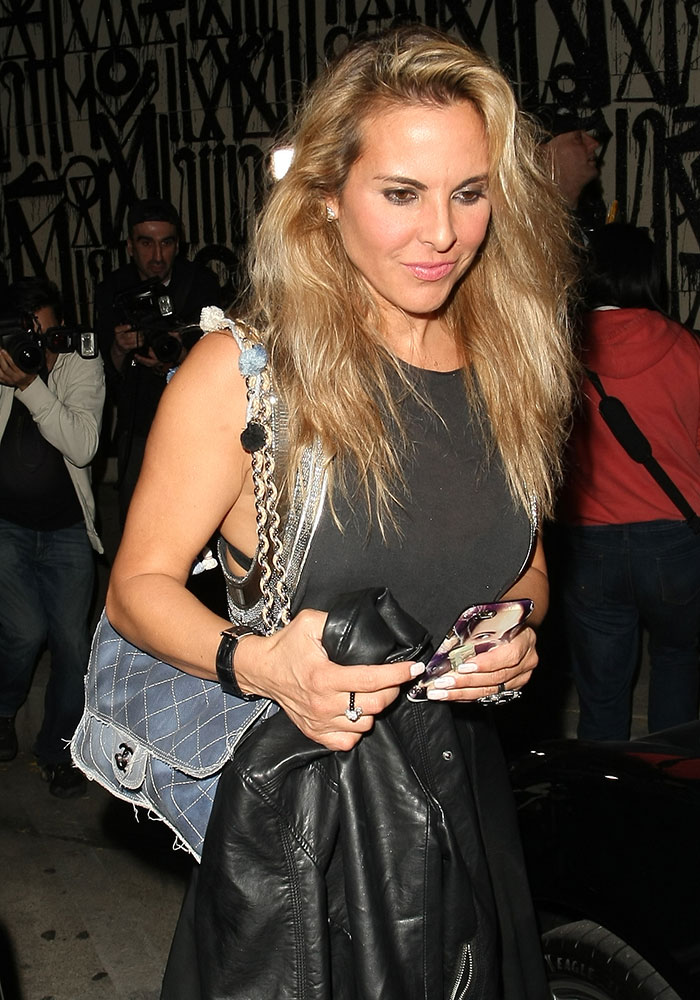 Katharine McPhee
3.1 Phillip Lim Pashli Tote
$975 via Net-a-Porter
Katharine comes to Craig's quite a lot, and she's always carrying a different bag.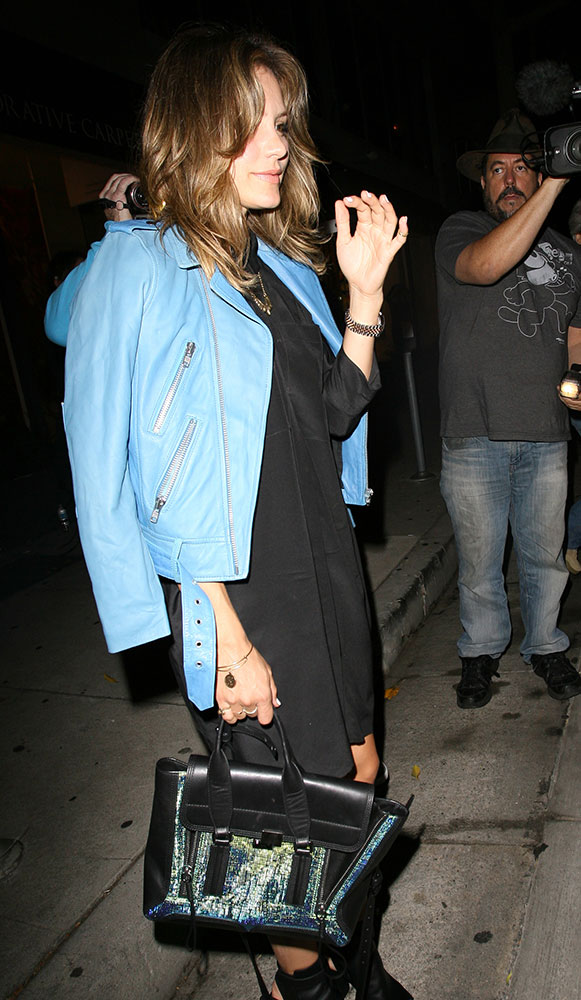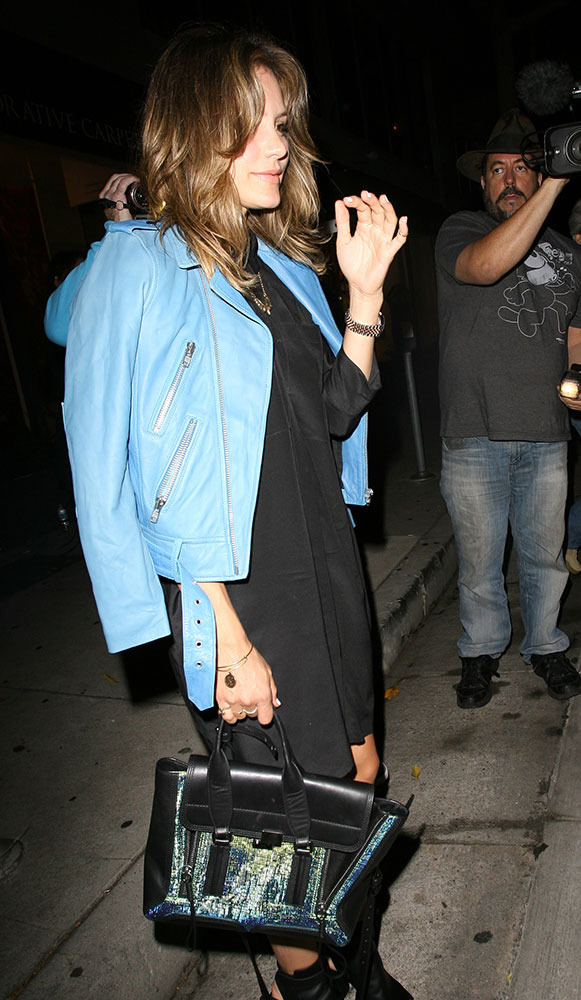 Katharine McPhee
Chanel Classic Flap Bag
I can't imagine it ever being cold enough in LA for me to wear a sweater, but I realize not everyone runs as hot as I do.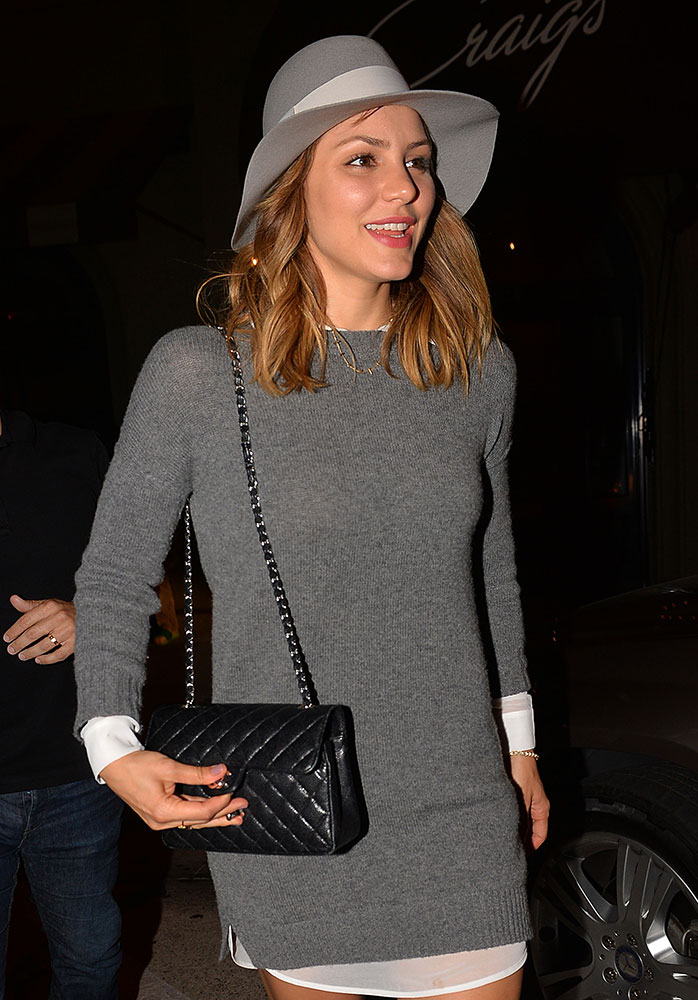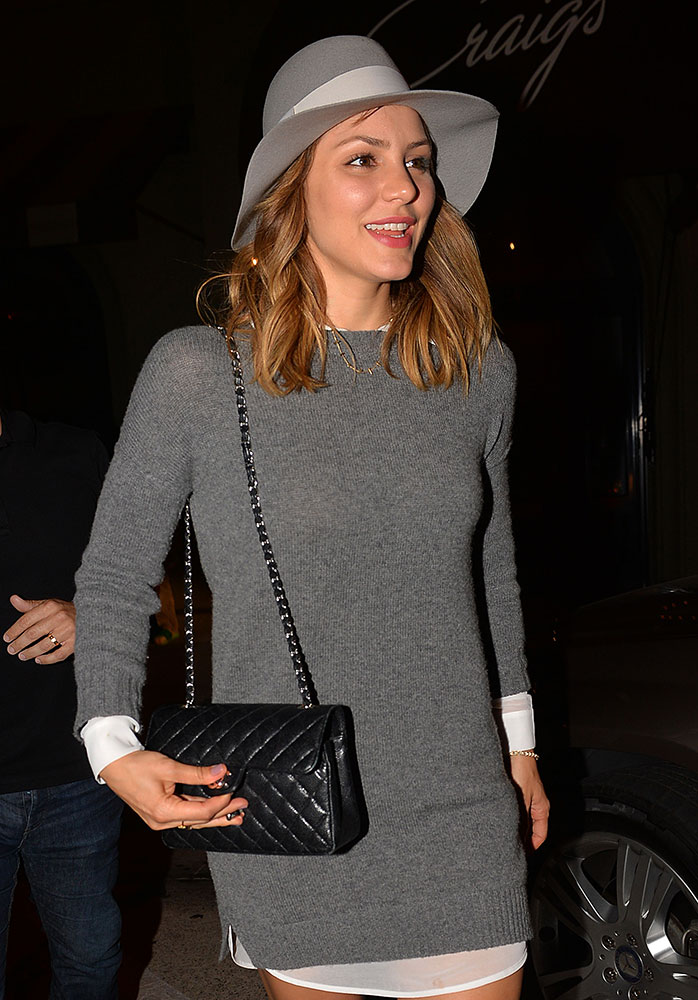 Katharine McPhee
Givenchy Antigona Bag
$2,345 via Saks
I'm starting to think women are issued an Antigona once they pass a certain level of fame.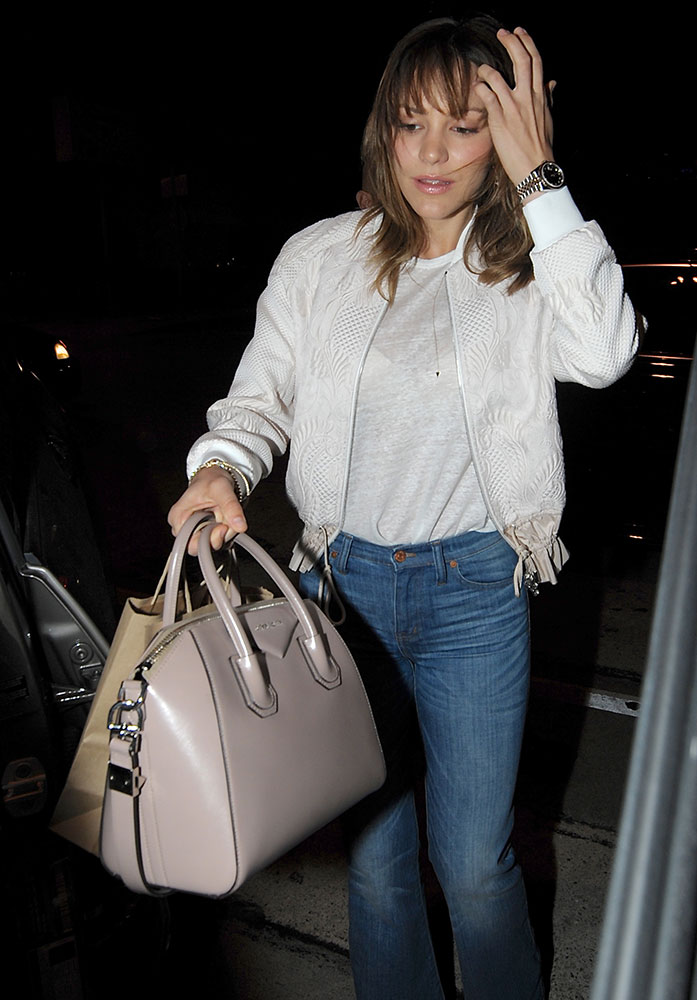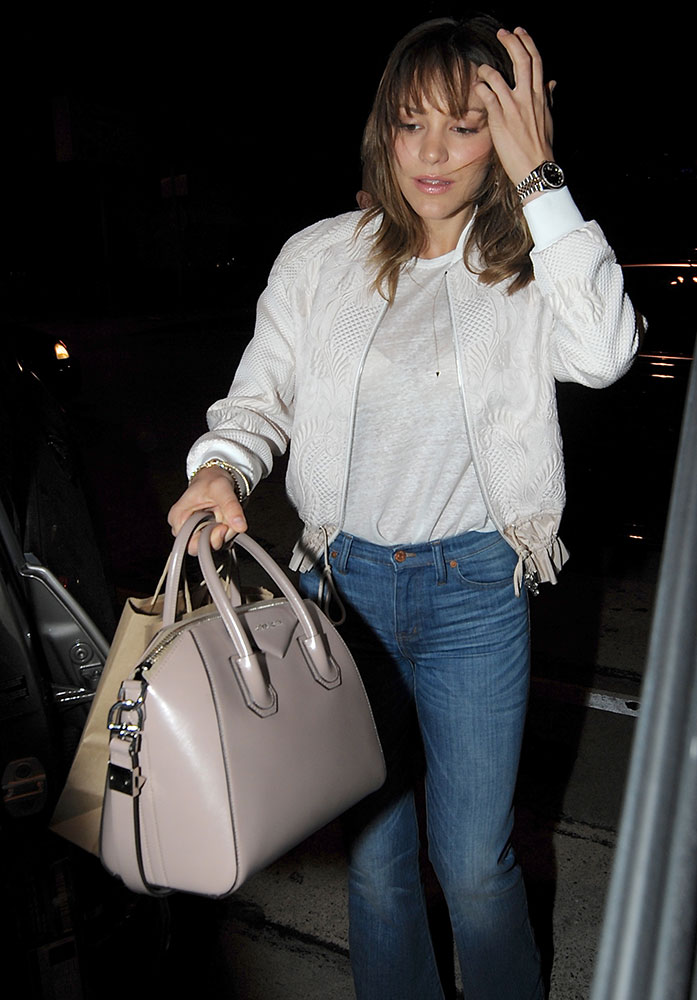 Unfortunately for Craig's patrons, they're generally leaving the restaurant in the dark, which means they're subject to quite a bit of flash photography without the benefit of stage makeup. It's times like these when I'm glad I'm not famous. (Actually, that's all the time.)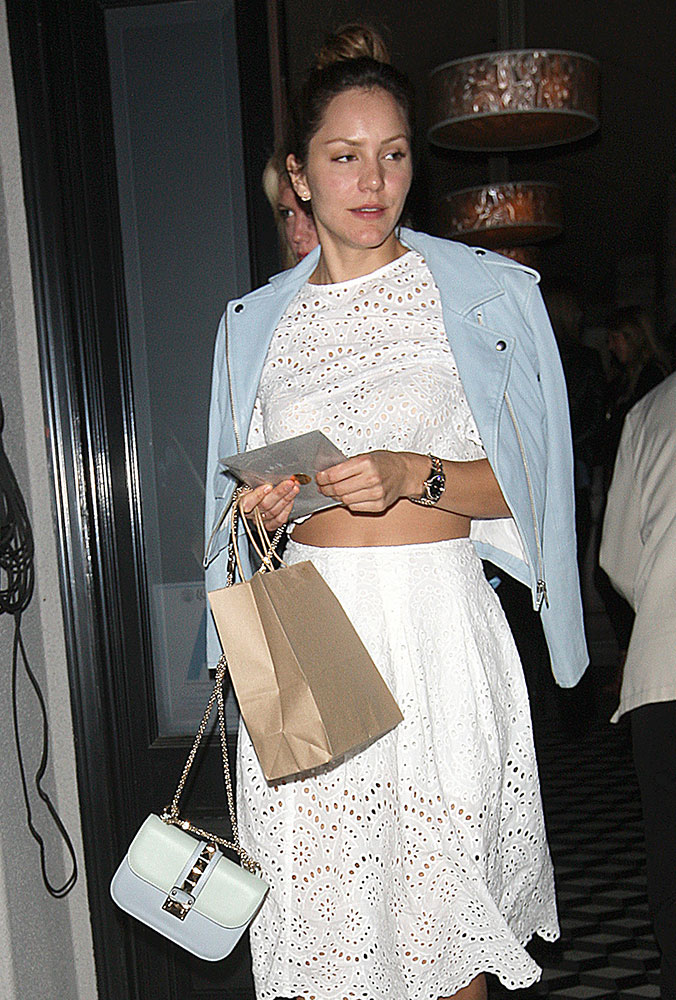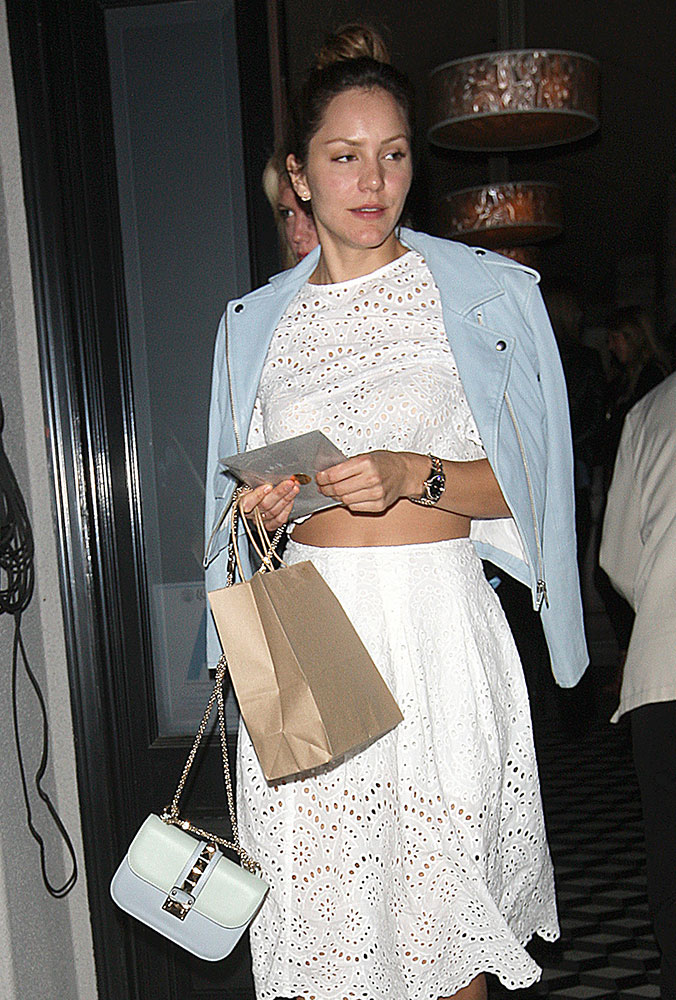 Kathy Hilton
Chanel Classic Flap Bag
Kathy Hilton is in the aforementioned Kyle Richards-centric Craig's universe–she's Kyle's sister.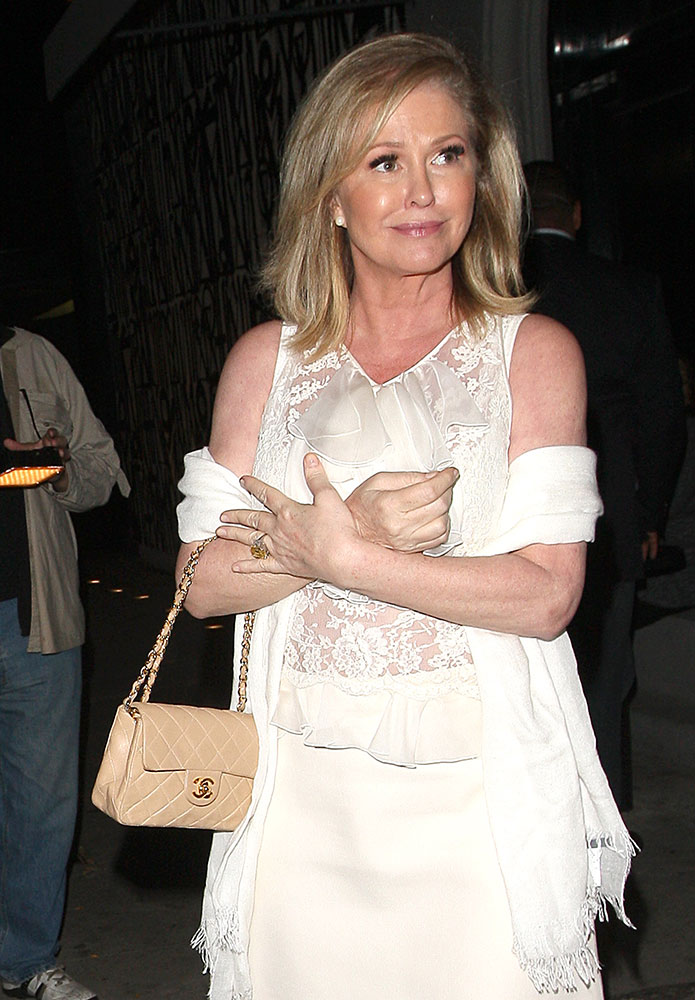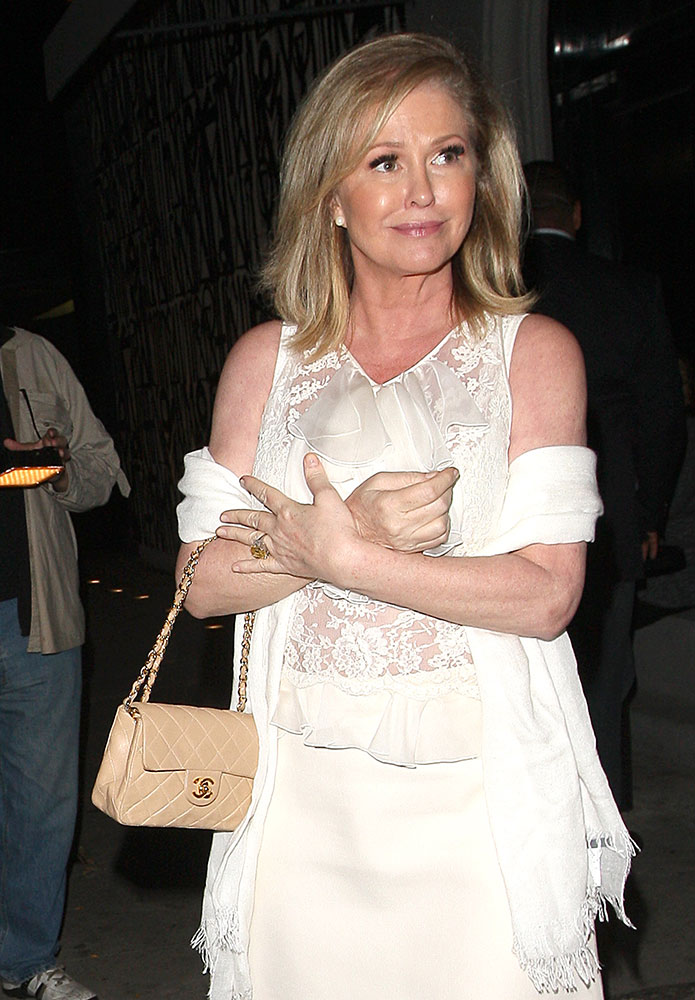 Kathy Hilton
Hermès Ostrich Kelly Bag
And when Kathy comes, she brings her handbag A-game.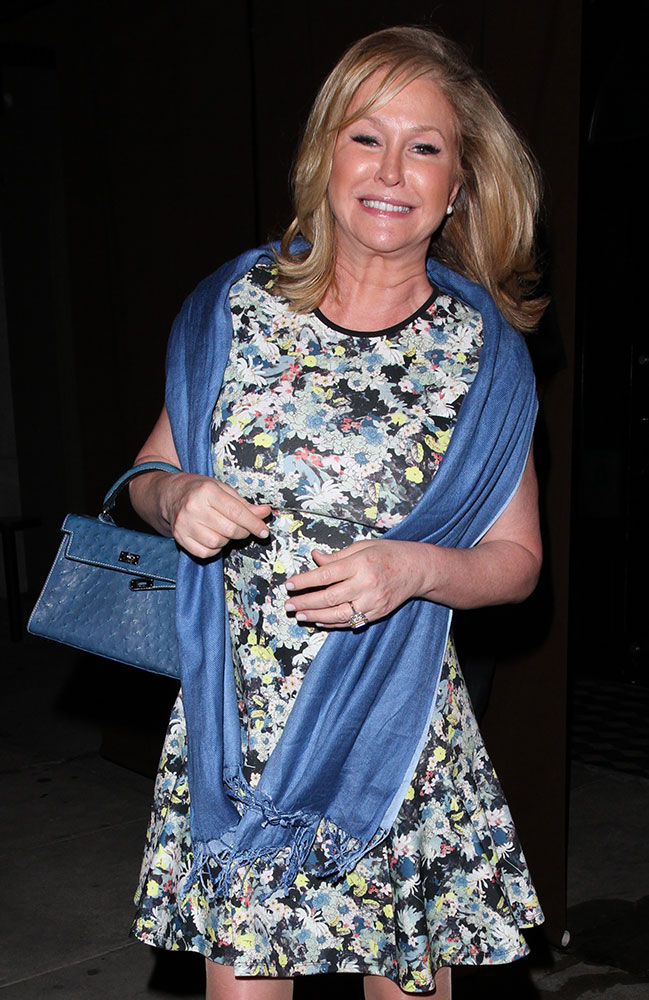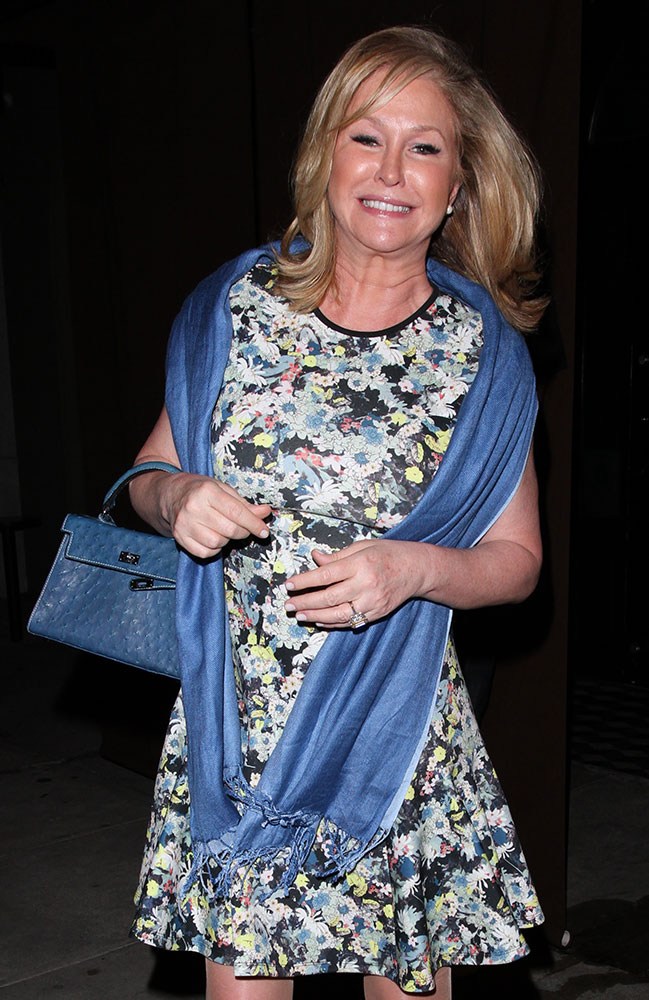 Kendall Jenner
Adriana Castro Modish Clutch
I think Kendall's clutch and her skirt include approximately similar amounts of material.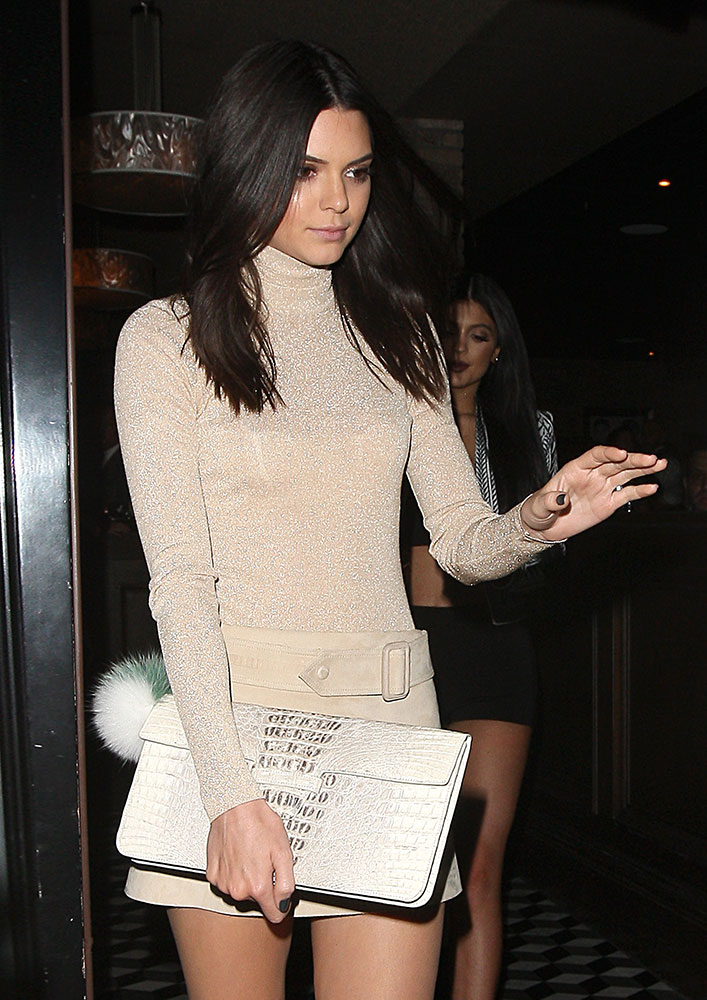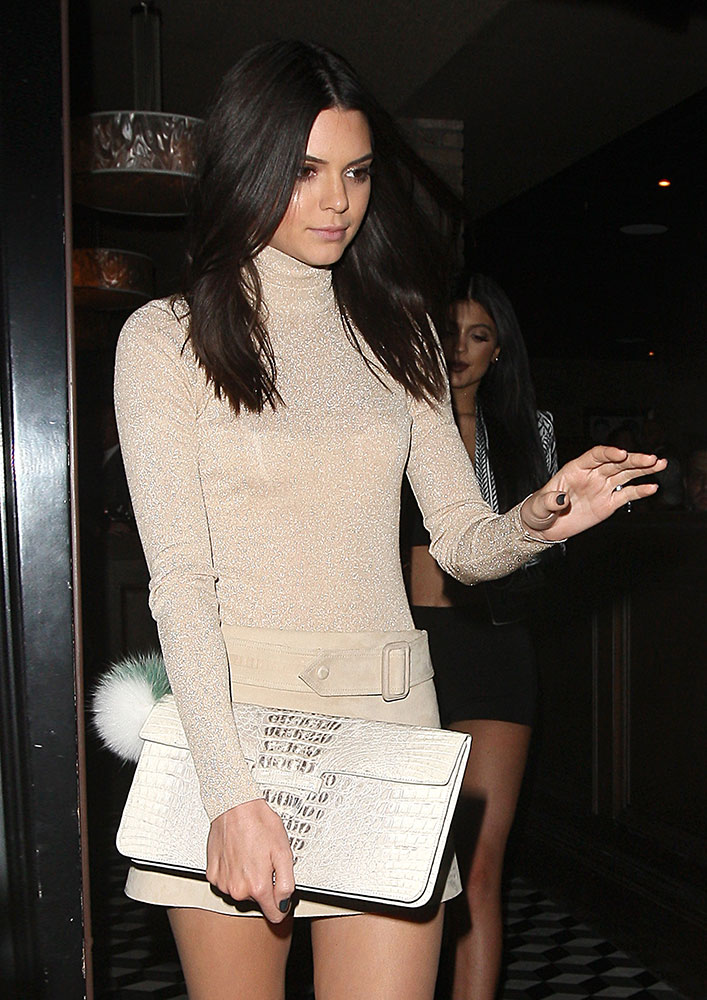 Khloé Kardashian
Chanel Mini Sequin Flap Bag
When the Kardashians have an occasion for which to dress up, they do not under-shoot the dress code.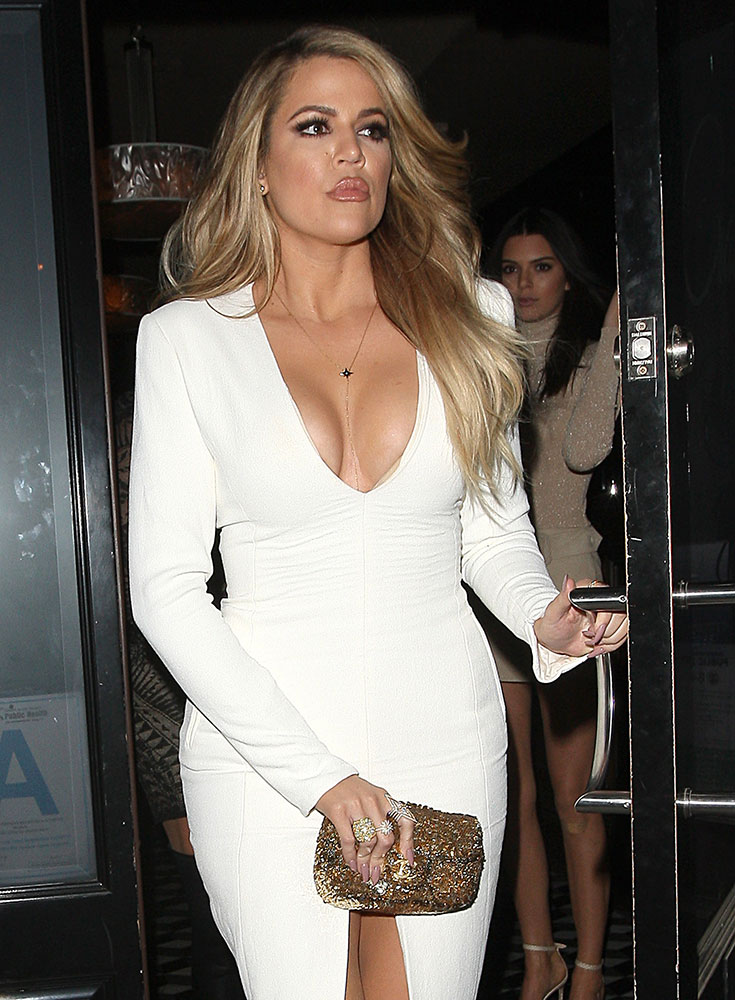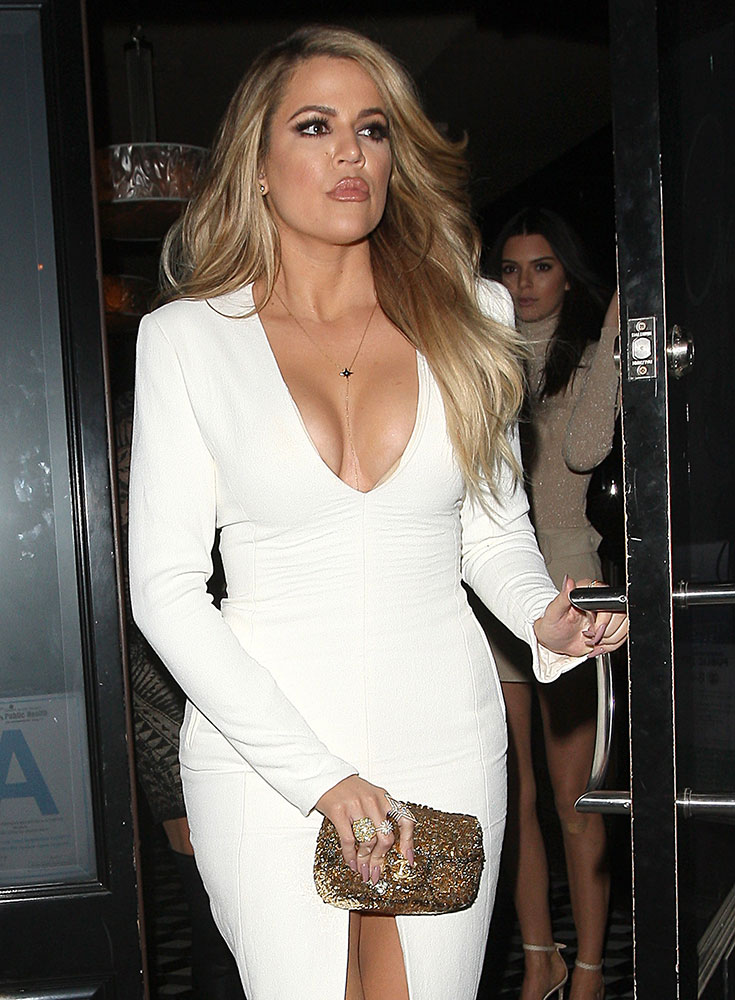 Khloé Kardashian
Hermès Birkin
If this is Khloé's natural hair texture (it's similar to mine), then I'm impressed she maintains her blowouts so well in the LA heat, even with professional help.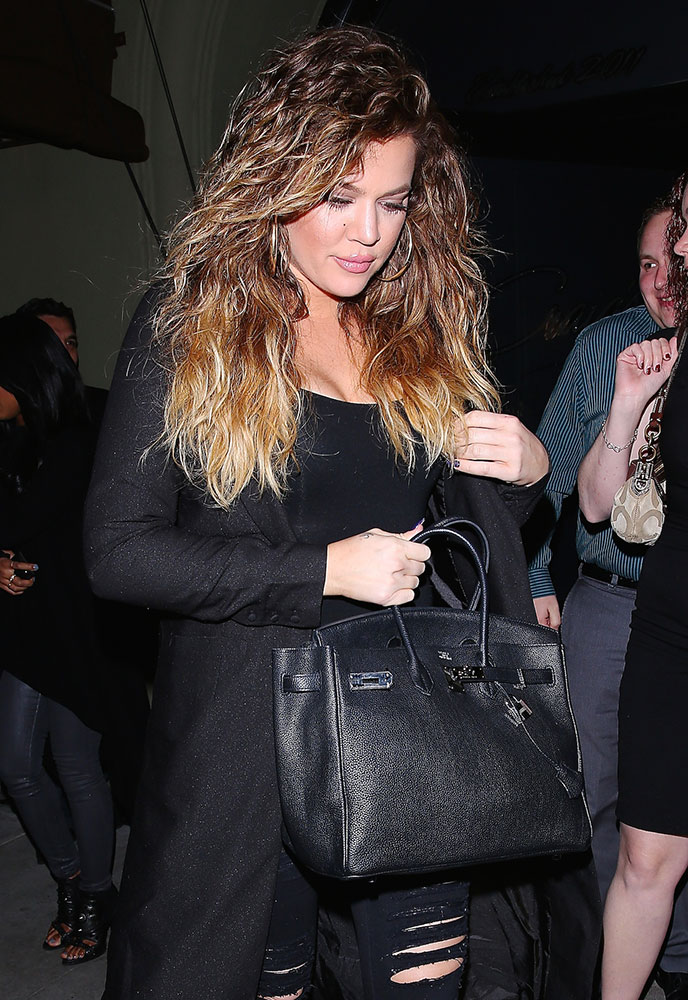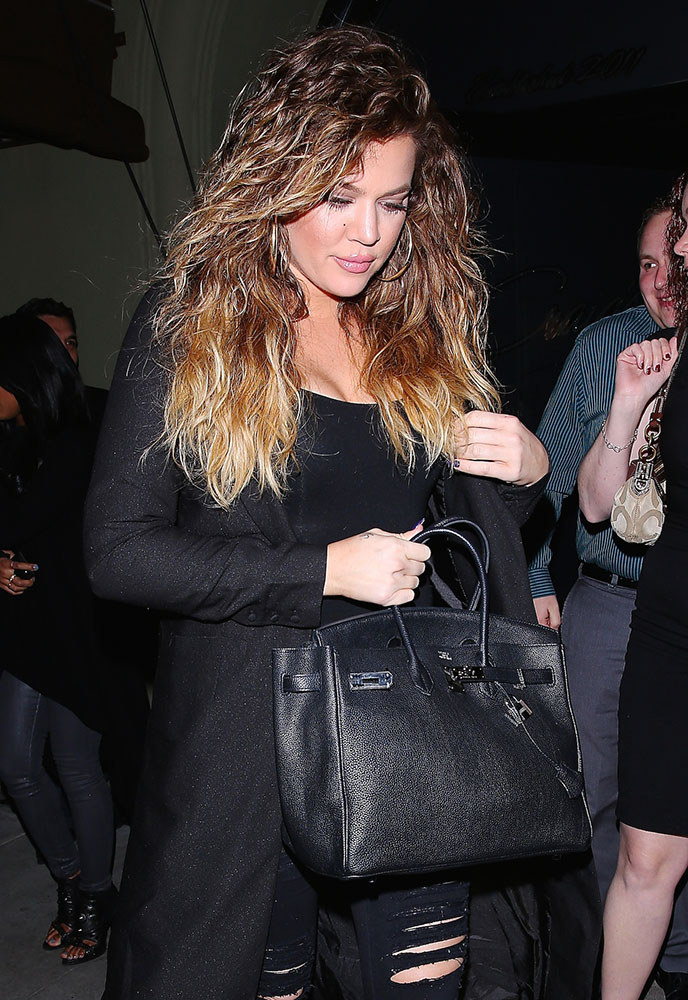 Kim is a model, which you probably already guessed by looking at her, and she's also had a long, on-again, off-again relationship with P. Diddy. (They're currently off.)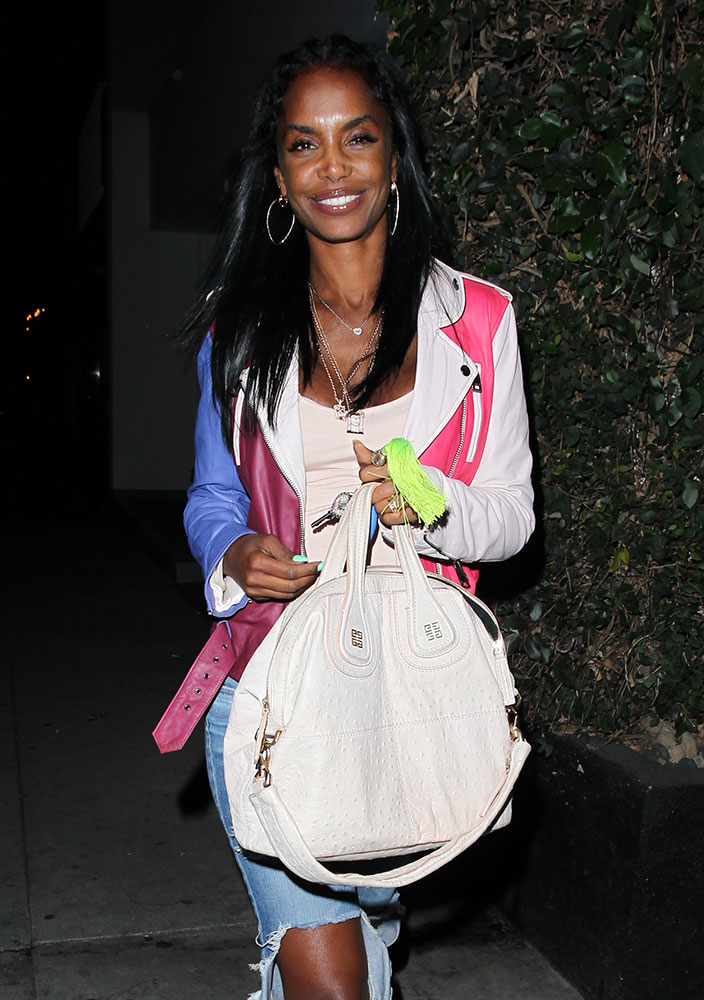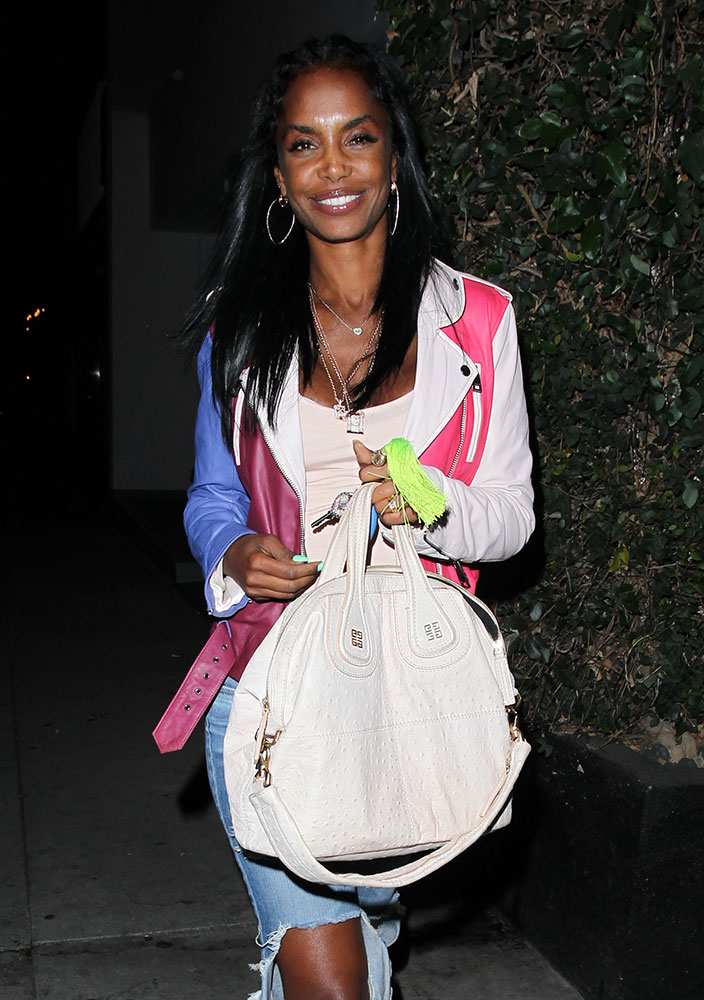 You didn't think we were going to make it through a celebrity hot-spot without finding Kris Jenner, did you?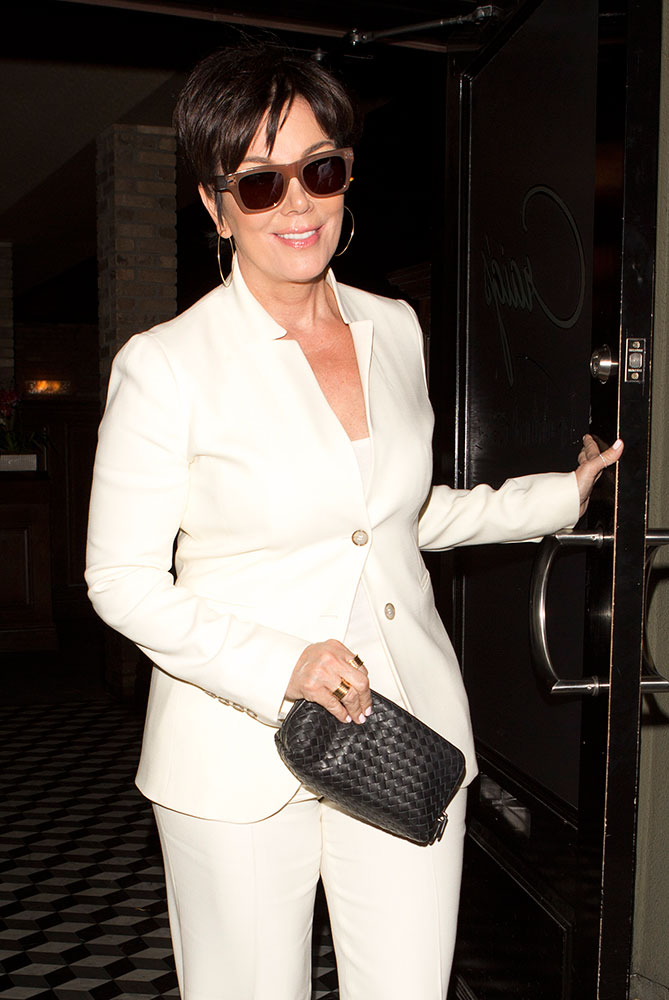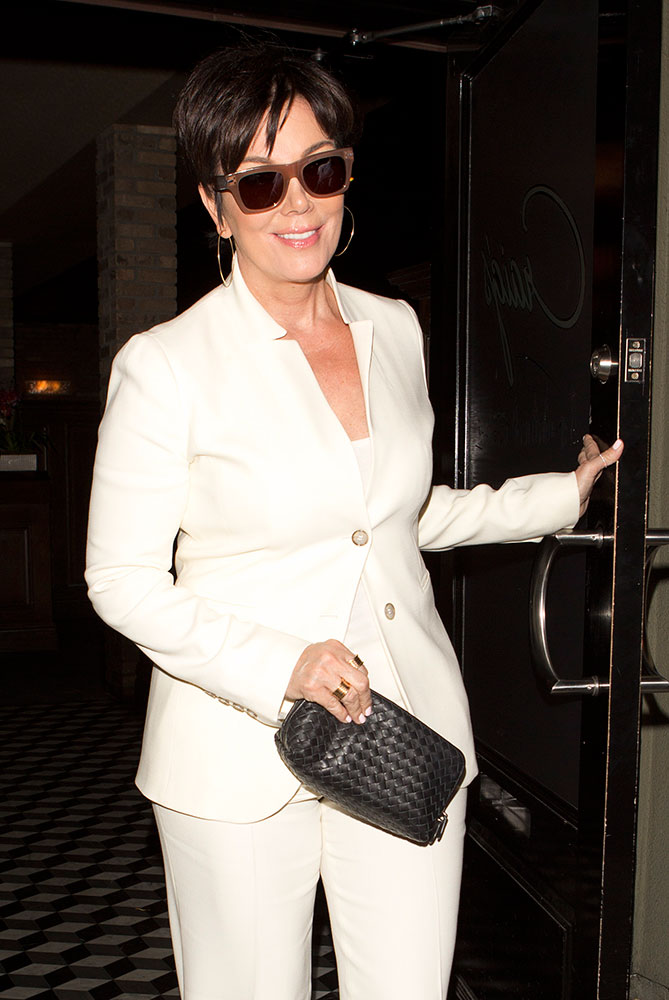 It's not just paparazzi who line up outside of Craig's; there are plenty of fans hoping to get selfies with stars.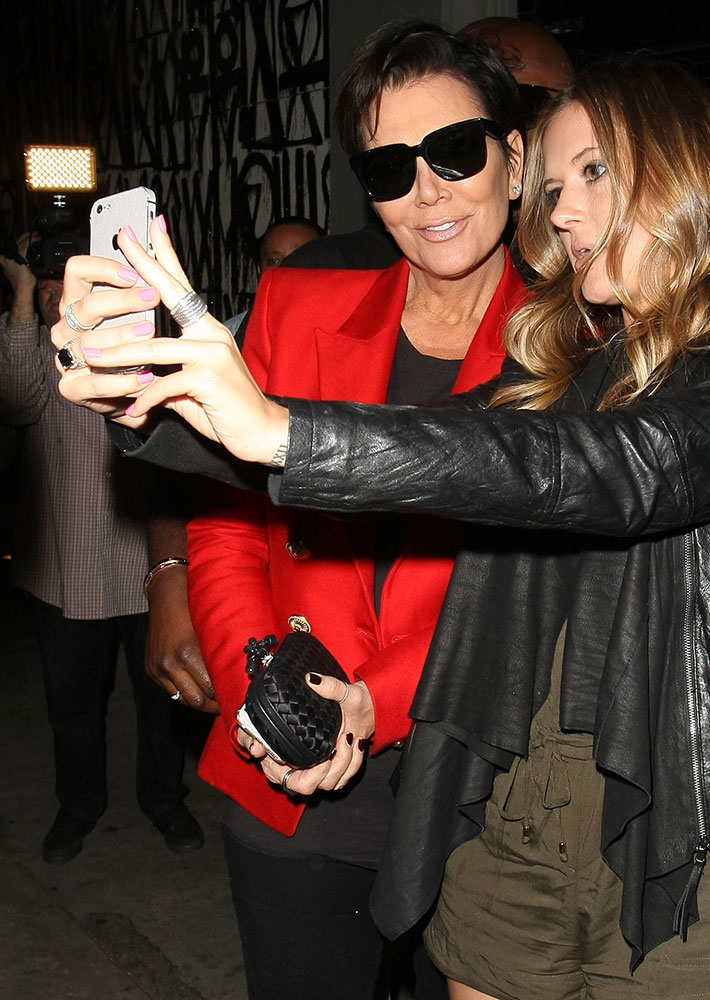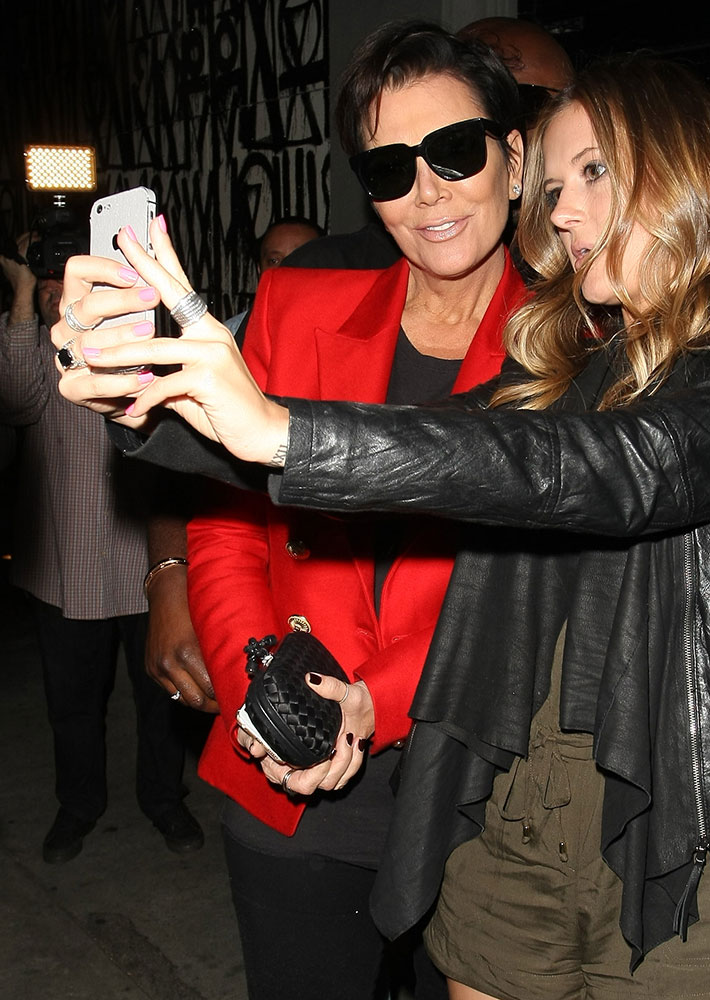 Kris Jenner
Chanel 2.55 Flap Bag
Somewhat improbably, Kris is also part of the group of people at Craig's who all seem to show up with Kyle Richards.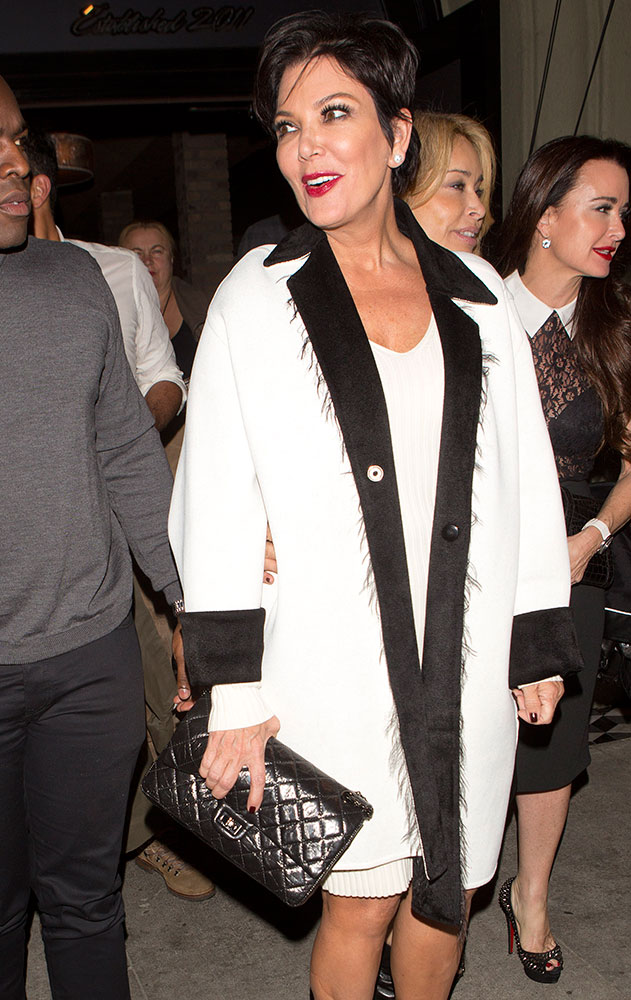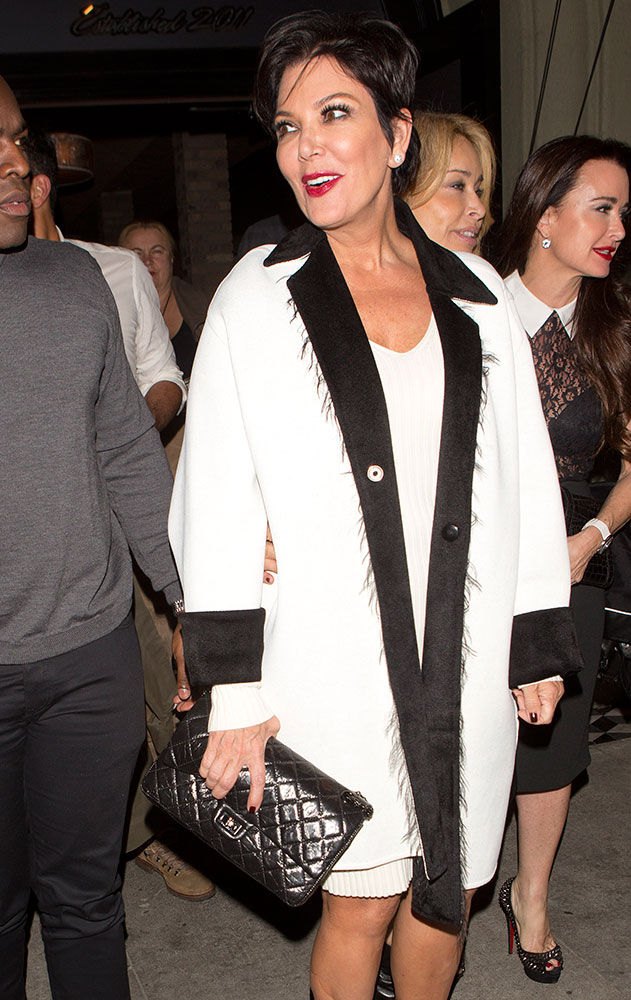 Kris Jenner
Chanel Graffiti Backpack
Celebrities love these backpacks so much that I'm surprised Chanel didn't make them a part of the permanent collection.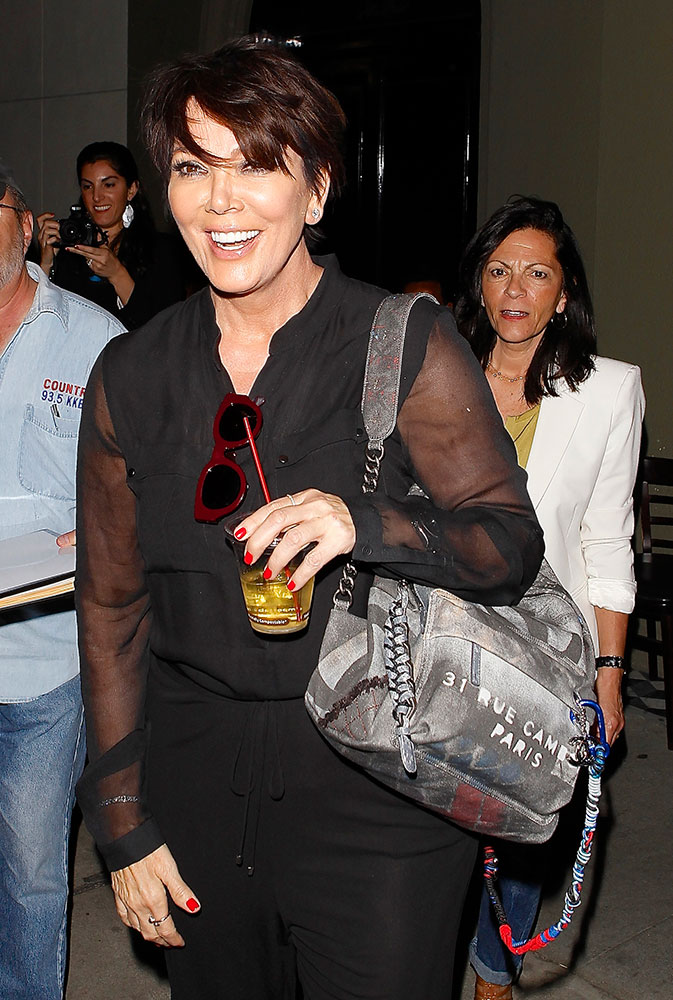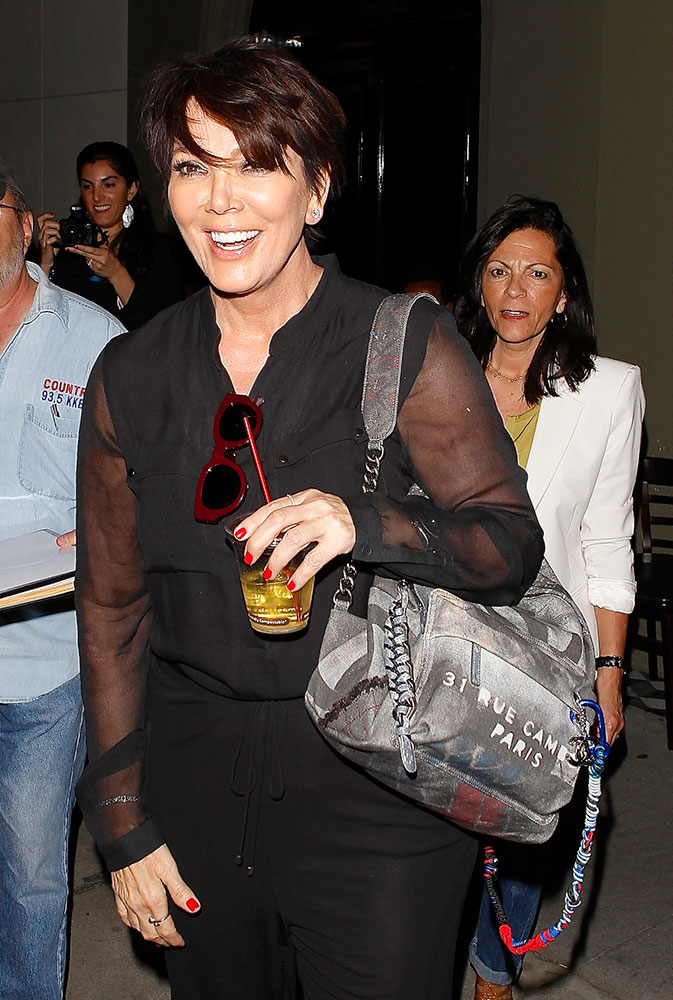 Kyle Richards
Chanel Classic Flap Bag
I wonder if Kyle has her own booth at Craig's. It seems like the kind of place that has booths.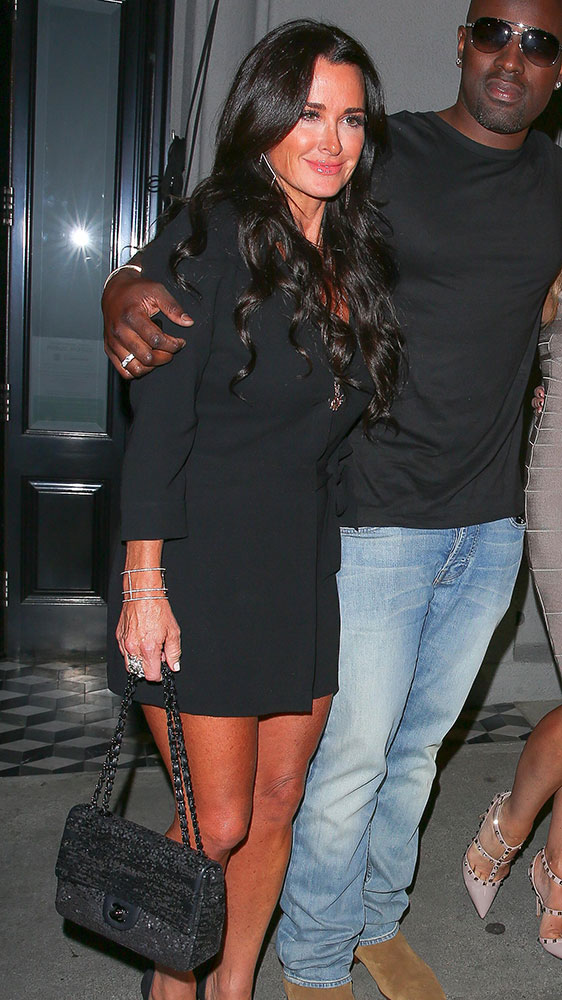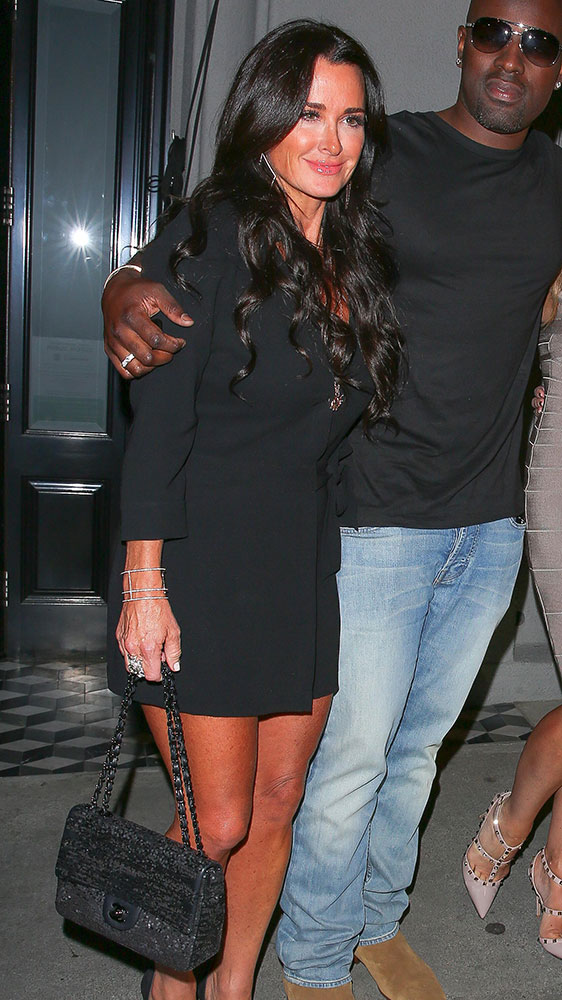 Kyle Richards
Chanel Sequin Flap Bag
I wonder if her bags get their own seats.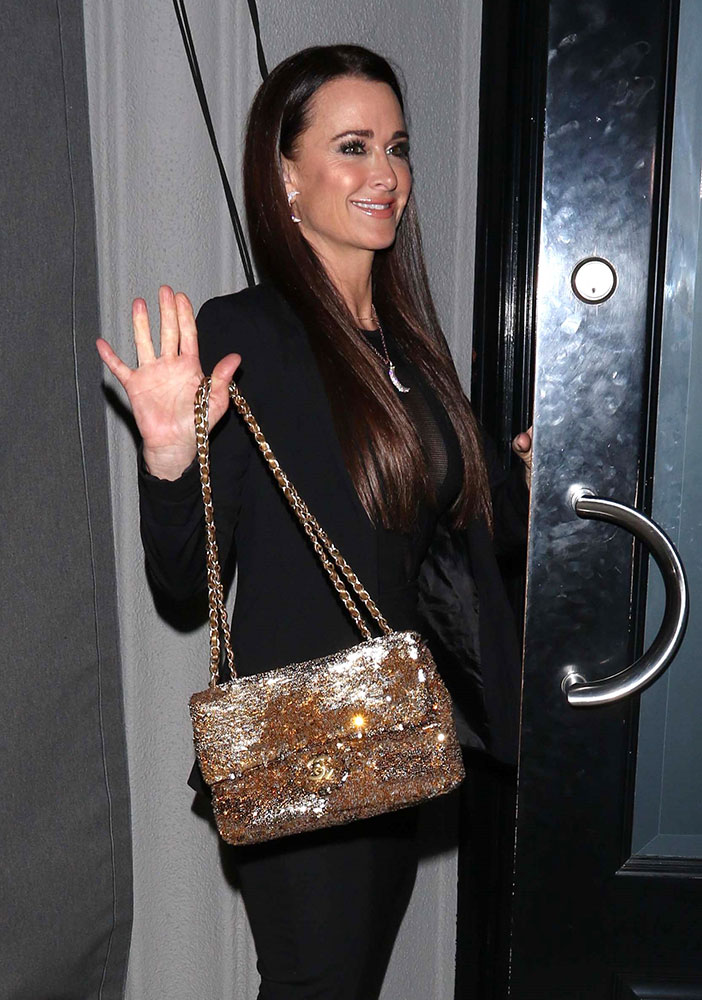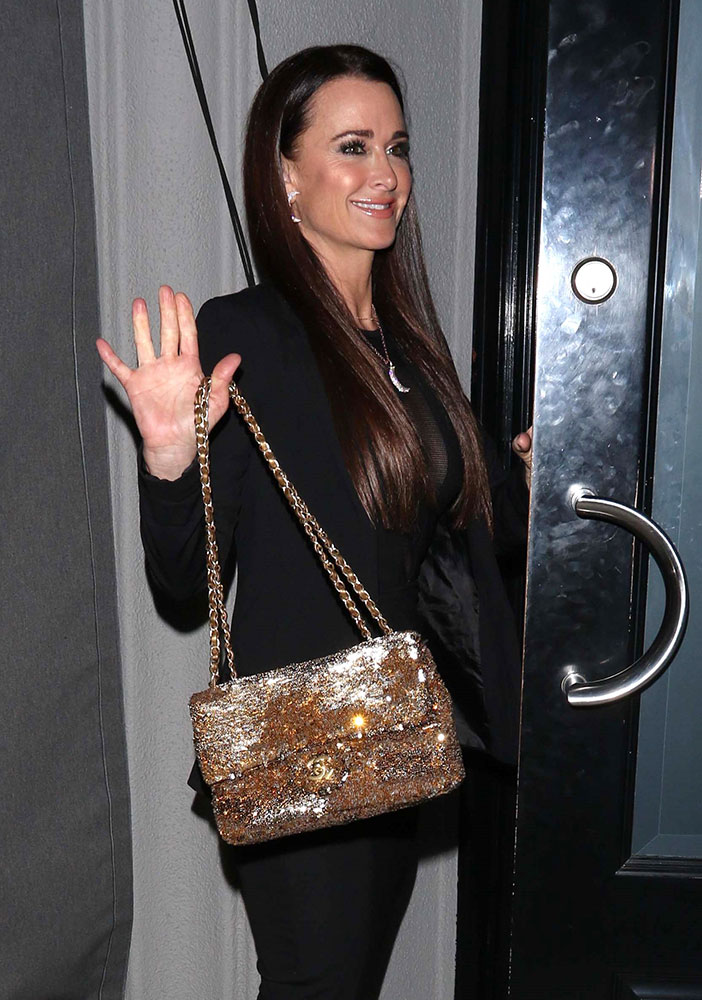 Kyle Richards
Saint Laurent Sac de Jour Bag
$2,750 via Saks
I wonder a lot of things, really.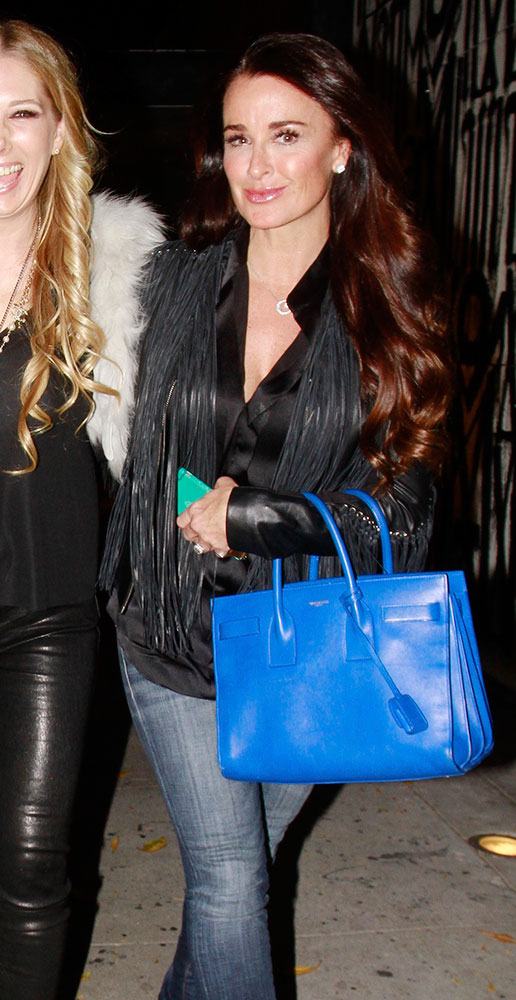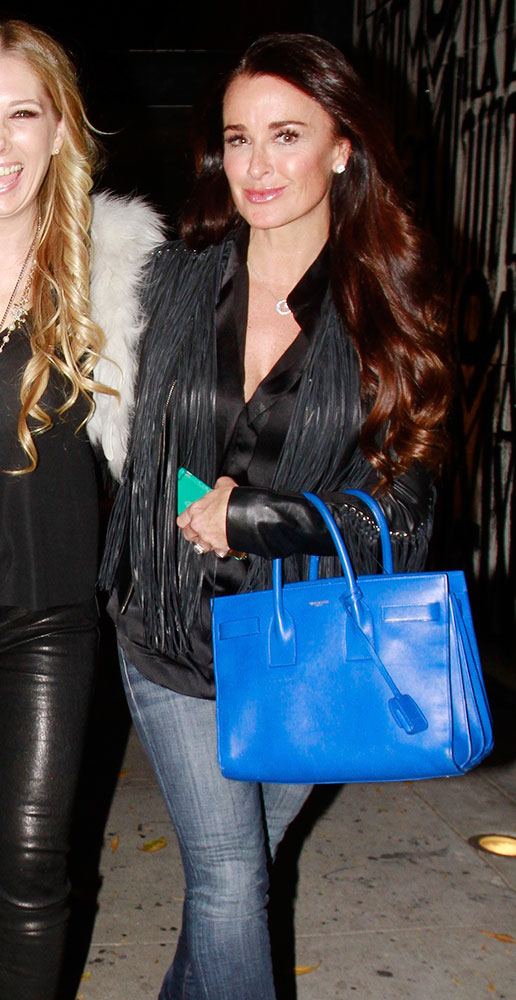 Lori Loughlin
Givenchy Antigona Envelope Clutch
$995 via Saks
Lori has worked very consistently since Full House ended many years ago, but she will always be Aunt Becky to me.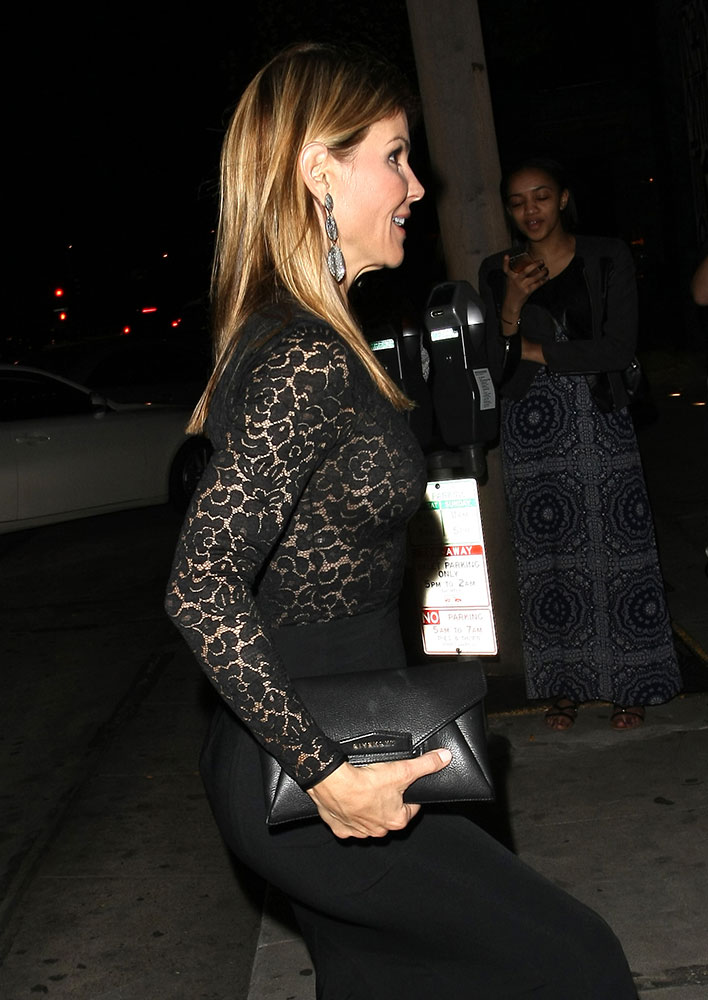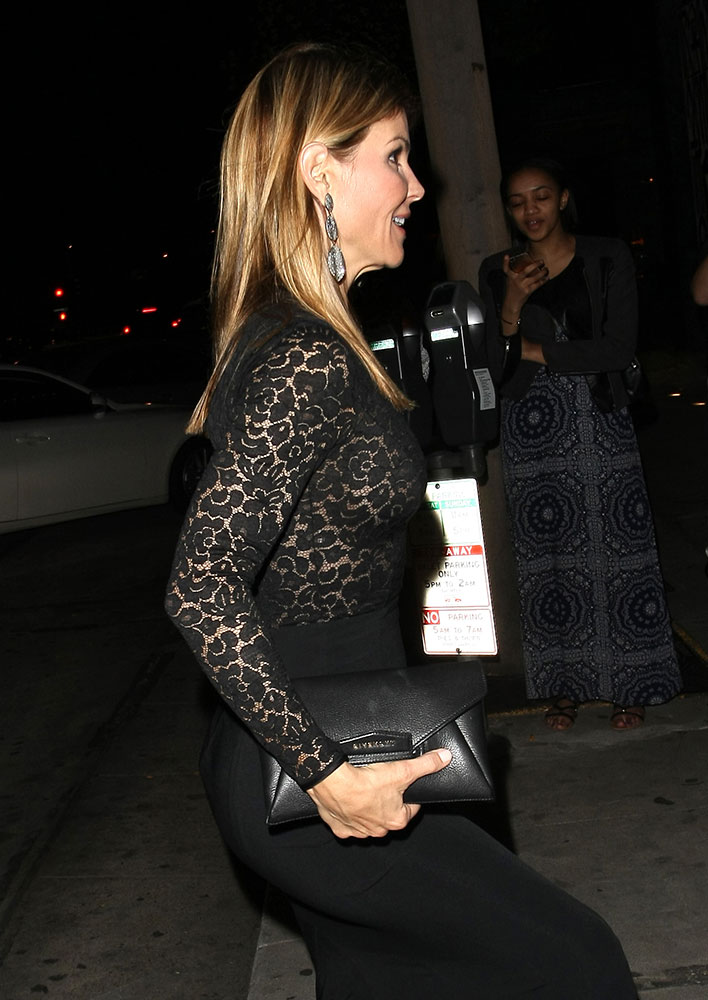 Lori Loughlin
Hermès Birkin
Lori's going to be reprising the role in Netflix's Full House reboot, so she's probably fine with that.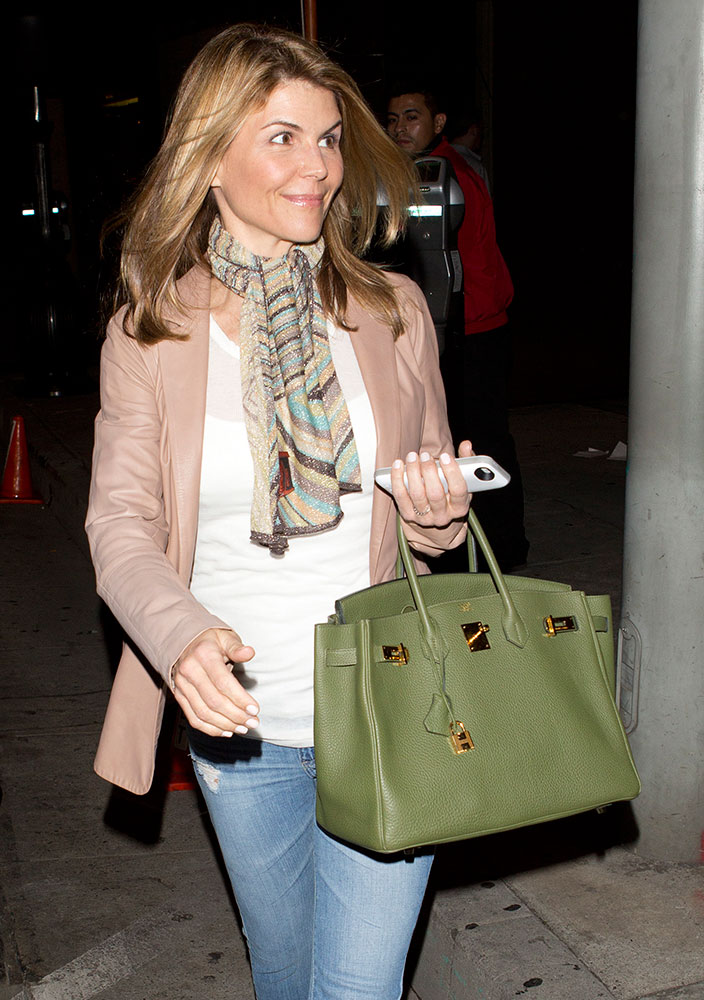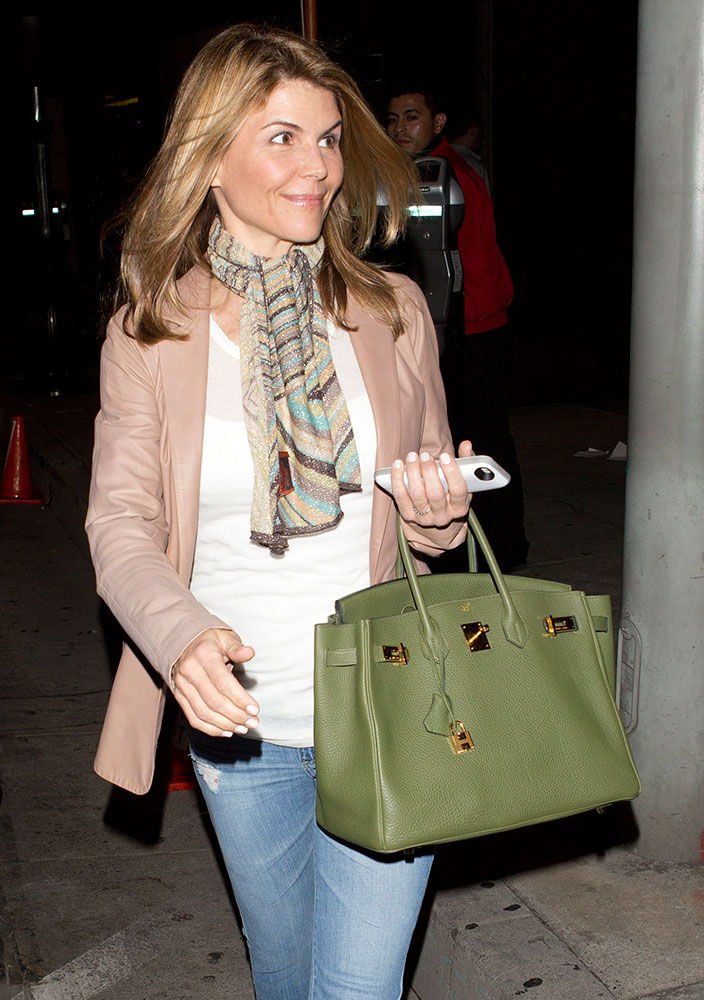 Meagan Good
Louis Vuitton Shoulder Bag
I'm not sure of the design name for this Louis Vuitton bag, but the strap makes me think it might be vintage; most monogram bags use vachetta straps now.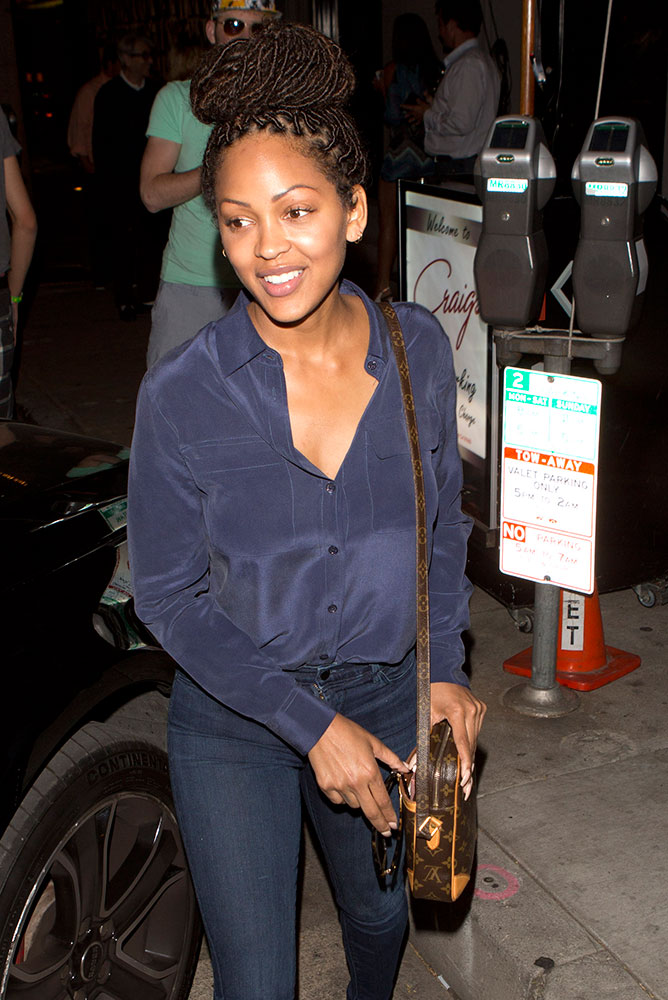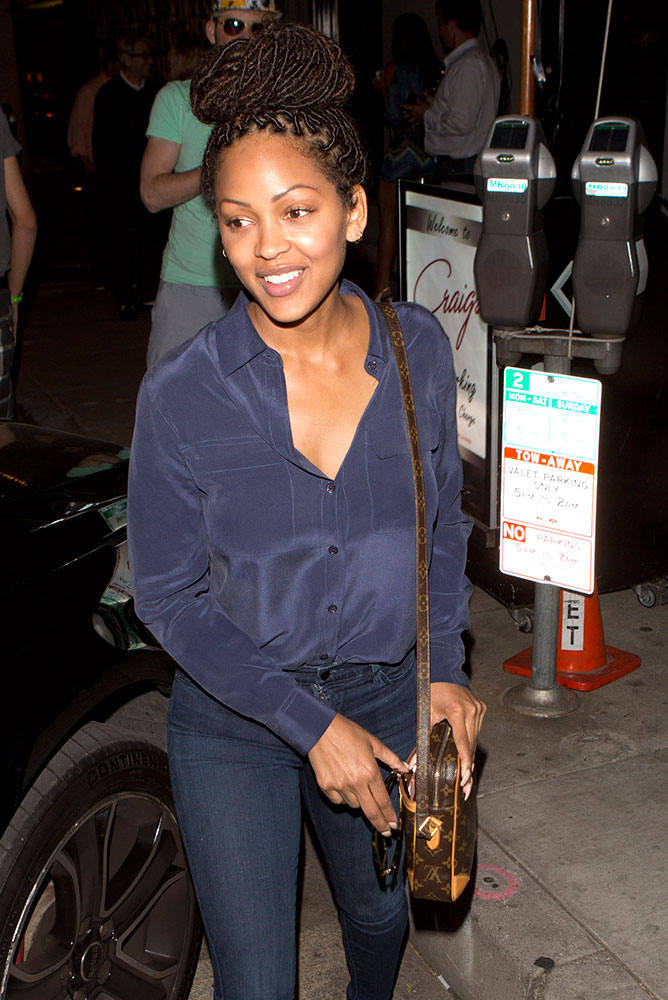 Melanie's a Craig's regular, but I could only find one shot of her carrying an identifiable bag.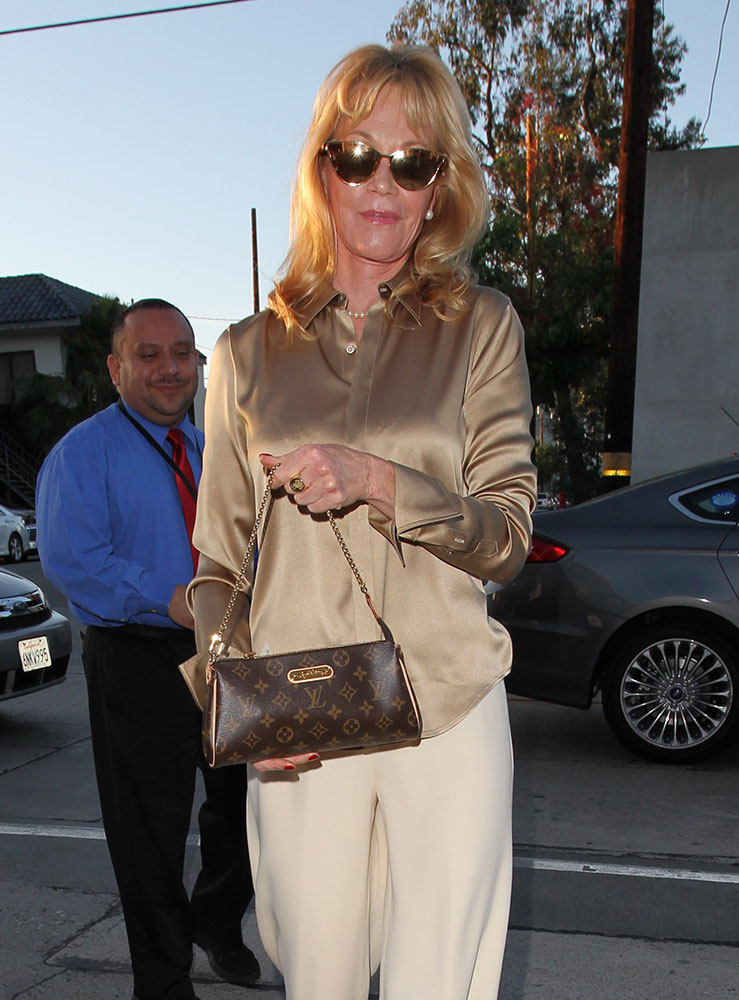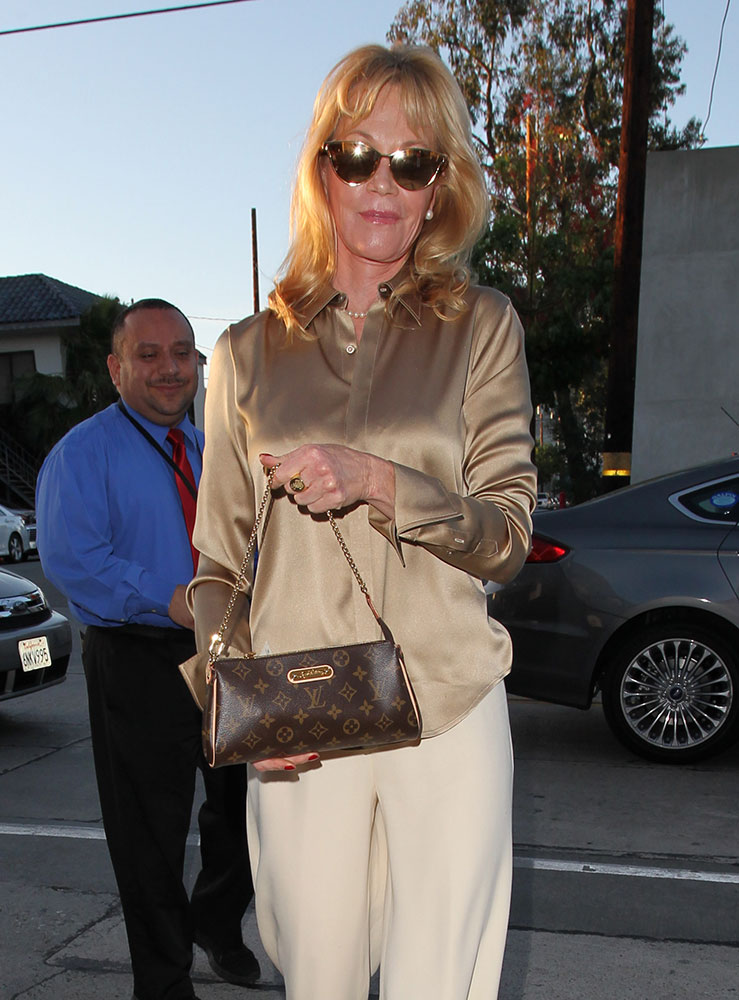 Michelle Trachtenberg
Chanel Classic Flap Bag
One interesting thing about Craig's is that you get to find out which celebrities are friends. Michelle came with Kate Beckinsale.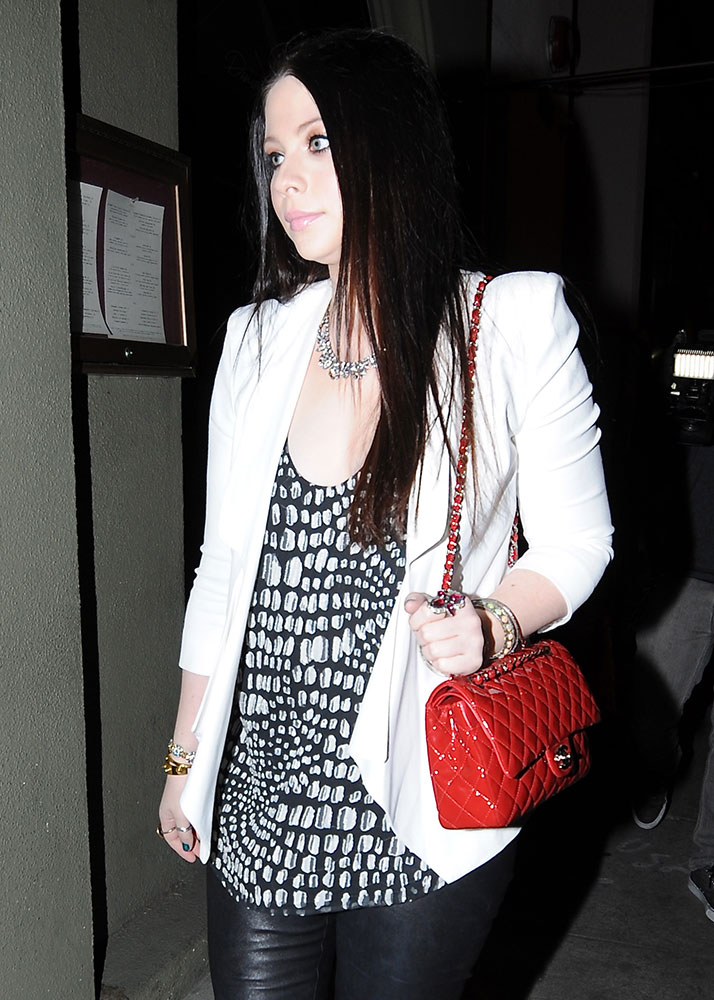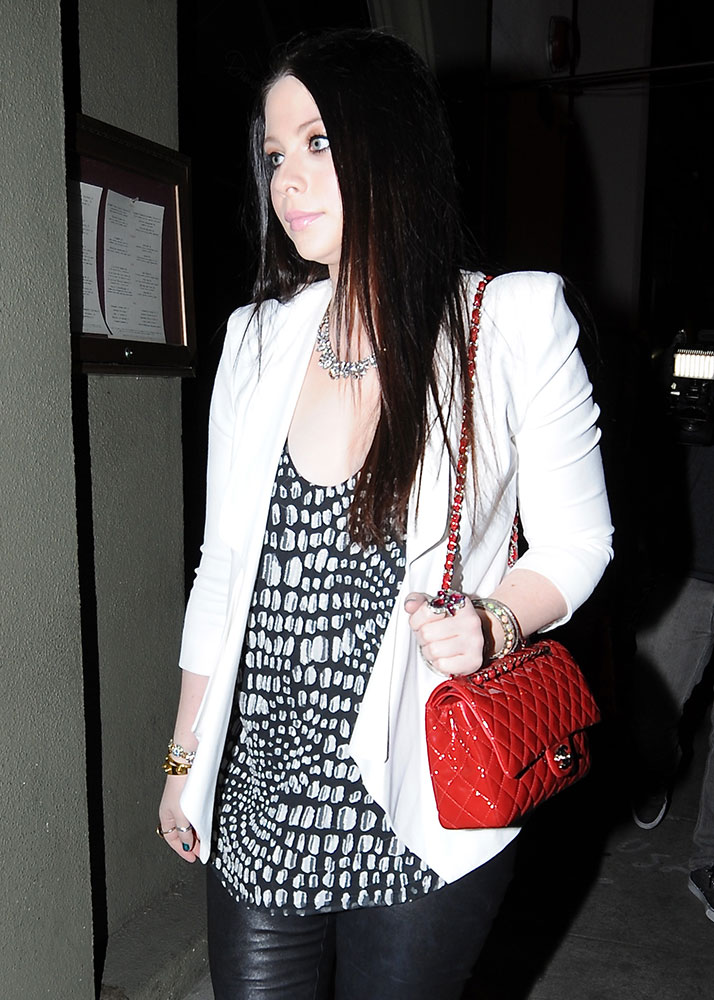 Molly Sims
Chanel Classic Flap Bag
I'd say that this is the typical Craig's look: a dress, but not too fancy, and a Chanel bag.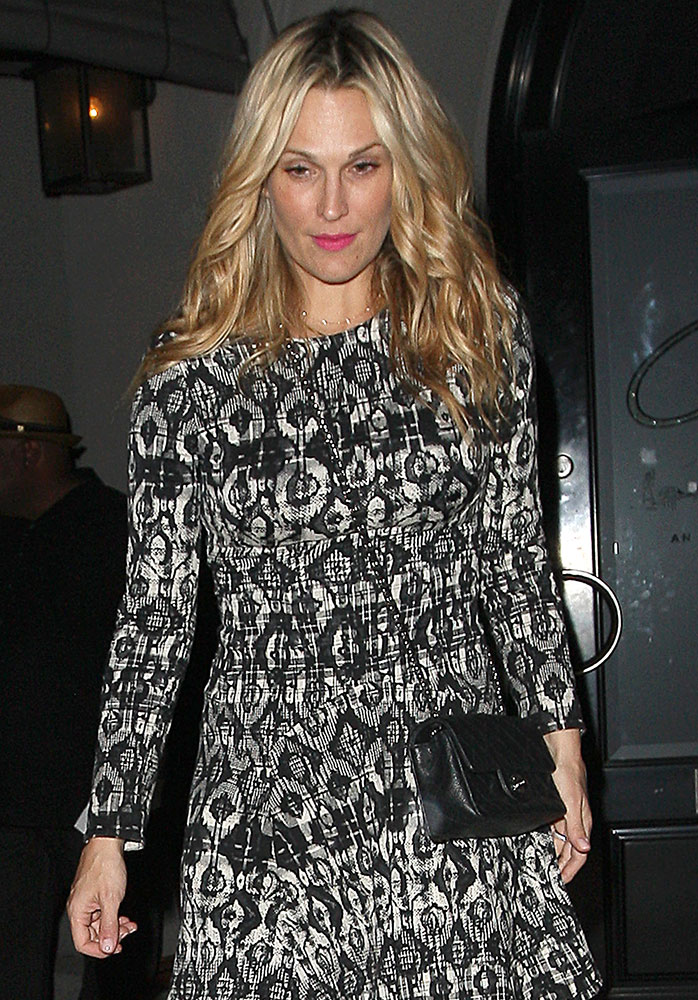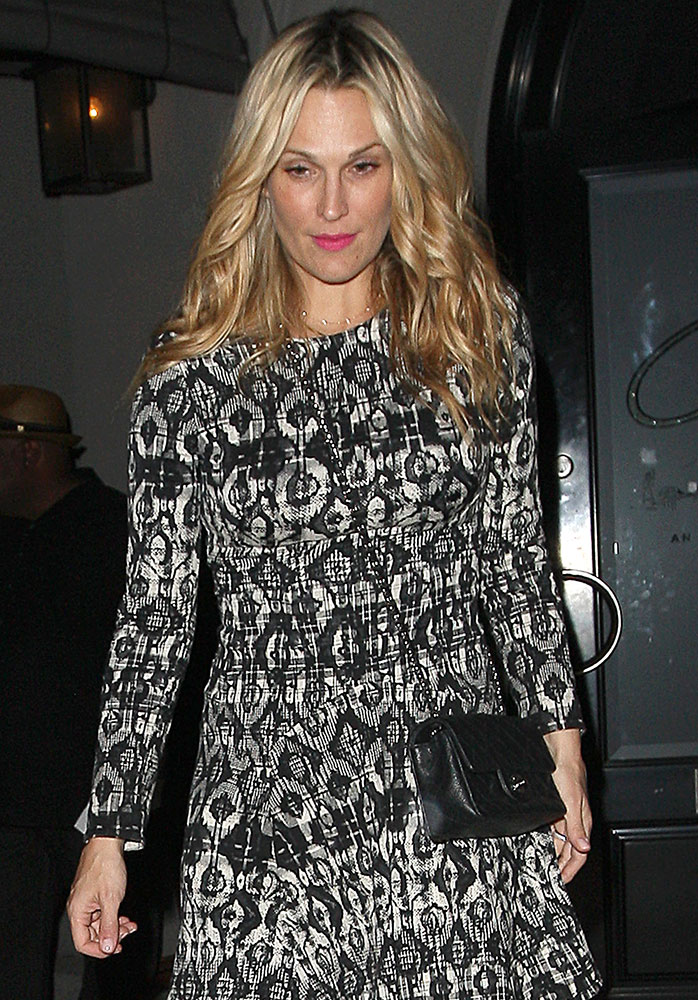 Morgan Stewart
Givenchy Mini Antigona Bag
$1,750 via Saks
I've never been quite convinced about the Antigona in its mini size, but this photo is helping me see the light.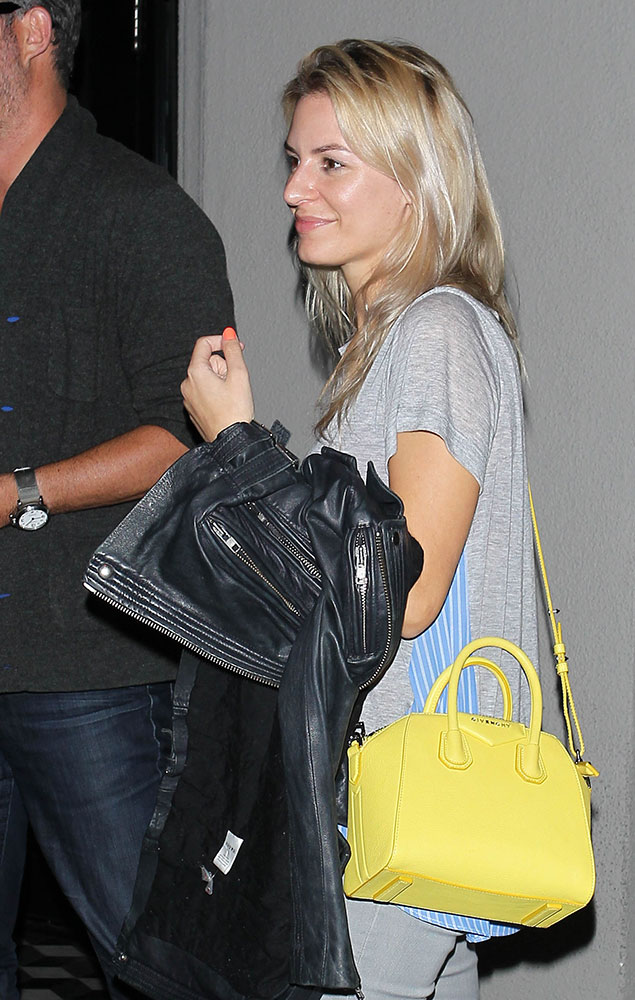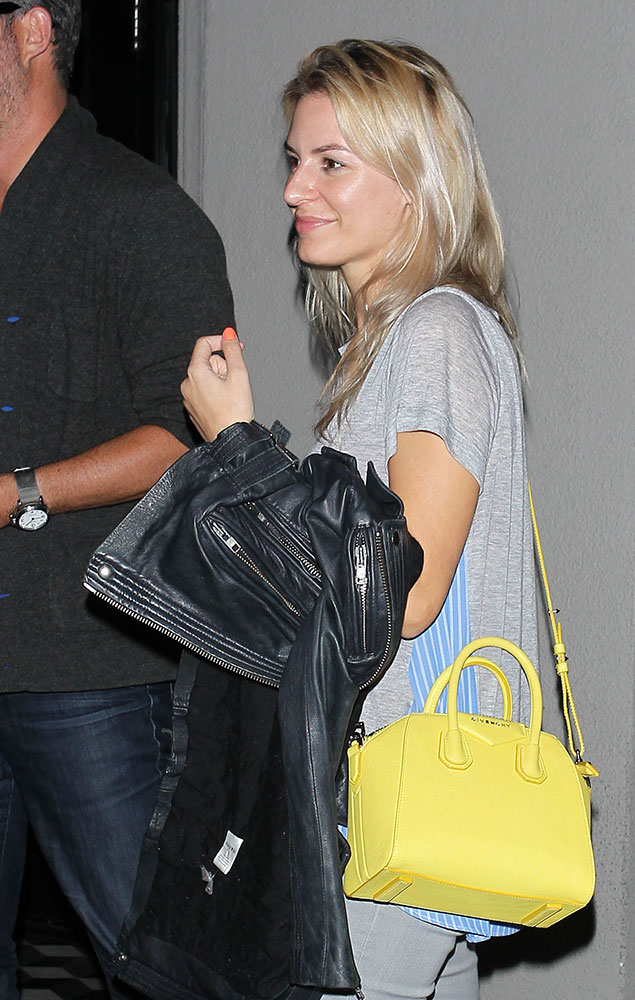 Nicky Hilton
Chanel Classic Flap Bag
Where you find people wearing pretty designer dresses and carrying Chanel, you will also find Nicky at some point.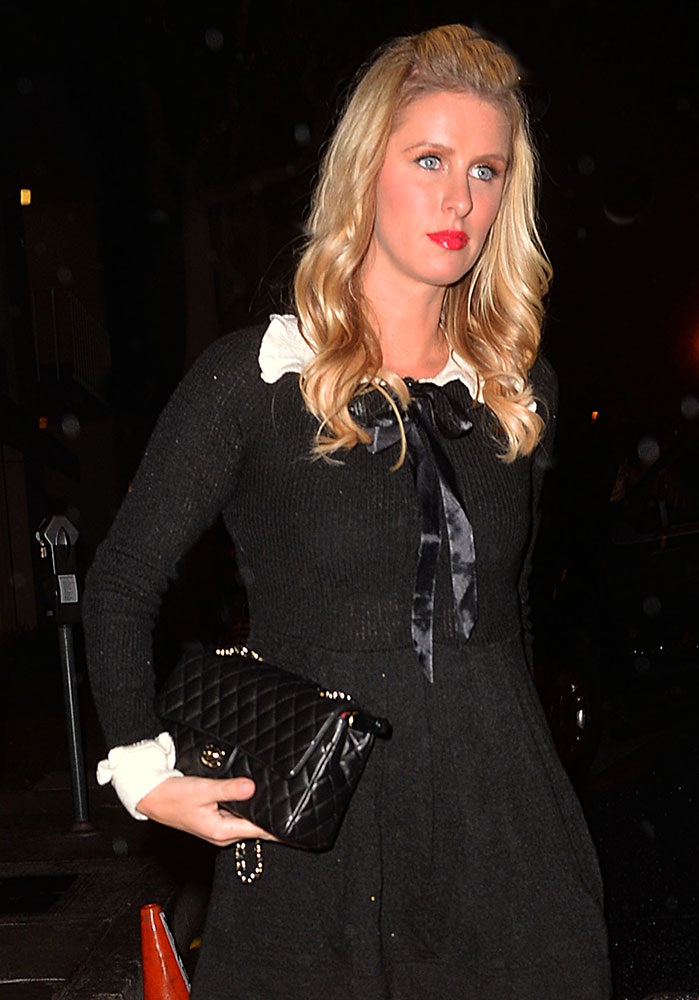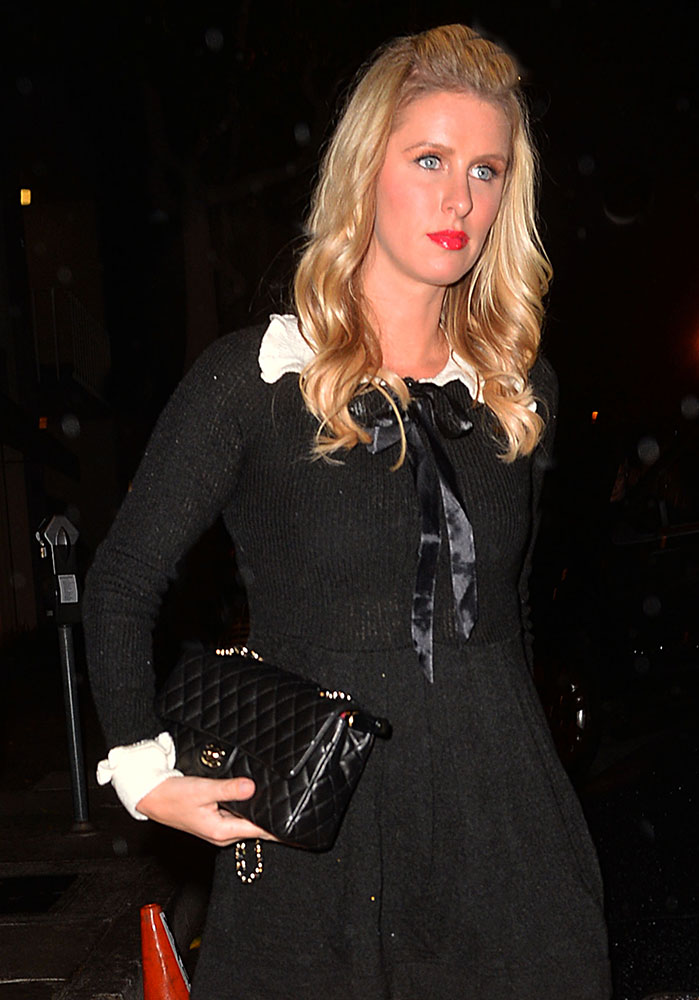 Nicole Scherzinger
Valentino VaVaVoom Shoulder Bag
$2,145 via FWRD
How do people get hats to stay on their heads at this angle while they move around?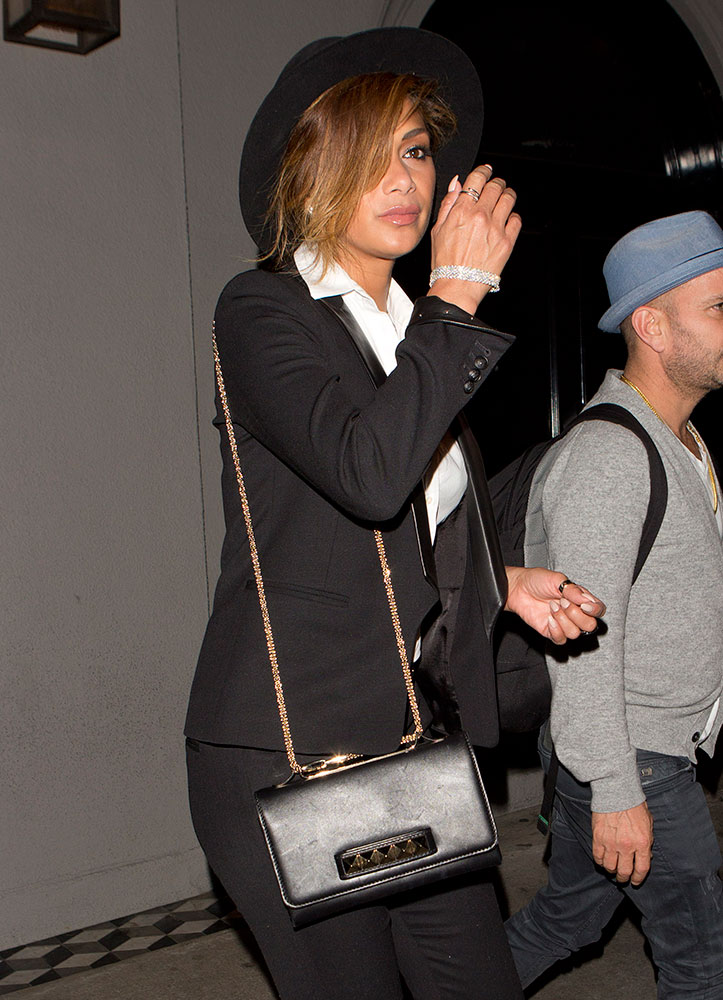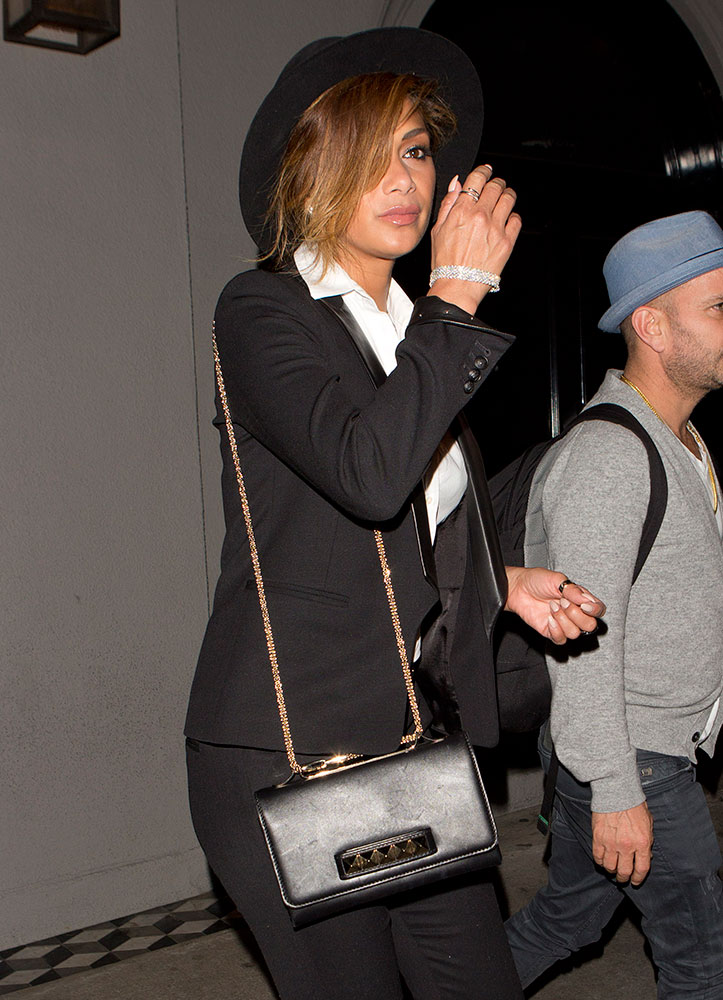 Paris Hilton
Chanel Classic Flap Bag
Let's round out the Hilton Trifecta.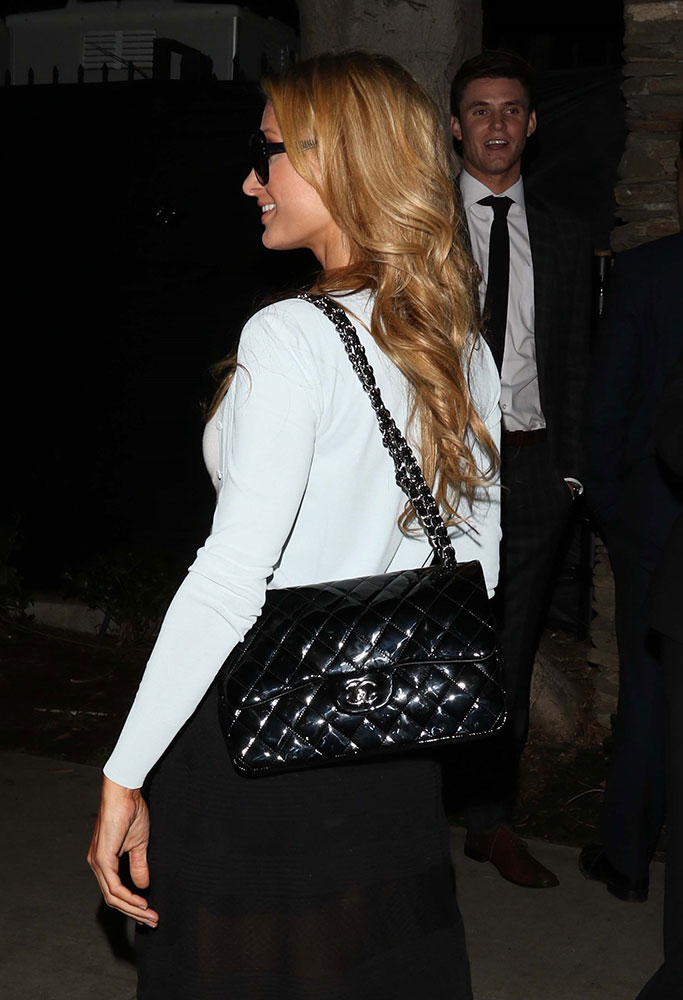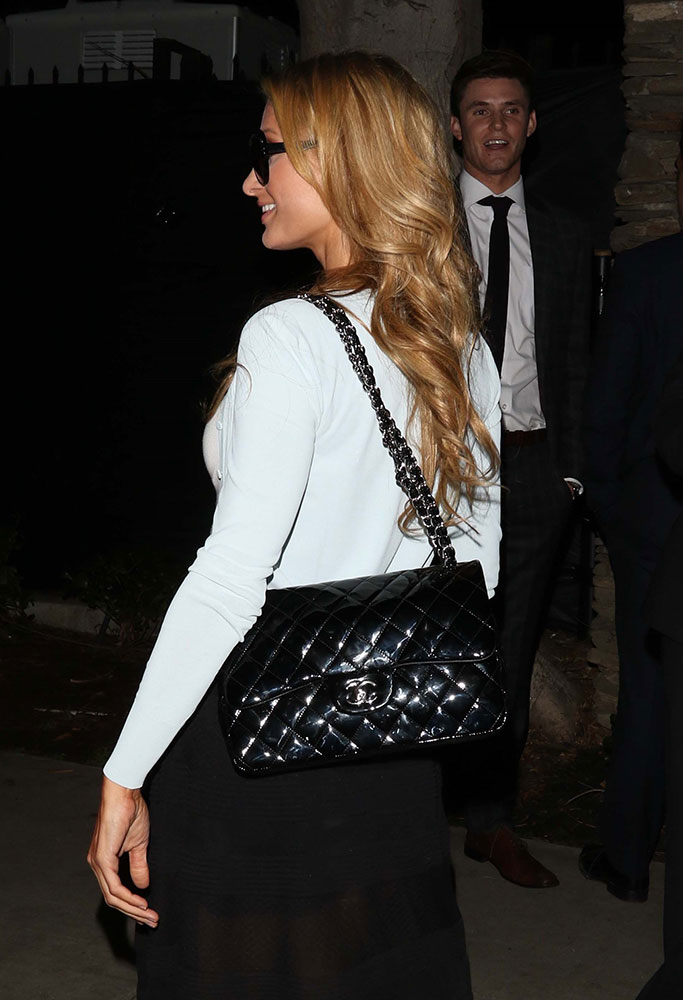 Peta Murgatroyd
Chanel Classic Flap Bag
If you're not familiar with Peta, she's one of the pros on Dancing With The Stars.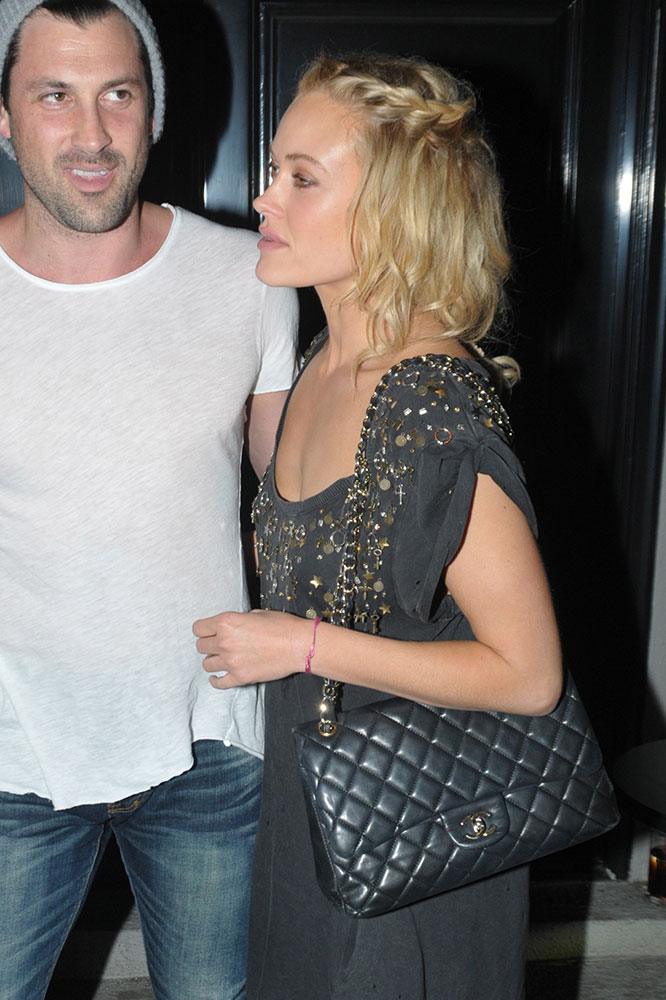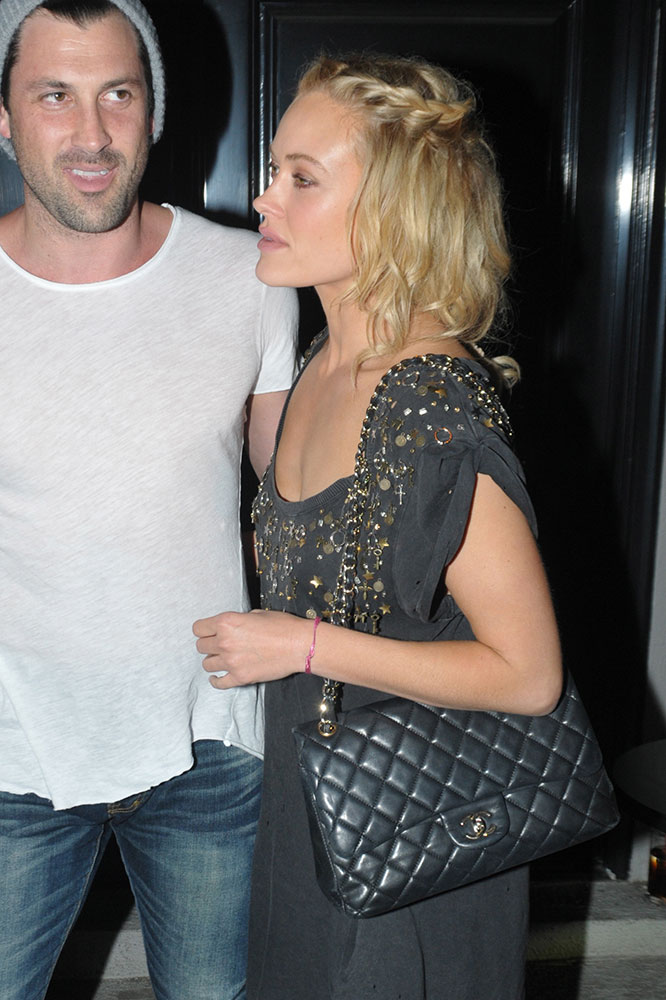 Rachel's pretty sure these photographers have got to be kidding her.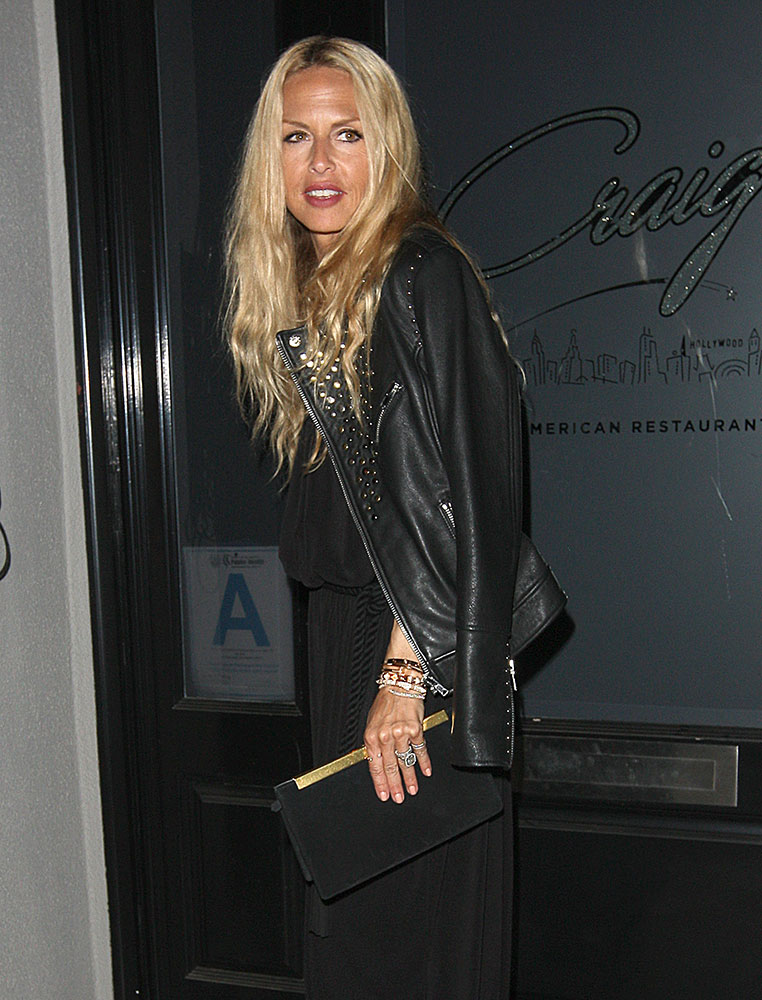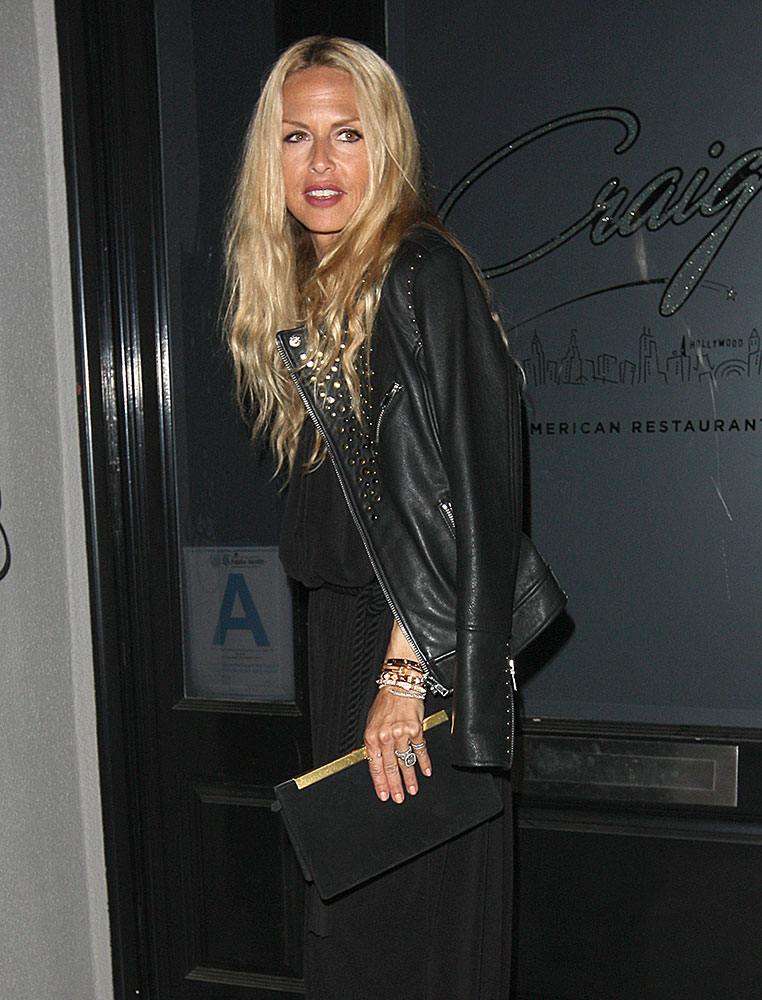 Apparently the paps were not any better behaved on this occasion.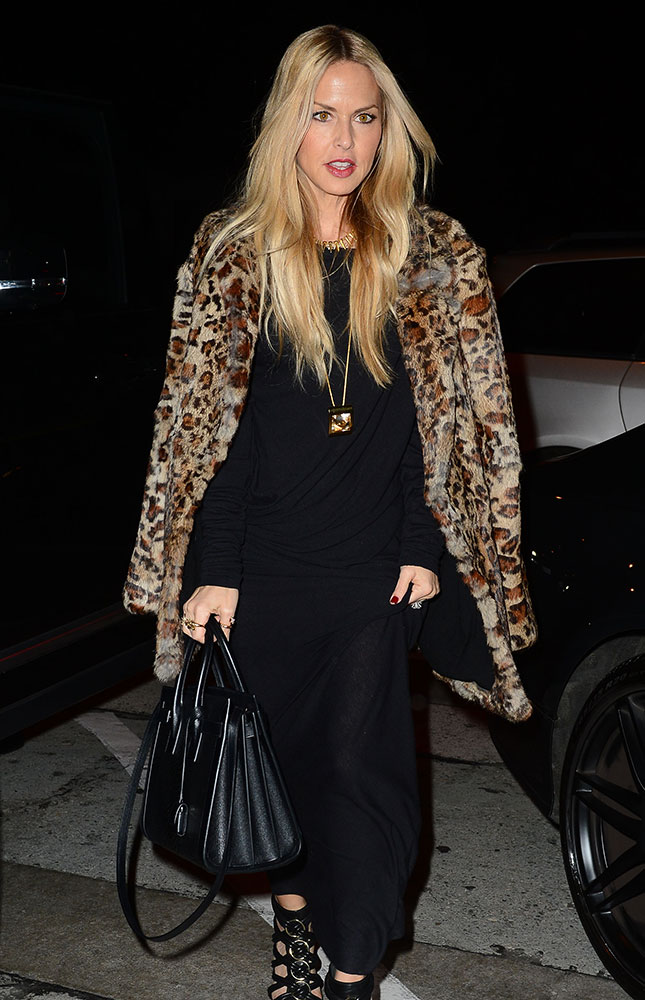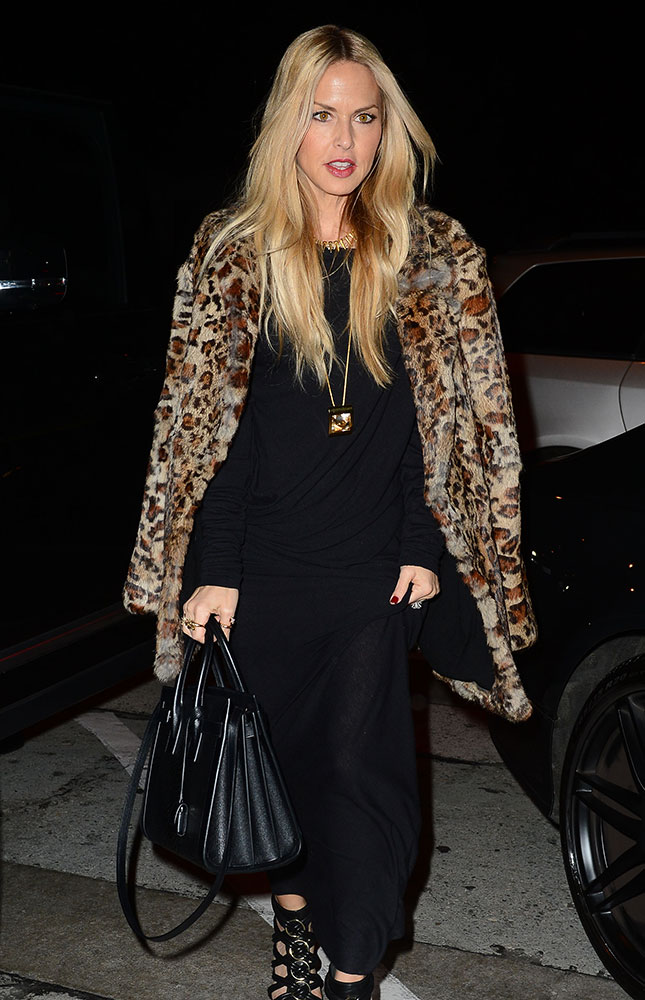 The Craig's crowd is more often actors and reality TV people than models, but hey, Rosie is in the Mad Max movie!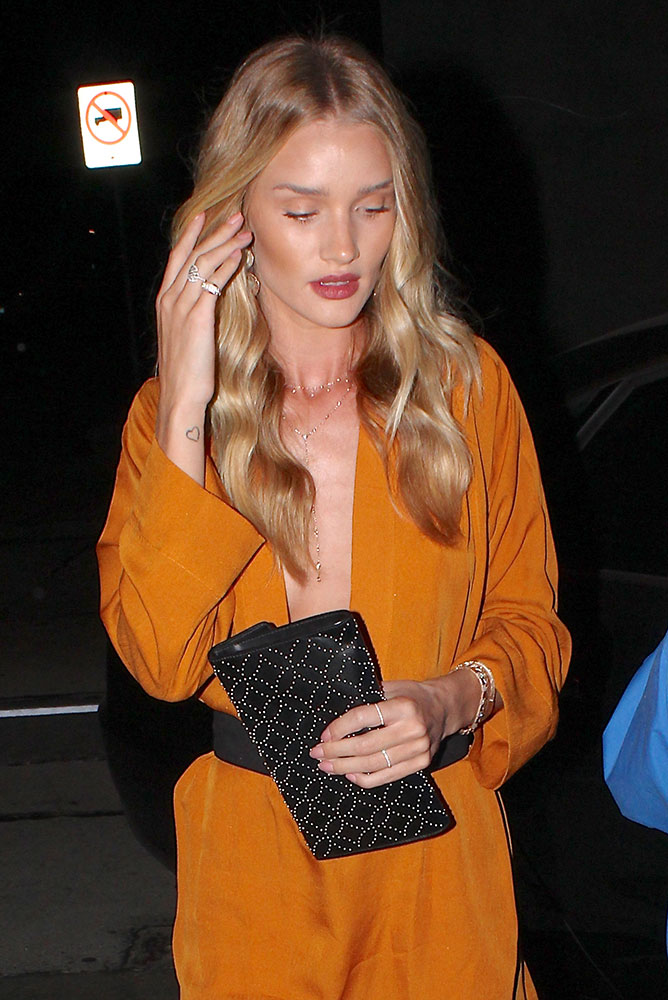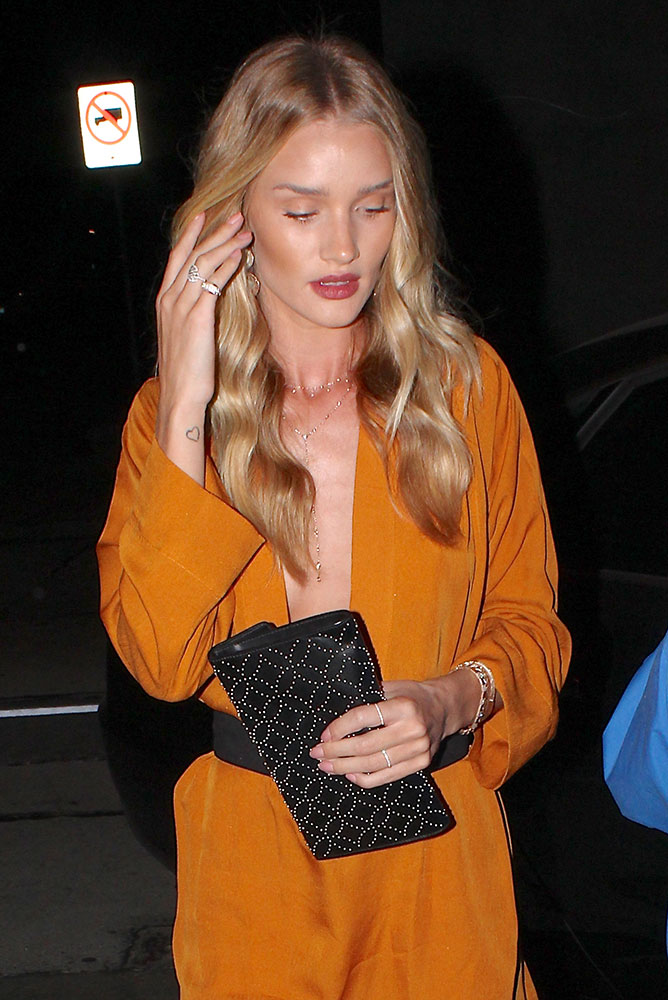 Speaking of reality TV people: Roxie would like to show you her bag.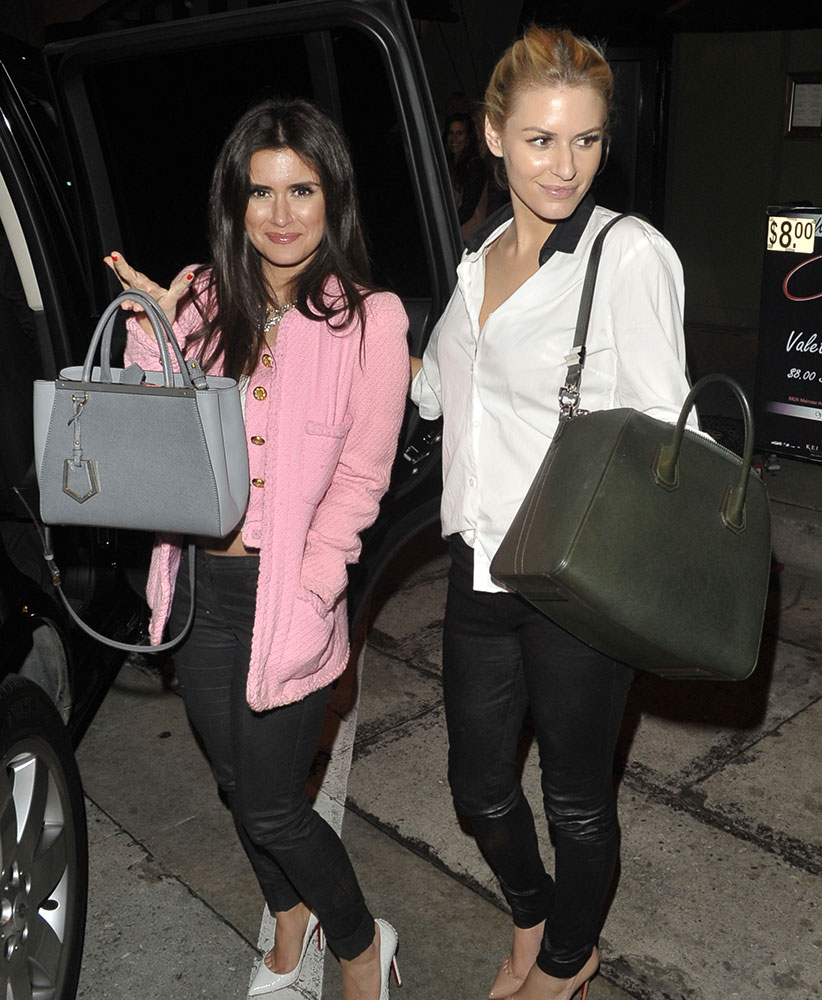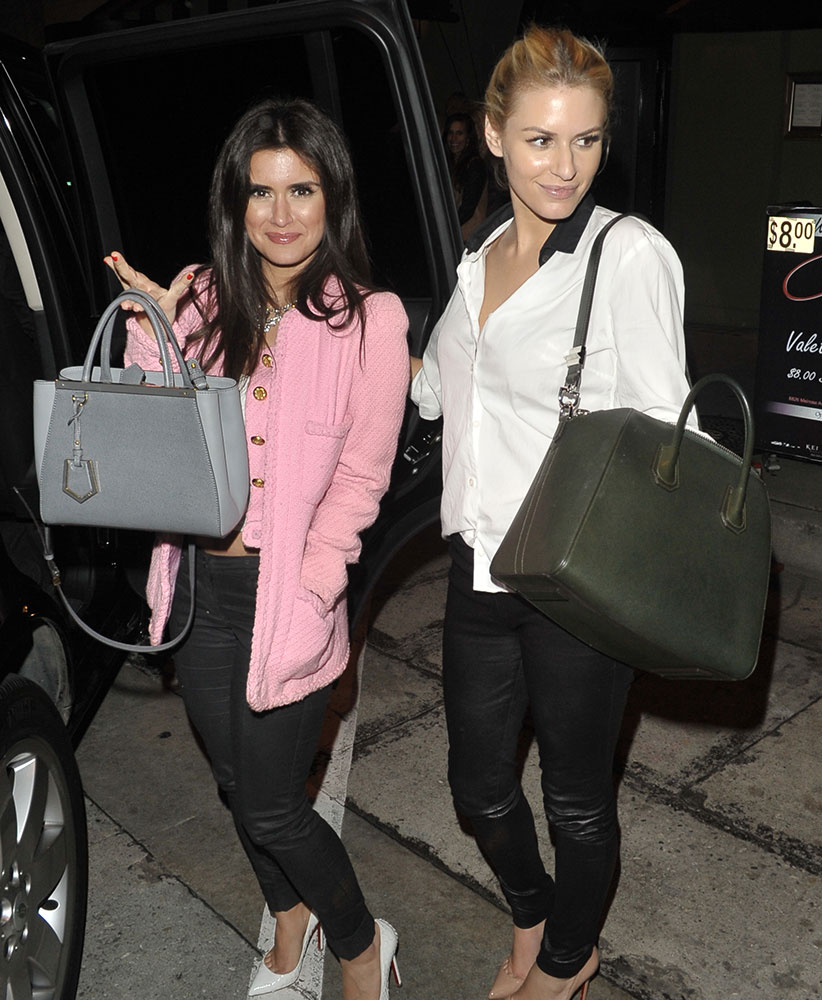 Selena was headed to dinner with Demi Lovato.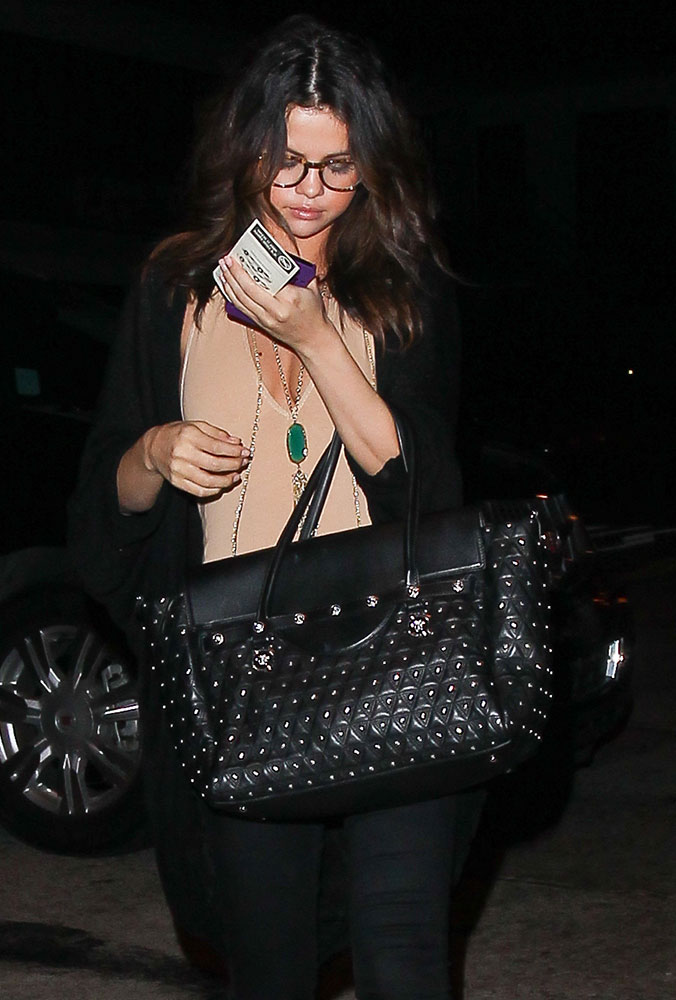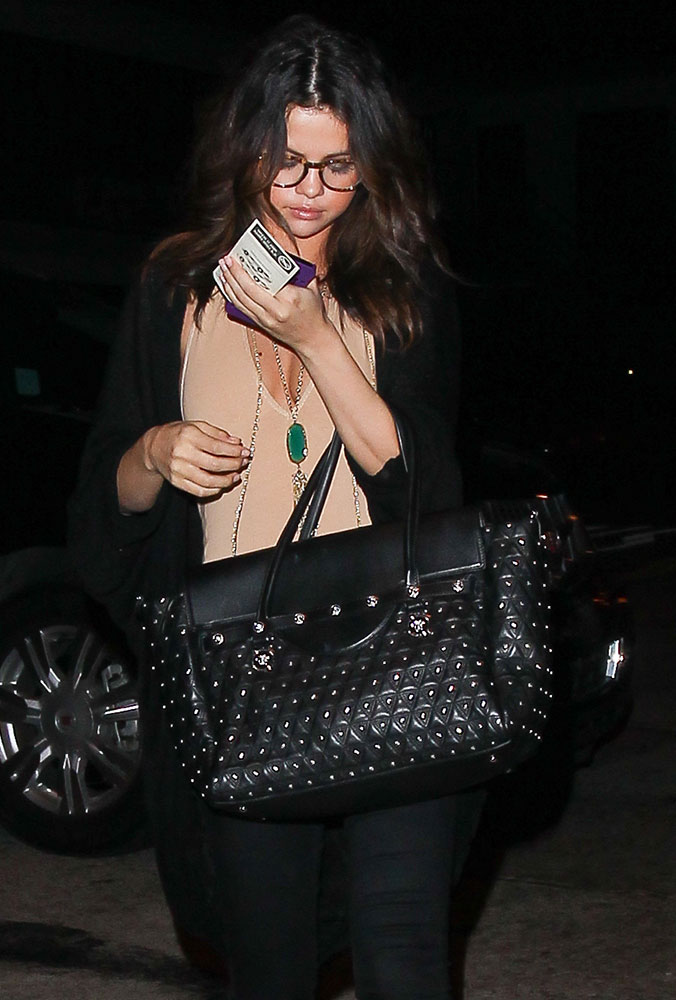 Sharon eats at Craig's frequently, with both famous friends and famous family.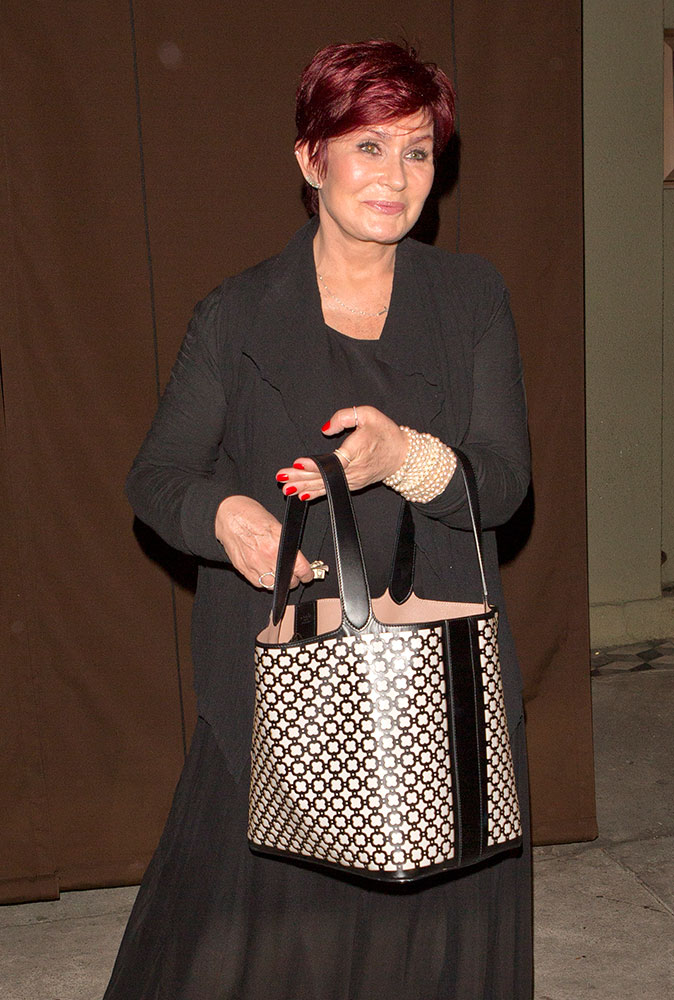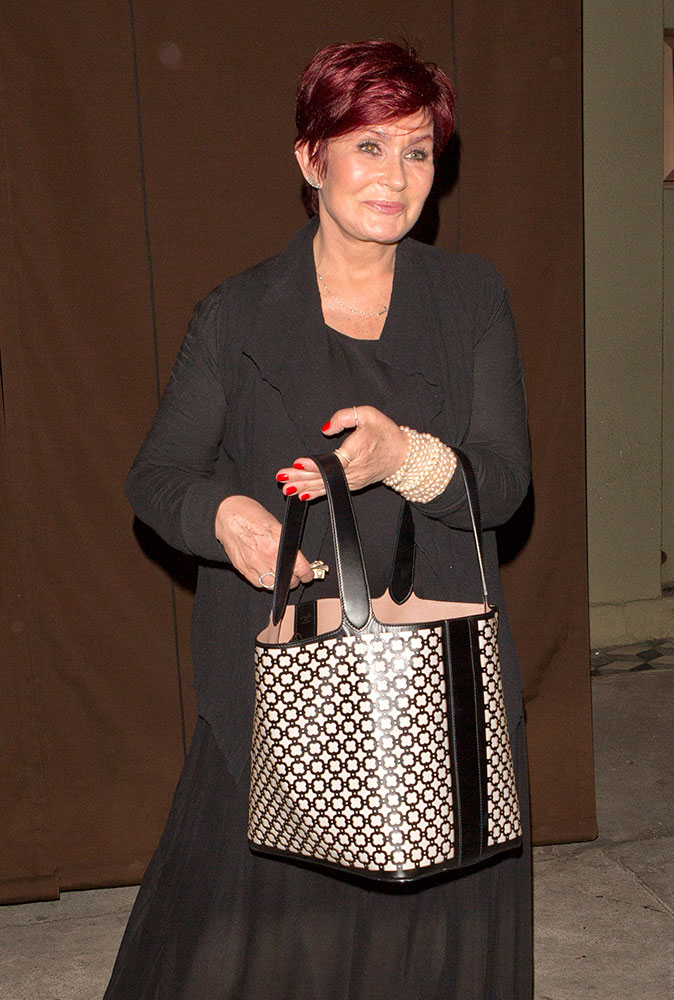 Sharon Osbourne
Hermès Birkin Bag
This particular look was for a family dinner.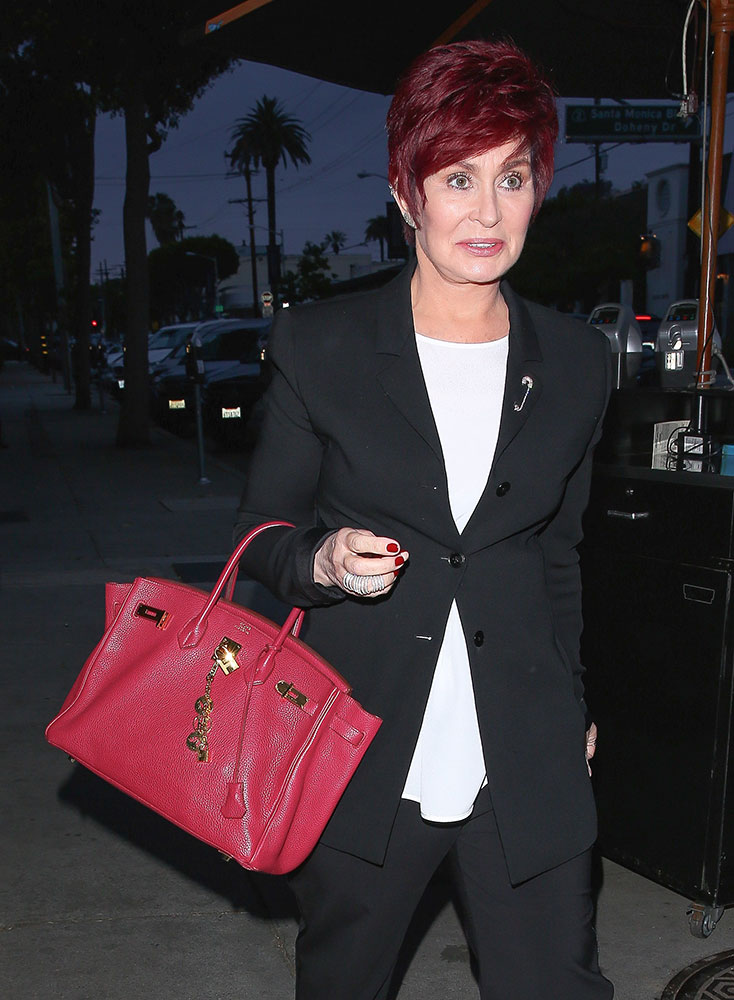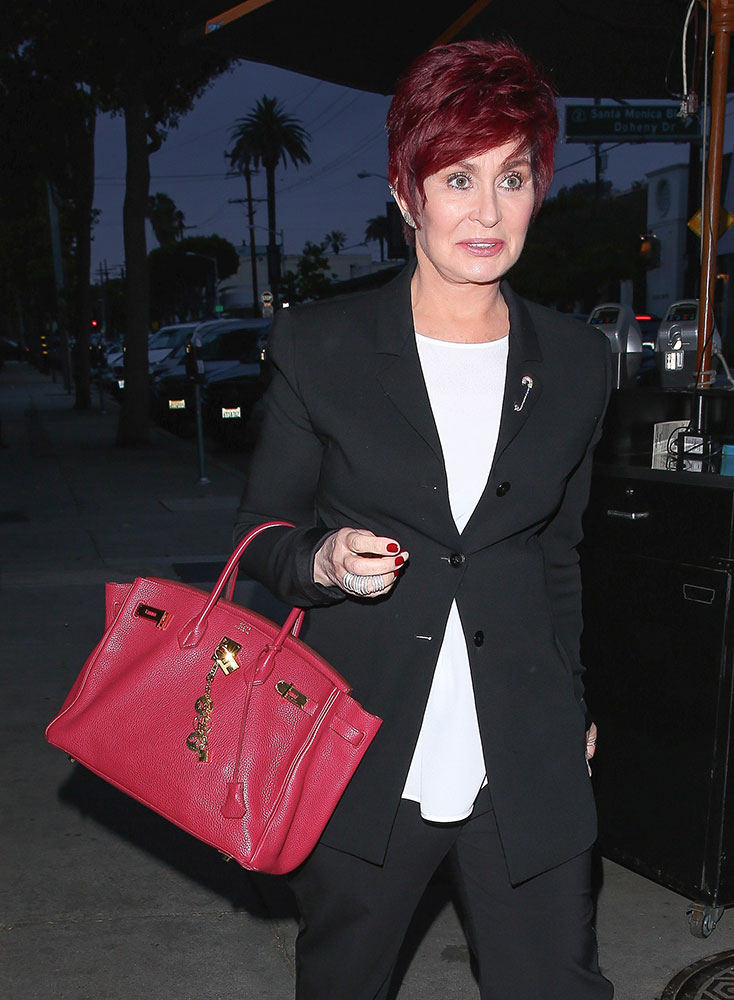 Shawn King
Christian Dior Lady Dior Bag
Larry King and his wife Shawn are also regulars, and Shawn always brings solid bag game.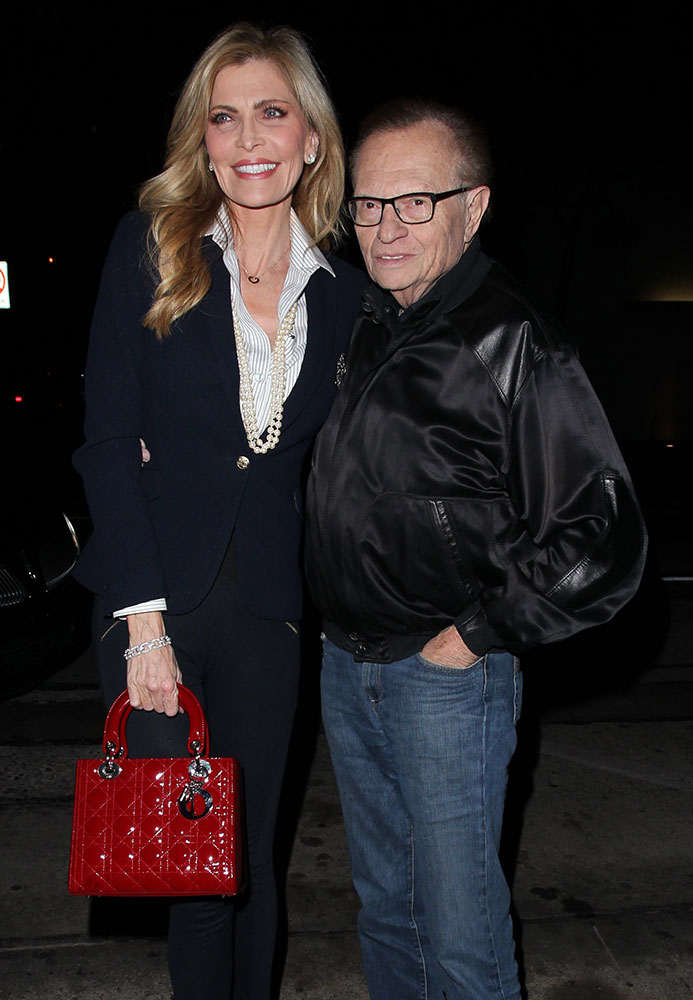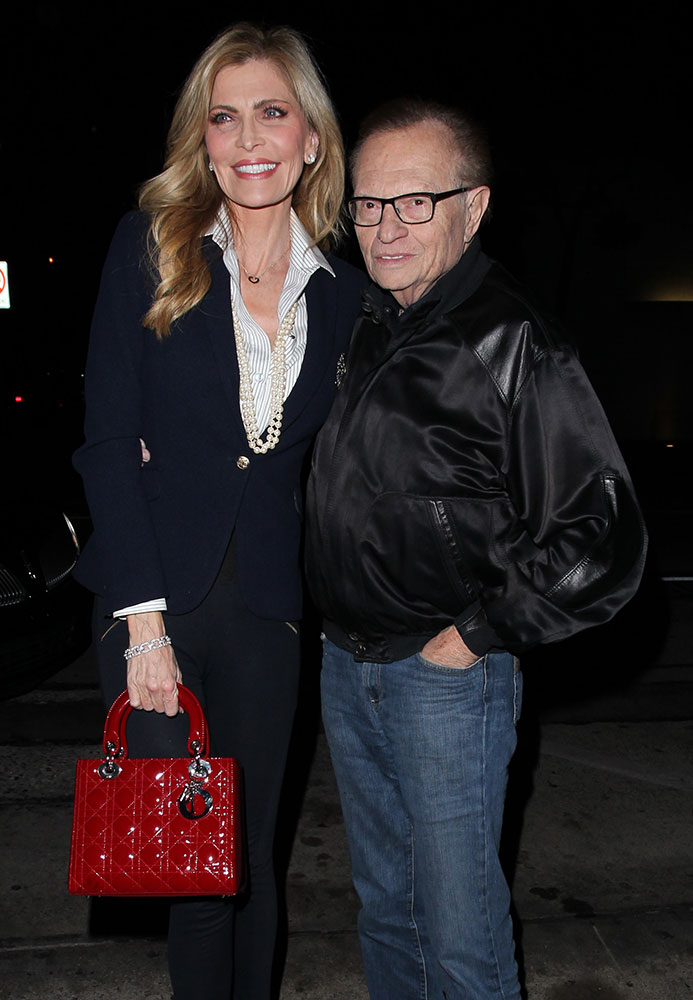 This is a throwback pick from before the brand lost the Yves.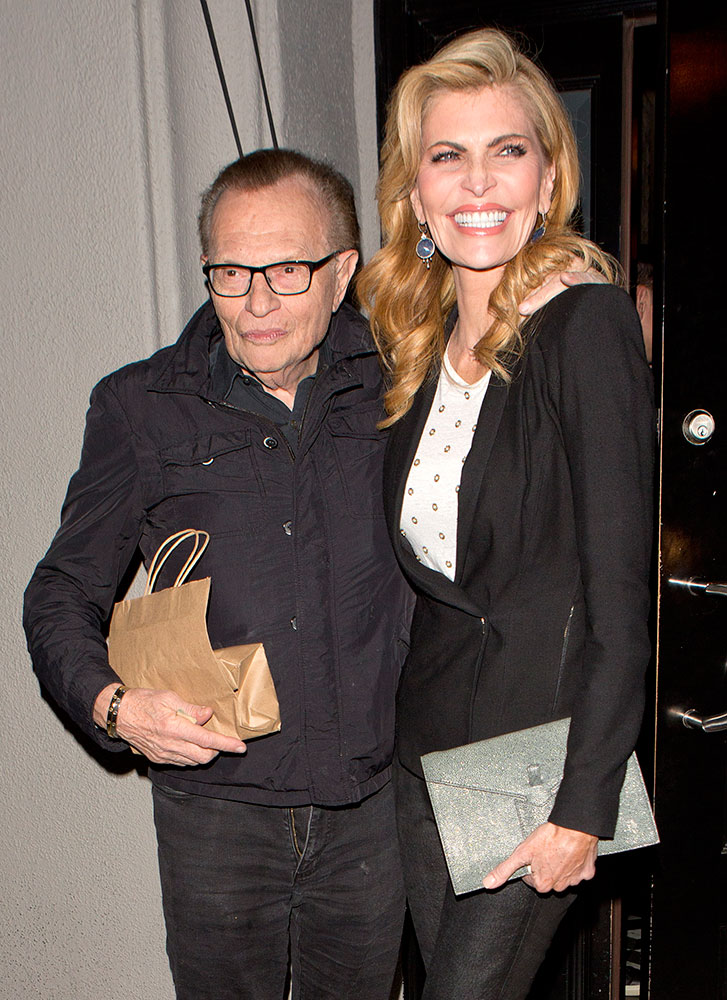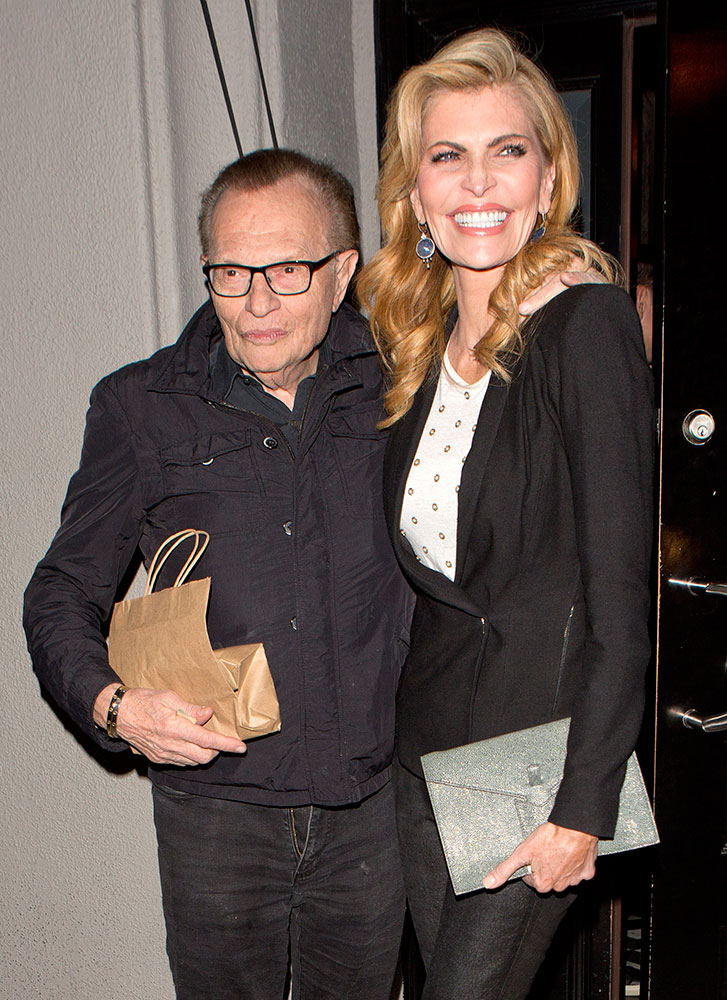 Tamar Braxton
Céline Luggage Tote
I'm always appreciative of a black-on-black look.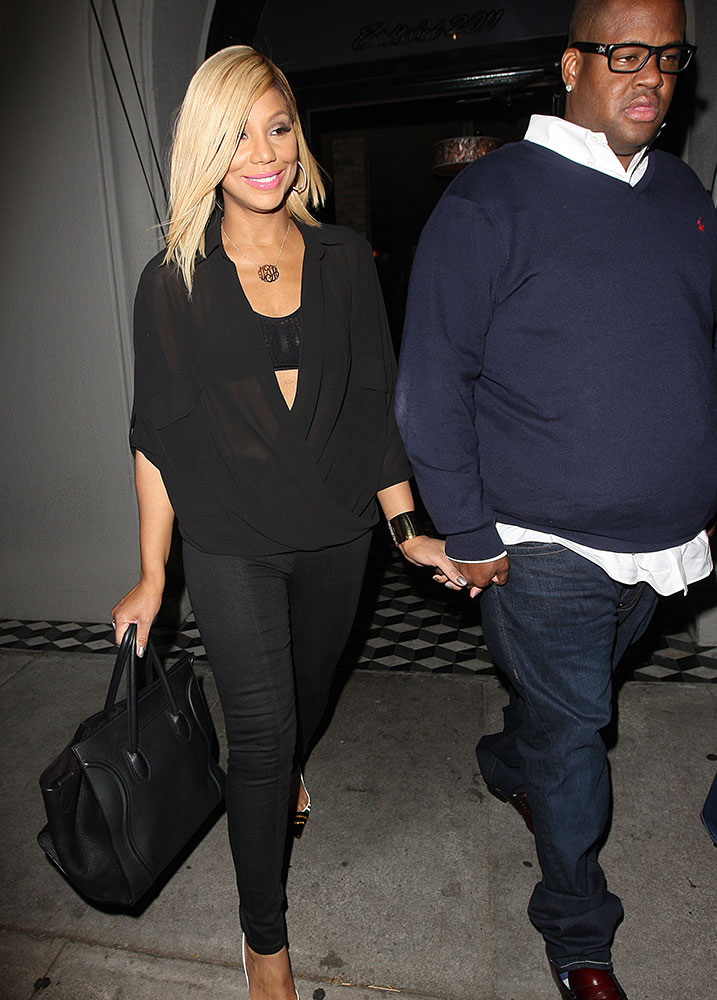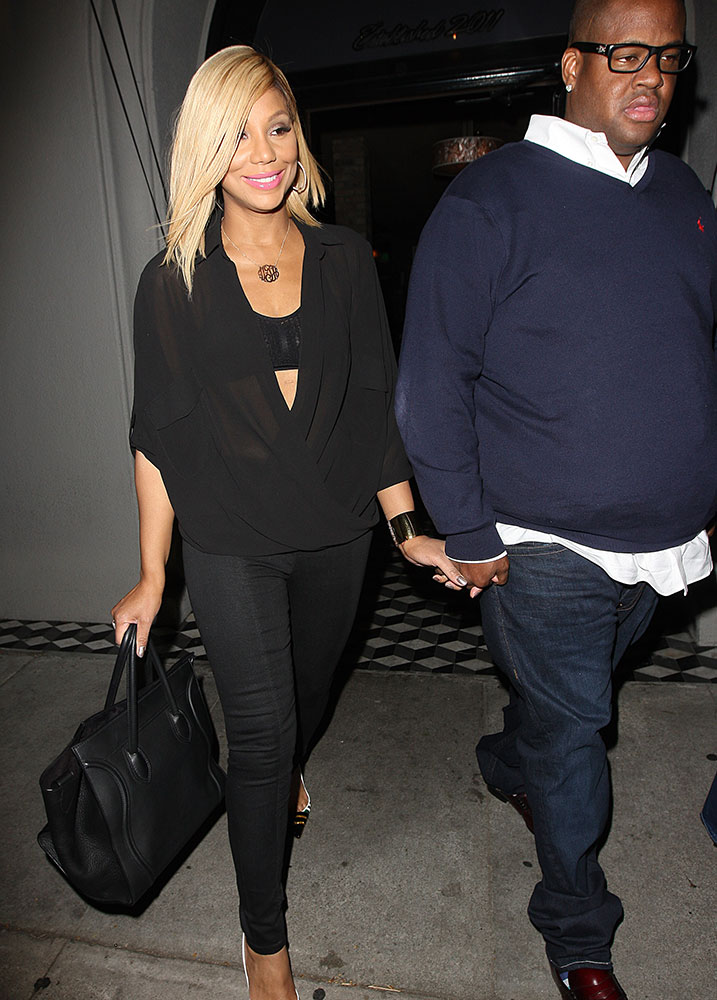 Of all the bags we've spotted outside of Craig's, this one is probably the most functional.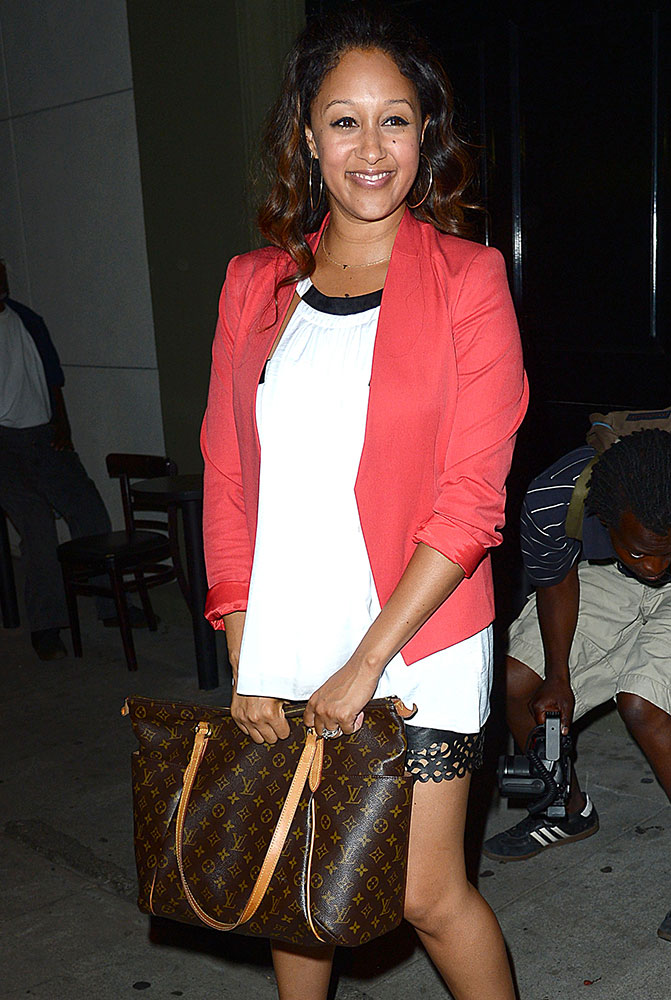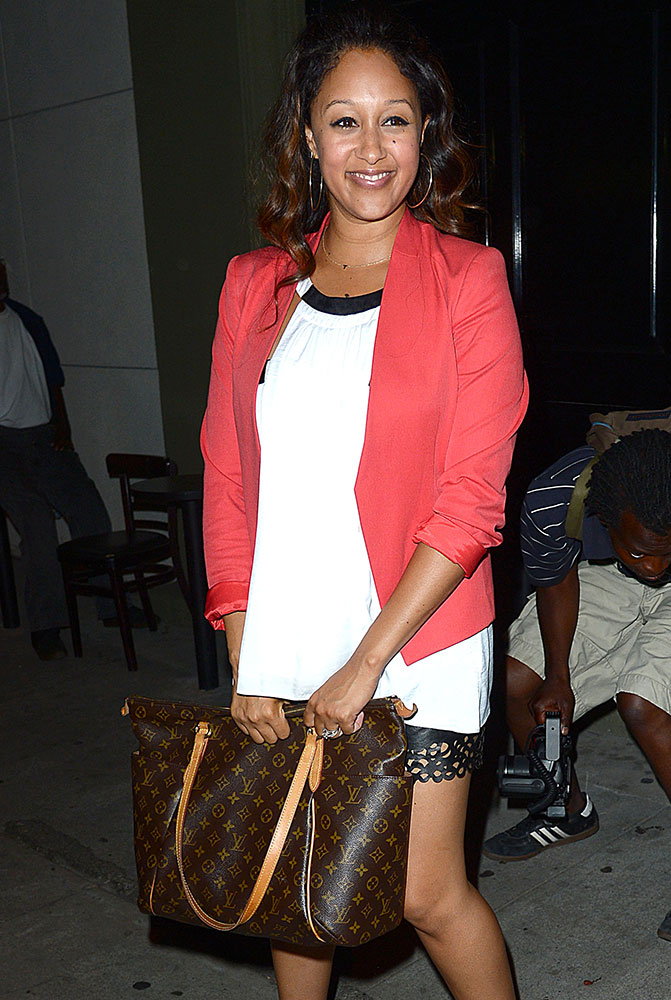 And here's Tara Reid, being very Tara Reid.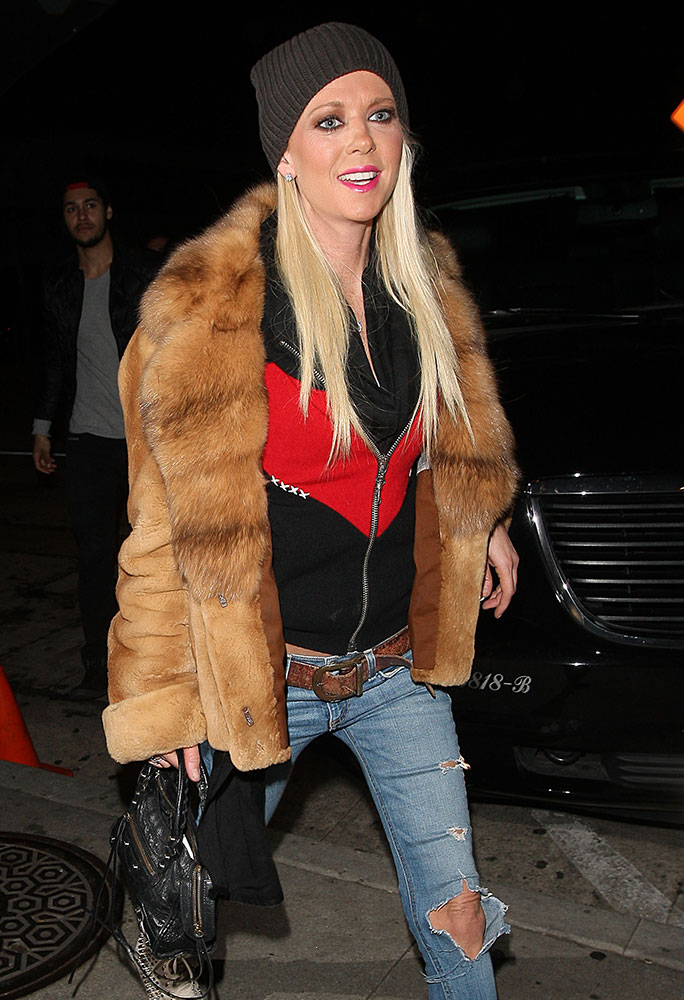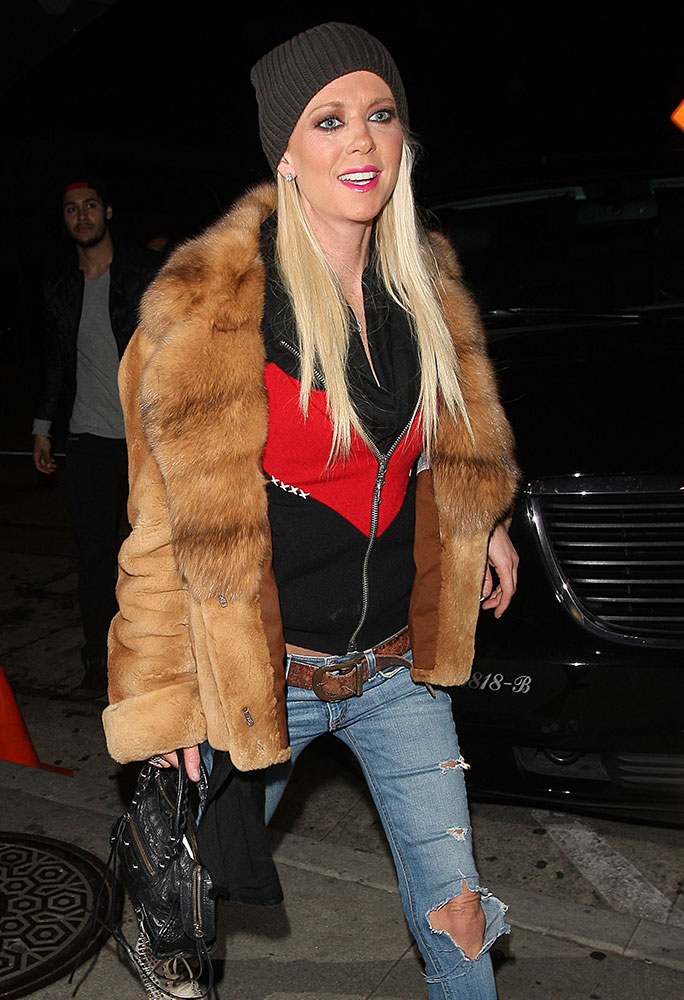 Not only is Taylor still around, but she's a Craig's regular who really loves her Speedy.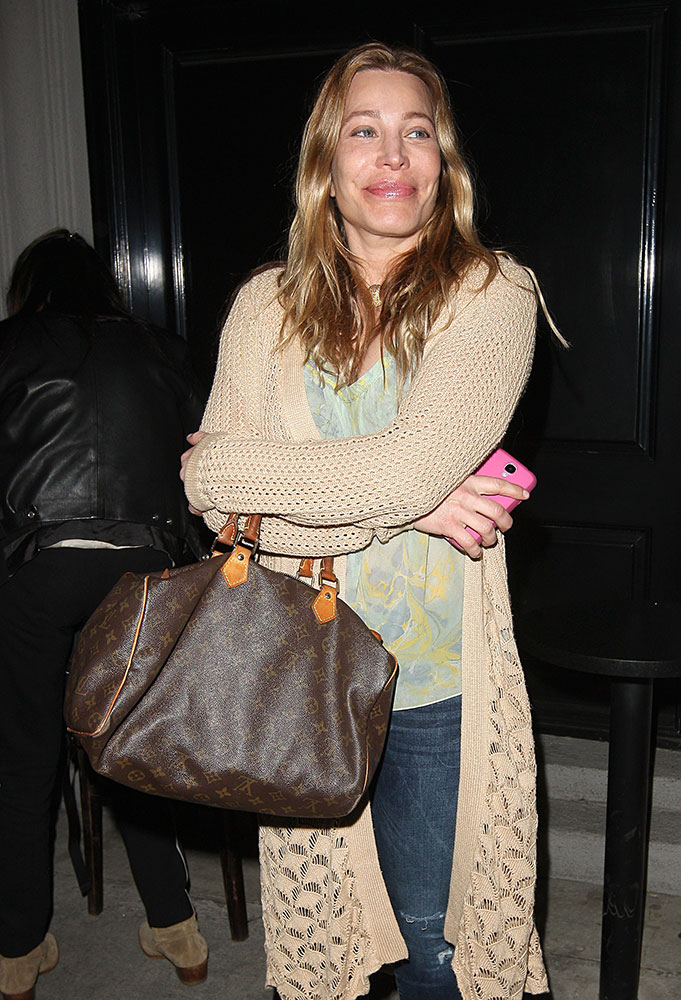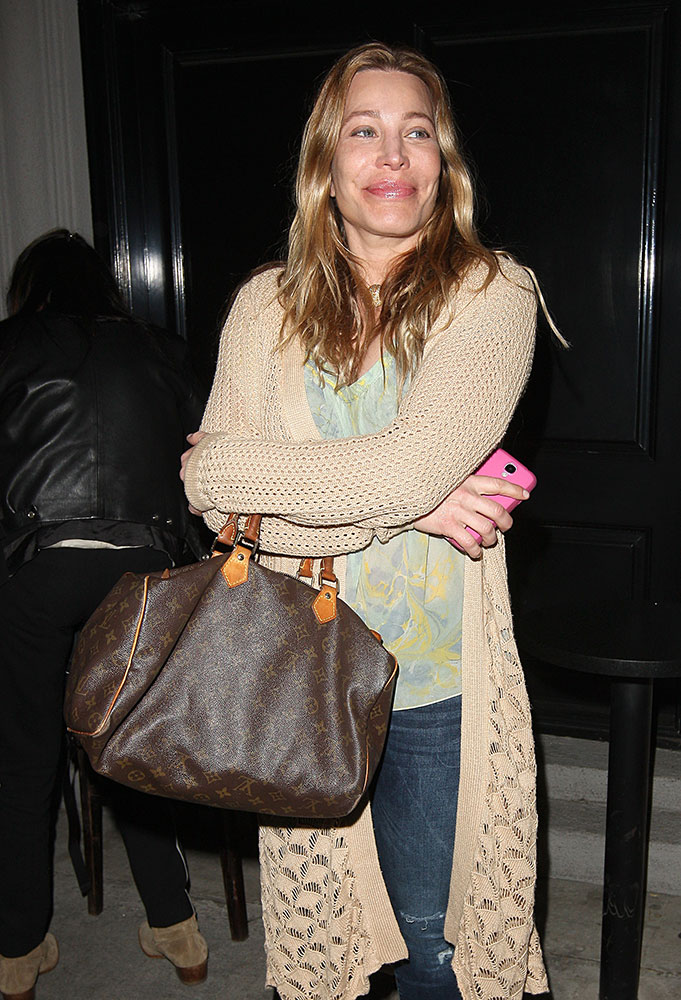 If you ever wanted to see the star of one of your favorite childhood shows milling around outside with cash and a valet ticket at the ready, plus a Givenchy bag in tow, you've come to the right place.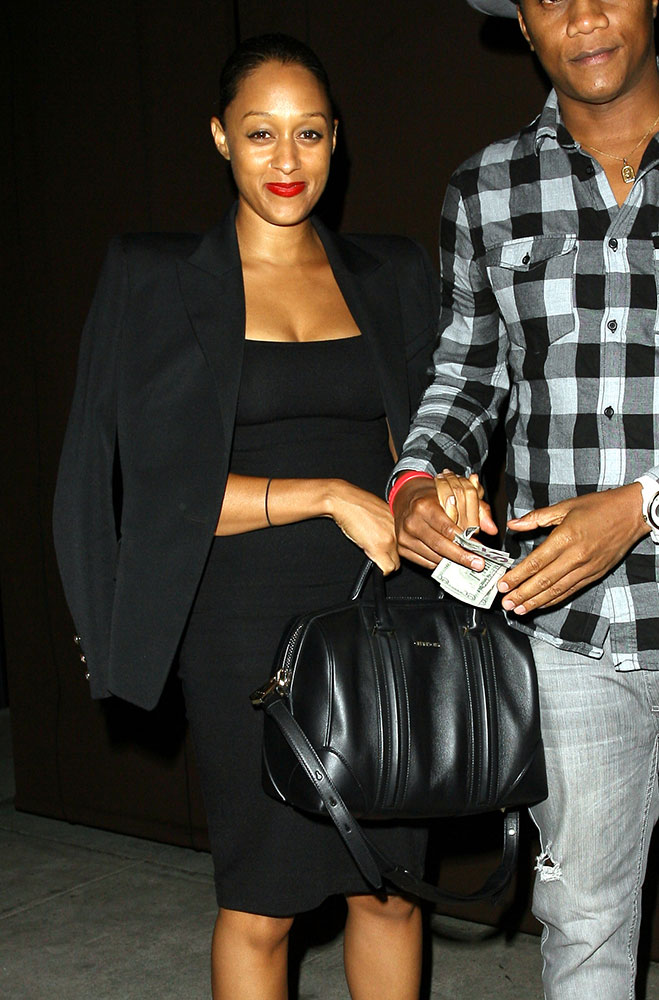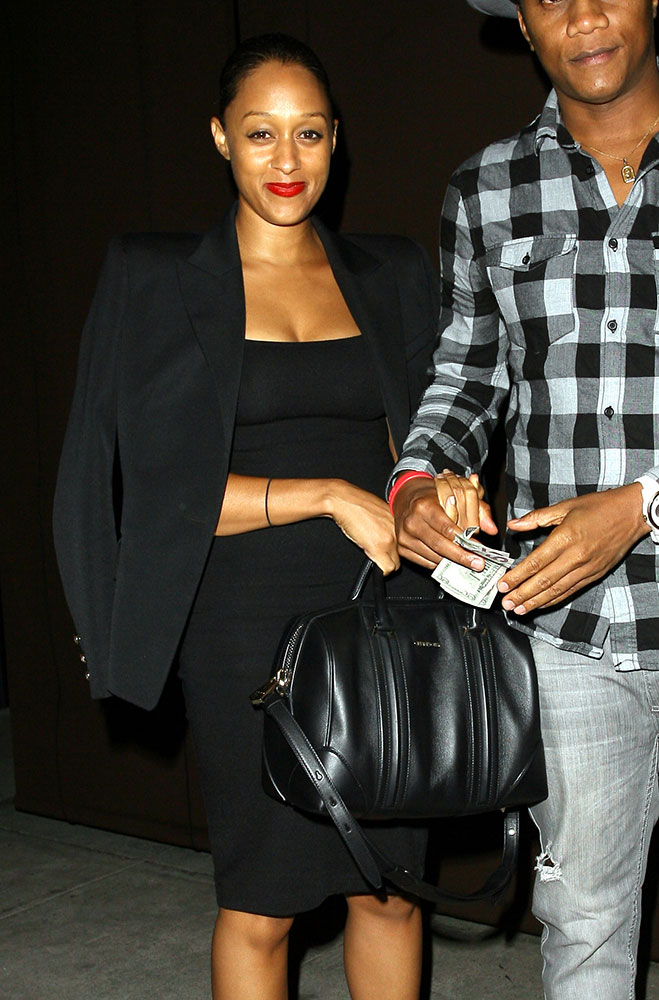 If you look back through these photos, you find a lot of valet tickets. Craig's valets could probably help you sell a screenplay.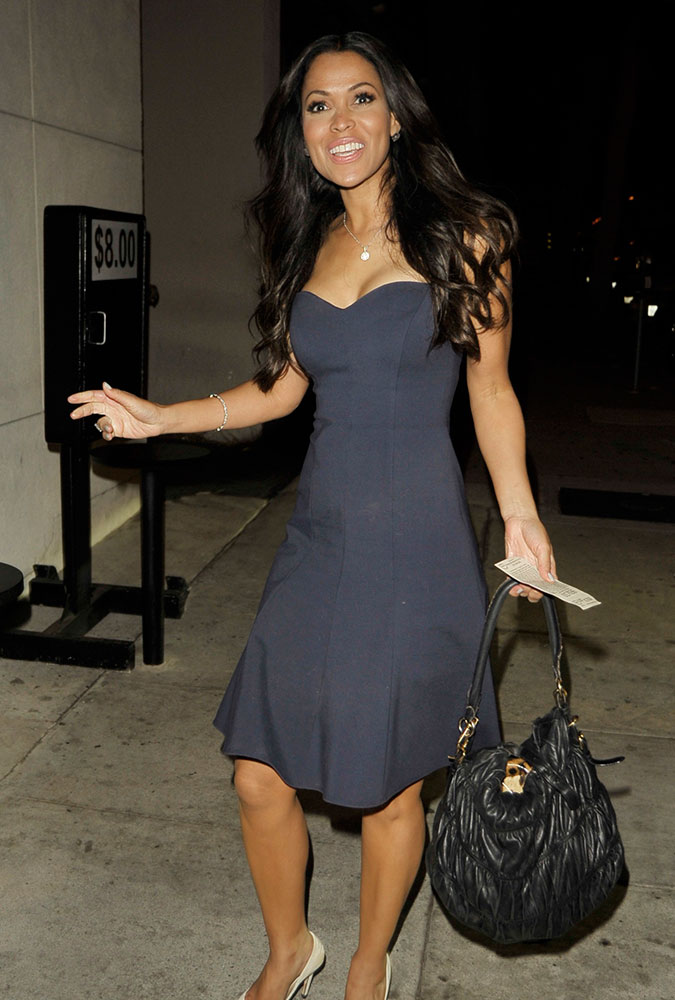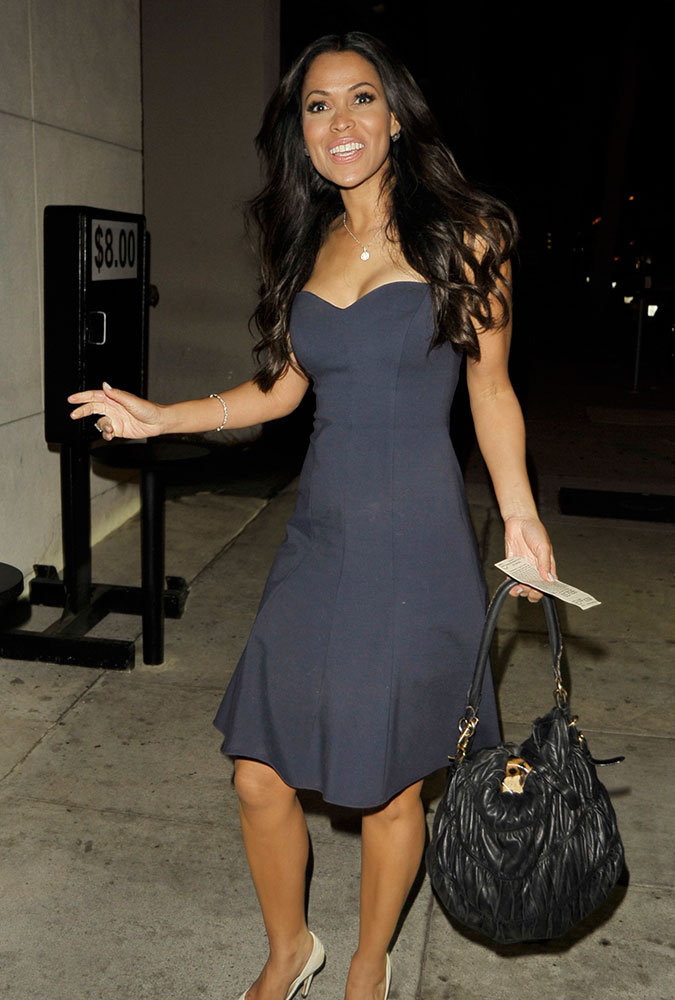 Zoe Saldana
Saint Laurent Monogram Université Bag
$1,990 via Saks
A man who will carry your bag for you is a good man to have around. Especially if he's as hot as Zoe's husband.