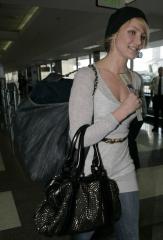 A celeb knows that any time they leave their house, they have the chance to be photographed. Because of this, a early morning run to the grocery store or a trip to the airport means there needs to be ample primping and preparing in order to look decent to the millions of people that will view their pictures. Cameron Diaz is a favorite of the paparazzi, and while she is not in the league of LiLo or TomKat, she is a celeb worth taking shots of. Cameron does not even catch a break in the airport, as the photogs follow her in and continue snapping. What I love to see is that Cameron did not neglect one handbag as a kick around bag, she has three bags which are all high end designer. The handbag that stands out the most that Cameron Diaz totes is the Burberry Knight Studded Bag which is adorned with studs all over the black leather. This handbag is a must have, as it brings forward the rocker chic yet keeps its cool with a toned down outfit. There are double handles, and two separate compartments on the inside. And while this handbag steals the show, her Louis Vuitton Monogram Canvas Pegase rolling suitcase and Chanel Denim Cabas are the perfect carry on bags for traveling. Cameron manages to stay chic while flying. And while this is a great thing, it would be a pain to always have to attempt to look put together, even when you just want to dress down and run and errand or two. Buy the Burberry Knight Studded Bag for $2,995 at NAP, the Louis Vuitton Monogram Canvas Pegase luggage at eLuxury for $2,740 and inquire at your local Chanel boutique on the Chanel Denim Cabas (approx $1295).
*This bag is currently sold out at NAP, but they are expecting shipment again soon!*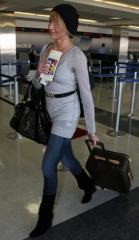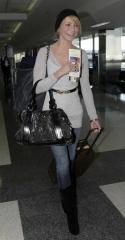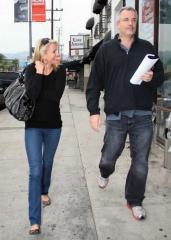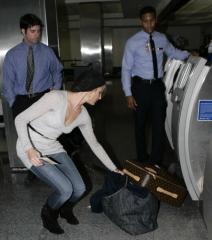 Images via Celeb Utopia.