I never turn to Balenciaga for bucket bags. But that all changed today after I saw the Arena Cross Pampille Mini in Barneys. The black version was on the shelf as well, but there was this gorgeous mint green option that I was coveting. Actually, I snapped a photo – here it is. I started to feel the itch when I laid eyes on the bag. The only thing that held me back was its size. While I appreciate a nice bucket bag, I need a long shoulder strap and a sizable body of the bag for it to work. And unfortunately, this Balenciaga bag does not get the job done.
However, if you want a smaller bucket bag with a 10″ shoulder drop the new Balenciaga Arena Cross Pampille Mini could work for you.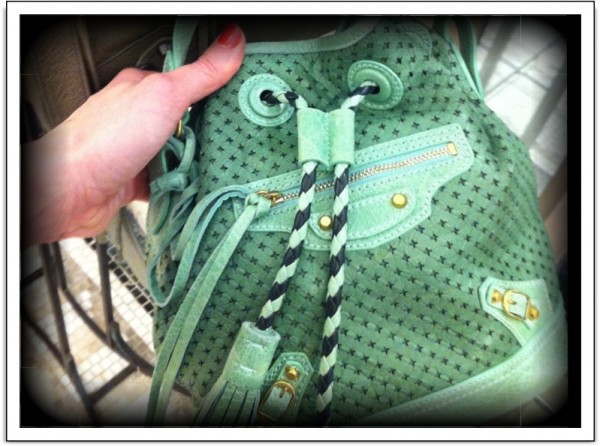 I was immediately drawn to this bag today, firstly for the color. Barneys online is carrying black and purple right now, but I adored the mint green option in the store. The bag has laser cut perforated lambskin with a darker hue of leather underneath which brings this design to life. I tried the bag on and just like Balenciaga bags typically do, this one gave such a luscious burst of color to my outfit.
The problem for me was not in the design rather in the size. The dimensions were not tiny, but with a bucket bag and only 10″ shoulder drop this bag just did not hang how I wanted it to. It felt bulky on the side of my body where it laid and rather awkward to decide if it should be hand-held or fling over my shoulder. I was hoping there was a larger size with a longer handle drop, but the sales associate told me there is not. However, if you don't mind the shoulder shoulder strap on a bucket bag, I highly recommend checking this bag out. Buy via Barneys for $1,245.