Proenza Schouler
Page 6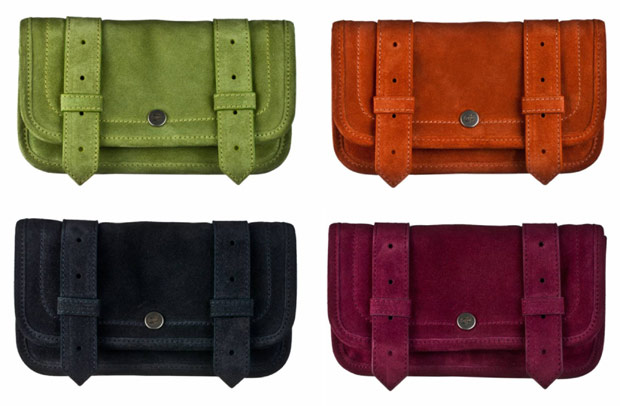 It's rare that a designer with as big of a name and as much of a reputation for trend-setting as Proenza Schouler makes anything that is both functional and reasonably affordable, which is why Megs and I have been fans of the Proenza Schouler PS1 Wallet since the very beginning. It was originally planned as a limited edition piece to celebrate the launch of Proenza's web store, but they were so popular that the brand has been producing the wallets ever since, most of them at the very reasonable price of $165. (more…)
Normally we do our Save, Spend, Splurge features with different brands that achieve a similar look at a variety of price points, but everyone on the PurseBlog team is so obsessed with Proenza Schouler's bags that we thought the brand deserved a post all to itself. Believe it or not, Proenza actually does offer its bags and accessories at a fairly wide price point.
You can even get the very expensive python look for less than $200, depending on your personal taste and accessories budget. If you've got somewhat more generous means, well, Proenza can accomodate that as well, of course. Whether you're partial to neutral tones or neons, PS1s or PS11s…didn't we tell you that these bags were versatile? (more…)
The list of handbags I covet seems to expand exponentially by the day. Some bags I simply want, others I truly covet, and a few I claim to need. Proenza Schouler is one of my favorite brands and I love to see that it continues to expand in the handbag world. The much lauded PS1 made way for the strong PS11, and now we have the cute Proenza Schouler Evening Clutch. (more…)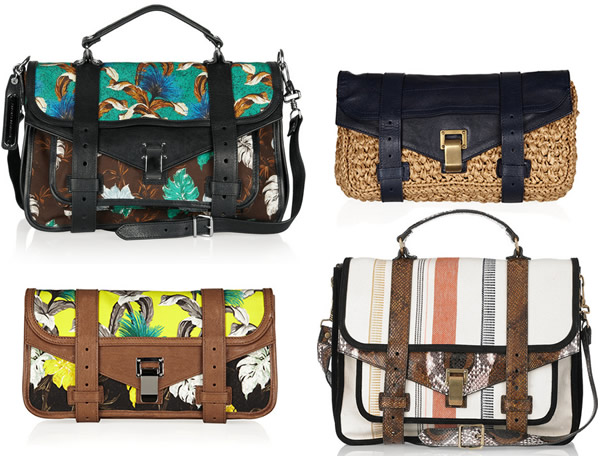 I have absolutely positively no qualms in declaring my never-ending love for Proenza Schouler. The schoolgirl bags with their downtown vibe have yet to lose traction in the accessory world. With new materials, patterns and colors constantly being released on the many versions of the beloved PS1, there an option for everyone.
I rounded up four new Proenza Schouler bags that feature different prints and materials to see which one you'd like the best.
[poll id="86″] (more…)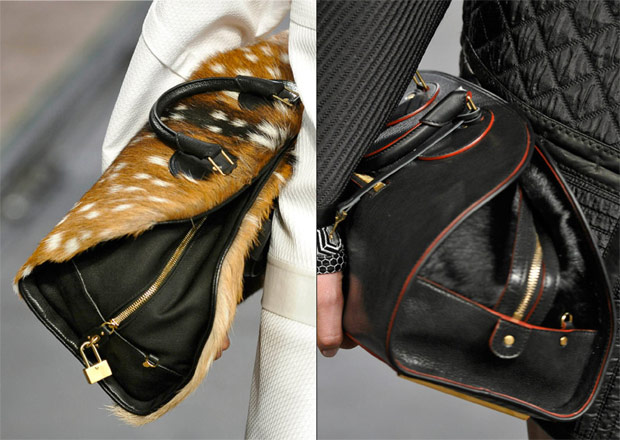 Images via Vogue.com
If you only look at one set of detail shots from New York Fashion Week, make it Proenza Schouler's. Not even for the bags, necessarily; most of these pieces will come to retail in a very limited way, with the well-known PS1s and PS11s dominating the Proenza handbag landscape. No, look at these photos for the closeup of what's around them – the cuff details, the immaculate and inventive weaving, the tiny touches added that make a garment so special – and you'll see why so many people lose their breath praising the brand.
The story of Proenza Schouler's brilliance has always been in the closeup for me, and these clear, crisp shots from Vogue explain why. These are garments unlike ones that you'll find at a mid-range chain in a few months because Proenza does things that are genuinely difficult to produce and expensive to design, even in the capacity of a Zara knockoff. The bags are fun too, don't get me wrong, but they don't tell the entire story. (more…)
It's become a seasonal tradition; immediately following the livestream of the Proenza Schouler show, the brand puts a couple of bags from the collection on its website for immediately pre-order. Sometimes they're runway bags and sometimes they're not, but for Proenza Schouler Fall 2012, they're versions of the most eye-catching accessories from the show. And they're furry.
The Proenza Schouler Akira Satchel and Proenza Schouler Large Chieko Clutch are both leather-backed bags covered in natural deer hides, the use of which represents something of a first for Proenza. Correct me if I'm wrong, but I can't recall the brand making fur accessories in the past. As is delightfully typical, though, Jack and Lazaro have chosen to take the fur trend in a different direction than all of the designers who use fox, rabbit or Mongolian lamb. Check out the clutch after the jump, or pre-order them via Proenza Schouler for $4595 and $1215, respectively. (more…)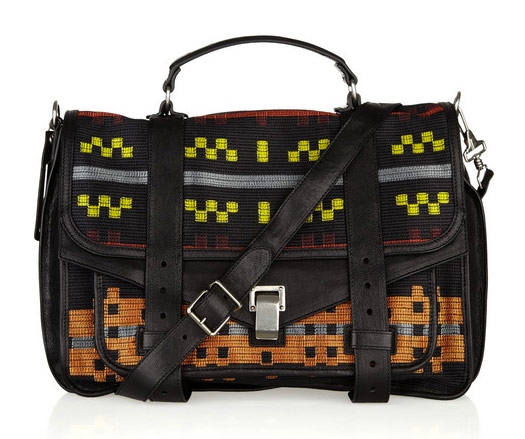 It occurred to me on Wednesday night, while I was fretting over skirts and sequins and my utter lack of shoe options for the start of New York Fashion Week, that I am indeed a very lucky girl. After all, if the biggest existential question you have to ask yourself at work is, "How many bracelets are too many bracelets?" then life really can't be all that bad. Of course, that doesn't mean those kinds of questions can go unanswered. (Bracelets – very important.)
Perhaps predictably, the biggest problem Megs and I have when planning our Fashion Week wardrobes is what bags to carry. When people know that you spend your life writing about accessories, they expect you to show up with the best of the best; whenever I tell someone I'm from PurseBlog, their eyes always go directly to what's on my arm. It's like daring someone to judge your bag. On top of that, there are a litany of functional concerns to address… (more…)