Proenza Schouler
Page 6
It's become a seasonal tradition; immediately following the livestream of the Proenza Schouler show, the brand puts a couple of bags from the collection on its website for immediately pre-order. Sometimes they're runway bags and sometimes they're not, but for Proenza Schouler Fall 2012, they're versions of the most eye-catching accessories from the show. And they're furry.
The Proenza Schouler Akira Satchel and Proenza Schouler Large Chieko Clutch are both leather-backed bags covered in natural deer hides, the use of which represents something of a first for Proenza. Correct me if I'm wrong, but I can't recall the brand making fur accessories in the past. As is delightfully typical, though, Jack and Lazaro have chosen to take the fur trend in a different direction than all of the designers who use fox, rabbit or Mongolian lamb. Check out the clutch after the jump, or pre-order them via Proenza Schouler for $4595 and $1215, respectively. (more…)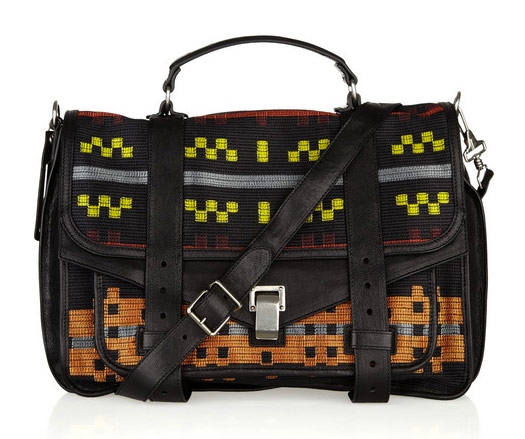 It occurred to me on Wednesday night, while I was fretting over skirts and sequins and my utter lack of shoe options for the start of New York Fashion Week, that I am indeed a very lucky girl. After all, if the biggest existential question you have to ask yourself at work is, "How many bracelets are too many bracelets?" then life really can't be all that bad. Of course, that doesn't mean those kinds of questions can go unanswered. (Bracelets – very important.)
Perhaps predictably, the biggest problem Megs and I have when planning our Fashion Week wardrobes is what bags to carry. When people know that you spend your life writing about accessories, they expect you to show up with the best of the best; whenever I tell someone I'm from PurseBlog, their eyes always go directly to what's on my arm. It's like daring someone to judge your bag. On top of that, there are a litany of functional concerns to address… (more…)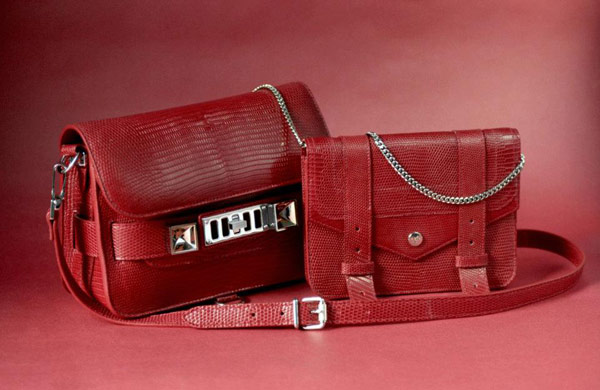 Proenza Schouler Lizard PS11, $6825. PS1 Large Chain Wallet, $1925.
It's that time of year again. We're approaching the end of January, which means the beginning of February is nigh and Valentine's Day is going to be here before we know it. Whether you're single or coupled, it seems like most women tire of the holiday by the time they reach post-college adulthood, but we've got something that might make you anticipate it this year – a fresh crop of Proenza Schouler bags, freshly released to celebrate Valentine's Day.
Since we're always up for showing some love to our bag collection, this gesture of affection hits us right in the sweet spot. Proenza has produced a drool-worthy version of its classic PS11 in red lizard, plus two versions of a PS1 clutch with chain straps – one in lizard, one in regular leather. I'll take all three, thanks. Now I just need a Valentine. Check out all the pictures after the jump. (more…)
Image via Proenza Schouler
Proenza Schouler might be fairly new to the ad campaign game, but the company sure does know how to represent itself well. After all, this is Proenza Schouler we're talking about here. In my mind they can do no wrong, and this image from the Proenza Schouler Spring 2012 ad campaign is just further proof. (more…)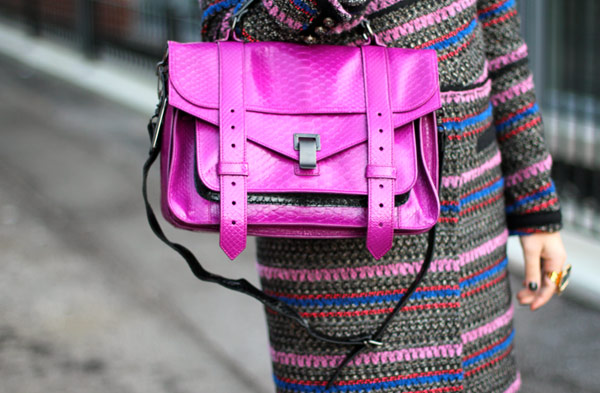 Usually when we hear about something as awesome as a chance to collaborate with Proenza Schouler on your very own, custom Proenza Schouler PS1, we're not lucky enough to ever see the results. That's what I assumed would happen when I heard about this charity auction a few months ago, but luckily for us, a style blogger won the auction and now we have lots of photos of the finished product.
Jena Gambaccini, Chicagoan and proprieter of ChiCityFashion.com, worked with Proenza Schouler to come up with the final product that you see above: a medium PS1 in purple python with black trim and a yellow suede interior. I might be a bit biased because I'm also a big lover of this combination (I have a pair of custom Nike running shoes in the very same colors, except I like my yellows a bit more chartreuse), but I think she chose very wisely. If you could design your own version of any bag, which one would you choose and what would it look like? (more…)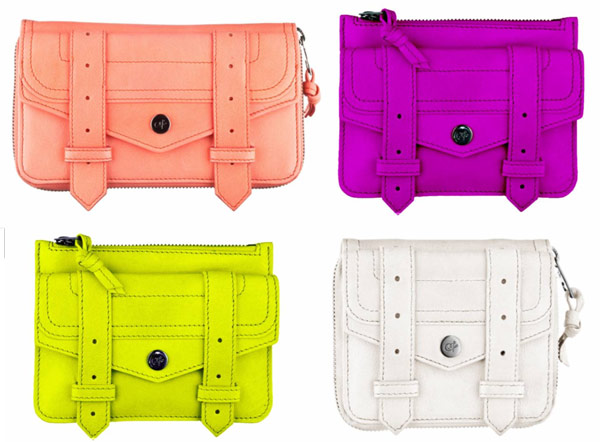 Megs and I: Incurable Proenza Schouler fangirls, as you all know. We both have PS1s (mine newly acquired via Net-a-Porter's sale!), I have one of the duo's simple wallets from their first-ever e-commerce venture, and it seems like we talk on nearly a weekly basis about what Proenza bag we're thinking about buying or hopelessly stalking or dying to see in person. Even though our personal styles are different, they overlap when it comes to Proenza.
When the brand released several new wallet and pouch designs earlier this week, we were both smitten. As Megs posted earlier this week about the new PS1s, the bright colors make the new releases even better. (more…)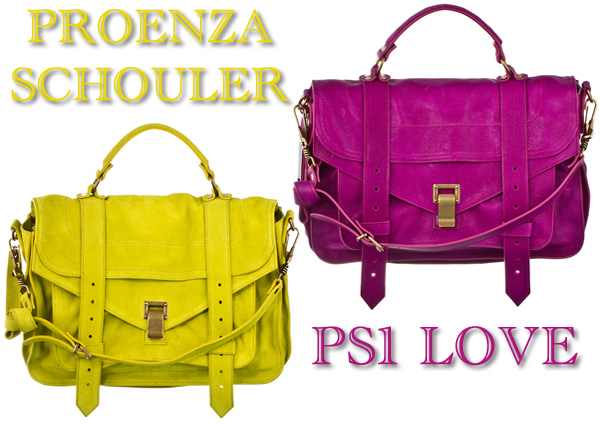 It is no secret that both Amanda and I are extreme Proenza Schouler fan-girls. Every time Jack and Lazaro grace us with a new version of the PS1, we swoon. Sometimes a little bit of pizzazz mixed with a lot of classic is just what I crave, and these two bags from Proenza Schouler's Holiday collection are calling my name.
From vibrant neon yellow suede to an eye-catching orchid pink hue, these two Proenza Schouler PS1 bags are precisely what I want this Wednesday. (more…)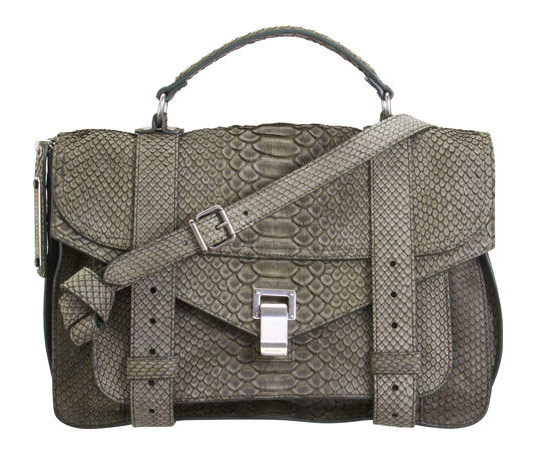 Proenza Schouler Python Suede PS1 Bag, $3645 via Barneys
As regular readers have probably noticed, Megs and I have different personal styles. I tend more toward black, she tends more toward brown. She usually chooses hippie-ish details, I prefer industrial finishes. Our tastes overlap more than you'd think, considering those big differences, and one place that we're always able to meet in the middle is over our shared love for everything Proenza Schouler – especially the handbags.
That's why it didn't surprise me when yesterday, Megs turned her laptop around to show me a bag she was drooling over and it just so happened to be the same one that I had stared at for what seemed like hours a few days prior – the Proenza Schouler Python Suede PS1 Bag. Just…look at it. (more…)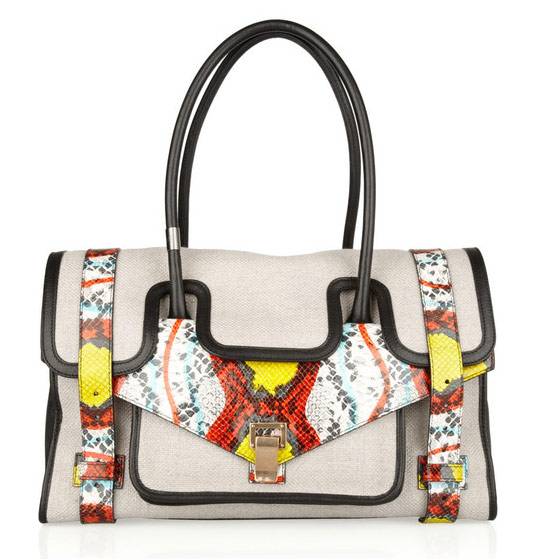 Proenza Schouler PS1 Keep All Small Satchel, $1250 via Net-a-Porter
It's been a rough week already and it's only Tuesday. First Balenciaga, makers of my favorite handbags of all time, decided to desecrate one of their classic bags with inexplicably bad fur trim. Now Proenza Schouler, another of my can-do-no-wrong favorites, has made a version of their usually lovely Proenza Schouler PS1 Keep All Small that I just…don't like.
This bag is not as egregious as the Balenciaga tote, for sure, but most Proenza bags are so effortlessly cool and (in my mind at least) perfect that to see one of the brand's classics miss the mark is jarring, to say the least. I like the shape and I like the materials when considered individually, but together? Eep. (more…)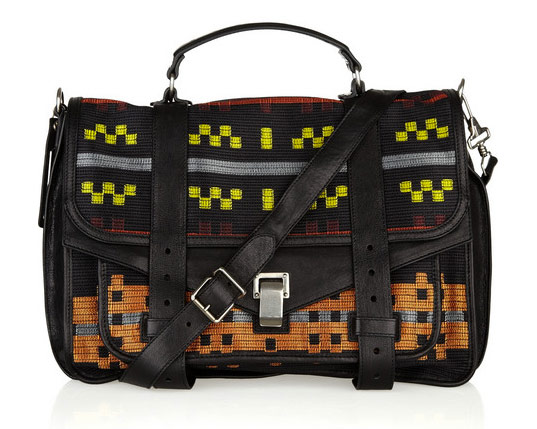 Proenza Schouler Blanket Print PS1, $2290 via Net-a-Porter
I've had Proenza Schouler on my list as the next bag to add to my collection for quite some time, but since I made that decision, I've spent months dithering over exactly which bag to get. It seems like every new bag that Proenza releases is something I would kill to have in my closet, which makes actually taking the plunge a rather fraught thing to do. Sure, I adore the PS11 right now, but buying Proenza is sort of like buying an Apple product – should I get the awesome thing that I really want right now, or should I wait six months and see what kind of exponentially-more-awesome thing the brand will surely come up with? Big problems, these.
That's why Megs and I write about nearly every version of the Proenza Schouler PS1 that comes out; I can't speak for her, but I'm almost always driven to lust by each one of them. Lust and confusion, which is where I'm at right now with the Proenza Schouler Blanket-Print PS1, brand new for Fall 2011. I thought I wanted a PS11? (more…)
Proenza Schouler PS11, $1,555 via Net-A-Porter
Last week I used "Argh" in place of "Are" in a post title and this week I am using "Orange" in place of "Aren't". My past English professors must be jumping for joy over my clever titles. But this title needed the play on words because I am seriously pining over this fall color-blocked version of the highly coveted Proenza Schouler PS11.
You will hear my endless love for fall in the upcoming months. It's by far my favorite time of year as I love the leaves changing, temperatures dropping, crisp air, pumpkins, Halloween, apples, football and everything in between. To satisfy my love of fall, Proenza Schouler revamped its PS11 in a very autumn color family, including orange, rust and merlot textured leather. (more…)