Oscar de la Renta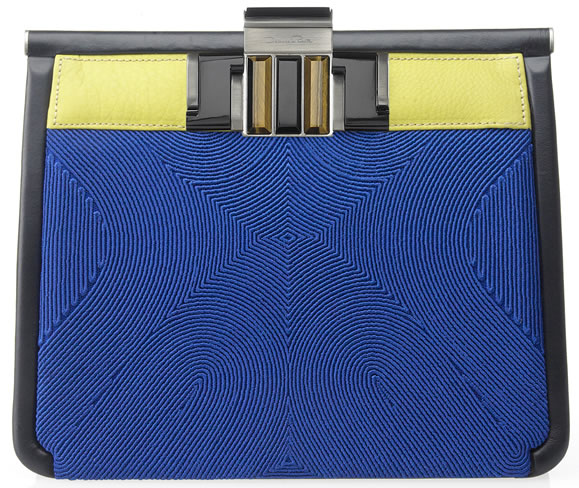 Oscar de la Renta has stepped up his accessory game. Over the past few collections, I have watched the bags get progressively better. While his clothing and gowns have always told the tale of beauty and grace, the bags never quite lured me in as much. But as of late, I truly can't stop singing praises for Oscar's bags. And that, dear readers, is the magic of this industry. A brilliant handbag designer can pop up in a second and lure us all in. Oscar is far from new to the fashion world, but his bags are new to my lust-worthy list.
Currently, I can't stop ogling the Oscar de la Renta Marelia Clutch. Meticulously embroidered, this clutch is available in yellow and blue. (more…)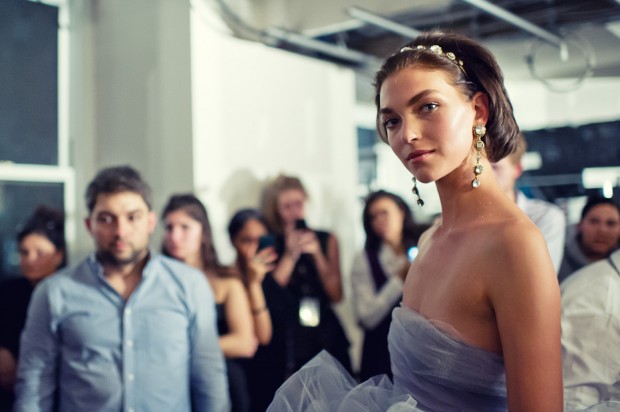 Every fashion week the biggest highlight for me is entering the world of a designer whose aesthetic is so composed, his collections always so utterly beautiful I have a hard time leaving at the end of the show. I am speaking of Oscar de la Renta, a man that is a permanent fixture of both the fashion world and the American design world.
Icy blues and pale pinks glided down the runway for Oscar de la Renta Fall 2012, some with so much volume that the gowns took over the entire width of the runway. We were taken into a fairy-tale world where Cinderella met the embellishment Queen. Simple yet gorgeous headbands adorned with crystals held back full, wispy hair, and ladylike shoes pranced down the runway. The fishnet stockings were an unexpected addition but they worked so beautifully against the femininity of the clothing.
Most important to note is that the bags from Oscar de la Renta are taking a major stride forward, with a much more contemporary-cool feel. Structured clutches offset with fur and stone accents added a modern touch to the collection. Oscar never lets us down and the success of the collection could well be seen from the applause and smiles across everyone's faces, including Anna Wintour's, during the show's finale.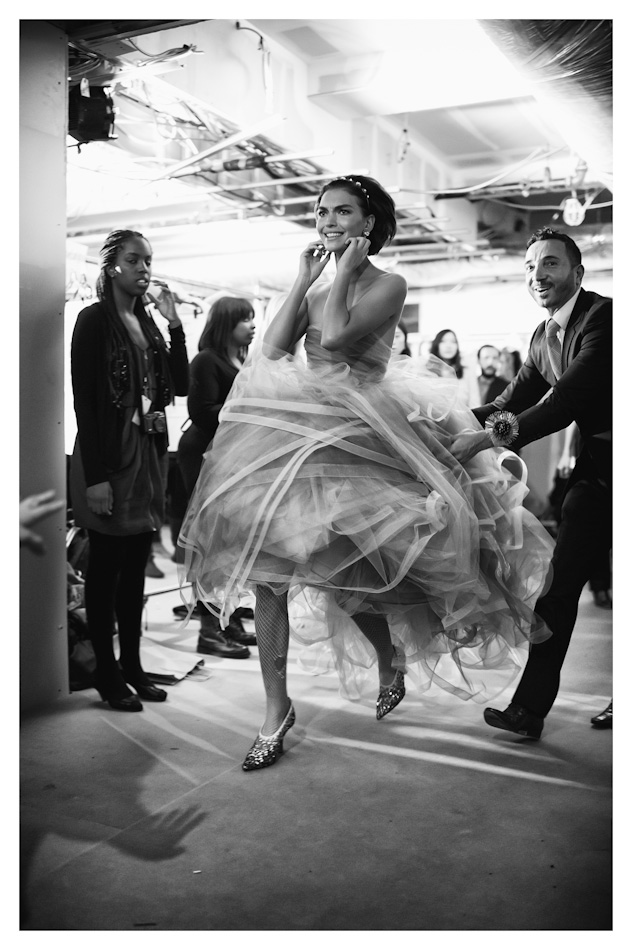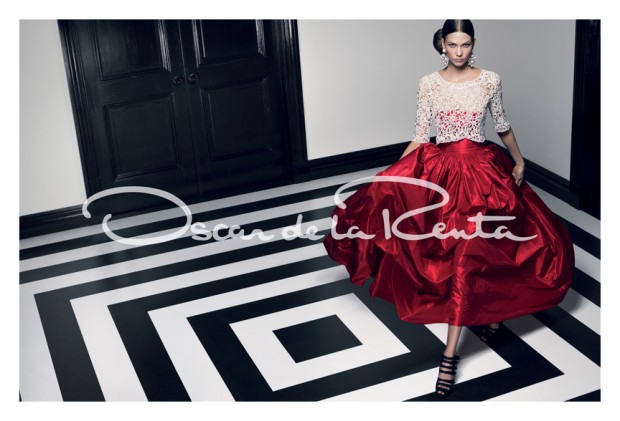 On Valentine's Day, Vlad and I will be spending the evening with Karlie Kloss along with other beautiful models at the Oscar de la Renta show. It is the perfect evening for me as I love being taken into the dream world that Oscar creates season after season and obviously for Vlad as he gets to photograph the top models in the industry. My current model crush is Karlie Kloss who walks and works the runway magically.
Wearing one of my favorite looks from Oscar de la Renta, this Red Silk Taffeta Strapless Gown could not look more perfect on Karlie. This look is the definition of fierce and it is precisely what I am coveting and loving today. Via Oscar de la Renta for $4,990.