New at Net-A-Porter
For fashionistas worldwide there's one twice-yearly sale for which we all anxiously wait. It's the Net-A-Porter Semi-Annual Sale, of course, and it's by far one of the most exciting things that happens in the online retail world. I've been anxiously awaiting this sale for both myself and to share with you, simply because there are so many items I have been coveting and now they are marked down. This is a post that does not need explanation, and we will be sharing our favorite picks with you later. But for now, don't miss out and shop the amazing Net A Porter Sale!!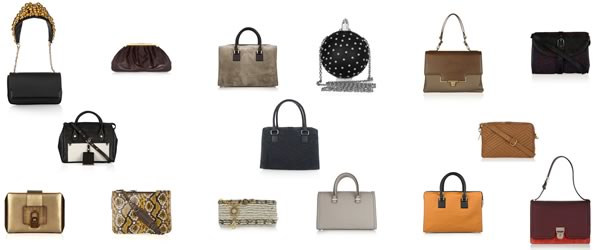 Shop all new bags at NETAPORTER.COM
You know how I know it is Monday? When I wake up and check Net-A-Porter.com, new bags have arrived to their virtual storefront. And the group of new arrivals this week has me especially excited. A lot of Christian Louboutin bags with a sprinkling of Victoria Beckham and Miu Miu bags, the new arrivals let us know that dressing for fall and winter is in full force now.
Victoria Beckham continues to reel in her fans with simple refined designs. My vote this week goes to her bags and the lovely Lanvin that has landed as well. Which bags do you love?
We love the folks at Net-A-Porter and as their site continues expanding so does their imaginations. We have the first look for you all at their new Bag Guide which focuses on trends for the upcoming season. NAP labels Jewel Colors, Modern Minimalist, Snakes & Leopard, The 70's, and The New Clutch as the major categories.
Best part is the amazing video is the Rube Goldberg sequence used to create the video. For every handbag related action there was a reaction, but they were all high-end fashionable ones.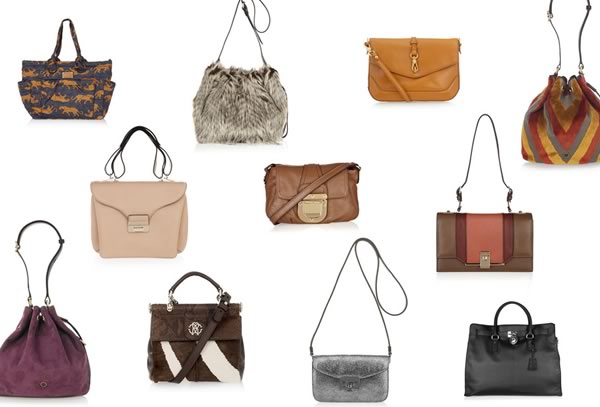 Shop all new bags at NETAPORTER.COM
The bags are coming, the bags are coming! Finally, after the expected summer lull of new product, our favorite shops are filling up with the upcoming seasons' accessories so quickly I can not keep up.
A few weeks ago, I felt bored and had to scour the web for something interesting to cover, but there will be no need for further scouring as Net-A-Porter has been filling their "What's New" category each planned day this week (Monday, Wednesday, Friday). I see funky, classic, and comfortable options arriving new to the handbag section. Also, be on the lookout for many bags from Victoria Beckham to hit the virtual shelves. Are you feeling any of these new bags?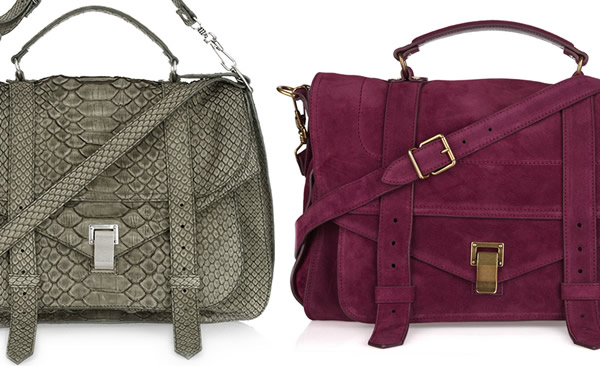 Shop Proenza Schouler via Net-A-Porter
Today Vlad and I traveled down to South Florida for a much-needed vacation. We plan to spend this time flopping from the pool to the beach with drinks in our hands, but I couldn't go to bed without sharing a sneak peek I received in my email today. Our friends at Net-A-Porter know how much we love Proenza Schouler bags and decided to give our readers an exclusive look at two new PS1 bags hitting their virtual store today.
From a gorgeous wine hued suede to a luxurious brushed python, I find myself yearning for each of these bags. (more…)
Shop the Coach Classic Collection at NET-A-PORTER.com
As the Coach brand expands rapidly, offering everything from the youthful Poppy line to the more refined Kristen collection, many fans of the brand still yearn for the Coach Classics. To many, a "classic Coach bag" might mean the small signature Demi Pouch, but the brand became known for their simple and refined leather Heritage collection in the 1970s, long before its logo fabric became a signature touch.
With the current 70s trend in full swing, NET-A-PORTER Buying Director Holli Rogers felt it was the perfect moment to bring back some of the original Coach designs and introduce them to a new generation of women. The five bags of the Coach Classics Collection will be exclusively carried at NET-A-PORTER.com and are sure to sell out quickly. Click for more on the Coach Classic Collection!