Meet the Designer
Congrats to Kelly and Joanna Smith!! You are our Tory Burch winners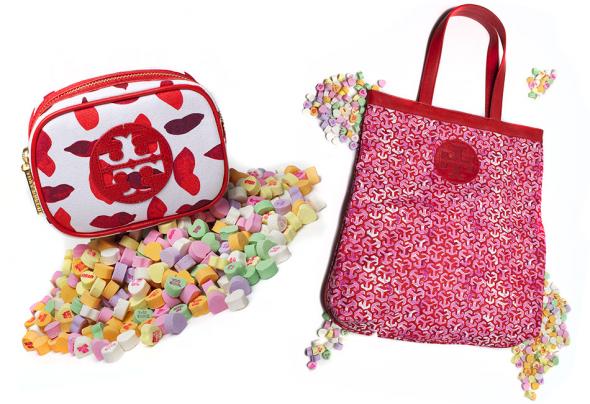 We brought you news of the Tory Burch and Leanna Shapton Valentine's Day Collaboration. And after sharing the items with you, we thought it would only be fitting to feature an exclusive interview with famed fashion designer Tory Burch. Not only do we find out more about the collaboration, but we have the pleasure of getting a peek into the personal life of Tory Burch.
Tory Burch was able to find a few minutes in her hectic schedule and answer some questions exclusively for PurseBlog. Along with that, Tory Burch will be giving away two items from the line below. Remember to shop the Tory Burch Valentine's Day Collaboration via Tory Burch online! (more…)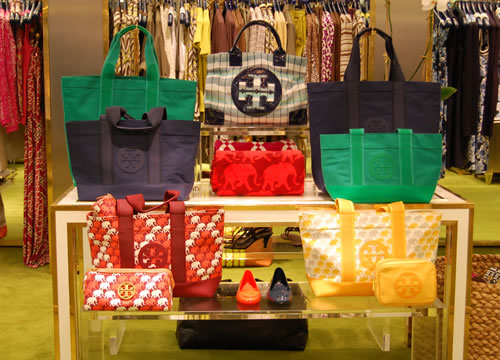 When I got an email from Megs a few weeks ago inviting me to an event with Tory Burch (yes, THE Tory Burch) I immediately accepted. Now, I had no idea what to expect, as I've never been to such an intimate event, let alone a "Blogger Breakfast," as fellow bloggers affectionately referred to the genre of event. But I was nevertheless excited, especially since I had just purchased a pair of Tory Burch Wedges and I now had the perfect place to wear them. (more…)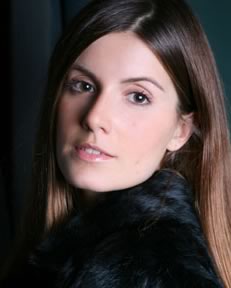 The Spring has been a very busy time for us here at Purse Blog. And as we are lucky enough to work with fabulous designers and brands, there is one thing that I continue to notice; it is a busy time for them as well. Come to think of it, I can't really pin-point a lull when it comes to fashion. Designers are always working on upcoming seasons, promoting current seasons and trying to stay innovative.
Today I have the pleasure of introducing you to the lovely and gracious Jackie Cawthra of Belen Echandia. Commonly referred to as BE, this brand has a huge following over at the Purse Forum. It comes as no surprise since Jackie is as involved in her line and her supporters as just about any designer I've met. Jackie's constant attention to detail, dedication to her brand, and most admirable, dedication and attention to her supporters has made the brand what it is today. As you read through the interview, I am sure you will see what I mean.
Before you get started, one amazing teaser: starting tomorrow, you can help us design a one-of-a-kind Belen Echandia handbag. That's right we're teaming up with Belen Echandia to bring you an exclusive Purse Blog/Purse Forum handbag! AMAZING!!!
Rounding out my meetings in LA, I had a chance to meet Andrew Cotton, the Creative Director of Linea Pelle. Now, I had been to the Linea Pelle office a couple months earlier and met with some of the amazing women who help keep Linea Pelle a fun, fashionable well-oiled machine. Megs and Vlad had met Andrew in New York early last year and they told me how awesome he was. Well, I have to say, his reputation was spot on. The interview with Andrew went smoothly. We talked about handbags, life, and one of our favorite TV shows, Brothers and Sisters (this conversation was left out of the interview).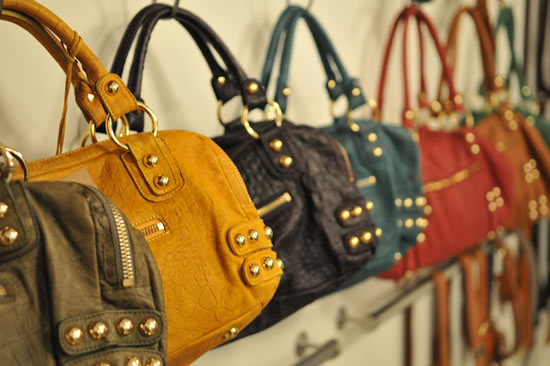 I found myself a little envious of Andrew's style. He had great jeans, a great button down and of course a fabulous Linea Pelle belt. My favorite part of his look – it seemed effortless. But you know, it is the perfect kind of effortless – everything comes together for a relaxed, approachable and fashionable look. The more I thought about it, I started to realize I shouldn't have been surprised. I can see that a similar approach is used when crafting all those gorgeous Linea Pelle bags! As the interview began to wrap up I felt like we had more than just a love for Linea Pelle handbags in common. Next time I'm in LA, I'm definitely going to have to stick around longer and hit up a happy hour with the LP crew!
Shop Linea Pelle
Click here to read on!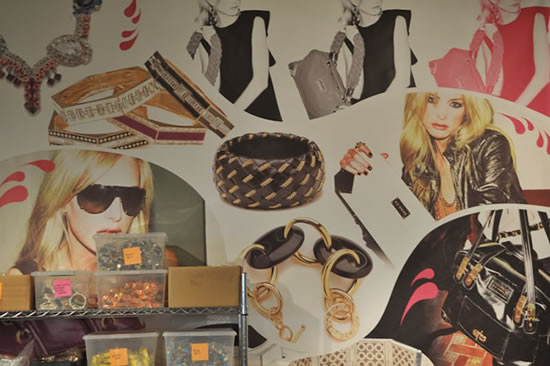 What comes to your mind when you think of LA? Celebs? Hot clubs? Posh restaurants? Fashion? Beach? No matter what you think of, what you should add to your list of LA-isms is emerging designers. As I already mentioned, toward the end of last year I had a chance to meet with some amazing LA based designers. And you know what, each one has their own sense of LA, their own sense of fashion yet all seem very LA to me. I was really looking forward to the interview I had scheduled with CC Skye.
I had been following her designs for quite some time and couldn't wait to meet the designer behind the amazing and cutting edge accessory and handbag brand. I knew the interview would go well because the office was just a 5 minute drive from my hotel in Santa Monica (GORGEOUS!!!). Although navigating through the LA traffic was becoming no big deal, the short drive put my mind at ease.
Click here to read on!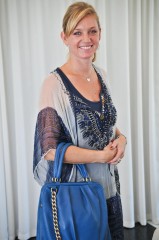 Last fall I had the absolute pleasure of meeting the Founder and Creative Director of the fabulous handbag line with her namesake, Jalda. To be honest, this was the first full blown interview I conducted as a member of Purse Blog. Gearing up for the round of LA based interviews, I re-read the many interviews that Megs and Vlad had already conducted. And I'll be honest, as I drove up to Jalda's office I found myself to be a tad nervous. What could I expect? What would she be like? Would the interview go smoothly? Well, with my notepad, pen, camera and recorder in hand, I took a deep breath, walked up the stairs and braced myself.
Any worry I previously had was instantly forgotten about when Jalda opened the door, reached out her hand and welcomed me into her office. As we introduced ourselves and began chatting, I could help but find my eyes wondering around her office/showroom. The space was just like Jalda – fabulous and fresh. Light beamed through the windows and caused the handbags to sparkle. Jalda poured both of us a cappuccino and we got started.
Click for our Jalda Interview!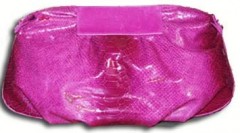 When we began compiling information for the Valentine's Day features we started to notice a trend. Many of the designers we talked to mentioned that more than anything else, Valentine's Day is about love. No surprise there, right? At the same time, many designers talked about how love should be spread throughout the year. Since everyone here at Purse Blog definitely agrees with this statement, we thought, why not spread the love a little longer? Enjoy the insight Bryna Nicole shares with us!
Do you have a Valentine this year, if so, who? Yes, my husband of just over a year, Ben McMills.
What did you get your Valentine? Every year I get myself some fun lingerie but its for him too.
(more…)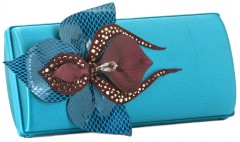 I know we said we were done with our special Valentine's Day features and I know Valentine's Day is over. However, we have a couple more awesome mini-interviews to share with you. Today we bring you the uber glamorous Mary Norton!
Valentine's Day: Hallmark Holiday or Real deal? In my opinion, any time that makes us stop and take a moment to thank and appreciate those who bring us love and joy in our lives is a worthy event. Therefore whether Valentine's Day has it's origins from a saint or from a retailer is meaningless to me. What matters is that it reminds me take one day a year to shower with appreciation and love those who give me their love the other 364 days of the year.
What gift would you love for Valentine's Day this year? If I could have a Valentine's wish, I would ask for a little cash windfall to take my husband and kids on a fun family vacation.
(more…)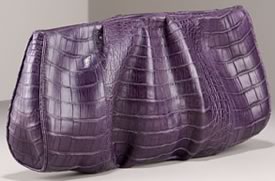 And you thought we were done? Not so! We are continuing with our last few fabulous designers to have them spread the Valentine's Day love. One of our favorite designers of exotic skins, Nancy Gonzalez, shared her Valentine's Day thoughts with us recently.
Is Valentine's Day celebrated in Colombia, if so how is it similar/different from the US? Valentine's Day in Colombia is on September 16 and it is actually called the day of Love and Friendship (Dia de Amor y Amistad).
What would be the most romantic Valentine's Day, from start to finish, for you? Most romantic would definitely be in Marrakesh at the Amanjena Hotel, spending the day getting lost through the streets of the souk and ending with dinner at Le Yacout restaurant.
What is the best Valentine's Day gift you have received? Best Valentine's gift I ever received is definitely a Buccellati diamond cuff.
Are you a romantic? I am a romantic…
Your favorite romantic meal? Favorite romantic meal depends with who?
What are your plans for Valentine's Day this year: I like to be surprised for Valentines day plans.
The best Nancy Gonzalez bag for a Valentine's Day gift, why?: Best Nancy Gonzalez bag for a Valentine's day gift is a small, soft, pouch clutch in colorful crocodile skin. It's like candy but much better :-)

Buy Nancy Gonzalez at Saks!
In – what I believe to be – the final episode of this year's Spreading The Love segment, the two gentlemen from Lambertson Truex, namely Richard and John, took a minute to share their thoughts on this year's V-Day. Enjoy! (more…)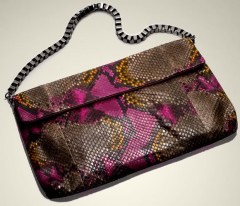 Known for her use of exotic skins, Devi Kroell's handbag line is just as stylish as the designer behind it. We had the pleasure of getting to learn more about Devi Kroell and her handbag line and since then I have a long list of Devi Kroell wants on my wishlist.
Do you have any Valentine's Day traditions? Usually I celebrate with my husband. He always has a beautiful giant bouquet of flowers for me to wake up to, followed by breakfast in bed, and finished with a lovely late lunch date with a glass of champagne to celebrate!
If you could celebrate Valentine's Day in any city, where would it be and why? Paris – of course! – It is the city of love and has the perfect romantic back drop.
The perfect bottle of wine for Valentine's Day… A wonderful Brunello di Montalcino.
The most romantic restaurant for Valentine's Day is… La Grenouille on the Upper East Side for its fantastic french food, delicious fine wine, and enchanting atmosphere. They also add the most beautiful flowers to complement valentines day colors of pinks and reds and deep purples.
What are your plans for Valentine's Day this year: For the first part of the day, I will be working on adding the final touches to my collection for our FW09 ready to wear presentation that takes place on the 18th of February, followed by a charming date at La Grenouille with my husband.
The best Devi Kroell bag for a Valentine's Day gift, why?: Option 1: Small Envelope in Raspberry not only is the pink toned color perfect for valentines day, and it is also the perfect sized bag to carry on such a romantic evening with your admirer.
Shop Devi Kroell online