Image via Vogue.com
Did you look through the show shots from Louis Vuitton Spring 2012 and think to yourself, "Self, there's a whole boatload of crocodile in this collection, and I'm not just talking about bags?" If you did, Women's Wear Daily's report that LVMH has invested heavily in a family-owned Singaporean crocodile tannery makes so much sense that it's almost silly.
Indeed, the exotics in Vuitton's show didn't stop at bags; it seemed like every other model was wearing a powdery pastel coat or jacket made of yards of the exceptionally pricey skin, the MSRPs of which will surely boggle the mind once they come to retail. If Vuitton (and LVMH's other leather goods brands, including Celine and Givenchy) intends to continue this uptick in crocodile design, then this investment could be the start of many beautiful accessories to come. Are you a croc customer? (more…)
The Row Alligator Backpack, $34,000 via Net-a-Porter
As is probably to be expected of anything that's received as much press attention as this little bag has, naturally.
The Huffington Post is reporting that The Row's $34,000 black alligator backpack has sold out, but that appears to be the result of a misinterpreted quote that one of the Olsen sisters gave to Women's Wear Daily during a party for their newly launched handbag line in Paris. My suspicion is corroborated by the fact that Net-a-Porter still has the bag in stock well after its debut, but the point still stands – people are buying this bag. Who are they? As always, I have a few theories. (more…)
The Row Alligator Backpack, $34,000 via Net-a-Porter
Two ridiculously expensive black alligator bags in one day, oh my! We previously reported that The Row would release and price their alligator backpack at $39,000. If you have 40 large to burn, then I have good news for you: the actual retail price is $34,000 and it is available now at Net-A-Porter.
The bad news for the majority of the world is that $34,000 buys a nice car, college tuition, mortgage payments, or a yearly salary. So hop on the "not-going-to-buy-this-bag-ever" train with me if you fall into that category.
But sticker shock aside, let's talk about the design of The Row Alligator Backpack. (more…)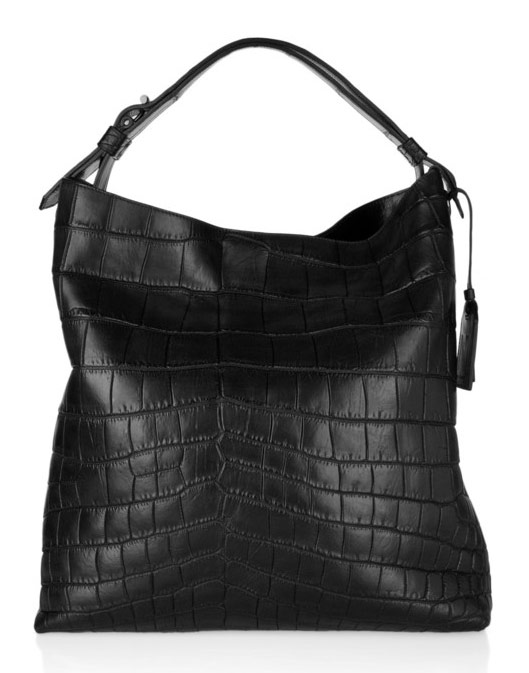 Reed Krakoff Alligator Hobo, $30,000 via Net-a-Porter
A $30,000 price tag always sticks out to me, probably because when I was growing up, that's how much I thought a car cost. Naturally, I've since learned that sometimes cars cost less, and even more bizarrely, sometimes handbags cost more. The Reed Krakoff Alligator Hobo, however, comes in at 30 grand on the nose.
Black alligator seems to be the preferred method of delivery for that many thousands of dollars worth of handbag, if this design and The Row's backpack (which has now been identified as alligator instead of our original guess of crocodile) is any indication. For my money, I'd want something a little more adventurous, but I suppose that versatility is of the essence when one is actually considering spending that much money on a single bag. (more…)
L'Wren Scott Lulu Python Satchel, $4307 via Matches
Admittedly, it's two bags for the price of one still-quite-expensive handbag, but just look at 'em! It's kind of hard to find fault with structured dark grey snakeskin, in my very humble (ok, not-so-humble) opinion. The L'Wren Scott Large Lulu Python Tote echoes the design of L'Wren's famous dresses – strong, modern and tailored to great effect. (more…)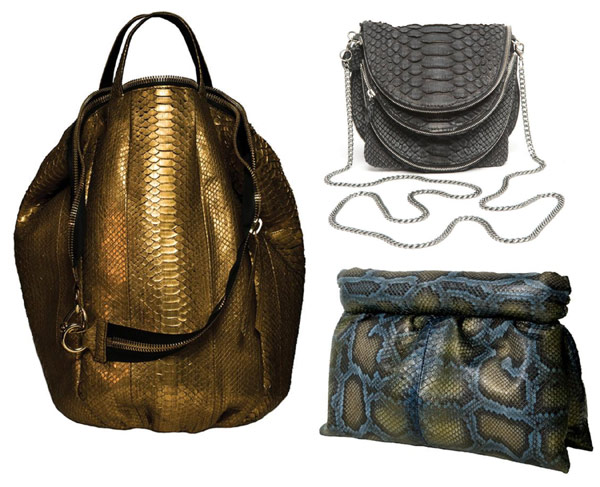 Oh, fashion. This industry is so mercurial. One day you can fully consumed by one piece or trend or idea, and then mere hours later, something else pops up and all your energy makes a shift so sharp and sudden that you're surprised it doesn't hurt its metaphorical knees. (Yes, my energy has knees. It's a fully formed, if imaginary, person.) That's exactly what happened to me at the sight of these Sang A python bags – two days ago, I was obsessed with Rag & Bone. Now, it's all Sang A. If you're going to do the whole Fall 2011 python thing, these bags are the way to do it. (more…)
We've said it before and we'll say it again: Python is huge for fall. I haven't been an overwhelming proponent of many of the season's python looks, but it's hard for me to turn down a good, natural, neutral python bag. For me, the beauty of python is in the skin's inherent texture and pattern, and depending on the bag, straying too far from that can spoil the fun. That's why for our latest Save, Spend, Splurge, we've picked three python (or python-embossed) bags at three different price points to show off the material's natural beauty. (more…)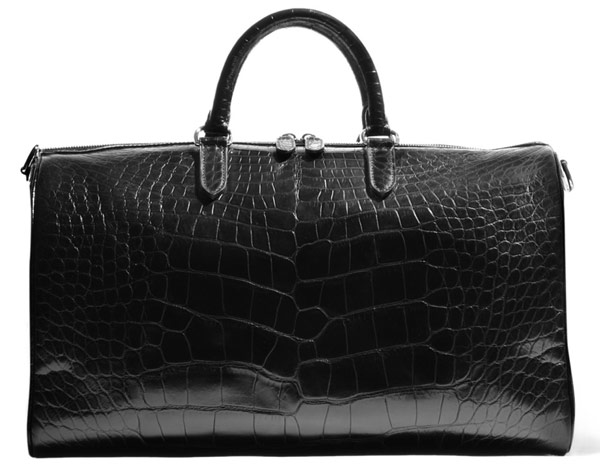 Ralph Lauren Purple Label Alligator Weekender, $24,000 via Mr. Porter
Usually, our Man Bag Monday feature happens on…well…Monday. But considering the specifications of the Ralph Lauren Purple Label Alligator Weekend Bag, we think you'll understand why we're a day late; we spent most of yesterday picking our chins up off the floor.
When you consider that The Row's Crocodile Backpack rings up at an astonishing $39,000, the $24,000 price tag on this versatile carryall seems downright reasonable. Ok, maybe "reasonable" isn't the word, but if you got this sharp travel bag instead of the backpack, you'd still have enough money left over for an Hermes Birkin and a rather nice wallet to go with it. (more…)
Photo via Marie Claire
Ok, so here's the deal. The Row launched its first-ever line of handbags at Barneys last night, and as I was dutifully checking Twitter while finishing up my posts for the day, a strange thing came across my computer screen. Fashionista.com, staffers of which were in attendance at last night's launch festivities, tweeted a picture of what appeared to be the bag above and a price point: A cool $39,000. I promptly fell off my chair. (more…)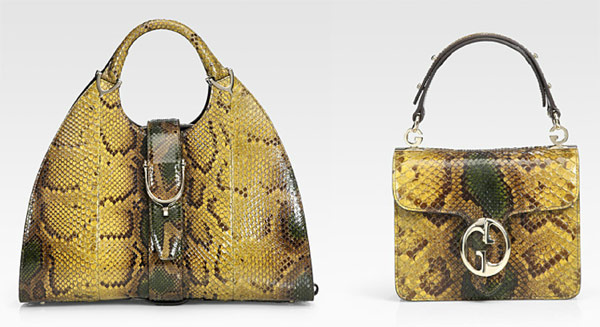 Gucci Python Stirrup Top Handle, $4700 via Saks. Gucci 1973 Python Small Top Handle, $2400 via Saks.
With so many choices in life, it's somewhat amazing that we don't all become hermits in the throws of deep existential crises. Skim or 2%? Decaf or regular? Heels or flats? To UGG or not to UGG? Even thinking about it makes me a bit dizzy. And if you're a fan of python and Gucci python in particular, you've got another choice to make for fall – big or small?
The Gucci Python Stirrup Top Handle and Gucci 1973 Python Small Top Handle may be made out of the same yellow-green dyed python, but they sit at opposite ends of the size spectrum. One is a bag big enough for your everyday life, the other is so petite that I'd only advise that you use it for a night out. Which way would you go? (more…)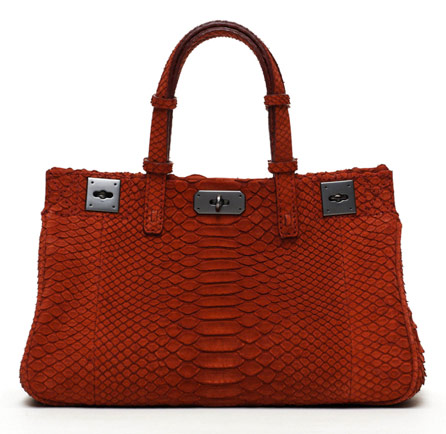 I tend to fawn over VBH as often as possible, and VBH Fall 2011 Handbags proves why – it's a line for real handbag lovers, not just women who buy bags because they're necessary to complete an ensemble. These pieces are functional, extremely well-made, and most importantly, utterly gorgeous.
VBH has an eye for exotics and textures and how they're best used, and bags like the fan-favorite Brera satchel give those materials an opportunity to take center stage and impress upon customers how nice they really are. Whether it's regular leather, stingray, snakeskin or crocodile, the color and texture of the finish have been carefully selected to enhance the skin's natural beauty. And don't forget fur, calfhair, ostrich leg, suede and embossed leather – VBH has a little something for every taste, so long as your taste is good. (more…)