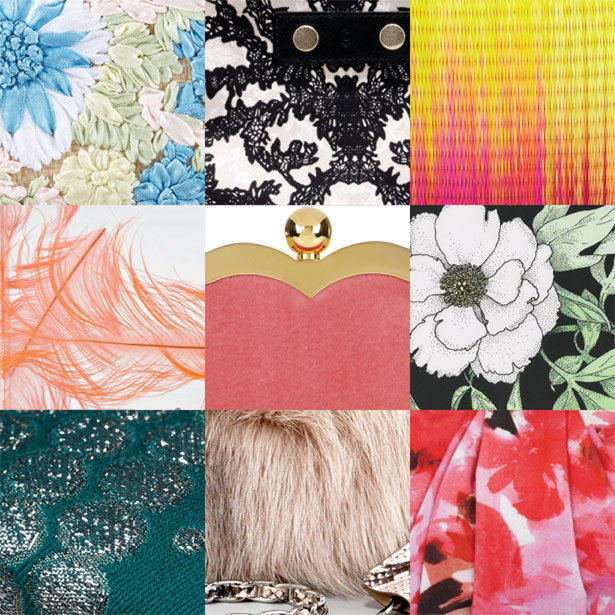 Yesterday, Megs mentioned that it's wedding season and gave us a great rundown of what a bride looking for a traditional feel should carry on her wedding day. I had just started working for PurseBlog full time back when Megs and Vladi got married and have seen their wedding photos many times since, and believe me, it was a beautiful, classic event that anyone would be proud to call their wedding. If my frequent and vigorous viewing of Say Yes to the Dress (what is it about that show that makes it so addicting, even to people like me who don't really care about getting married?) is any indication, though, a fair number of people want a celebration that's a little bit lighter on tradition and heavier on…well, whatever it is that their little hearts desire.
I'm not married and never have been, but if I ever do get hitched, I anticipate being one of those brides. (Sorry, mom.) That's why I've put together a selection of the season's best wedding bags for those who don't identify as readily with the white silk and rhinestones that so often permeate the category. From color to texture to embellishment, we've got a little something for every bride who wants to break the mold on her big day. (more…)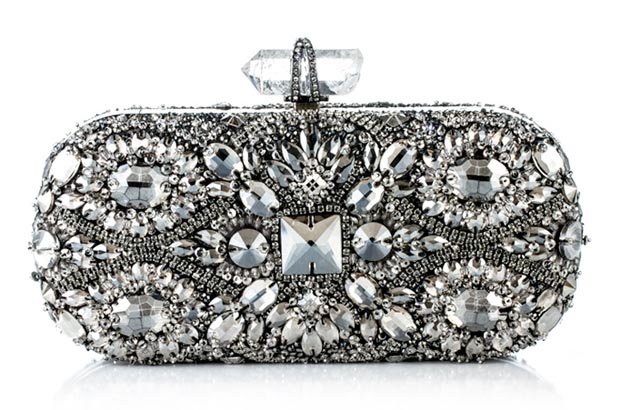 To me, how a piece of clothing or an accessory looks is secondary to how you feel when you wear or carry it. Fashion is fickle and everyone's a critic, but when a dress or a bag or a pair of shoes makes you feel like your best self, it's worth whatever it might cost. Style is instinctual far more than it is logical, and if you let that dizzy, glamourous feeling be your guide, you probably won't go wrong.
The Marchesa Fall 2012 evening bags and clutches were made to elicit exactly that hazy head rush. If you've ever dreamed of being a princess, most of these bags feature enough stones and beading to make you completely forget about your lack of actual crown jewels. Maybe you have a formal wedding to attend this fall or are getting married yourself – if either of those is the case, you'd be hard pressed to find a more comprehensive selection of formal evening bags that don't opt for an extremely traditional aesthetic. Whatever the case may be, a little extra sparkle never hurt anyone – check out all of the bags in our gallery after the jump. (more…)
It's officially March (where has the year gone?), which means that we're inching closer and closer to wedding season and there's lots of wedding planning in full swing. Naturally, we're most interesting in what kinds of wedding bags people are choosing, and if you're gettin' hitched and have yet to decide on yours, we've got some good news. One of our favorite nuptial-appropriate clutches in recent memory, the Valentino Floral Applique Satin Clutch, is on sale on The Outnet for a full 70% OFF. Yep, you read that correctly.
That means that on your big day, you can carry a $2500 clutch for a little less than $800. Put the savings toward having an open bar; your guests will thank you. Buy through The Outnet for $748!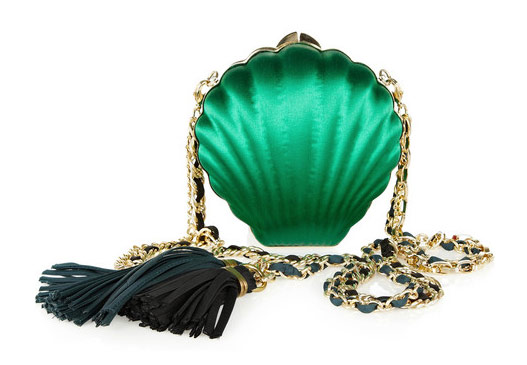 Lanvin Minaudiere Satin Shell Clutch, $1490 via Net-a-Porter
In general, a good rule of them is that two is a coincidence, three's a trend. If that's the case, then I'm ready to call shell bags a full-on fad; not only did Versace and Chanel both show shell purses during their respective Spring 2012 runway shows, but now Lanvin has dropped the Lanvin Minaudiere Satin Shell Clutch. That's three, y'all. Can you hear the Trend Siren going off? (more…)
My calendar has said December for a full week now, which means that there's no more hiding – holiday parties are upon us. For some of you, they might have already started, but the truly glitzy stuff usually occurs closer to Christmas and New Year's. Luckily for you, that means there's still time to find the perfect little bag to carry to those parties if you don't already have something appropriate in your closet.
Often, I find that a good party clutch is something to which women don't treat themselves because they see it as impractical. Not every sparkly little evening bag has to break the bank, though, which is why we've chosen the product category for our latest edition of Save, Spend, Splurge. (more…)
Kate Spade Little Anastasia Clutch, $345 via Neiman Marcus
I'm not sure exactly who it is that has righted the Kate Spade ship – creative director Deborah Lloyd? The designers she brought into the company? The marketing department? – but whoever it is, I sure hope that she is being paid handsomely. With every season, the brand once known for simple nylon bags with a signature black logo patch is getting better and better. The rate at which Kate Spade has come into its own is almost alarming.
Take, for example, the Kate Spade Little Anastasia Clutch. You can look at this little evening bag and automatically know what the brand's about, even if you aren't familiar with its new image. Fun femininity, bright colors, urbane whimsy – it's all there, even when the package is so little. (more…)
Images via Vogue.com
The first Monday back from a holiday weekend is so, so cruel. It's like a little reminder of the immutability of life; no matter what we do, the calendar marches on while we cling to our leftover turkey legs and half-eaten pumpkin pies, trying to extend the avarice a bit longer. It's Monday now, though, which means that it's time for gluttony of a different kind. A handbag kind.
To make your return to real life as soft and comfortable as possible, we've assembled a gallery of the Alexander McQueen Spring 2012 Skull Clutches, which are always so much fun to look at. They don't taste like stuffing, admittedly, but you probably don't need another helping of that anyway. (Seriously, though, pass me that pie. I'll eat it for breakfast.) (more…)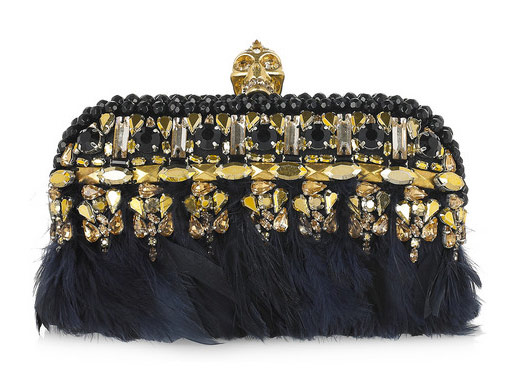 Alexander McQueen Punk Skull Box Clutch, $2720 via Net-a-Porter
We're readying a much more extensive guide to sparkly little bags for the holiday season, but while that's in the pipeline, I couldn't help but post about the Alexander McQueen Punk Skull Box Clutch – after all, it really deserves to stand on its own. Feathers and rhinestones and beads, oh my!
With the bag, McQueen manages again to do what it always does so well – successfully combine multiple heavy design elements in a way that doesn't feel overwrought or silly. The company makes that kind of light touch look easy, but it's not – just as whoever's behind Christian Louboutin's handbags. A clutch like this one is to be celebrated as something of an accomplishment. (more…)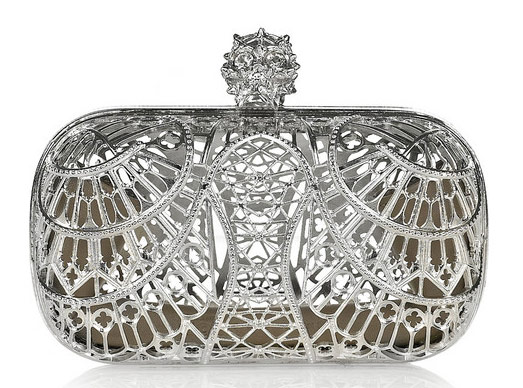 Alexander McQueen Cathedral Skull Box Clutch, $2960 via Net-a-Porter
Longtime PurseBlog readers already know how I feel about Alexander McQueen's skull clutches. They're easily my favorite line of evening bags ever, and the legacy of McQueen as a brand always manages to shine through in their design, even though a box clutch is an exceptionally tiny canvas. If I had unlimited income, I'd collect these bags, and I can't say that about any other brand on the market right now.
Without question, the Alexander McQueen Cathedral Skull Box Clutch would be the crown jewel of that collection. If I were to carry it, the bag would serve as a tiny gilded cage for my belongings, but let's face it – this is the kind of bag that I'd want to display instead of use. (more…)
Charlotte Olympia Pandora Feather Clutch, $995 via Moda Operandi
In general, I've always been a fan of little lucite (or perspex, if you're British) clutches. Making the things you carry part of a handbag's visual design is an interesting move, and a box clutch is small enough that you're unlikely to be carrying anything particularly messy or embarrassing. Choose your phone cover and card case wisely, but other than that, there's little over which to fret.
For those who are made slightly more nervous by the prospect of a see-through bag, the Charlotte Olympia Pandora Feather Clutch would be a beautiful way to dip your toes in the water. This new version of the Pandora for Spring 2012 features a little bit of privacy through inlaid feathers, but your bag's contents will still be on display. (more…)