The leather on Cole Haan bags is divine, simply divine.
Now, when we are talking about Cole Haan handbags, for the most part, they aren't over-the-top, but they are still lovely. There is something about the way the leather hugs, wraps and kisses the shape of each bag that always seems to work.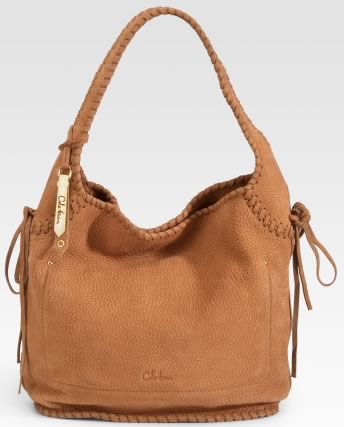 With all of that being said, I want to like the Cole Haan Raleigh Whipstitched Hobo, but there is just one thing that keeps catching my eye – in the wrong way. So, what do you think that nagging detail might be? If you say the whipstich detailing around the bottom of the bag, you'd be spot on and I'd give you a gold star for the day.
See, here is the thing. I really like the whipstitching along the top and strap of the bag. It offers a nice contrast of texture against the pebbled leather. But along the bottom, it's just not necessary. I might be able to get passed that, but I am not quite sure.
The rest of the bag is fabulous. I love the leather, 9½" shoulder drop and suede lining. There are plenty of pockets inside the bag along with a detachable zipper pouch. Zipper pouches like this could double as a handy pouch when you just need to run a quick errand and don't want to lug around a large bag with you. So, all in all, the bag is great, I just want to get over that bottom whipstitching. Buy through Saks for $348.