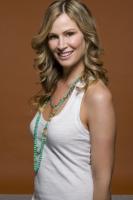 I know I am not alone in complaining about my lack of closet space and desire for a much larger closet to organize my handbags and wardrobe. Every one of you reading this website may have felt this way at one point before (or still feel that way).
Tracy Hutson is one of the original style consultants on the show Extreme Makeover Home Edition. And she was always one of my favorites, pulling together finishing touches to give the transformed homes the "homey" feeling while remaining completely stylish. Tracy has teamed up with QVC to release a line of home accent pieces, the Love Where You Live Collection, to integrate her style into items for your home. Luckily, I was able to chat with Tracy Hutson on how to keep a tidy closet. Read her tips and thoughts below!
A common complaint among women is lack of closet space, not everyone has a Carrie Bradshaw closet. What simple steps can be taken to make the most out of your closet space?
Tracy: Who wouldn't want to have CB's closet! There are several things that can help achieve maximum closet space. Take a look at where your problem areas are. Are your clothes so packed in it's hard to see what you have? Doubling your hanging rods is easy and inexpensive. Is your coveted shoe collection taking over the floor? Adding extra shelving always comes in handy to display the goods. The Photo on the box trick is a must! It really does save a lot of time and heartache. Also, storing your last season's clothes elsewhere really frees up a ton of space. A friend in New York swears by the space bags, found at spacebag.com – genius! Just slide those sweaters and pea-coats under your bed until next winter! Also, hangers are a great space saver if they are all the same they fit nicely together. My faves are the bamboo hangers at bgreenhangers.com.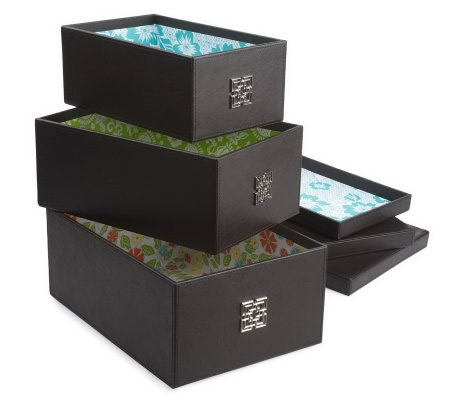 As you know, we are a website for the designer handbag obsessed. Do you have tips on storage for handbags and where to store them in a small closet?
T: My favorite thing to use is hat boxes. You can find them in amazing colors and patterns and they stack beautifully! There are a lot of designer bags that come with a cloth protection bag – add a few decorative hooks and the drawstrings make them easy to hang. You want their vessels to be attractive so even if you put them in storage boxes, make sure they are pretty ones. Check out the decorative nesting boxes from my new Nest collection by Tracy Hutson available at QVC.com.
Overall, what is most important when organizing and keeping a tidy and clean closet space?
T: Respect the space and what it holds. Take the time to hang up your things after a "I have nothing to wear frenzy!". Separate your wardrobe into sections. There are a couple of directions to go here – Separate daytime (work/play) from your night out on the town wardrobe, or separate your entire wardrobe by color. This has a big visual impact and makes staying organized quite fun! As a designer, I say make this space special with decorative elements. Why not use this as an excuse for some much needed glamor!
Let's start with the doors: If you are not fortunate enough to have a walk-in closet and the doors are taking up unnecessary space, take them off!! I think drapes are a great way to bring in a luxurious texture and this will create more space. I love the ready made drapes at silktradingco.com (Sidlee in blue/cream is YUMMY!). Also, paint your closet and unexpected color. Think of colors that can get you started on the right foot. Sunshine yellow, aquamarine, or a persimmon would be great in a small space, then punch up the shelving and trim in a high gloss one shade darker. Wallpaper is great in small spaces and gives a big impact if you are feeling adventurous, but don't stop there, change the light fixture and hardware too!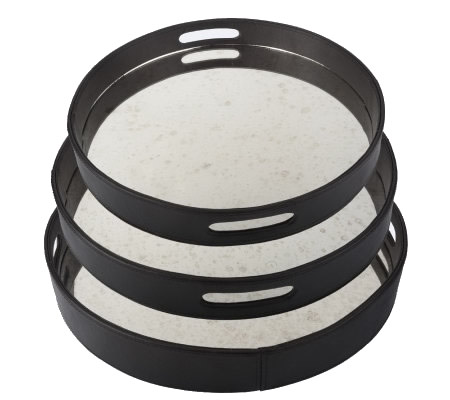 What are your top three products to help with organization in a closet space?
T: Storage boxes, decorative hooks and bamboo hangers. If you have flat surfaces, I highly recommend displaying your jewelry on trays""like in a boutique. Seeing what you own makes you wear it more. The nesting trays from my QVC collection are perfect for this. You can use the large tray on your coffee table for candles, the medium tray on a nightstand for perfume bottles, and the small one in the closet for jewelry display.
What does your closet look like? What designer bags could we find in it?
T: I just moved, so it's still coming together. I painted my closet a fabulous turquoise color with crisp white shelving, and added some chic crystal hardware! My wardrobe consists mostly of jeans, girlie tops and shoes. The designer bags that you will find in my closet are a mixture of new and vintage – Louis Vuitton, Marc Jacobs, Chloe, and I have a thing for Valentino clutches. My favorite is a magenta python…oh to be a girl is so much fun! Happy organizing!
Shop the Tracy Hutson Love Where You Live Collection at QVC!
P.S. Please consider supporting our small, bag-loving team by clicking our links before shopping or checking out at your favorite online retailers like Amazon, Neiman Marcus, Nordstrom, or any of the listed partners on our shop page. We truly appreciate your support!