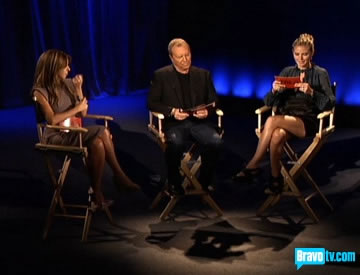 I miss Christian Siriano. When I stop and consider this season of Project Runway, that's really the only thought I have. As much as I love it, Proj Run may have jumped the shark (extra points if you can tell me in the comments what that phrase references), because as far as amateur designers go, I don't think they'll find someone with more raw talent and ability than he has. This season has certainly been anticlimactic, and I think that having Chris March and Rami along with Christian last season set up expectations that no normal group of designers could be expected to meet, let alone surpass. Last season was simply too good, the designers too talented.
This is the part of the review where I usually try (and sometimes fail) to be funny, but PR doesn't have me feeling funny right now, for whatever reason. The entire existence of the show is in jeopardy because last week, a judge issued an injunction against the Weinstein brothers' company to stop them from moving the show to Lifetime (and, lord knows, they're too prideful to go back to Bravo). My contempt for Lifetime has been well-documented, but I'm also kind of sad that this may be the last season of this show that we get, and my love for the show might outweigh my distaste for the network to which it might move.
Or maybe I'm just really pissed that I have to listen to Kenley yammer on about her toughness and struggle. Because, really, doesn't her mere existence suck all the fun out of life? In either case, we've got Part 1 of 2 of the season (series?) finale tonight, so I'll play through the pain and give you the roundup,
Interestingly, the judges won't be voting based on their entire collections – they're making WEDDING DRESSES, of all things. So we get an extra challenge, kind of? I'm all for that. Plus, my day job is wedding-industry-related, so I appreciate the difficulties of trying to make something new out of something that is so ruled by tradition.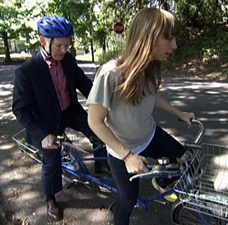 I also really love seeing Tim Gunn visit all the designers at home, since it usually helps to take the designers out of their edited 'characters' from the show and give the viewers a glimpse of how they act in their day-to-day lives. I almost wish they did it at the beginning of the season so that we'd get to know them all a bit better, but I guess that's a lot of miles to put on the Saturn that they make Tim drive around in.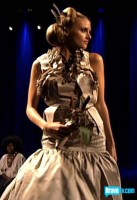 Mama Korto is first up, and Tim goes all the way to Arkansas to see her. I've got to tell you guys – I've lived in the South my entire life and I've never even been to Arkansas, so that's quite a bit of a trek. She has a beautiful, rural space to work in to help her concentrate, and then they go to visit Korto's home, where they meet her husband, daughter, and her African drumming partner. Korto is of Liberian heritage and you can see her connection to it both in her collection and her personal life. Her wedding dress is beautiful, at least in my estimation. The edges are rough and unfinished, the dress is not white, and the fabric is not a traditional silk or satin that you'd see in a wedding dress. It doesn't scream 'GET MARRIED IN ME' at all, and that's how I prefer it, at least from a serious designer. Leave the pure white and the tulle to David's Bridal, I think it's important for our designers to do something a bit different.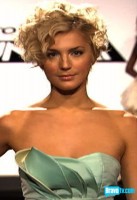 Leanne in Portland is next, and Tim goes to her apartment and meets her adorable (and very Leanne-appropriate) boyfriend. She's making stuff with wave pleats. Surprise.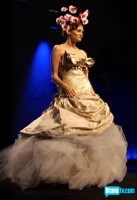 Jerell is in LA with his collection, and as you may have guessed, his stuff is a bit overworked. Lots of sparklies. It's a lot of look. I like what he's doing with the wedding dress, although it does remind me a good bit of Chris March's art challenge dress from last year. I think that Jerell's family is the most interesting. We found out that he grew up in super-rough South Central LA, his dad drove a truck to provide for him, his mom, and his sister, and Jerell seems genuinely quite close to and emotional about his family. We also learn that Jerell has a boyfriend (I'm not sure why I love it so much when they have significant others, but I do!)
Lastly, Kenley in Brooklyn (of course she lives in Brooklyn, she's an annoying hipster), and I hate that they made me like her for a second, but they did. She had a picture of her grandmother hanging on the wall, who was her fashion inspiration and had died a few months earlier. My grandmother passed away almost two years ago, and I still get teary thinking about her. She was always impeccably dressed down the the brooch on her blazer, she was a model when she was younger, and was so admired as to have one suitor name his boat The Helen C. in her honor. She perked up on her death bed to ask me about my new Marc Jacobs bag, so suffice it to say that she's a large part of why I love handbags (and fashion in general) as much as I do.
Whew. Got a little personal there, didn't I? Might be time for a glass of wine.
Anyway, back to Kenley – unfortunately (because I still pretty much hate her), her dress is flippin' awesome. Feathers, tulle, a corset bodice and a full, tea-length skirt (even though I normally hate tea-length). I'd wear it today, were I to be getting married today. The rest of her collection is kind of what you'd expect, but that DRESS. I'm in love.
And then, of course, we get a twist. There's always a twist, and this is one that some of you probably guessed – make a bridesmaid dress! I'm ok with that. Bridesmaid dresses can be tricky (and, often, end up as ugly as all the jokes about them would indicate). And while I'm watching all of this happen, all I can think is JERELL, YOU'RE BLOWING THE GAME. Korto's? Beautiful. Love and adore the pintucking. Although I agree with Tim that she made a second wedding dress, but I think she could remedy that by hacking off the bottom of the skirt and making it cocktail length. Kenley hasn't made enough of a dress at this point in the show to even evaluate, and Leanne's making more waves. Of course.
Then something adorable happened that made me not feel so weird about going all teary a few paragraphs up. Tim Gunn, in all of his composure and mentor-ness, got a bit shaky and emotional telling the designers to try hard, do their best, and make it work one last time. I adore Tim, he's one of the most genuine and intelligent people on reality television, and I want to pour him a glass of my pinot grigio and give him a hug. He actually cares about these people. Even Kenley.
So, compared to what we saw in the work room, what happened on the runway?
Jerell stuck some flowers on the bride's head, which I don't support, but his dress kind of reminded me of the Vivienne Westwood dress from the Sex and the City movie, in a way that I'm not sure I enjoy (even though I love the Westwood dress). Jerell, of course, doesn't edit himself well and instead of choosing to do one thing well, he did everything kind of halfway. His bridesmaid dress was equally bad.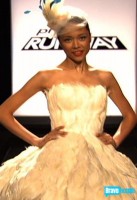 Kenley's dress is still flippin' fierce, much to my chagrin. And I mean FIERCE. Gorgeous. Amazing. Maybe my favorite outfit of the season. The judges claim that there's a McQueen dress that this rips off, which didn't come to my mind immediately, but I looked back at his Fall 2008 RTW show (and if you haven't seen it, it's BRILLIANT, go look at the slideshow on Style.com) and they're exactly right. It's VERY similar. But, you know what? I kinda like Kenley's better. I like that it's fuller underneath and more of a vintage throwback. Plus, her bridesmaid dress is adorable and something that a bridesmaid could potentially wear again after the wedding, which is the ultimate goal of the bridesmaid dress for most of those who have to buy them. She's my winner tonight, as mad as I am to admit it and as much as I don't want her to go to Fashion Week.
Leanne…I just don't have much to say about her. I didn't like the silhouette of her wedding dress, although I agree that it's very well done and interesting to look at, but perhaps that's just my taste. I also don't like her pastel color choice for the bridesmaid, but I'm entirely opposed to pastels in almost every situation, so that's probably why. The shape is cute, if expected from her.
And Korto. Oh, Korto, where did the wheels come off of this one? Because the dress looked well-edited and chic in her Arkansas workroom, but she somehow managed to tack a whole bunch of extra stuff on it that made it completely not appealing. Why? I have no idea. It's completely incomprehensible. And she also, in one night's time, managed to ruin the beautiful pintucking she did to the bridesmaid dress. I don't have any idea what happened there. Epic fail. She was my least favorite of the night. Sad.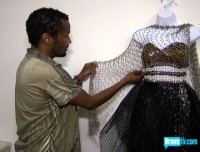 But she wasn't the judge's least favorite, because the chose to send home Jerell instead. And, you know, I feel really terrible for him. He won the last challenge fair and square, he should get to compete. Those are the rules. He also won several challenges and had some interesting ideas. Does he put too much shiny crap on everything? Of course. He's Jerell. But isn't that part of his charm?
Given Kenley's performance in this challenge, I couldn't really justify my previous demands that she be sent home, and I like the other three too auf any of them, so this whole episode is kind of making my head hurt. I'm going to have another glass of wine, and while I do, tell me in the comments who you think is going to win it all next week.
Images via Bravo TV
P.S. Please consider supporting our small, bag-loving team by clicking our links before shopping or checking out at your favorite online retailers like Amazon, Neiman Marcus, Nordstrom, or any of the listed partners on our shop page. We truly appreciate your support!