Marni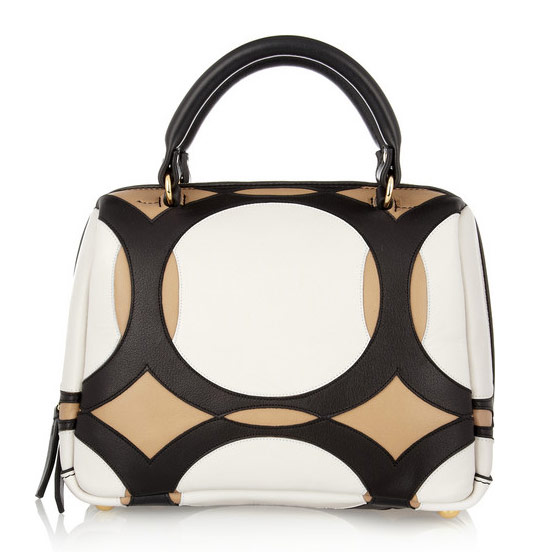 How much do I love the Marni Layered Leather Satchel, exactly? A lot. I love it a lot. There is nothing not to love about it. I was prepared to whine a little bit that there's no optional crossbody strap, but lo and behold, there is one. Absent that, I can think of literally nothing to complain about when it comes to this bag. Except, of course, the fact that I don't currently have one in my possession.
Marni is having a bit of a moment right now because of its excellent, high-profile collaboration with H&M, and the brand seems to be taking advantage of its raised profile quite well by releasing some of its best work to date. If you're into Marni's signature take on retro-modernism, you already know of which I speak. (more…)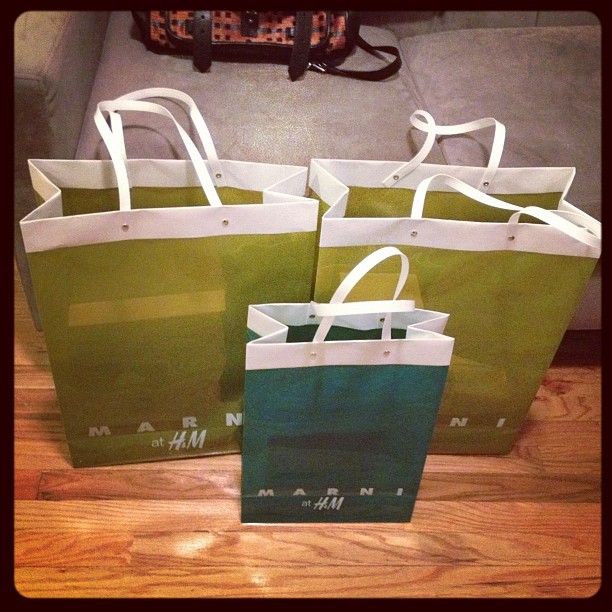 If someone who works in fashion tells you that her job doesn't have any perks, I personally give you permission to slap her, or at the very least, call her a liar (but also slap her, because how often do you get a chance to backhand someone in real life and then blame it on a fashion blogger?) Tonight, the perk wagon came around and dropped me off squarely at the Marni x H&M press preview. (Missed the lookbook? We've got it here, for reference.)
Now, in case you assumed that members of the fashion media would conduct themselves with grace and courtesy when presented with the opportunity to buy clothes, you were mistaken, and I'm not sure why you had such a high opinion of us in the first place. Particularly when an industry favorite like Marni is involved, fashion girls can throw bows with the best of them. I did come away with some shoes and accessories, though, and more importantly, I came away with your first inside info on what the collection is like in person. (more…)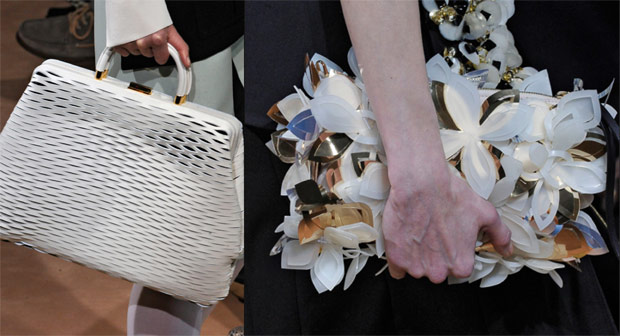 A few days ago, PurseBlog friend BryanBoy tweeted that Marni designer Consuelo Castiglioni would be the perfect replacement for Karl Lagerfeld once he's ready to move on from Fendi, and I can't help but completely agree. Marni's signature retro-minimal approach gets better and more fully realized by the season, and Consuelo's sense for accessories and embellishment keeps improving right along with it.
It probably won't surprise anyone that I think the handbags from Marni Fall 2012 are excellent. They have the signature quirky Marni look without being unappealing to the buying public at large, and the addition of a few flower-embellished pieces alongside the standard neutral leather is a welcome one. Fendi's aesthetic has been going in a similar direction in recent seasons, and just like Lanvin designer Alber Elbaz seems like Karl's heir apparent at Chanel, I hope that Castiglioni will be the woman for the job at Fendi. (more…)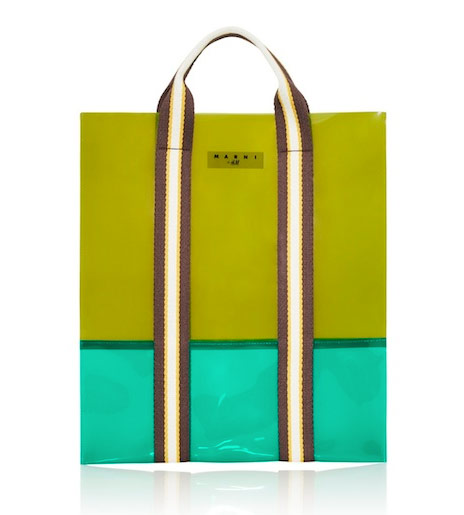 Images via Marni
My level of excitement for mass market designer collaborations always varies widely (and mostly wanes by the time that full lookbooks surface), but believe me when I say that Marni for H&M has been marked on my calendar since the day it was announced. Marni's work is so modern and fun that I suspected that it would translate well to the fabrication of H&M – after all, materials like plastics and grosgrain ribbon are already a mainstay of the Italian brand's aesthetic.
Now that the images of the collection are out, I'm pleased that my suspicions were correct. The clothes look great, but it's the accessories and jewelry that are the real stars. Marni didn't make many bags for this outing, but the super chunky retro-modern necklaces and bracelets more than make up for it. Check out all of the accessories from the collection after the jump. (more…)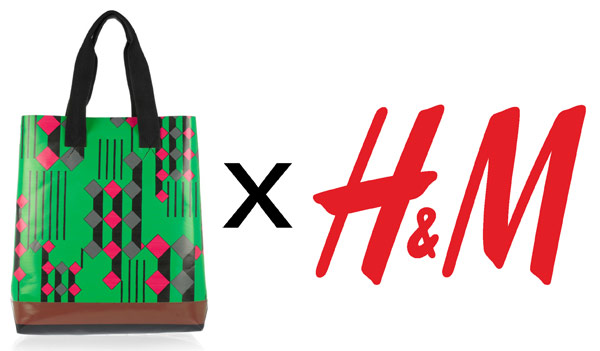 Marni Tote, $645 via Net-a-Porter
A couple of days ago, the fashion Internet exploded with news of H&M's next collaborative partner – quirky Italian label Marni. Forget Versace – this is something I might actually consider standing in line for, particularly because a full menagerie of accessories will also be available, right along with the retro-modern prints and oddball color combinations for which Marni is known.
Because of the nature of high-low collaborations (read: because of PVC ickiness), I never have much hope for the handbags and "leather" goods that will come out of these kinds of partnerships. Versace x H&M included some real leather, though, so who knows what the future (and Marni x H&M) might hold. It will hold some less-expensive takes on Marni's much-sought-after costume jewelry, and that's enough for me to be feeling the slight burn of excitement in the back of my brain. Sadly, We'll have to wait until March 2012 to see this stuff in person. Are you sick of designer collaborations yet? (more…)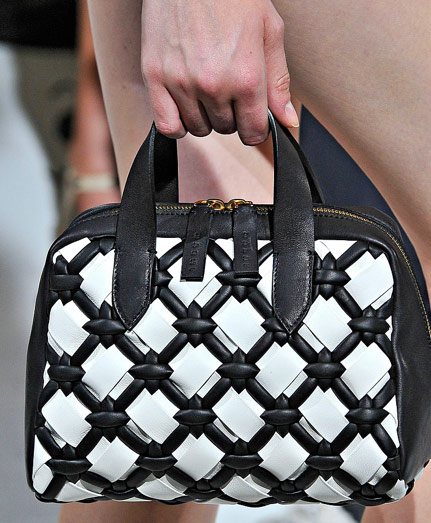 Images via Vogue.com
Perhaps improbably, Marni is always one of the handbag collections that I look forward to the most during Milan Fashion Week. The brand doesn't have a reputation in the accessories world as a purse powerhouse, but I love Marni's signature blend of girlishness and modernism. The end result is usually some great accessories that will withstand both the passage of the season's trends and the passage of time, leaving you with a unique bag that people will ask about for years to come.
If you'd like to add that sort of accessory to your closet this season, you'd be well advised to go with one of the three-dimensional woven bags from Marni Spring 2012. Different fabrications and sizes of leather were woven together to create a pattern that looks a lot like tactile plaid, and the end result is kind of mesmerizing. Part of me would like to take one apart to see how it was constructed, but the rest of me would much rather tuck these bags safely away in my closet. All of them. Right now. (more…)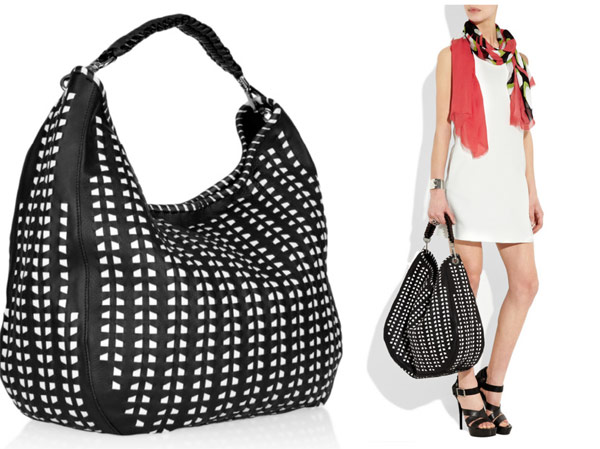 Marni Woven Leather Hobo, $2330 via Net-a-Porter.
I can't believe I haven't posted about the Marni Woven Leather Hobo Bag already, but somehow it seems to have gotten passed over in the spring shuffle. What I can't figure out, though, is how that managed to happen – I absolutely love it. I loved it as soon as I saw it on the runway back in September, and my love for the slouchy-yet-stark design has only grown since seeing how soft and wearable the bag would be in real life. This design is proof positive that neutrals don't have to be boring background pieces. (more…)