Be&D
With the roaring popularity of leopard print seemingly chugging into spring unabated (Givenchy, anyone?), it looks like haircalf bags are here to stay. For those of you who wince at furry things of any type, that's too bad. For those of us who like the slick, neat look of a good haircalf bag, this development couldn't find us any more pleased. What's even better is that the material's popularity for leopard bags and shoes has started to spill out into other bag inspiration, which is perhaps why we now have the option of the Be&D Genesis Satchel in super slick black pony.
Because I have a 15-year-old goth living inside of me somewhere who refuses to leave, one of my favorite cold-weather looks is layered black in lots of different textures. The look gives a whiff of badass to whomever dons it, and a bag like this is the absolute perfect way to tie up an intensely dark, brooding outfit. (more…)
After many years of carrying many different bags, I have a routine of what I transfer from bag to bag. My wallet, a pouch, and a card case among other tidbits. Card cases are an easy way to make a fun and funky purchase. I have a fuchsia pink croc case that I adore but I'm always looking for other options. Be&D has both a tiger and leopard studded card case, both of which are the perfect way to add a little accessory zing. (more…)
While the military trend has mostly seemed to stick with solid colors, Be & D and some other brands are bringing in camouflage print. And to be honest, I kind of sort of totally adore it.
Camo-print has such a negative connotation to so many people, believing it is overly masculine and as far from fashion forward as possible. But this is not the case. Camo can be cool, it just has to be done properly. Be & D does that with their Barclay Tote. (more…)
Who: Be & D Sample Sale
What: Be&D Sample Sale. 30-75% off Handbags, Footwear and Small Accessories
Original Garbo Satchel: $895, Sample Sale: $275
Kan-Kan Portfolio: $595, Sample Sale: $200
Wristlets: $295, Sample Sale: $50
Where:: 35 West 36th Street, 10th Floor West, NYC
When: Tuesday, May 25th – Thursday, May 27th. 9am-7pm. Cash & all major credit cards accepted.
If you read this blog regularly, you probably know that I have something of a love affair with the color black that dates all the way back to when I declared it to be my favorite color at five years of age, which worried my kindergarten school counselor. I'm the girl that buys black sundresses and black shorts for summer, and it's not out of an appreciation for the goth aesthetic or a desire to let everyone know I'm in a bad mood – I just really like black.
It's harder to come by in warmer months, but if you have a similar affinity for the dark side, the Be & D Big Spring Satchel is probably perfect for your personal style. It's rare that something that so proudly trumpets its affiliation with a warm season is so decidedly dark, and although some people may find that contradiction off-putting, it feels perfectly normal to me. (more…)
There's almost nothing I like better in fashion than when it reminds me of something slightly fantastical or science fiction related. I know, clothing and handbags are supposed to be useful and realistic, because we need to protect our bodies and belongings from the elements; Well. To that I retort: we're beyond that age, and now fashion can look to the future. Plus, we can always wear our impractical gear indoors and not worry about a tornado ruining it or something.
That element of fantasy is what attracted me to the Be & D Leather Convertible Bag. The raised spheres on the flap of the little cross body reminded me of futuristic armor or something equally awesome. But then, I made the mistake of looking at the bag in a fleshy color, a color that Be & D calls "citrus." Friends, I've never seen a citrus fruit in this color. It's fleshy, a salmon-esque shade at best. (more…)
I covered the Be&D Genesis first during NY Fashion Week, when Bryan Boy, Olivia Palermo, and Mena Suvari were spotted carrying it. I will be posting more of the available options, but wanted to note that the classic black version Bryan Boy carried is now available online at Bloomingdale's.
This bag entails two aspects of many Be&D bags; whipstitched detailing and supple washed leather. Lately, I have really been digging the Be&D bags I have seen. I still love the studs that they offer, don't get me wrong, but their Americana feel which much of their line showcases pulls me in. It seems so perfectly fitting for spring and summer, which is just touching most of the world with a slight warm up and knocking the snow off our boots.
(more…)
*Note: Saks had labeled this bag as the Dodstock, but it is actually the Woodstock*
Firstly, I must apologize for the extremely slow start to the week on PurseBlog. You woke up, checked PurseBlog, and saw no new posts. That is because when my alarm went off this morning I somehow convinced myself that it is Sunday so I could turn off my alarm and sleep as long as I wanted. It is nearly 11 am. That is bad. Part of the reason why I am so tired is because yesterday Vlad and I went horseback riding. It was pretty much our first time and nothing about horseback riding it like in the movies. It is hard, intense, and has me much sorer than I imagined. That is the story of why things are off to a slow start today.
And that is also the reason why I am reviewing the Be&D Woodstock Portfolio Messenger Bag. You see, yesterday I didn't even think for a moment about what bag I would take horseback riding. I had been using my Rebecca Minkoff Matinee and popped that on my arm and took it out the door. I had to leave my bag in the car, obviously. But I imagined if I took a great/compact messenger bag I could have slung it over my body and taken it with me on the horse. (more…)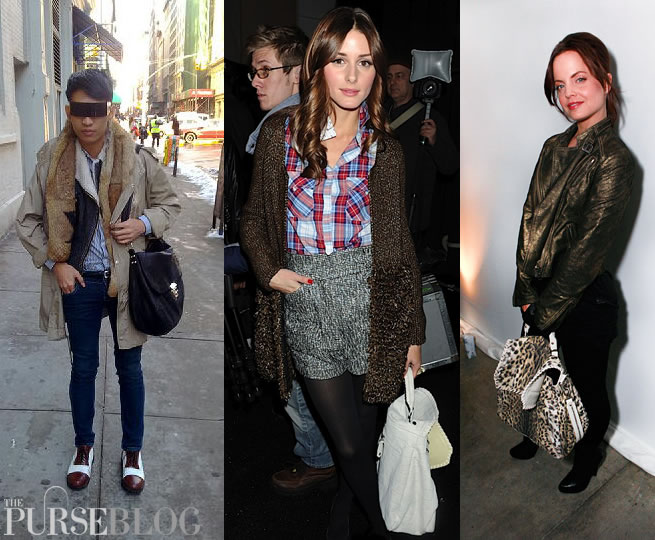 Fashion Week in New York is coming to a close and one of my favorite aspects of it is to see who is going to which show and wearing what. The Fashion Week bag of choice for Olivia Palermo, Mena Suvari, and Bryan Boy has been the Be&D Genesis from the Summer 2010 line. (more…)
There's a reason I was never the fan of the massively studded bag trend. Those stylish, seemingly innocent studs can be sharp. Sharp in the way that makes you wince a little bit if you have to grab on to a heavy clutch covered with the things. I'm speaking from experience, folks.
But that same reason is why I absolutely adore, not abhor, little clutches covered with conical studs, like this Be&D Studded Zip Around Clutch Wallet. I know, I know, the studs are still like pyramids, but they aren't sharp. The dull end, my friends, is what matters to the hand. (more…)
For the past two weeks, every time I turn on the news the top story is the weather. It was 26 degrees in Miami the other day, which is about 50 degrees below average. There was frost on cars. Do you know how confusing it is to live in South Florida and find frost on your car and frozen leaves on your trees? (more…)