If you're like me, you have only one thought when you hear the word "Alaïa" – Alicia Silverstone as Cher Horowitz, trying to explain to a mugger why she can't lay down on the ground in the greatest movie of all time, Clueless.
"You don't understand, this is an Alaïa."
"An A-what-a?"
"It's, like, a totally important designer!"
If you grew up in the 90s, movie quotes scarcely get more classic than that.
And that's why, when I look at the Alaïa Perforated Leather Bag, all I can think is that it's totally the opposite of a full-on Monet.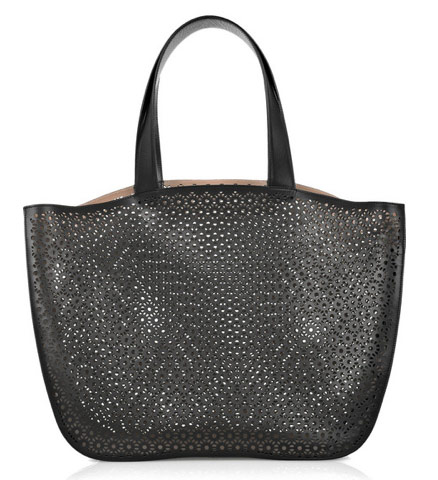 From far away, I couldn't help but think, "So what? It's just another perforated leather tote." That opinion would be way harsh, Tai, because it's so much more than just a hole-y leather bag when you get up close. The pattern that the perforations make is beautiful and fun to look at, plus the creamy leather interior is totally unexpected – I wouldn't have guessed that there would be a color change at all. Maybe that Polonius guy made it happen.
Be careful, however – if you're surfing the crimson wave or carrying other, uh, "personal items" in your purse, a bag that's this obviously perforated likely isn't for you. I'm not totally butt crazy in love with it, but you've got to appreciate this tote for what it is – and if you don't, I've got a .45 and a shovel. I doubt anyone will miss you. Buy through Net-a-Porter for $2200.