8 posts tagged with
Wish lists
accessorize appropriately.
The late Thanksgiving went and messed up everyone's holiday season, from interfering with Hanukah to making the shopping season quite a bit shorter. However, Christmas is on our doorstep and I have a wish list …
Normally, by this time of year, there are a million things I want. Sale season is in full swing, my trigger finger is itchy in anticipation of second markdowns, everything on the shopping front is …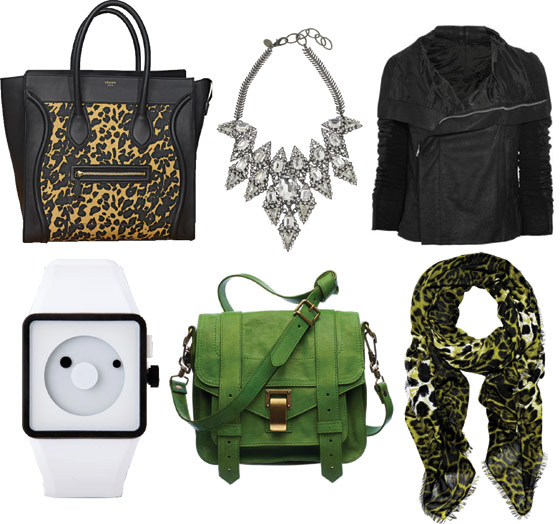 I'd like to begin my wish list by saying that I am almost entirely opposed to the concept of the wish list. I'd much rather have a thoughtful surprise than something picked off a list based on price and/or availability, but with the way holidays go, that's not always possible. Plus, I'm a difficult person to buy for in general; if something's reasonably priced and I like it enough, I'll probably buy it for myself long before any holiday comes around. Add to that the additional complication of my birthday falling on Christmas Eve, and I'm sure it's just easier for people to pretend that they don't know me at all during this time of year. But if my friends and loved ones had unlimited budgets and felt like being generous with me, these are the things I'd tell them to buy. (more…)
Y'all, I'm really hard to shop for. I have poor impulse control when I decide that I really must have something, and that leaves precious few gifts to buy at the end of the year. As if that wasn't enough, my birthday is Christmas Eve, which only doubles the burden on anyone trying to buy anything for me, ever.
The safe money is usually on just taking me out to dinner and calling it a gift, but if anyone were to be confident or generous enough to try and buy me material goods for the holidays, here's a sampler of what I might want. Unless, you know, I manage to buy all these things by the time this post runs. (more…)