12 posts tagged with
Technology
accessorize appropriately.
Once upon a time, people who loved technology and gadgets were considered geeks. It's weird to think about just how recently that era was, particularly since the general public now sits in rapt attention whenever …
Today, I'd like to switch bases a bit to talk to you about the greatest scourge threatening America today: Zombies. Thought The Walking Dead was just a fictional TV show, did you? I'm here to …
Last week, we rounded up the best accessory gifts for all the recent college grads in your life. In the comments, one of you asked us to make some suggestions for high school grads, and …
Did you guys know that tomorrow is my birthday? Well, it is. Also, Sunday is Christmas. I bet you knew that part, though. As you might imagine, this is a time of year when people …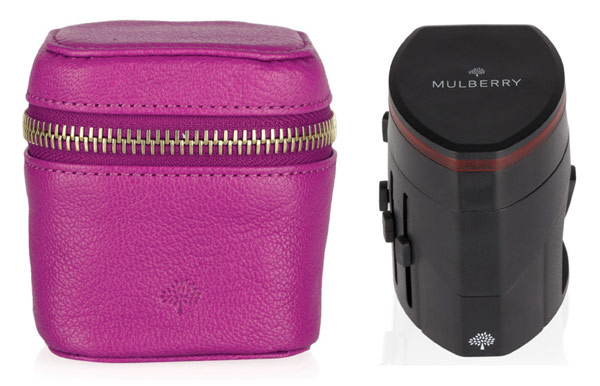 Mulberry Travel Adapter, $230 via Net-a-Porter
Luxury travel accessories usually fall into two categories: Pretty things that no one actually uses or needs and things that are pretty while also being surprisingly useful. The Mulberry Travel Adapter, complete with its bright pink leather carrying case, is one of the few that fits firmly in the latter designation.
For anyone left who doesn't know this, American plugs don't work in foreign outlets and vice versa, and some foreign plugs don't work in other foreign outlets. To make your flat iron work everywhere on the globe, it's necessary to take a converter with you when travelling overseas, because god knows you don't want a frizzy mane while on vacay. Now that Mulberry has stepped up to the plate, you can ensure electrical compatibility in chic pink leather. (more…)
What if the case in question were the acid yellow Proenza Schouler iPad Case, which is easily the least iPad-case-looking designer iPad case I've seen since the advent of the product? How many more times do you think I can work the phrase "iPad case" into this post? I'd say that the over-under is six.
Anyway, this thing's kind of a looker, right? And at $685, it's cheaper than any of Proenza Schouler's other clutches by a long shot, and unlike most spendy iPad cases (1), this one actually has a functional front flap pocket and the same detailing as the rest of the brand's handbags. So I ask you: Why not leave the iPad at home, throw your regular stuff inside and carry this iPad case (2) as a clutch? (more…)