11 posts tagged with
Swarovski
accessorize appropriately.
Even though my last days on campus at the University of Georgia were as recent as 2008, a lot has changed, technologically speaking, in those intervening five years. My little flip phone, which was by …
Ahh, the Oscars! There's nothing like a good red carpet, and the 2013 Academy Awards didn't disappoint when it came to interesting evening bags. (Although, in our opinion, the clothes were better at the Golden …
By my estimation, the Grammy Awards awlays have the weirdest red carpet of all the major awards shows, and the 2013 Grammy Awards went on to uphold that tradition in spite of some odd dress …
So here's something interesting: At the Golden Globe Awards two weeks ago, our expert analysis (that would be me, squinting at paparazzi photos for several hours) found that Roger Vivier's evening bags won the day …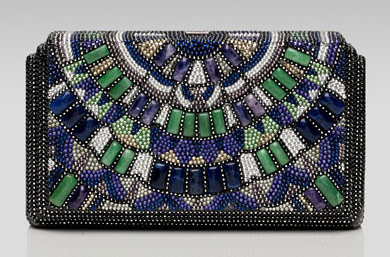 Judith Leiber Houston Semiprecious Beaded Clutch, $4995 via Bergdorf Goodman
Even if most women don't have many occasions on which they might use a Judith Leiber clutch, looking at the tiny, sparkly, intricately beaded evening bags is a pastime in which we can all participate. Bergdorf Goodman has recently added a six-bag Judith Leiber Fall 2011 preview to its website, which not only gives us a closer look at what Leiber is doing for the season, but also lets you pre-order from the selection for delivery at the end of July, if you're so inclined. Pictures and prices, after the jump. (more…)
Well. That was quick.
We found out quite a while back that Marchesa was going to debut a line of clutches to compliment their gorgeous, highly detailed evening dresses, and since then we've seen no shortage of celebs toting them down red carpets from New York to Los Angeles. Finally, yesterday morning, they were available online! And then they weren't. The recession might just be over, folks: the bags, priced $2274-$3475, sold out in a matter of hours. Pictures of all the bags you can't currently buy (but maybe soon!), after the jump. (more…)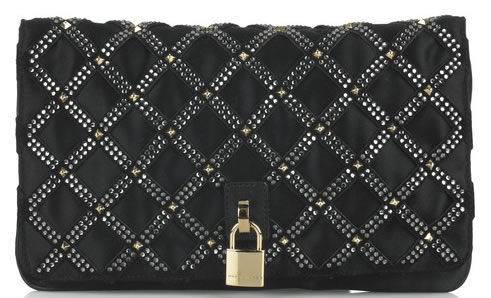 Ladies and gentlemen, we are just days away from 2010. Can you believe it? I remember being younger and never quite understanding adults saying "Where has this year gone?", yet now that I am, I guess an adult, I get it. It's as if you blink and half the year is gone. But that's really neither here nor there. With New Year's Eve right around the corner, I try to mentally plan what I am going to wear and carry. When it comes to New Year's Eve, I want a shiny, noticeable and gorgeous handbag in my hand. (more…)