11 posts tagged with
Suitcases
accessorize appropriately.
I hate traveling. More accurately, I hate getting to places; once I'm there, I love it. I was not alive for the days when air travel was a glamorous and refined experience, but based on …
It warms the cockles of my cold little blogger heart to see contemporary brands expanding into luggage in creative ways. First came the Lulu Guinness suitcases covered with her signature molded lips, and now we have the Rebecca Minkoff Skull Suitcase. I'd like one of each, please.
I'm not much of a crafty girl, but the trompe l'oeil knitted look of the pattern (indeed, other bags in this collection are actually made out of a woven material) provides just enough kitsch to balance out the tough look of a skull and crossbones. Instead of weaving, the bag is made of durable coated canvas that might actually survive a trip through the airport ringer. (more…)
Lulu Guinness is set to launch her first collection of travel bags next week, and to celebrate the launch, she has released the above video in collaboration with British filmmaker Vicky Mather. I only wish that all of my handbags danced around so happily, not to mention that lips seem like a pretty good way to make sure your suitcase stands out at baggage claim. Photos of the collection, after the jump. (more…)
As if traveling wasn't fun enough to begin with, fashion has gone and found a way to make it even better: Nancy Gonzalez luggage.
Launching yesterday exclusively at Bergdorf Goodman in New York City, Gonzalez now makes a line of suitcases and small travel accessories in her company's signature crocodile skins. Manufactured to be excellent lightweight luggage in addition to being utterly luxurious, the collection includes items all the way from passport holders to iPad cases to rolling suitcases, priced between $400 and $8000. We have a preview of some of the collection's pieces, after the jump. (more…)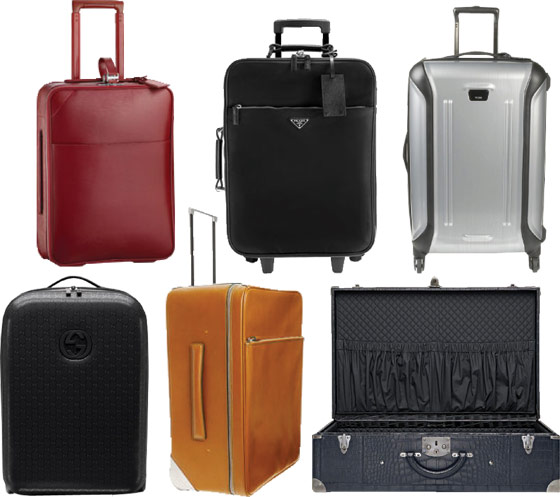 As I continue to read the endless Twitter details of all my friends' summer vacations (and then see the inescapable pictures on Facebook afterward), I can't help but turn my attentions to travel. I still make due with the same black Samsonsite suitcase that accompanied me on my first jaunts to New York City, Boston and Chicago as a teenager, but surely there are more interesting (and expensive) options out there for a traveler who wants the best suitcase on the luggage carousel.
With that curiosity in mind, we've picked some options for your perusal from Louis Vuitton to Bottega Veneta, spanning a price range from $500 to $50,000 (yes, that's the correct number of zeros) for a suitcase. Let us know which one you like best and what your current luggage of choice in the comments. (more…)
It has now been above 60 degrees for two days in a row in Georgia, and the sunshine is giving me the travel itch something fierce. My fair skin has never ingratiated me to tropical vacations, but the advent of warm weather is making me wish that I were laying in a beach chair right now.
Perhaps spring makes you want to do something different – go hiking in Colorado or maybe (if you're lucky) shop for your summer wardrobe in New York City. Wherever you want to go, we've got some bright and cheery travel essentials that don't skimp on functionality to get you to your destination of choice. (more…)