10 posts tagged with
salvatore ferragamo bags
Why so serious Salvatore Ferragamo?
I suppose my thinking of this bag as being too structured and too serious goes hand in hand with the fact that my job does not call for me to dress up in a skirt and jacket or anything formal. EVER. I think if someday I needed to put on a pant suit I would quit. Ok that is a lie, because I sort of adore pant suits. But there is something too proper, too structured, and too refined about the Salvatore Ferragamo Gancini Icona Vitello Tote for my taste.
Don't get me wrong, the bag is gorgeous. It is just not for me. I love my laid back lifestyle, and when I say laid back, I mean laid back. The popularity of boyfriend jeans made my life better, and slouchy shoulder bags along with long strapped cross-body bags put a smile on my face. The most structured bags in my collection, other than clutches, are my Hermes Birkins. There is just not much need in my life for such a refined bag, which does not speak against the quality or beauty. (more…)
The Boston Bag shape is a highly used and coveted shape year after year. Gucci has made the term Boston Bag famous, but it is not just Gucci that designs a bag of this shape. And this Spring designers are implementing this easy day bag shape in various ways.
We simply do not talk about Salvatore Ferragamo enough on PurseBlog. But Ferragamo bags deserve more praise. I do not see them popping up on websites as often as I would like. Can the buyers change that, please? Ferragamo is known for high quality craftsmanship. The designs may fly too far under the radar for many though, which is why we don't see more Ferragamo bags.
Right when I saw the Salvatore Ferragamo Mediterraeno Companion Bag I thought of two things: 1) This is a great price for a quality leather bag and 2) I wonder if Amanda will love or hate this red color. You see, Amanda is very picky about the color red on a handbag. She loves red, but not orangey-reds, and not many other reincarnations. She needs the perfect red. Does this Ferragamo bag hit the mark? (more…)
Salvatore Ferragamo. The reason why has nothing to do with a lack of appreciation or love of Ferragamo bags. We have seen bags that have caught our attention and have yet to loose it (remember the Carlotta Alligator Tote).
You know who we don't hear about often enough?
One of the signature attributes for Ferragamo bags is the circular hardware. But we found a bag that lacks that while not lacking the beauty that we have come to expect. A simplistic and cute bag, the Salvatore Ferragamo Miss Vara Bow Tote still shows rich leather and a classy design. The only thing that I would like to see different in this bag is a larger shape. When I carry a tote, I like a substantial tote. And being as tall as I am it takes a pretty roomy size. Dimensions of this bag are 13″W X 10″H X 5″D. (more…)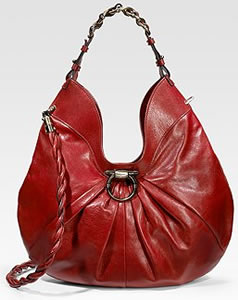 Salvatore Ferragamo is one of those brands that flies under the radar for so many of us. But it shouldn't. Time and time again I find Ferragamo bringing us the most delectable bags. They are simple, understated, and elegant but there is always a wow factor. I will always reference the Ferragamo Carlotta, an oversized alligator bag that exuded brilliance with its exotic skin and shape.
Next up on our Ferragamo love list, the Salvatore Ferragamo Gathered Leather Hobo. From the moment I laid eyes on this bag I adored it. The red leather is showcased by gentle pleating. The chain link leather handle has a finely crafted twisted strap, which is the wow factor on this bag. This bag is great in red, but Ferragamo also has a black version which Eva Mendes was spotted carrying in Italy.
Every handbag collection needs a vivacious red bag and I find myself wanting to add this piece to my collection. Quality and craftsmanship is superb on Ferragamo bags. The inside features a zipped and two open pockets. Overall measurements are 16½"W X 15″H X 3½"D. Buy through Saks for $1,790.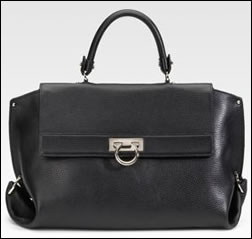 This bag is not playing around.
The Salvatore Ferragamo Top Handle Satchel means business, and it's not going to put up with any of your flack. It's an office bag if I've ever seen one, and although it evokes thoughts of the Hermes Kelly, it's not iconic in a way that would tell all of your coworkers exactly how much you spend on your accessories. This kind of discretion is recommended by some in the current economic climate, but I'm just recommending it because I think it's an interesting bag. The design isn't totally buttoned – up; its structure is sleekly post-modern on the side gussets, and the hardware that holds it together is something I'd like to see in person. What we have here is a reimagining of a classic shape that's office-appropriate without being obvious and interesting without being odd. Buy through Saks for $1890.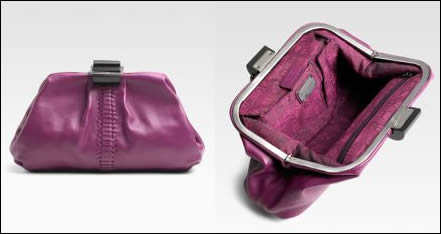 When I think of Ferragamo I think of the absolutely drool-worthy Salvatore Ferragamo Oversized Carlotta Alligator Tote. I dream about that bag. I yearn for that bag. I feel as if I absolutely need that bag. But there is a tiny thing called reality, that sets in and tells me, YOU ARE NUTS! The $35,000 price tag really is out of my league and if I thought buying a Birkin was nerve-wrecking, this would most likely end with my passing out.
What I realized about Salvatore Ferragamo bags after reviewing the Carlotta is their beauty. We all know their shoes, and many women swear by them. And now I can imagine many women swearing by their bags. The leather is supple, the craftsmanship is impeccable, the look manifests understated elegance perfectly. Take the Salvatore Ferragamo Sartoria Pebble Calfskin Clutch for example, which is dressed up with a handwoven accent down the center of the purple leather framed clutch. There is a black lucite closure, which is an unexpected addition. The clutch is a good size, 12¼"W X 6¾"H X 2½"D, and I adore the overall feel. And with a sale price of $714 (marked down from $1,190) the price tag is much more friendly to my wallet and the amount of money I am willing to spend. Buy through Saks for $714.

Buy Salvatore Ferragamo at Saks
Salvatore Ferragamo may be known for shoes, but the new line of handbags has me swooning. Not just a little bit of love, but there is a heavy amount of lust, or yearning, of floating on cloud 9. Part of the problem that many of us face with Ferragamo handbags is that we do not see the full line, the entire array. If only there were the entire collection available at Saks or Neiman Marcus, I know the sales online would sky rocket.
The Ferragamo office in NYC decided to tempt Purse Blog in a way that is just wrong, sending us the Salvatore Ferragamo Oversized Carlotta Alligator Tote to review. (more…)

Salvatore Ferragamo Apollonia Bag
Salvatore Ferragamo is a brand known for its ready-to-wear and picturesque shoes (that are divinely comfortable might I add). The shoes are statement pieces that stand on their own immaculately. But the handbags from Salvatore Ferragamo are not as well known as the shoes, but they should be. While I have not loved every Ferragamo bag, I have found an ultimate drool-worthy bag from the company, one so lovely that it is officially on my want/need list. The Salvatore Ferragamo Apollonia Bag radiates this sort of subtle perfection, this simplistic look that just has me infatuated.
This bag stands out and has a different look to its exotic body, seeing as it is made with black and white hardwick, which is a type of huge reticulated python that weighs in at over 200 lbs. The skin does look different, very uniform, very patterned. But for me, it flows wonderfully. And who was caught wearing this bag? None other than refined simplicity herself, Reese Witherspoon. The picture of Reese carrying this bag only sealed the deal for me, putting it on a person and showing me how beautiful it is! The bag comes from the Spring/Summer 2008 collection and is available in Ferragamo boutiques for about $3,350. You can also buy Ferragamo bags through Saks.