6 posts tagged with
New York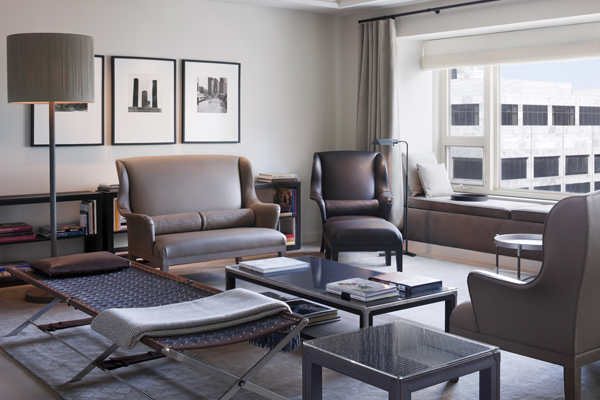 While I was reading about the gorgeous new Bottega Veneta Suite at the Park Hyatt Chicago (above) yesterday, I got to dreaming about what it would be like to stay in a room like that. Anyone who's ever picked up one of the Italian brand's luxurious handbags knows exactly how luscious and soft the leather is, and rolling around on a couch of the same provenance must be what dreams are made of. Just as I was thinking about booking a trip to the Windy City to do just that, I realized that this was likely something Bottega had done before at other hotels.
As it turns out, I was right. In the past decade, Tomas Maier has designed at least two other luxurious hotel suits, both for St. Regis hotels in New York and Rome. There also seems to be talk of a St. Regis room in Florence, but since all the pictures I find of it are the same as the pictures from Rome, we'll have to make due with just those two. Check out both setups after the jump – personally, Chicago is my favorite. (more…)
accessorize appropriately.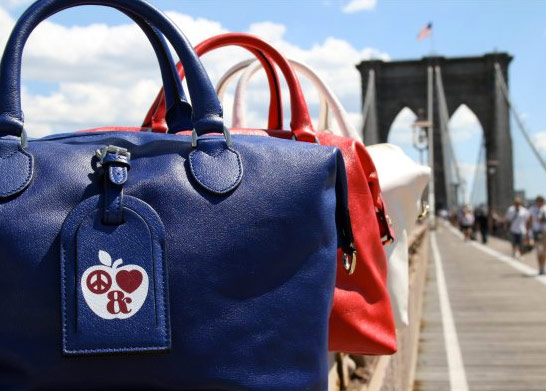 Photos via Stylelist
Although Mulberry already has a very nice boutiques in the West Village and on the cusp of the Upper East Side, it's no surprise that the brand that named its most famous bag after Alexa Chung would want to have a serious downtown presence as well. This week, Mulberry will be opening its first stateside flagship in Soho, and to commemorate the occasion, the brand has released the Mulberry New York Clipper Satchel in the shared colors of America and Britain – red, white and blue.
To further prove Mulberry's commitment to America, the company teamed up with StyleList to shoot some photos of the patriotic trio around town. You guys know that we love a good bags-as-art photo as much as anyone else, so we've got our favorites after the jump. You can see the rest of them at StyleList and buy the bag, which comes with a special "Peace, Love and New York" luggage tag, at the new Spring Street spot once it opens. I haven't been able to find a price for the New York Clipper, but I'd bet it's around a grand. (more…)
Amanda told me earlier today, "It is easy to write about pretty things". This is precisely how I feel about Mercedes-Benz Fashion Week New York's Badgley Mischka Fall 2011 line which strutted down the runway today. The presentation from Mark Badgley and James Mischka brought us eveningwear that has our minds thinking ahead to the Academy Awards. And clearly this is what the duo wants.
The feel was vintage and inspired by party scenes from old films like "The Women", "Dark Victory," and "All About Eve". We were wooed by tiered gowns, jeweled colors, and beaded-sheaths. Celebrities in the front row, including Kelly Osbourne, Rumer Willis, Lo Bosworth and Kellie Pickler, oohed and ahhed over many of the items, no doubt planning for the future times and events to wear them.
As much as we expected and saw couture and collection pieces, outerwear and sportswear were also debuted. It was a nice way to break up the gowns and pepper the runway with tuxedo pants and a shearling bomber. (more…)