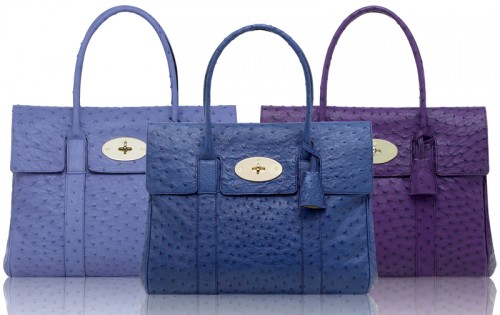 Mulberry Ostrich Bayswaters
Vlad and I are in NYC for the week, meeting with designers, looking at showrooms, and overeating at the best NYC joints we can find. As we have been walking around the city, I realized how true the black garb stereotype is in NYC sometimes. Granted it is rather grey and a bit cold here, but why so much black? I adore color, adore rich hues, and always want to sport a bit of a splash.
A more neutral color to opt for is blue, and my new obsession are some of the blue-hued Mulberry Ostrich Bayswaters that are exclusive to the brand new US Mulberry website. Are you as in love as I am? The three Ostrich Bayswater purses shown above are in lavender, blue, and violet ostrich leather. All are being sold on the new US website and all are exclusive to the US website. Can I decide on just one color? No. All three are stunners, able to catch attention but could still be perfect for those who like to be a little more neutrally dressed, color wise. Of course these bags will still stand out, but I am trying to compromise with those that love neutrals and blacks.
What else is the new Mulberry US site offering? A yellow ostrich Bayswater and an east-west Bayswater in pink ostrich! The yellow and pink are the colors that will always work in South Florida, so obviously I am drawn to them. The regular Bayswater size in the exclusive colors for the US website cost $3995. So for all of you living in the US, make sure to check out the new US Mulberry website and the exclusive colors on their ostrich Bayswater. Visit Mulberry online.