6 posts tagged with
monogram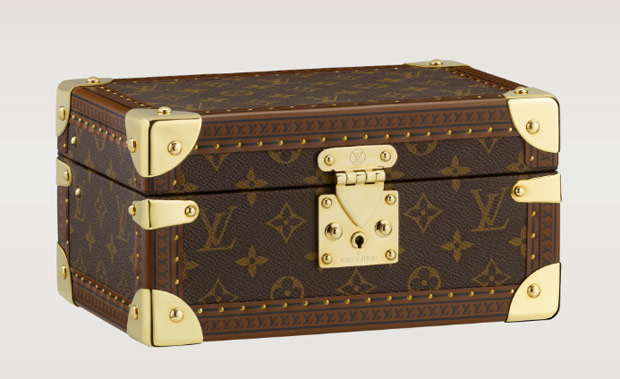 I have a serious jewelry problem. All of my favorite stuff is either vintage or costume, so it's not a spending problem so much as it's an amount problem. The stuff I wear regularly currently resides in small Ziplock bags inside a white Balenciaga box (which used to contain my iPad case), which sits on top of my dresser. I've looked high and low for other ways to store my stash, but nothing particularly attractive or capable of holding giant, breast-plate-sized necklaces has ever surfaced. A clean, minimal white box from my favorite brand seems like the best I'm going to do.
In an ideal universe, though, I'd come home every day and throw my watch in the Louis Vuitton Coffret Tresor 24, preferably situated on a wide, spacious vanity. Nothing is wide and spacious in New York, though, except for maybe Park Avenue, so for now I'll admire it from here. (more…)
The introduction of a new Louis Vuitton Speedy is always cause for celebration among handbag fiends, and we think that this particular bag will be of wide interest. The Louis Vuitton Speedy Bandoulière is similar …
Excuse me for a moment, I'm suddenly feeling quite nauseous. Based on the picture to the left, I'm sure you can all figure out why. I almost didn't even want to post about the Juicy Couture Blue Blood Weekend Bag so that I wouldn't have to be assaulted with its image every time I click over to PurseBlog Savvy, but I feel that it is such an egregious violation of good taste that something has to be said.
Everyone has seen the carts in the mall that sell thinly veiled Louis Vuitton knock-offs with slightly different monograms and "leather" trim that looks like its been covered in spray-tan, but I'm genuinely surprised that another high-end (or should we be calling them "high-end" with scare quotes at this point?) brand would pull the same stunt, particularly in a way that looks so unforgivably cheap. (more…)