I worship Marc Jacobs. He's my favorite. Really, I think just about everything he touches is brilliant, even the stuff that a lot of people don't like. The one bag I will never eBay (and everyone that knows me and my handbags knows that I eBay everything eventually) is my black Stam from several years back. So when Megs asked me if I wanted to write up a show from New York Fashion Week, my response was more or less, "MARC JACOBS!!!!!!11!!1!," because one of the most wonderful moments in an aspiring fashion writer's life is the opportunity to write about one of the premier shows of New York Fashion Week, even if you don't get to go (and besides, his show always starts late anyway, that diva).
So what did Marc have for us this season? Well, lots of things, my dears.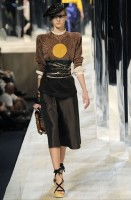 80's shapes – sweaters and blazers with pronounced, exaggerated shoulder shapes were a recurring element in both brights and pastels, as well as some grey here and there. Often they were paired with long, skinny, high-waisted skirts for maximum effect – when compared to the thin line drawn on the bottom, the boldly shaped tops were even more striking.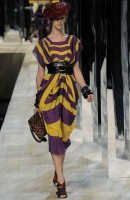 Brights, sometimes mixed with pastels – I think cobalt blue is going to be for Spring '09 what royal purple is shaping up to be for Fall '08: the color that you have to have in some way, shape, or form. Solid-colored bright pieces were often mixed with softly colored, usually patterned pastels for a bit of an art school student look – wear that part of the trend with caution. For me, though, one of the highlights of the show was the mixing of brights with other brights, most notably when mustard yellow mixed with violet and cobalt rugby stripes on two of the collection's most striking dresses. (more…)