25 posts tagged with
Logo
accessorize appropriately.
There are a lot of things to admire about Gucci, but today, the thing that strikes me most is the brand's commitment to interesting hardware. Horse bits, stirrups, bamboo – the Gucci has made a …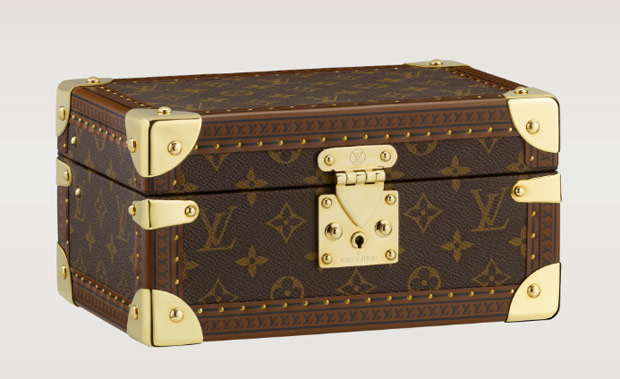 I have a serious jewelry problem. All of my favorite stuff is either vintage or costume, so it's not a spending problem so much as it's an amount problem. The stuff I wear regularly currently resides in small Ziplock bags inside a white Balenciaga box (which used to contain my iPad case), which sits on top of my dresser. I've looked high and low for other ways to store my stash, but nothing particularly attractive or capable of holding giant, breast-plate-sized necklaces has ever surfaced. A clean, minimal white box from my favorite brand seems like the best I'm going to do.
In an ideal universe, though, I'd come home every day and throw my watch in the Louis Vuitton Coffret Tresor 24, preferably situated on a wide, spacious vanity. Nothing is wide and spacious in New York, though, except for maybe Park Avenue, so for now I'll admire it from here. (more…)
The introduction of a new Louis Vuitton Speedy is always cause for celebration among handbag fiends, and we think that this particular bag will be of wide interest. The Louis Vuitton Speedy Bandoulière is similar …
Perhaps I'm merely willing to indulge Fendi's recent logo-bag silliness because of the beautiful runway collections the brand has given us over the past few seasons, but first I liked Fendi's slightly bizarre horse-head tote, and now I find myself enjoying the flowered-but-not-frilly Fendi Roll Bag Tote.
I think the more likely explanation is that these recent bags show a brand that's not taking itself too seriously, which is always worthy of applause. The double-dipped logo patterns of this tote could easily read gaudy and dated, but the somewhat delicate way in which they're combined creates an oddly pleasant visual dissonance for which I'm willing to set aside my general distaste for logo bags. (more…)
Perhaps some of the black dye from my hair appointment yesterday has seeped into my brain, but I find the Fendi Seleria Zucca Horse Tote almost…charming. It has chutzpah, and I respect that, even if I don't necessarily want to spend money on it or carry it around town.
Some leather-goods brands tend to be so self-serious about their origins in equestrianism and saddlery, and it seems as though Fendi is deliberately poking fun at that kind of slightly stodgy traditionalism and humorlessness. And a giant leather horse head on a logo bag, from a company which largely has no such origins? That's hilarious, if only to people who spend far more time thinking about bags than is healthy. (more…)
Not everyone is in a torrid love affair with Louis Vuitton's seemingly omnipresent monogram, but when the brand's design minds really hit overdrive, occasionally they find a creative and appropriate use for it that I can't help but like.
Already a celebrity favorite, the Louis Vuitton Antheia Hobo is clearly one of those occasions when the monogram mania feels oh so right. It doesn't hurt that the monogram in question is embroidered on top of luscious lambskin, the kind of leather which could make any design fantastic. The choice of tonal thread instead of a contrasting color is the detail that puts this bag over the top for me. (more…)
I'm normally an ardent and vocal Marc by Marc Jacobs fangirl, as many of my previous posts on the brand prove. Lately, though, the brand's bags are almost entirely missing the mark (or the Marc, as it were) for me.
When I saw the Marc by Marc Jacobs Fantastical Perfect Purse, my first instinct was to roll my eyes. I've been ok with Jacobs's use of embossed initials in the past, but when you add things like spades and clubs into the mix, the effect gets cheap and silly very quickly. (more…)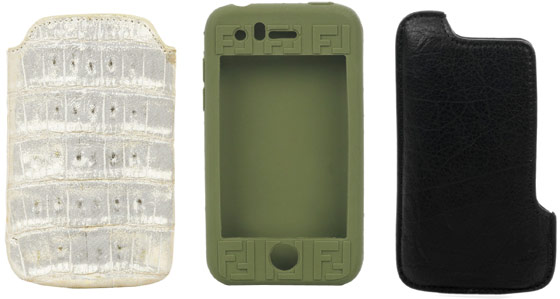 Not long after the annual summer release of a new iPhone comes an inevitable parade of ways to personalize and protect your new gadget. Those options range from rubber cases that can be had for $19.99 at your local Best Buy to Louis Vuitton monogram sheaths that cost more than the phone itself (with a two-year contract, of course), and the prospect of choosing one can be quite the task indeed for style-conscious gadget-lovers.
Since it seems as though the iPhone 4 is making a case more of a necessity than ever, now is a good a time as any to talk about the odd submarket that has opened up for designer tech accessories. Would you spend a couple hundred bucks on a case for your phone, or are such things absolutely frivolous in your mind? (more…)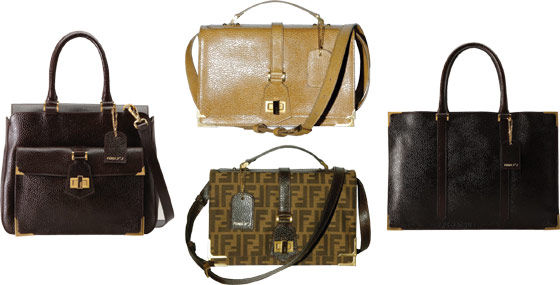 We got a peek at Fendi's Fall 2010 runway handbags in March, but now that they've started to trickle out for retail pre-order, the details of the collection are becoming even more clear. What's perhaps most striking, however, is how much the collection, now dubbed "Classico," hasn't changed.
Accessories are often altered somewhere in the runway-to-retail journey, but the clean lines and clear midcentury influence that we saw on Fendi's runway are here in almost completely unadulterated form. Even the little tags remain, although these are embossed with the brand's name instead of the custom initials that each model sported on the catwalk. I continue to hope that personalization will be available through Fendi boutiques, although I have yet to be able to confirm it. Larger pictures and price information, after the jump. (more…)