3 posts tagged with
Laptop Case
For the fashionable student who has everything (Or maybe the intrepid fashion blogger on the go. HINT HINT.), we present the Alexander McQueen Skull Print Laptop Case, available exclusively via Net-a-Porter.
Emblazoned with the same skull motif as McQueen's iconic scarves, this canvas and leather case will keep your laptop safe inside your school or work bag and look chic while doing it. If you like to get practical mileage out of your designer accessories or if you like the skulls but don't want the scarf that everyone else already has, this is laptop case is certainly not a bad way to go.
The available information doesn't specify which laptop sizes will fit, but based on its dimensions, it seems like it's intended to accomodate a a 14- or 15-inch machine. Buy through Net-a-Porter for $395.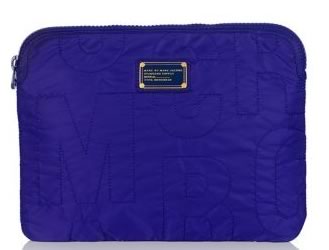 Could it be true? Has Marc Jacobs heeded by advice? A few weeks ago, I wrote about the excessively plain and utterly un-Marc Marc by Marc Jacobs Computer Sleeve. And now, my friends and (perhaps) fellow laptop owners, we have a new case from Marc, this vibrant Marc by Marc Jacobs Pretty Nylon Laptop Case.
All right, so it's not the cat's pajamas of laptop cases, but the color and quintessential nylon Marc style make it quite worth it. Plus it's padded on the inside- so it looks like Marc, but with all the protection your delicate laptop requires. Sorry, that kind of sounded like an ad; ah well. You see, while bright blue isn't my all-time favorite color, I still harbor a slight obsession with the shade. So while this case doesn't have super-fun doodles dancing on the sides, the blue does make up for it. (more…)