17 posts tagged with
hermes handbags
Looking through the pictures of an Hermes runway show can be almost anticlimactic – we know that Jean Paul Gaultier is going to do something brilliant and that Hermes only uses the absolute best in luxury materials and finishes. They've set such a high bar for themselves that even though the team behind the brand almost always turns out brilliant work, I find that the attitude tends to be, "Of course it's good. It's Hermes." Their perfection can feel repetitive at times.
For Fall/Winter 2010, however, Hermes did something that had a few people wrinkling their noses. Instead of the traditionally luxurious inspirations that we've seen them use recently, Gauliter went for a collection based on The Avengers and Emma Peel and created a retro superhero fantasy covered in the finest black leather. I'm not one of those people that's going to question them – I adored it, from beginning to end. It may have used more leather than some people would have preferred, but leather goods are their bread and butter – why not extend that to normal garments, as well?
As for the bags, you really can't go wrong with an enormous black crocodile Birkin. Or black croc anything – it was abundant in this show. The tiny Kellys attached to umbrella handles were adorable and irreverent, so long as you only intend to use the umbrella as a walking stick. The regular-size studded Kellys felt a little like they were grabbing on to the tail end of a trend, but the studding was fine enough that the bags still looked fairly fresh and desirable. (more…)
The Hermes Kelly is an iconic bag, but with its structured shape and usual smaller sizes, it lends a very dressy vibe to your outfits. When Hermes sent out the Jypsiere for their Fall 2008 collection, everyone who had been wanting a more casual everyday Kelly were enthused. The Hermes Jypsiere reinterpreted the Hermes Kelly by changing it into a messenger bag that will sit at the hip. The slightly rounded bottom and adjustable shoulder strap reinvented the Kelly in a way most people did not expect. (more…)
Tommy Ton, from Jack & Jill blog, hit the streets around New York Fashion Week to photo journal what was happening outside of the tents. One of my favorite photos is the closeup shot of a woman carrying her black Crocodile Hermes Kelly Pochette. The closeup accessory photo exudes elegance. More photos from Tommy Ton hitting the streets of NYC at Style.com here.
In the fashion industry (and, increasingly, in any industry), the phrase "Chinese craftsmanship" is usually an implied pejorative. Fairly or unfairly, things that are made in China are generally assumed to be less well-made than those made in Europe or the US, and much has been made over a handful of Chinese product recalls that have been announced for deadly dog food and baby formula or lead-filled toothpaste.
So when Hermes says that they're going to launch a Chinese-designed, Chinese-manufactured luxury brand, surely they jest, correct? Wrong. Hermes never jests. According to Women's Wear Daily, the new brand, Shang Xia, will be helmed by a head designer from the Chinese mainland, feature products made from Chinese materials and techniques and be autonomous from the design influence of its legendary parent company. All things considered, is it time to reevaluate our preconceived notions about Chinese-made goods? (more…)
Something is rotten in the state of Louisiana.
As we all know by now, the luxury market was hit hard by last year's economic collapse. Despite what some snide fashion-haters would tell you, the industry in fact does affect people at every level of the economy, and Louisiana's alligator farmers are just the most recent people to feel the pressure as a result of tough economic conditions in the fashion industry, according to The New York Times.
It would follow logically that reduced retail sales have lead to a drop in international interest in exotic skins, of which alligator is among the most expensive, but the farmers tell it a bit differently. According to them, it's all Hermes's fault. (more…)
There truly is something magical about New York City. Whether it is the constant commotion, the noises, the history, or the people, New York City remains an epicenter of the world. Our trip to NYC in October was for business. Lucky for me, our business revolves around shopping, and that we did.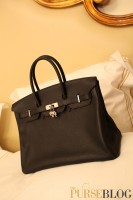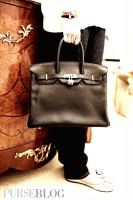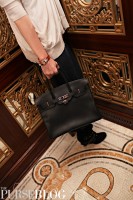 (more…)
In case you have previously considered the idea of wearing a $10,000 purse as a gym bag and ruled it out, Hermes would apparently like you to rethink that decision.
Jean Paul Gaultier's entire Hermes Spring 2010 collection was a riff on country club chic, and enormous Kellys and Birkins as workout wear, replete with leather tennis ball carriers, were the icing on top of the luxe-prepster cake. Obviously the idea that a white travel Kelly should be slung around the local tennis court is in jest, but the aesthetic does work nicely with the ultraclean lines of Hermes's signature bags.
Overall, though, I didn't find myself nearly as blown away as I usually do when looking at a series of the world's finest handbags. I have wondered before why Hermes doesn't use more snakeskin in their line, and the oversized python Birkins and Kellys answered that quite nicely – it just doesn't work. All of the snakeskin bags looked rumpled and, dare I say it, fake. Unless there's a point that I'm missing, I'm surprised that Gaultier let them walk the runway.
Overall, I find myself a little underwhelmed. The exotic clutches were predictably drool-inducing, and the tennis influence that found its way into the accessories line is very appropriate for brand whose customers probably all count themselves as members of various country clubs. But with the resources and craftsmanship that Hermes has at their disposal, I was hoping for a bit more. (more…)
Heidi Montag and Spencer Pratt tend to drive most of us crazy. There are the fans, but many people love to hate this duo. Who is laughing all the way to the bank? Speidi. And after they put their money in the bank, Heidi Montag purchases the most absurd amount of designer handbags. Her bags are expensive, trendy, exotic, and the collection does not stop growing. Promoting themselves, Heidi's Playboy cover, and whatever else, Heidi Montag and Spencer Pratt were spotted at LAX today. (more…)
The economy may be hurting world wide, but those that love Hermes are still buying. In fact, Hermes has resorted to breeding its own crocodiles on farms in Australia to meet the demand for its exotic bags. It is reported that Hermes makes around 3,000 crocodile bags every year and demand continues to grow while the crocodiles are not readily available to fill orders. It can take three to four crocodiles to make one Hermes bag, so the move to use their own farms makes sense.
While other brands are hurting, Hermes continues to churn sales increases. Along with their own crocodile farms in Australia, Hermes is also hiring an additional 50-100 leather workers to join the staff of 2,000 in Paris. What does this mean for us? An easier change to purchase a Hermes crocodile bag, if we have the funds to do so.