We introduced you to eLUXURY's contemporary buyer earlier, and now it is time for you to meet their Designer Buyer. Andrew Dershaw is Designer Buyer for eLUXURY.com, whose selection I frequent most often for Purse Blog posts. There indeed is someone behind the buying choices for the designer selection at eLUXURY.com and we got a chance to ask him some questions.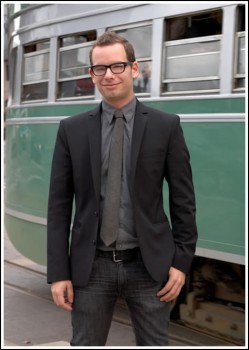 PB: For eLuxury, is there a certain profile of a customer you are looking to attract based on the handbags you offer?
As the Designer Buyer, for me it is more about acting as a filter for of our current and aspirational customers. I need to have a steady feel for current trends and demands, and act as a liaison between our customers and designers to ensure we are serving up the most fresh and must have bags that our customers just have to carry! Our Designer handbag customer's all do share some commonalities though; they need the most luxurious fabrications, in the must-have styles, from the world's top designers.
PB: What is big for this Fall/Winter?
For Fall we started to see what we are calling "the new luxury" emerge. This is more about individuality, quality, and expressing more of one's personal style through their dress. As our socio-economic climate shifts, so does the way we shop. We are seeing less of a demand in our logo and iconic handbags, and much more of a need for bags with new and different embellishment and luxurious details. The Fendi Secret Code Bag and Dior 61 are great examples of this, as well as must haves for the season! (more…)