5 posts tagged with
designer handbags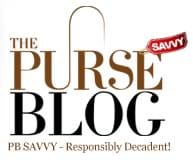 The Purse Blog team has been hard at work deciding on our next endeavor. Sure we love shoes, clothing, and traveling, but handbags are our first love. While Purse Blog Savvy covers some of the more affordable bags, the Purse Blog readers love their fix of Hermes, Prada, Louis Vuitton, and all the latest and greatest in the premiere designer handbag market. And while we have covered 'bag deals', it seemed that most bag deals were covering amazing designers that could make a stand of their own.
Today we are introducing you to Purse Blog Savvy, the sister site of Purse Blog that prides herself in being "Responsibly Decadent".
Purse Blog Savvy will feature handbags under the $1,000 mark, focusing on those under $800. The designers featured include some of our favorite; Rebecca Minkoff, CC Skye, Linea Pelle, Treesje, and Marc by Marc Jacobs to name a few.
With the economy making it tough for many to splurge on luxury goods, we realize that a true fashionista's desire for shoulder candy remains strong. Our love of handbags does not solely go to the premiere designers of the world, but the new designers who have made a splash and continue to ignite a new group of followers. We will be updating Purse Blog Savvy daily, just as we have Purse Blog for three years.
Make sure to go and check Purse Blog Savvy and let us know what you think!
Have a great weekend,
♥ The Purse Blog Team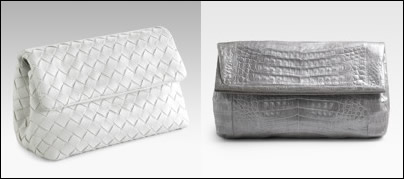 Bottega Veneta vs Nancy Gonzalez
The battle of the designer look-a-like bags continues! I have always been a self-pronounced lover of Bottega Veneta bags. Yes, of course I am. Soft and buttery leather, intricate weaving, timeless classic designs. And when it comes to exotics, Nancy Gonzalez handbags top my list. And why wouldn't they? Nancy Gonzalez uses bright bold colors on rich exotic skins. Both designers are known for different looks and both designers have highly sought after handbags.
A long time ago I professed my undying love of the simple fold-over clutch that so many adore from Bottega Veneta. Many times referred to as a cosmetic case, the Bottega Veneta Pyramid Clutch combines a simplistic approach of a small pouch with a fold over top and divine woven leather. There is a longer version ($400 more and twice as long), which is not considered the cosmetic case, but either way this one doubles over as a clutch. Either way, I have always loved this clutch. Buy through Saks for $580 or larger version through Net A Porter for $980. (more…)
When we started this website, Purse Blog seemed like a perfectly fitting name. But over time I realized that I tend to use the word handbag more than purses. And then, of course, for short I use the term bag. Both terms mean the same thing, but I still find myself gravitating toward saying designer handbags rather than designer purses. Some people have told me that men use the word more often than women, not sure if this is true.
As I discuss our website and business with outsiders, the terms purses and handbags are thrown around. Most recently I was asked which term we prefer. And I immediately said handbags. Then realized that our site and forum are named Purse Blog and Purse Forum. Of course both terms can be used interchangeably, and denote the same meaning, but I prefer one over the other.
[poll id="21″]