In a year struck with economic hardship, retailers across the country are hoping for more than 130 million shoppers to come out and thin their wallets. This year, retail relies on Black Friday more than in previous years in order to post solid overall revenue numbers for 2009.
The Origins of Black Friday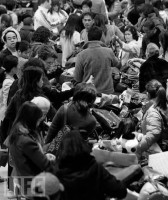 The term Black Friday officially dates back to 1966, though it had been used prior. It originated in Philadelphia and referred to the heavy shopping traffic on the day following Thanksgiving. It was not until 2000 that the term Black Friday really took hold, becoming part of our autumn vocabulary and gaining much media exposure.
The day always falls on the Friday following Thanksgiving, which ranges between the 22nd and the 29th of November every year. While the Friday after Thanksgiving is not an official holiday, it is a day that many US employees take off of work. With less employees in the workplace and the holidays around the corner, Black Friday is a haven for potential shoppers and a great opportunity for retailers to spike their sales numbers. (more…)