14 posts tagged with
balenciaga city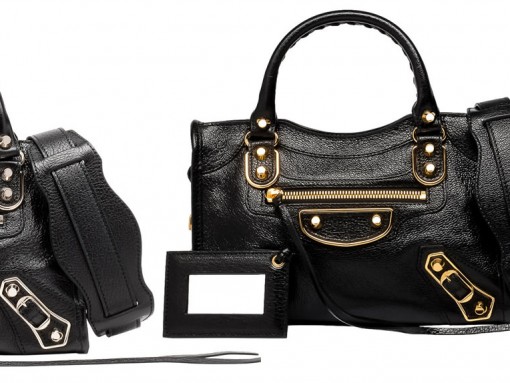 The only way to start the new year off is with a bang. And big pink crocodile a Balenciaga bang at that, how can you find fault with this feature?
You all knew that Amanda and I were Balenciaga fan girls in 2010 and our love for the brand continues into 2011. I find it hard not to love the Balenciaga Croc City Classic in lavender. The color is subtle but eye catching and this bag combines a motorcycle meets ladylike vibe. (more…)
Moving to NYC will ensure an easy in-person shopping experience for just about every item I want to check out. It doesn't mean I will stop online shopping (hello, what are late sleepless nights for), but I will have the fashion world at my finger tips. Don't get me wrong, South Florida is filled with amazing shopping, like our hangout Bal Harbour Shops, but we all know it is not the same as NYC.
I desperately need a Balenciaga store next to me because their colors are haunting me. I can not seem to find the perfect color and much of that is because I am not seeing the bags in person. You all followed my recent Balenciaga purchase and return. The color Seigle just didn't do it for me. And now my hunt continues.
I am not hitting the checkout button just yet, but I am really digging the Balenciaga Giant City in Murier. (more…)
First off, thank you to everyone who left great comments on the post about my Balenciaga City in Seigle. Ultimately, I decided this very Balenciaga bag was not the one for me. So I returned it and it was a bittersweet feeling. I know it sounds entirely materialistic, petty, and silly, but returning this bag not only took a great bit of thought but was also kind of sad, since it is entirely gorgeous just not the right bag for me. Have you ever had that feeling when returning a bag you bought? (more…)
Seriously, I feel bad for all of you that I have taken on this roller coaster ride with me that is titled "Finding my perfect Balenciaga Bag". My problem always came down to finding the right color for my Giant City (that I was already set on purchasing). I thought maybe Anthracite would be the perfect color choice but then realized I have plenty of grey bags in my collection. So while browsing Balenciaga.com over the weekend, I felt an overwhelming feeling of excitement when I saw the Giant City in Seigle.
The color was absolutely everything I was looking for and needed. My handbag collection lacks a tan/beige neutral and I loved the lightness of the color. The color Seigle looks fresh, crisp, and stunning. I own brown bags, but nothing light like what I thought this color would bring. So I ordered the bag and paid for overnight shipping, because I HAD. TO. HAVE. THE. BAG.
Yesterday the bag arrived and I varied in feeling disappointed, to liking the bag, to being unsure if I had the right bag, to questioning my eye sight. This Balenciaga bag may not have been the exact color I expected, but in different lighting it looks close to it. That is why this leather is a true chameleon. (more…)
I did it, I finally finally did it!!! You all had to listen to me go back and forth for many months (it feels like years) over which Balenciaga bag I would ultimately buy. I had my mind set on getting a Balenciaga Bag, the decision process came down to the color. Balenciaga is known for their rich and vibrant use of color and BBag lovers wait with bated breath every season to what colors will be released from the house [check out Fall 2010 colors here]. (more…)
Ok I think I might have found it. It is almost plausible that my hunt for the perfect Balenciaga bag may be over. You all might be getting sick of me talking about my quest for my first Balenciaga bag, but truly, with so many options and such a focus on different colors for each season, how can someone make a choice? I kept asking myself do I go for a bold bright color or do I go classic? Do I go giant hardware or regular? Do I go for an old season bag or new?
I have read countless threads on the PurseForum about Balenciaga bags. In fact, at one time I had done so much research that I clearly over-researched. Some of the older seasons are said to have better leathers. And some of the older seasons have colors that are highly coveted. Actually the more I write this post the more I find myself falling off track and starting my entire quest again. So let me wrap this up so I can finally move on! (more…)
The first version of the Balenciaga Giant Lattice City that I saw was the smaller multicolor version, and let's just say that my feelings were, at best, mixed. The combination of colors seemed kind of muddled, and the abundance of blue trim sorta took away from the effect of the latticed leather. But today, I stumbled across the black and white version, and my opinion changed immediately. Since the bag is bicolor instead of multicolor, the careful precision with which the leather is woven becomes much more apparent. At first it looks scattered, but if examined closely, there's an almost-symmetry to the pattern that indicates just how much care was taken when deciding where the bag would change colors. If it had been completely symmetrical, it wouldn't nearly as interesting to look at, but as it is, I find it almost fascinating. I love the Balenciaga aesthetic in general, and I REALLY love their bags with giant silver hardware, so all of that combined with the intricacy of the black-and-white woven detail really makes me wish I had an extra $2700 laying around. If I did, I'd be all over this. Buy through Barney's for $2695.
If you were to ask me what one of the most coveted and famous handbag was I would tell you the Balenciaga City. Of course there are others, but from Balenciaga the black city is a classic. Of course Balenciaga is known for their colorful array of dyed leathers, but black is time-honored. Balenciaga was one of the first brands to start the huge craze in the handbag world. The Fendi's and Gucci's preceded, but the Balenciaga craze was entirely new. People scouring the world for the best color, the right seasons leather, and the perfect combination. Celebrities went into a B-Bag wearing frenzy as well, only making the buzz surrounding the brand grow more. And when it comes down to it, the house favorite size, shape, and color is perfectly combined on the Balenciaga City in black leather. Buy through Balenciaga for $1395.
And luck you! We have teamed up with Ideeli for our January giveaway. All you have to do is sign up at Ideeli and you will be entered for a chance to win a fabulous City. Contest runs until February 5th, 2009. Also, if you are already registered at Ideeli we will be providing a new link later today for you to use and sign up as well.



Click here to enter!