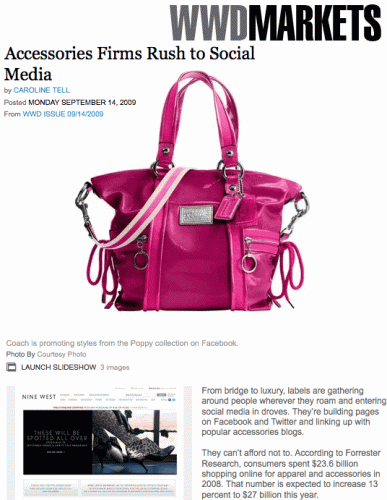 Yesterday morning I woke up to a handful of congratulatory emails for our mention and quote in Women's Wear Daily. While I knew this piece would come out at some point, I had no idea when. Talk about a nice way to start off the week.
About two weeks ago, we had the opportunity to speak to Women's Wear Daily about accessories firms and their social media involvement. Social Media has taken a crucial, supportive role for our Purse Blog brand, as we have active Twitter and Facebook accounts that allow us to directly connect to our readers.
Like virtually all fashion bloggers, more and more designers and fashion houses are actively present on Facebook and Twitter. Some of our favorite designers to follow on Twitter include Louis Vuitton, BCBG, DKNY, Tory Burch, Diane von Furstenberg, and Rebecca Minkoff. On Facebook, the most active fashion fan page belongs to Coach, who partnered with us to exclusively preview the upcoming Kristin line.
Some designers and representatives approached the social media world with trepidation, but are now flocking to join social media sites to reach out to clientele and fans. Just as independent blogging changed the way information is shared and delivered globally, social media is enabling big corporations to connect to the marketplace. As we continue to see designers and companies embrace this new age media, expect more customer-to-designer interaction, which is just what most are looking for – customers and designers alike. (more…)