It is no shock that I'm a Rebecca Minkoff fan. In fact, looking back on past RM posts I've written, almost all of them are positive. I've recently been obsessing over the Easy Rider Date Clutch. I mean, I've been obsessing over it so much that I am shocked that I haven't bought it yet. Perhaps that is something I should put on my "to-do list". For those of you who liked that clutch but are in the market for something a bit bigger, Rebecca Minkoff has something for you.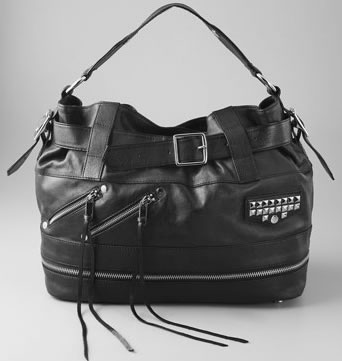 The Rebecca Minkoff Easy Rider Devote Hobo possesses many of the attributes of its smaller counterpart, which is why I like it. I recently discussed my dislike of short shoulder straps on large bags and I was a bit worried when I looked at this bag and saw only a 7″ drop. However, for some reason, it works. So, I guess I am a bit of a hypocrite, aren't I? Oh well.
This hobo boasts gorgeous black (also available in white) pebbled leather which is always a great for a large bag. While buckle straps on bags can rub me the wrong way, I actually like it on this bag. I do wish the studded snap-flap pocket was a bit large, but I still like it. And the zip pockets with tassel pulls are a trend that have been growing on my over the past few weeks. Rebecca Minkoff has showed us one more time how she knows how to execute a great rocker-chic bag without it being too over the top. Buy through Shopbop for $635.