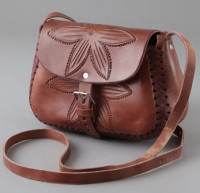 I feel like I've seen this bag before. No, scratch that. I know that I've seen it before. They're all over Mexico, sold by little street vendors and made of exquisitely thick leather; so thick that the first few times the flap is opened, it has to be pried.
But this bag is the WGACA Floral Leather Mini Bag, not a bag from the streets. So is it a bad thing that it reminds me of a bag that I could buy in Puebla for less than 200 pesos (that's about 16 US dollars), or a good thing? I think it's good, mostly because I had a ton of those growing up. But maybe you don't want to get a bag for $118 that looks like it could be made for much less.
In its defense, the ones in Mexico didn't have the awesome leather stitching at the corners, though they did have the embossed flowers and you could get your name burned on there. This bag, though, exudes the effortless, slightly western and boho aesthetic that What Goes Around Comes Around embraces. I, for one, am glad to see that unity. Buy through Shopbop for $118.