Judith Leiber animals, but other shapes don't really make their mark.
A sculptural clutch is something that not everyone wants to hold in their hand. This is quite obviously understood by the mere fact that most clutches are square or rectangular shaped, and that shape has persisted since the dawn of the clutch. Sure, there are sometimes some curves, and there are the special, crystal-encrusted
Clearly, Alexander Wang is trying to change that, evidenced by this Alexander Wang Darla Pyramid Clutch. And you know, I really like it. It's fresh without being too imposingly strange; rather, it takes the quintessential Alexander Wang handbag elements and transfers them neatly into a triangular package. Case in point: the studs are on the base of the pyramid, both noticeable and chameleon-esque.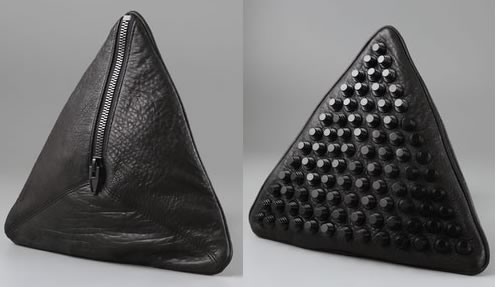 I suppose the main question with this clutch is the accessibility of the interior, as there's only one vertical zip. Can you stick your hand, or more importantly, your smartphone though that slit? Considering the size of the clutch- it's 9.5 inches tall- you can do so with ease. I can't wait to see this one on the red carpet, and perhaps in my own palm. Buy through Shopbop for $490.