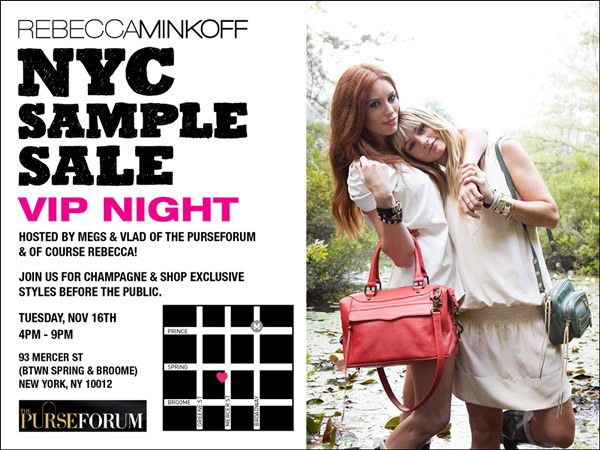 Rebecca Minkoff's Sample Sales are notorious for exponentially long lines and amazing loot. Vlad and I have never been able to make one of the infamous Rebecca Minkoff Sample Sales and this year we finally will be able to not only make the VIP night but also co-host it with Rebecca.
Because of the amazing support PurseBlog + PurseForum has shown to Rebecca Minkoff, she has a special VIP night for our readers and members. You can all shop her sale before the rest of the handbag loving world. Join us Tuesday night if you can make it, and if not check out her Sample Sale the rest of the week! Details below…

REBECCA MINKOFF hosts FALL 2010 Sample Sale:
Who: Rebecca Minkoff
What: Fall 2010 Sample Sale
When: Wednesday 11/17 Saturday 11/20: 10am-7pm, Sunday 11/21: 11am-5pm
Where: 93 Mercer Street, New York, NY 10012
Phone: 212-677-7829
Payment: All major credit cards, cash, no checks. All sales FINAL. The sales begin at 45% off!
Handbags that will be at the sale:
Heavy Metal Tote- Black leather tote bag with studded bottom, Originally $395 now $217
Cherish Mini- Cream/Black Splatter Print Canvas Tote, originally $155 now $85
Main Squeeze- Black Multi Buckle Tote, originally $495 now $272
Fling Clutch- Black Snake embossed clutch, originally $325 now $178
Python MAC- Python microfiber with blush leather trim, originally $295 now $162
Beloved Mini- Ruby leather cross body, originally $395 now $217