Come one, come all to my very first recap of The Rachel Zoe Project! The show debuted its third season last night in a fit of sparkly dresses and fired employees, and it proved once again why it's the absolute best fashion porn on television. Sorry, Gossip Girl – Rachel Zoe has you beat.
But sky-high shoes and Hermes cuffs aren't the only things that Rachel Zoe has to offer – this episode had a giraffe. A giraffe on a beach. It also had a scene where Rachel's husband obsessively watched football, which was almost as unexpected as a giraffe on a beach.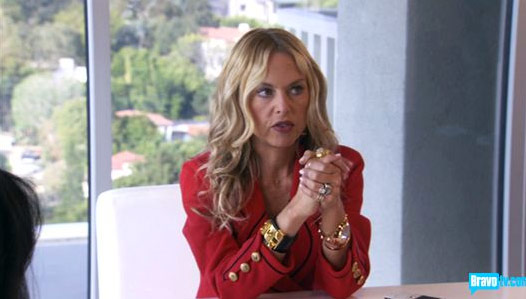 Things started with a scandal about which many of us have already read: the internet was exploding with talk of Taylor's, uh, issues. Issues of the financial/missing cash/oh crap Taylor's cookin' the books variety. I'm not sure how the internet caught wind of all of those problems before Rachel's husband and business partner Rodger managed to explain them to her, but apparently it did. We're a wily bunch out here in the tubes.
Eventually Brad and the rest of Rachel's assistants arrived to hear the news, and we all learned that Taylor had been fired after creating her own mini Enron within the RZ empire. I got a bit distracted by the fierce Hermes Collier de Chien cuff that Rachel was rocking during these scenes, but I think I managed to hear most of what went on, and it was…uncomfortable. Uncomfortable because I suppose that you never really know you coworkers, but also uncomfortable because we only heard one side of the story.
Taylor wasn't universally beloved by any means, but I always sort of liked her because she was a bit of scowling, Balenciaga-toting, hair-bleaching punk attitude in the middle of sunny California (although I certainly wouldn't want to work with her). Brad, on the other hand? I want him to be my gay boyfriend. Apologies to my current gay boyfriend, but honey, I'd bump you down to the second spot for Brad. I hope you understand. He has better wardrobe access. And bow ties. You need to work on your bow tie game. Not only that, but Brad had some extra dirt on Taylor: apparently some samples had gone missing after she had "borrowed" them to go clubbing. Do people actually call it "clubbing" anymore? That seems very early-2000s to me.
But let's not dwell on the negativity! Out of Taylor's firing came a job opening for which many of young fashionistas would gladly knife each other in the back (or maybe even in the front) to get, but most of the applicants were a little young and inexperienced for Rachel's preferences. They all seemed very earnest and nervous, but I suppose that I would be as well if my interview for my dream job was being videotaped for reality television.
We didn't sit around and think about silly things like job interviews for long, though – it was time for fashion. Fashion and famous people! Namely Demi Moore, who Rachel and Brad would be styling for a Harper's Bazaar shoot which would potentially involve things like giraffes and giant chairs. Brad brought up an interesting question: can you ride a giraffe? I honestly don't know. Have any of you ever ridden a giraffe?
The fashion afterglow didn't last long, though, because Rachel received a phone call letting her know that Taylor had been picked up by a styling agency that used to represent her, and that soon she would be going out on her own and styling and writing books and doing stylist-type jobs. I'm not sure what Rachel expected to happen – it's not like Taylor would get fired and take her sulky attitude straight to the McDonald's drive-thru window, but Rachel was upset nonetheless. And also, she was still wearing Hermes bracelets. DISTRACTING.
Luckily we were soon treated to a ridiculous, expensive, high-priced magazine photo shoot to take our minds off staffing issues. This is the section in the show where the clothes porn started in earnest, and I may have started drooling immediately after they arrived at the shoot. There were ALEXANDER MCQUEEN PYTHON ARMADILLO SHOES, FOR CRYING OUT LOUD. And the Fendi Cinderellas! And Oscar De La Renta and Christian Louboutin and CHANEL, OH MY. When I say that I may have drooled, I mean that I absolutely drooled all over myself and had to change my shirt. Possibly. You guys won't tell anyone, right?
And then it was time for the beach, which was a whole different ball of fabulous. Rachel couldn't actually walk down to the beach herself because she was wearing stilettos with at least a two inch platform, so she had to be carried by a random guy from the shoot, but that was the least odd thing that happened that day. Soon the giraffe arrived and then they made Demi climb a random spiral staircase to nowhere in the middle of the beach while wearing the McQueen armadillo heels, and I wish I could say that I made that up, but I didn't. Whoever conceptualized that shot was on some good drugs.
The entire thing was straight out of "Zoolander" in the best way possible and it created so many questions: who do you call when you need a spiral staircase built in the middle of a beach? How do you transport a giraffe down the freeway? Did Demi demand hazard pay for climbing stairs in the armadillo shoes? Does Rachel Zoe really not own flats?
And then, right at the end, we got a little bit of Chanel ridiculousness that made me think that Ms. Zoe knew we were watching – tweed jackets, embellished flap bags, all of it delivered to her penthouse apartment for her private perusal with her Hair Gay present to encourage her to overspend. Jealousy is painful; I need to go take an Ibuprofen.
So much for ending this episode on a positive note, though – just as Rachel had managed to hire Taylor's replacement, a new issue of Paper magazine arrived that showcased Taylor and Brad styling each other. Rachel ended up throwing Taylor's pictures into her fireplace and hopefully she lit them on fire off-camera. I once did that to pictures of an ex-boyfriend with my three sophomore college roommates, and it was surprisingly cathartic. Although buying a few of those Chanel bags from the previous scene would have felt so much better.
Programming note: I'd appreciate it if comments about Ms. Zoe's weight could be kept to a minimum. Everything else? Fair game! I hope you enjoyed the recap and will join us again next week!
P.S. Please consider supporting our small, bag-loving team by clicking our links before shopping or checking out at your favorite online retailers like Amazon, Neiman Marcus, Nordstrom, or any of the listed partners on our shop page. We truly appreciate your support!