The leather on this handbag looks very similar to another bag we covered this week. Ah yes, the Bottega Veneta Boudoir Knot Clutch, with its chunky visible woven leather. Some of you did not like it on the BV clutch, but I am digging it on this Miu Miu bag.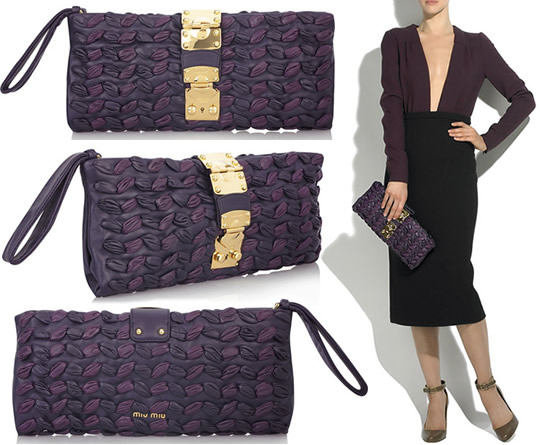 There are a few reasons why the Miu Miu Plisse Leather Clutch works out so well. First off, the Indigo leather is offset with contrasting plisse detailing. The color pops beautifully. Next this clutch has a wristlet zip pull, which makes the bag handbag holder friendly. Also, the clutch will transition from casual day wear to after-hours style.
The only con to this clutch for me is the price. I always relied on Miu Miu to bring us fresh ideas for a better price than Prada. A clutch for $850 from Miu Miu, even with its large dimensions, is far too pricey for me. What do you think? Buy through Net A Porter for $850.