Last night I asked our Twitter followers what bag or designer they would like to see us feature. Twitter user Fashion_Hawk suggested this Miu Miu Clutch. This was easy to say yes to, because I already eyed this clutch and already planned on writing about it.
The Miu Miu Bird Suede and Python Clutch is a welcomed surprise from Miu Miu and designer purses in general. We continue to see the same designs over and over. And for a site that reviews bags all day long, it takes additional measures to grab our attention, be it good or bad. In the case of this Miu Miu bag, I say it is good.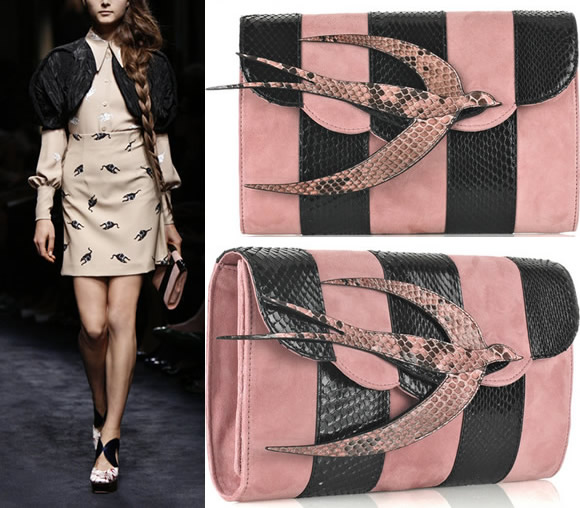 The clutch alternates strips of black python and pink suede with a python pink and black bird embellishment on the front. The bird accent breaks up the stripes and gives a whimsical touch. It is the shape of the bird that they use that I adore, long, lean and fashionable. The fold over top has scalloped trim which adds another touch that is greatly appreciated.
What I love is that Miu Miu thought out each aspect of this bag. And with the thought process the bag ends up standing apart from the rest. In a saturated handbag market you either have to have a classic bag that appeals to everyone or find another way to grab a buyers attention. This clutch was able to grab my attention, make me do a double take, and got me clicking to look at detailed shots. That is precisely how you engage someone, so props to Miu Miu for this clutch.
The clutch is large, considerably oversized, and offers interior compartments and an optional braided rope shoulder strap. Having an optional shoulder strap is always helpful, especially with the long shoulder drop which makes this a great evening bag but still leaves options for it as a day bag. Bravo Miu Miu! Buy through Net A Porter for $1,495.