Suede, I have a serious love hate relationship with you. The soft texture always lures me in and completely reminds me of fall and winter. And I am a girl who truly loves fall and winter. But then there is the problem with upkeep and cleaning. Because of its texture and open pores, suede both gets dirty and absorbs liquids quickly and easily. A darker suede color like brown is a good choice, since it will not show wear or dirt as quickly as lighter suede colors. And because I have a thing for chocolate (the food and color), this Miu Miu bag is calling my name.
I rarely find myself drawn to chocolate brown bags, but the Miu Miu Horn-Strap Suede Tote is worth a gander.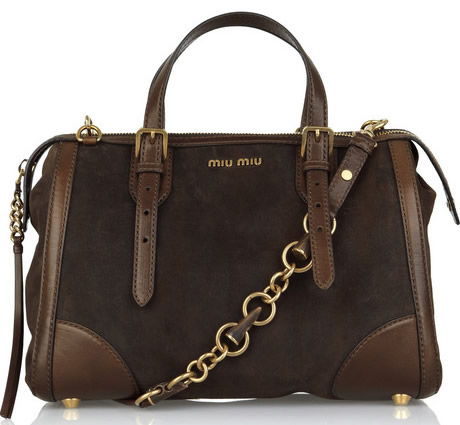 I do like a deed chocolate brown color. I just rarely find myself buying it. And by rarely, I mean close to never (my closet and bag collection is devoid of a deep brown). But I feel like a dark brown color would suit my collection and me well. This Miu Miu Tote is a great option for a slight equestrian touch, with a fall feel, with a scholarly finish.
The bag features a suede body with leather accents. I really like that the leather touches are not tiny, but stand out at all corners of the bag, along with linear around the bag's design. The two leather handles feature buckles with adjustable length options. The chain strap is removable and luxe, with a chain strap and horn embellishment. The entire feel fuses equestrian with a touch of military (khaki green cotton lining on the inside). I am digging the vibe of this bag. Buy through Net-A-Porter for $1,395.
It always seems that people tend to opt for brown hues or black hues: which category do you fit into?