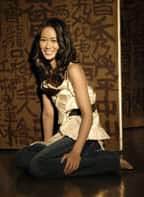 We are thrilled to bring you another exclusive interview with a fabulous handbag designer. Sari Brown from Lux Couture introduced me to Katherine Kwei designs. Sari and I are so intrigued by the delicate knotting technique that makes Katherine Kwei designs stand out. So while in New York City Vlad and I were able to meet Katherine Kwei and her assistant designer, Tiffany Koo (who will be working on a line for Katherine Kwei), and we have not been able to stop raving about her bags since. Do not expect a simple bag from her designs, for her handbags implement a knotting technique that will undoubtedly make her stand out from the rest. We sat down in her show room to talk about her handbag line and get to know the designer behind these fabulous handbags.
PB: Tell us about your fashion background?
KK: As a child I did a lot of arts and crafts. I went to Cornell and I had the option of being an environmental science major or fine arts major. My father told me that I could do fine arts as a hobby, so that kind of threw that idea out the door! After school I landed a job at Louis Vuitton and I landed a job in PR with them. That was my start into the fashion world. I was with Louis Vuitton for four years in Hong Kong. At the time Marc Jacobs had not joined Louis Vuitton so there was a huge focus on handbags, it was just bags bags bags. We did a huge China exhibition to introduce the company into China in the late 1990's and we tried to educate people on the brand and history of Louis Vuitton. That is how my handbag love started.
I decided to go back to school at the London College of Fashion. This is the same school Jimmy Choo went to and it is very famous for leatherwork. I did three years there and ended up with a master's degree in accessories design. I came to New York City then and did an internship with Zac Posen, but realized that I wanted to start my own line.
PB: So you have both experience on a personal level and educational background?
KK: I am a little bit old fashioned; I think you need to have the degree. I wanted the technical experience to learn how the handbags are constructed.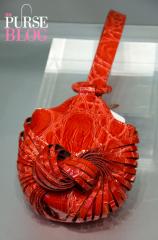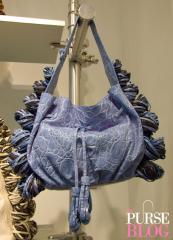 PB: Do you want to branch out from handbags?
KK: I may go the route of doing accessories for accessories, as in charms for the bags. I like so many other designers that I feel like I have nothing to offer in terms of clothing!
PB: Who do you have in mind when designing your bags?
KK: I have designed many of my bags for my friends. Then again, my mother and her friends are always looking for my bags. So it is for a woman who wants something different but practical.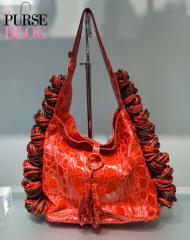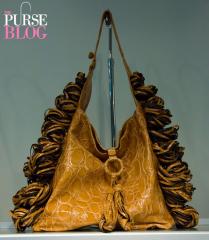 PB: What is your branding image?
KK: The knots are my image. I stick to this rather than logos. I have childhood memories of my grandmother practicing the ancient Chinese art of knotting. Also, I line the inside of my bags in red suede.
PB: The knotting is so complex! Is it done by hand?
KK: Yes, they have to be hand knotted. I teach anyone working on my bags the knotting technique myself. It is quite time consuming! From start to finish some of the bags may take between 10-15 hours. I do ask them to do a slight braid on the back too. The Swarovski crystals are hand punched. So everything is done by hand for the most part.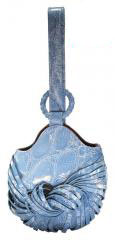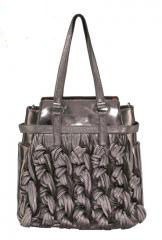 PB: You have lived in a plethora of fabulous cities. What took you to all of these places?
KK: My father was an International banker so we were transferred about every three years. I have lived in cities such as Athens, London, Dubai, Hong Kong, and New York.
PB: With all of the traveling, what is your favorite city in the world?
KK: Hong Kong. I was born there and my parents still live there. Also my production is there, so I spend much of my time there.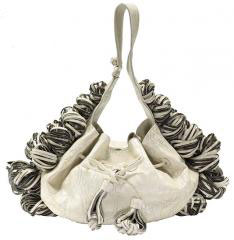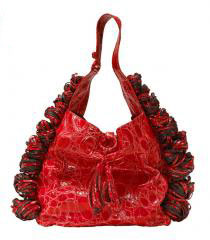 PB: What do you indulge in?
KK: FACE CREAM! I use Jurlique. It is expensive, but I am addicted to face cream.
PB: What is the last movie you saw?
KK: We just saw Gone Baby Gone. It was incredible, it was super intense and very real.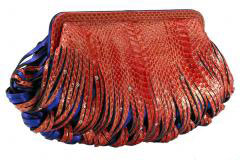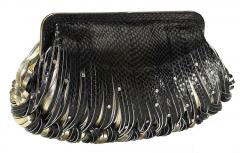 PB: Give us an interested fact!
Well, I just got engaged! So I am really happy about that!
PB: What online stores carry your bags?
KK: You can go through Katherine Kwei online, or Active Endeavors, Lux Couture, and 20 Unlimited.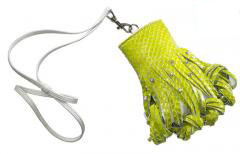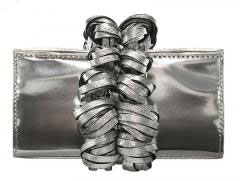 We finished up the interview and while Vlad snapped pictures, Katherine, Tiffany, and I browsed the show room. We drooled over a yellow leather Kooba jacket and chatted about fashion, life, and the fast pace of NYC compared to the rest of the world! We had a great time meeting Kathy and be on the look out for more fabulous designs from her in the future!